2015 Ned Kelly Award Winners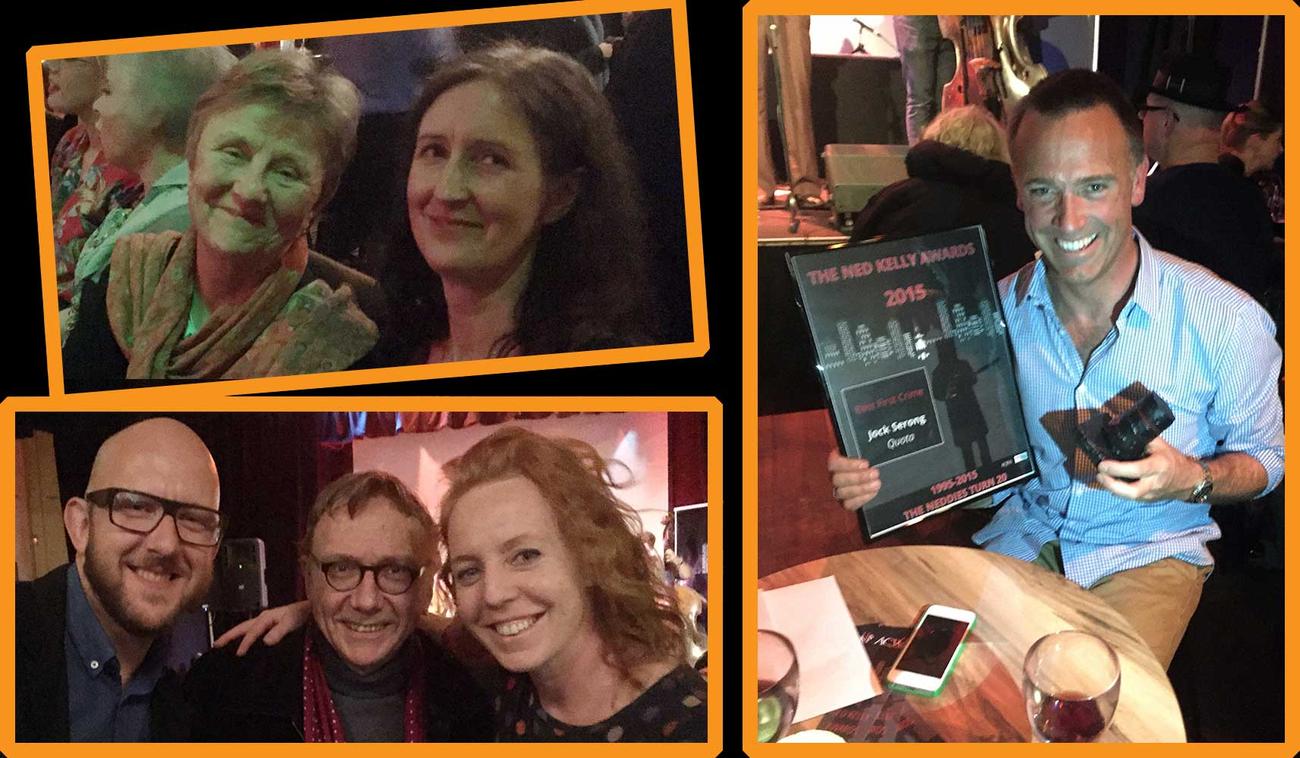 More great prize news this weekend with the announcement of the 2015 Neddies—the Ned Kelly Awards—Australia's most prestigious prizes honouring crime fiction and true-crime writing. Special guest of the evening was S. J. Watson, author of the bestselling thrillers Second Life and Before I Go to Sleep, which won the UK's Crime Novel of the Year (2011) and was adapted into a major movie starring Nicole Kidman, Colin Firth and Mark Strong. Watson is currently in Australia for a limited number of events: see more here. 
Winner of the Ned Kelly Award for non-fiction was Helen Garner, for her brilliant This House of Grief: The Story of a Murder Trial. In this compelling book, Garner tells the story of Robert Farquharson, who was convicted of the murder of his three young sons after driving the car in which they were all travelling into a dam. 
This House of Grief was a 2014 Times Literary Supplement Book of the Year. In the Australian, Peter Craven wrote, 'This House of Grief is a magnificent book about the majesty of the law and the terrible matter of the human heart. It has at its centre a feeling of the engulfing powers of love and hate and the way any heart unlucky enough may kill the thing it loves and drown in an eternity of grief. If you read nothing else this year, read this story of the sorrow and pity of innocents drowned and the spectres and enigmas of guilt.' 
Garner previously won this award for Joe Cinque's Consolation (2004). Her first novel, Monkey Grip, won the 1978 National Book Council Award and was made into a film in 1981. In 1995 she published The First Stone, a controversial account of a Melbourne University sexual-harassment case. She received the inaugural Melbourne Prize for Literature in 2006. Her most recent novel, The Spare Room (2008), won the Victorian Premier's Literary Award for Fiction, the Queensland Premier's Award for Fiction and the Barbara Jefferis Award, and was translated into many languages. 
This House of Grief is a must for your book club—download book club notes here. If you have any doubts, watch this excellent interview for the ABC's Book Club with Jennifer Byrne.
Best First Crime Novel went to Jock Serong's Quota. Serong lives and works on the far southwest coast of Victoria. He was a practising lawyer when he wrote Quota, a novel about a lawyer facing a career disaster, and is currently a features writer and editor of the Great Ocean Quarterly. 
When Charlie Jardim trashes his legal career in a spectacular courtroom meltdown and his girlfriend has finally left him, the offer of a prosecution brief that will take him to the remote coastal town of Dauphin seems like a good idea—a chance to reassess and let things settle down. The case is a murder. The victim was involved in the illegal abalone trade and the even more illegal drug trade. And the witnesses aren't talking. As the small community closes ranks around him, Charlie is about to find his interest in the law powerfully reignited. 
The Ned Kelly judges described Serong as 'a genuine class act' whose characters, setting and plot make for 'compelling reading'. Good Reading said: 'Serong's familiarity with the people and social structures of small country communities enables him to forensically profile the characters who inhabit his novel and detail their often complex and sometimes contradictory relationships...His sea and landscape portraits are beautifully depicted. Bring on the next brief for Jardim of Counsel.'
Listen to an interview with Michael Cathcart at ABC Radio National Books & Arts and preview Quota here.
Congratulations to all the award winners—read more at the Australian Crime Writers Association website. And get reading some brilliant Australian crime writing!
FRIENDS OF THE CHILLER
SUBSCRIBE TO TEXT'S NEWSLETTER