Number 3 chiller
Books v Flowers: Your Guide to Mother's Day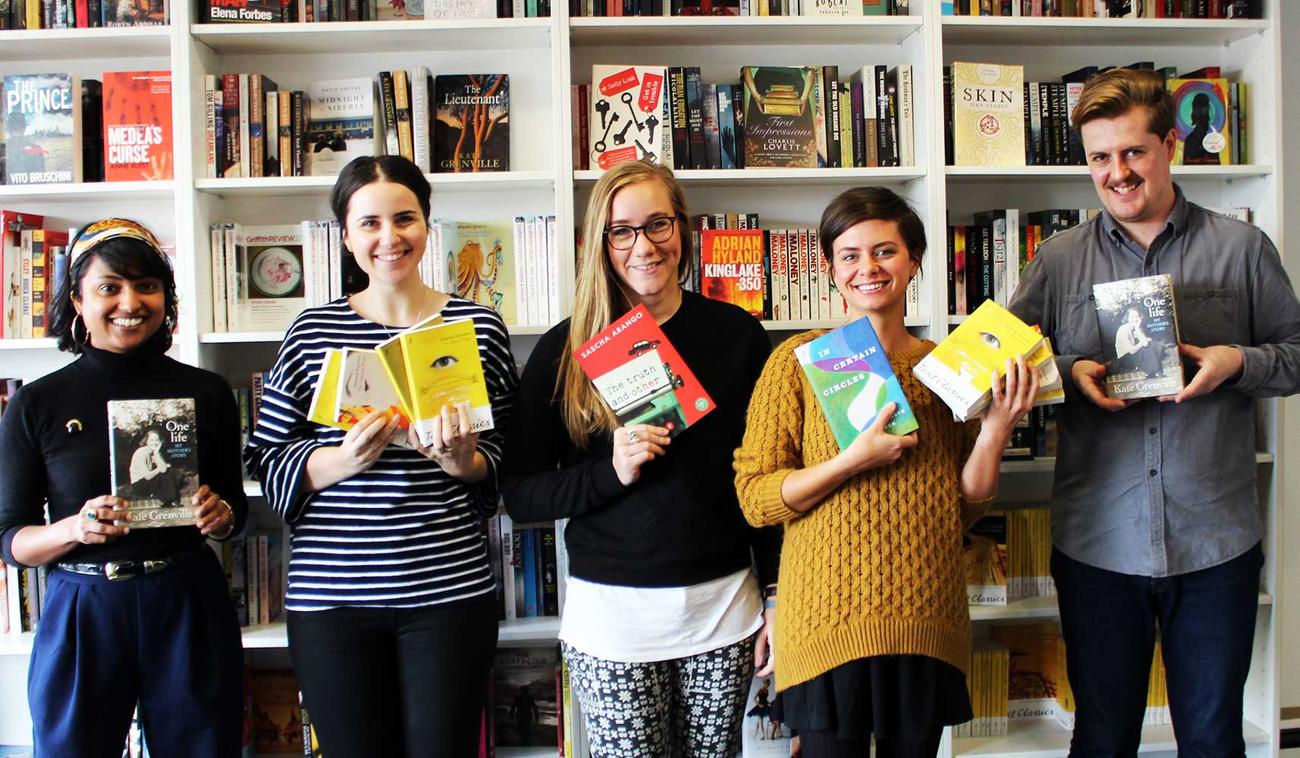 What will you get your mum this Mother's Day? Books, flowers...beer?
This article on the Town Crier, on whether Canadians spend more money on books or beer, introduced me to George Orwell's 1946 essay about the affordability of books versus cigarettes. He finds that books are a relatively cheap entertainment, but cigarettes are much more widely consumed: 'at least,' he declares, 'let us admit that it is because reading is a less exciting pastime than going to the dogs, the pictures or the pub, and not because books, whether bought or borrowed, are too expensive'.
I respectfully disagree, Mr Orwell: books are inexpensive, but they can be incredibly exciting. Our staff select some books below that will make your mum laugh, cry and feel good, for less than the price of a bunch of flowers.
David Winter, Senior Editor
For Mum, the gift has to be Kate Grenville's One Life: My Mother's Story. When I finished reading it for the first time, I wrote to Kate and signed off by saying that I was going to call my mum right away. Kate was thrilled: it was just the kind of reaction she hoped for. As I worked on the book, I couldn't help thinking of how the shifts in my maternal grandmother's life echoed those of Kate's mum, Nance Russell. 'Billie' Nicholson went from the city to the bush, the opposite of Nance's journey, but also by way of a job in health care and a marriage with its share of troubles. Her life, too, spanned the twentieth century. Kate's great achievement in this book is to make Nance's story individual and yet every woman's. So, give your mother or grandmother One Life this Mother's Day, and don't forget to give them a call as well!
Alaina Gougoulis, Editorial Coordinator

When I was five I gave my mum a book I'd made myself—garbled handwritten lyrics to 'Somewhere Over the Rainbow' illustrated with love-hearts, rainbows and, inexplicably, killer whales—which she treasured until it was tragically lost in a house fire. Miraculously, nothing else in the house was affected by the fire.
I don't know if I'll ever be able to top that book gift, but I'm sure Mum'll enjoy Hannie Rayson's Hello, Beautiful!: Scenes from a Life and Kelly Link's Get in Trouble, along with the tackiest, noisiest e-card I can find. 
Jane Novak, Publicity Manager
This year it's hard to go past Kate Grenville's beautiful and moving tribute to her own mother, One Life. A story of an ordinary woman living through extraordinary social change, and battling the same problems women face today juggling career and motherhood. An instant classic.
I've just read the new novel from Kazuo Ishiguro, The Buried Giant, and I can't recommend it highly enough. A fable-like story of an elderly couple setting out on a journey to find their lost son, this new novel has divided critics but for me it's yet another example of the rich and complex work of one of the world's greatest writers.
Alice Lewinsky, Publishing Assistant
There'll be no cookbooks or gardening guides for my mother this year—just some good old-fashioned fiction. This May I'll be showering her in Elizabeth Harrower goodness; she adored the recently rediscovered In Certain Circles so it's high time she caught up on Elizabeth's earlier novels, The Watch Tower, Down in the City, The Catherine Wheel and The Long Prospect. I might try to squeeze in a few books from my own 'to read' pile, in the hope that I'll be able to borrow from the Library of Mum in due course. I never got around to reading Emily St John's Station Eleven and am keen to dive into Anne Tyler's A Spool of Blue Thread. Fingers crossed Mum likes them, too!
Shalini Kunahlan, Marketing Coordinator

I'm getting my beautiful mumma One Life by Kate Grenville. Every aspect of this book is worth savouring: its evocation of life in NSW and Sydney in the twentieth century, the feminist angle and its relevance today, and  most of all the way it gives Nance, Kate's mother, a voice. 
We sometimes have to remind ourselves that our mums have their own history, full of challenges, compromises and loves.
My mother juggled several things at once, including full-time work, but she was always there—she taught my sister and me how to read, baked us complicated Australian Women's Weekly cakes every birthday, shuttled us to and from piano lessons (that I unequivocally hated) and had a fiery independent streak—plus, she was always a picture of elegance.
One Life is a hugely moving token of love and respect from daughter to mother. What a rewarding thing it must've been for Kate Grenville to write.
Léa Antigny, Publicist
Last Christmas I gave Mum a copy of In Certain Circles by Elizabeth Harrower, and I noticed it finished on her bedside table a few days later. So for Mother's Day I'm going to wrap up the stunning titles by Elizabeth in our Text Classics series: The Watch Tower, Down in the City, The Catherine Wheel and The Long Prospect. That's quite a few pages to get through, but if the speed with which she devoured In Certain Circles is anything to go by, they will be a very welcome addition to the reading stack.
Kirsty Wilson, Sales & Marketing Director

My mum's already read and loved the new books by Kate Grenville, Ramona Koval and Hannie Rayson, so along with the Haigh's Milk Peppermint Creams I might slip her some cli-fi (climate-change fiction) in the form of eerie environmental thriller The Well, by debut British novelist Catherine Chanter. She won't be able to put it down. And there's one $12.95 Text Classic I reckon you could recommend to a woman of any age: Madeleine St John's utterly charming novel about the ladies' cocktail frocks department of David Jones and the changing Australia of the late 1950s, The Women in Black. It's one of those rare books that will just make you happy.
Stephanie Speight, Publicist
Mother's Day is a big book-buying occasion: not quite as big as Father's Day, but still a busy time for bookshops. I know this because I used to be a bookseller. The bad news is, I worked for my parents. Before they ran bookshops, presents were so. Much. Easier. Their bookshop was recently driven into (total accident, no one was hurt) and is still lacking a window. I already gave Mum an early copy of Sascha Arango's The Truth and Other Lies when that happened, because books are the best medicine. Especially when it's a particularly suspenseful, witty, clever and well-written book. But I'm really out of options, books-wise, for Mother's Day. She has an entire SHOP FULL of her own. So I think my sister (who also works in the industry) and I will probably take her out for a manicure and lunch. Where we'll talk about books pretty much the whole time because, let's be honest, we could probably do that underwater.
Michelle Calligaro, Digital Manager
My mum devoured Kate Grenville's new book at Easter, so I'm also digging a bit deeper this time. I think she will thoroughly enjoy Brenda Niall's True North, a wonderfully rich and engaging account of the life of the Durack sisters. And also the new Jane Smiley family saga, Early Warning, which is the second book in the Langdon family trilogy. And maybe some peanut brittle, but definitely not flowers.
Text and the 2015 Australian Book Design Awards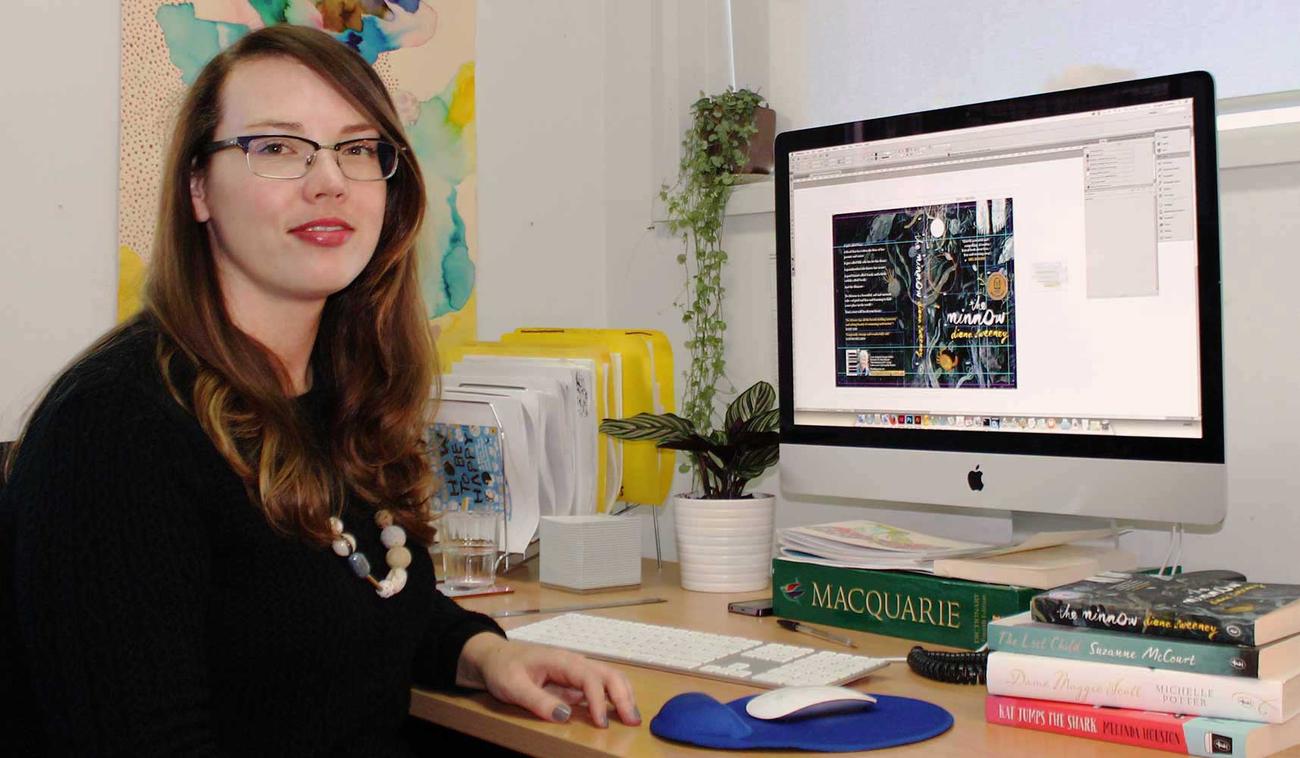 We're thrilled that our wonderfully talented book designer Imogen Stubbs has been shortlisted for the Young Designer of the Year Award in the 2015 Australian Book Design Awards. Imogen only started regular cover design projects in 2014, under the excellent guidance and mentorship of Text's artistic director, W. H. Chong. Her portfolio showcases Imogen's broad design skills on books across our wide range of publishing, including non-fiction (Dame Maggie Scott by Michelle Potter), literary fiction (The Lost Child by Suzanne McCourt), commercial fiction (Kat Jumps the Shark by Melinda Houston) and young adult fiction (The Minnow by Diana Sweeney).

Imogen has also been co-shortlisted, with Chong, for her work on the internal design of For Once in My Life, in the category for Best Designed Commercial Fiction Book.
Big congratualtions also to Simon Barnard, author and illustrator of the A-Z of Convicts in Van Diemen's Land, whose book has been shortlisted in the category for Best Designed Fully Illustrated Book Over RRP $50. His spectacular illustrations, each one carefully drawn in meticulous detail from contemporaneous records, bring this extraordinary history to life. It has also been shortlisted this week for the Children's Book Council of Australia Eve Pownall Award for Information Books. A superb package!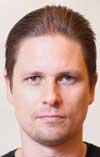 The 2015 Australian Book Design Awards are an initiative of the Australian Book Designers Association which exists to support Australian book designers and to promote their work to the broader publishing community. The awards are open to any book designed and published for the first time in Australia between 1 January and 31 December 2014. The winners will be announced at an event in Sydney on 22 May. You can find out more here.
Editor David Winter has a yarn with Ramona Koval, part 2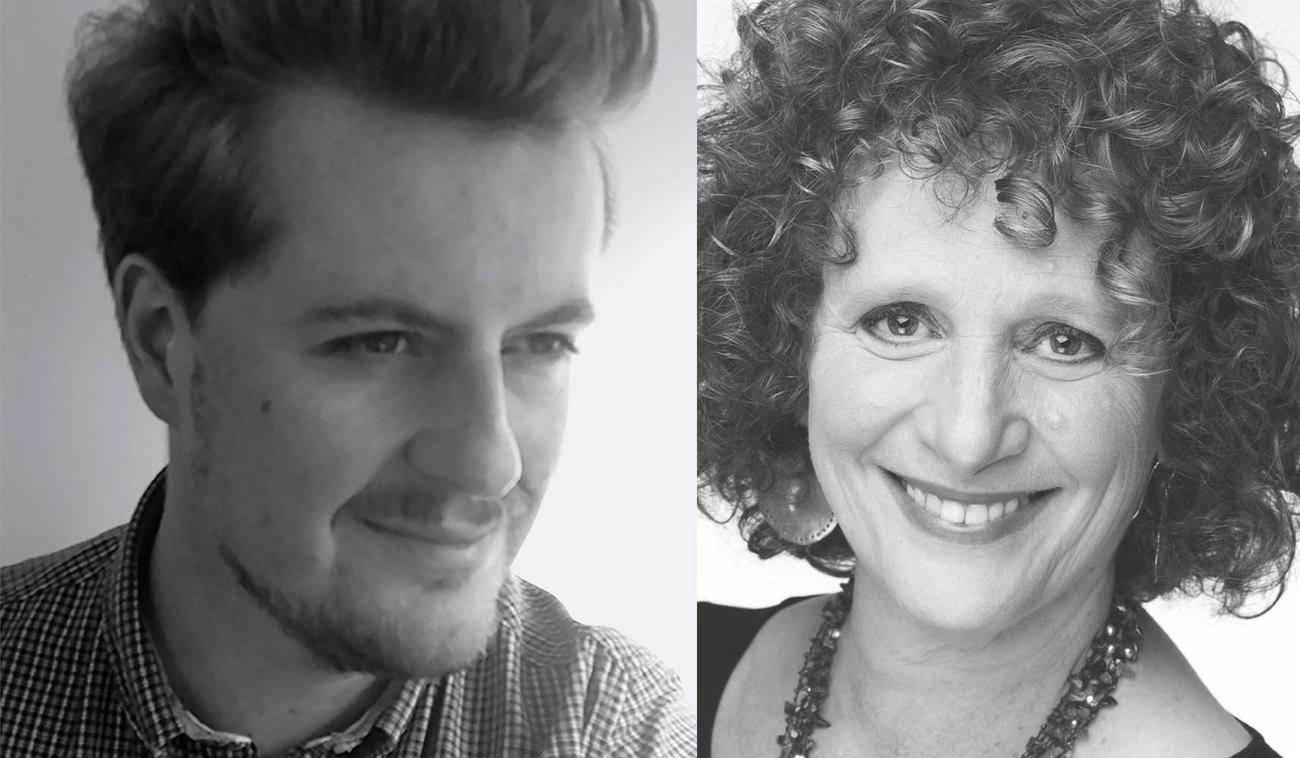 David Winter is the editor of Bloodhound, a new memoir by Ramona Koval. Here, David and Ramona continue their chat about writing, humour and moving on. You can read part one of this interview here.
DW: Bloodhound puts a lot of your interior life on display for the world, and in it you sometimes acknowledge that you ought to be ashamed of your bad thoughts. How do you imagine your readers—those people who've followed your career over the years, and were charmed by By the Book—will react to such candour? It often seems these days that, for all the exposure of people's private lives, stating our less charitable thoughts is frowned upon. For telling us that you sometimes wished dead the man who raised you, are you going to be censured? 
RK: I hope readers will recognise the honesty with which I tried to pursue all my former interests—honest conversations, honest opinions, honest reports—and see that it has been applied as much as is possible to the story of Bloodhound. I hadn't given a moment's thought to whether I would be censured until it was brought up by early readers such as yourself. Isn't it one of the most important rules of writing anything, to first let it rip and let the chips fall where they may? Then you have something honest you can work with. Do I really mean these words? Do I really think they should be as sharp/wounding/uncompromising as this? If yes, then leave them there. 
But since you bring up the point about wishing someone was dead—or at least wondering when they were going to die—I have done a quick survey of the people who were here at my house for dinner last night, all law-abiding, non-sociopathic or psychopathic, more or less well-adjusted adults over fifty. To a man and woman, they admitted having wondered the very same thing. It's a small sample, I know, and they were waiting for dessert so they might have been biased towards agreeing with me, but maybe it is an attitude that many of us grow into?
DW: I will admit to a lot of things for dessert. This might be a good time to point out that while your search for your biological father takes you to harrowing places, there are also a lot of jokes along the way. In the book, Dad—the father who raised you—seems to use jokes to avoid discussing anything painful. You, though, seem to use them to get to the nub of a problem. It's yet another difference in your personalities, isn't it? (Also, maybe you could tell us a joke?) 
RK: As you no doubt recall, we spent nearly four hours yesterday, side by side, poring over three versions of the page proofs of Bloodhound. I told you I would look for a joke involving an author and an editor. I tried. Nothing was funny enough. Nothing was suitable. They were all pretty pointed over the relationship, which always seemed to be a struggle of wills. That's certainly not what I have found, so none said anything to me. 
Then I realised that I almost never tell jokes. So why was I trying to find one to satisfy your need for me to do so? I was trying to comply with your request, trying to find a good answer to your question. I was trying not to be the kind of interviewee who takes issue with the question, and makes it hard for the interviewer. 
I'm glad you found parts of Bloodhound funny. I did too, when I wasn't anxious or weeping. I mostly found the absurd and silly situations I found myself or put myself in the funniest of all. But jokes? I think not, dear boy. 
Also, I think that the idea of someone telling jokes puts me in mind of Dad, and I so much do not want to be like him that I fear telling a joke would compromise me. Weird but true. 
DW: I'm amazed that you not only survived our marathon session but then went to an event where you interviewed no less a writer than Michel Faber. Yes, my question was poorly phrased: I meant that he tells jokes as an avoidance strategy, whereas you use humour (not jokes) to survive or interpret difficult situations...
Can I quote a funny thing about editors that I saw the other day in a book we're publishing alongside yours, in May? The book is Between You & Me: Confessions of a Comma Queen. I think you might like it.
'The generation of writers who were hired by [New Yorker editor William] Shawn in the mid-seventies to write for [the magazine's front section] Talk of the Town were often puzzled by some of his prohibitions. In addition to the usual bodily fluids—piss, shit, blood, and spit—he was squeamish about fish hooks, wigs, twins, and midgets…And in a story tabulating the cost of taking the subway to a movie and buying refreshments, the editors cut Junior Mints. When [author Mark] Singer asked why, the style editor, Hobie Weekes, told him, "A New Yorker writer should not be eating Junior Mints." According to Ian Frazier, the sentence incorporating as many Shawn taboos as possible was "The short, balding man wearing a wig took his menstruating wife to a boxing match."'
I like Junior Mints. Anyway, can you tell us about the first words you learned in your online Polish course, and the sentence they added up to? I still can't figure out why those words, instead of 'Where is the train station?' or 'My name is Ramona.' Are you fluent in the language now? 
RK: You are right—I think I will like Between You & Me. All this editing we have been doing for the last few months is making me neurotically particular. I find myself correcting people's conversations, Twitter updates and Facebook feeds. And people in shops, doctor's offices and at the dentist. It's very annoying for them, and it makes me look demented.
My first steps with Polish were on a Let's Learn Polish, or similar, website. As with many language lessons, you first learn words that sound almost exactly like those in your own language: 'film', 'gauze', 'garage' and 'hyena'. So I could say something about filming a gauze-wrapped hyena in the garage, but nothing useful.
This is reminding me of my Yiddish lessons. Before I joined a class I found an ancient teach-yourself book. Two of the sentences you could learn were: 'Please be careful, sir, I think you may be driving us off a cliff.' And the more mysterious: 'Excuse me, I have eaten your potatoes.'
Back to Polish: I have found that the only good way to learn a language is to engage a teacher. I meet my Polish teacher each week in a coffee shop. It gets me out of the house.
It is the hardest language I have tried to learn. Russian is similar, it has a different alphabet, but it doesn't have the weird sounds that Polish has. If you saw the rules of Polish, the ways words change according to their cases, and this applies not just to the verbs but to nouns as well (it seems that whenever I think I have the hang of something, there's a new rule I am taught which throws everything into confusion), you'd believe me when I say I will never ever be fluent in Polish. I will always sounds like a badly educated foreigner.
But I can now write emails in Polish that are good enough to be comprehensible to others, and I can decode the replies. I can recognise the words that are parts of speech and look them up. I am a demon user of translator apps. And Robert Dessaix has just sent me a Polish translation of his book As I was Saying, Jak juz mowilem (with a funny line through the l, a dot on the z and an acute accent on the o), and I have promised myself to get to the stage of being able to read it by the end of the year. 
DW: It's always handy to be able to apologise in a new language for stealing carbs. I met Robert Dessaix at the Sydney Writers' Festival and he told a hilarious story about how polite French people don't blink at the phrase 'baise-en-ville', describing an overnight bag. Literally, it means 'fuck in town', so somewhere in France right now there's probably a lovely old lady wondering where her sex bag is. Languages are full of these idiosyncrasies, or maybe it just proves that the French really are a lot more relaxed about people having affairs.
Do you feel part of a community of local writers? I know you know many, but what does that mean when you start drafting an intensely personal story like Bloodhound?
RK: That 'lovely old lady' could well be packing for a night of steamy sex in the capital, and not be perturbed in the slightest. I first wrote 'in the slightest perturbed' but then I thought you'd prefer it the other way. I'm not sure what the rules are, but I know you are. 
I did meet some local writers when I was researching Bloodhound and renting a room which I shared with another writer at Glenfern, the local National Trust house with writers' rooms. We all met for lunch once a month in the downstairs room and the idea was to talk about the work but I fear I just looked gloomy and said I'd been watching archival interviews with Holocaust survivors and they more or less let me be.
I didn't show anyone what I was writing because for the longest time I had no idea what I would find and where I would end up. I had so many strands, so many stories that my hands were full. And I had spent so many years reading other people's books and talking about other people's experiences, I just wanted to use the time I had to do my own work. I probably wasn't the most collegiate of writers.
DW: Ramona, here I am, six days after our last exchange. It feels like a long time: we've gone through all the final changes to Bloodhound, an extra read-through, jacket and prelims, and so on...I'd just sent the print order when Danielle Wood (a wonderful author whom I've worked with on a few books) sent me this piece from Slate. It's a bit like our conversation here, except more polite (save for the scatological stuff). I particularly like the comment about experienced editors not imposing themselves upon manuscripts.
Anyway, at this stage in a book's life I take a deep breath, then move on to all the other titles I've got on the go. But you, as the author: this is the book and, now that it's gone to print, you're officially between projects. How does it feel? Is it time to start a new one, or to focus on other things for a little while? 
RK: Yes, it's true—I'm now officially between projects. Or really, I'm at the end of the plank and I have nothing to dive into yet, save some journalism and some grand-mothering (my sixth is due at the end of June). I love the journalism, the way I can get immersed in one thing for a few weeks and then find something else and get immersed in that. Not like Bloodhound, which has had me by the throat for years now. Look at that imagery I'm using, death by plank-walking and by throat-grabbing. In a way, I've lost my reason for sitting at my desk each day. Or maybe I've simply lost my reason?
Of course, when I have a big project, I can't bear doing journalism, taking me away from my one big obsession, making me feel like a dilettante.
Did you feel you had to resist the desire to impose yourself on my manuscript? I never felt that you crossed any lines, so you must have been splendidly self-controlled. Only once or twice I thought that your need for more niceness in the self-reflections you were editing might reflect either your youth or your Anglo-ish background or your more admirable qualities compared to mine. 
DW: Congrats on your forthcoming addition to the family, Ramona! It's a good excuse to be away from the desk for a bit—and you will have publicity duties and other writing commitments, so it will be a busy time as you search for the next big obsession. 
I am younger than you, and Anglo (so unusual in publishing), but certainly not more admirable. It's generous of you not to mention the elephant in the editorial grotto: likeability. One of the things I most admire about your book is that you take no prisoners; you're not looking for sympathy from readers. Empathy, maybe.
RK [a week later]: I just wanted to say that I've cleared my desk of all Bloodhound-related files, books, photos, drafts, etcetera, and put them in a box on top of a bookshelf. It looks all clean and Danish now. Excited about the next phase. I dreamed I went to a writers' festival and it was full of French artisanal cheese-makers...
Bloodhound is available from 22 April in bookshops and online.
Shortlists Announced for the 2015 Children's Book Council of Australia Awards
We're thrilled that two of our books are on the Children's Book Council Awards (CBCA) shortlists: The Minnow by Diana Sweeney (Books for Older Readers) and A–Z of Convicts in Van Diemen's Land by Simon Barnard (Eve Pownall Award for Information Books). Two titles have also been recognised as Notable books for 2015: The Firebird Mystery by Darrell Pitt (Books for Younger Readers) and The Astrologer's Daughter by Rebecca Lim (Books for Older Readers). Visit the CBCA website for the full shortlists.
The Minnow, winner of the 2013 Text Prize for Young Adult and Children's Writing, is a moving and powerful coming-of-age story. Tom survived a devastating flood that claimed the lives of her sister and parents. Now she lives with Bill in his old shed by the lake. But it's time to move out—Tom is pregnant with Bill's baby. In her grief and confusion, Tom talks to fish: Oscar the carp in the pet shop, little Sarah catfish who might be her sister, an unhelpful turtle in a tank at the maternity ward. And the minnow.
'Quietly powerful and compelling. A tender, lyrical book about love, loss and starting over.' Meg Rosoff
'Diana Sweeney gives Tom a believable voice: innocent, headstrong, anxious but determined...this strong debut will resonate with young people and adults alike.' Books+Publishing
'This is an extraordinary, original, rich and surprising novel...Tom is an unforgettable character.' Magpies
Watch the trailer below and download the Australian curriculum teaching notes here.
Simon Barnard's A–Z of Convicts in Van Diemen's Land is a rich and compelling account of the lives of the men, women and children who were transported to Tasmania for crimes ranging from stealing bread to poisoning family members. Their sentences, punishments, achievements and suffering make for fascinating reading. And the spectacular illustrations, each one carefully drawn in meticulous detail from contemporary records, bring this extraordinary history to life.
'Australian convict history is a crowded field, but Barnard's detailed and vivid illustrations breathe fresh life into it…Every school library should own A–Z of Convicts in Van Diemen's Land...not to mention interested adults.' Australian Book Review
'Barnard's impressive craftsmanship has produced a truly handsome book design that pays loving homage to its 19th century sources...School students often complain about the dullness of Australian history. Barnard's highly entertaining book is the perfect antidote to the usual sober textbook treatment of the convict era.' Reading Time
'Simon Barnard brings Tasmania's remarkable convict story to life.' James Boyce, author of Van Diemen's Land
Download Australian curriculum teaching notes here.
Shortlists for the 2015 Australian Book Industry Awards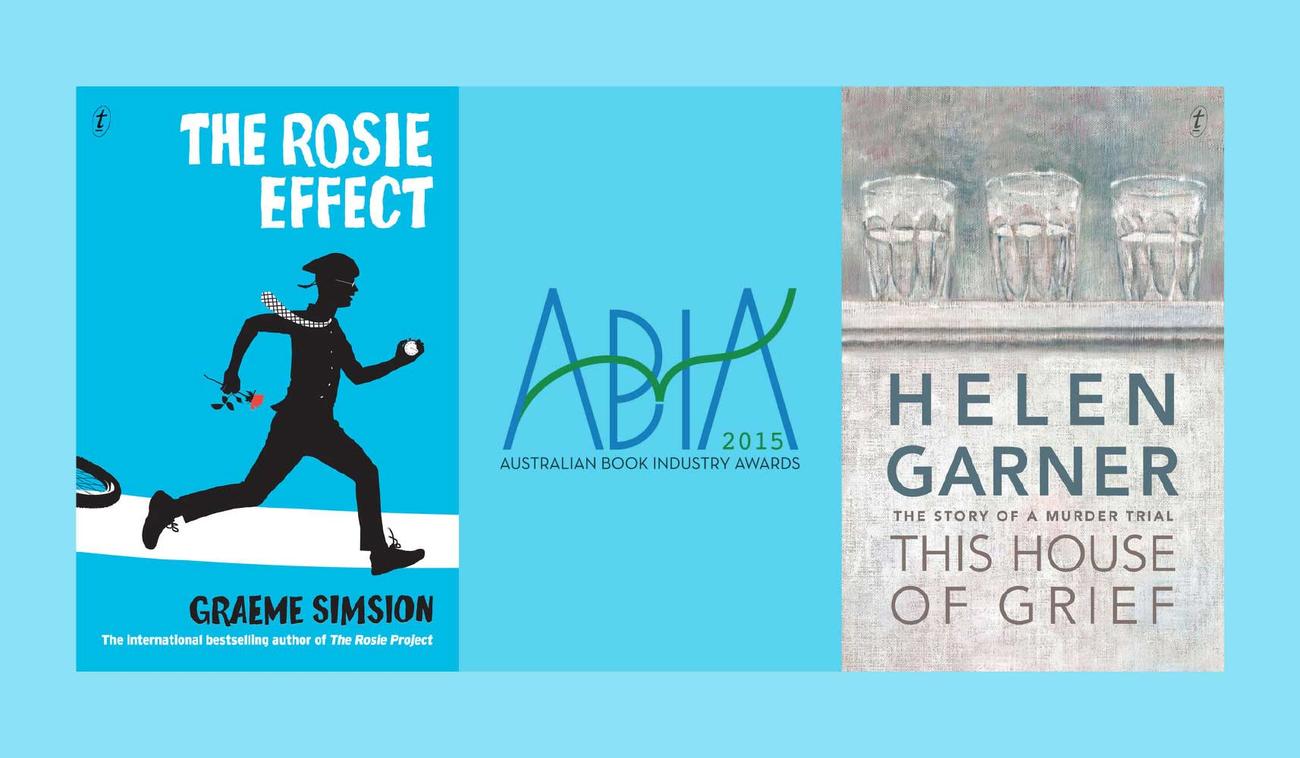 Congratulations to authors Graeme Simsion and Helen Garner, whose books—The Rosie Effect and This House of Grief— have been shortlisted for the 2015 Australian Book Industry Awards (ABIAs).
The ABIAs are an annual celebration of Australia's finest and most popular writers and industry personalities. They are voted for by more than 100 representatives from across the bookselling and publishing industry. Panels of experts will decide on the winner in each category.
Graeme Simsion's The Rosie Effect has been shortlisted in the General Fiction Book of the Year category. The Rosie Effect is the sequel to the internationally bestselling The Rosie Project, which won the ABIA Book of the Year in 2014. It's another charming and hilarious romantic comedy starring Don Tillman and Rosie Jarman, who are now married and living in New York. Don is teaching while Rosie completes her second year at Columbia Medical School. Just as Don is about to announce that his philandering best friend Gene is coming to stay, Rosie drops a bombshell: she's pregnant. 
'There's no sophomore slump here...It's a funny novel that also made me think about relationships: what makes them work and how we have to keep investing time and energy to make them better. A sweet, entertaining, and thought-provoking book.' Bill Gates
'Don himself, pedantically single-focused as ever, is increasingly charismatic and the left-field resolution of his problems is as satisfyingly credible as it is delightfully unexpected.' Adelaide Advertiser
Helen Garner's This House of Grief, shortlisted in the General Non-fiction Book of the Year category, is the heartbreaking and compelling true story of a murder trial. Helen became obsessed with the trial of Robert Farquharson, who drove his car into a dam killing his three sons. She presents the theatre of the courtroom with its actors and audience all gathered for the purpose of bearing witness to the truth.
'This House of Grief is a magnificent book about the majesty of the law and the terrible matter of the human heart. It has its centre a feeling of the engulfing powers of love and hate and the way any heart unlucky enough may kill the thing it loves and drown in an eternity of grief. If you read nothing else this year, read this story of the sorrow and pity of innocents drowned and the spectres and enigmas of guilt.' Peter Craven, Weekend Australian
'This House of Grief has all the trademark Helen Garner touches: harrowing scenes recorded without restraint or censorship; touching observations of characters' weaknesses; wry moments of humour. And also customary with Garner's work, her words, and the boys' fate, will haunt us long after we've turned the last page.' Guardian
To find out more about the awards and to view the full shortlists, visit the website here.
The winners will be announced at a black-tie dinner in Sydney on 21 May.
The Chantic Bird by David Ireland
This month we're proud to be publishing the fourth David Ireland title in the Text Classics—The Chantic Bird. The Chantic Bird is the confession of a teenage anarchist, who combines a contempt for contemporary society with a great tenderness and warmth for his younger siblings and for Bee, the girl who looks after them.
When I first read this book, as a young, just-out-of-the-country girl in the 1980s, reading the book more than two decades after its original publication, I was gripped by the narrator's anarchic and aggressive view of the world. It was one of the rare books that made my skin tingle and my heart race. I was so excited about it that I recommended it to a man I had fallen for. He loathed it, but it gave us plenty to talk about and we are still arguing about books more than twenty years on. 
In his fine introduction to the novel Geordie Williamson, chief literary critic of the Australian, better describes this feeling in the broader context of Australian literature:
This authorial voice remains thrilling and disquieting in equal measure. No one before David Ireland sounded quite like him: his writing is experimental and brutal, utterly at odds with the agrarian school of Australian fiction. And he had no immediate contemporaries, aside, perhaps, from Kenneth Cook, author of Wake in Fright, who was born only months after Ireland in the same south-western Sydney suburb of Lakemba. Wake in Fright appeared in 1961, seven years before The Chantic Bird was eventually published. 
Today, Ireland's traces are everywhere: in the early metafictions of Peter Carey and in The Life, the most recent novel by Malcolm Knox; in the grungier corners of Andrew McGahan and Christos Tsiolkas; in film (Mad Max, Ghosts...of the Civil Dead, Bad Boy Bubby ) and in the antipodean gothic of the man who may now be our most influential literary export, Nick Cave. Hemingway once suggested that all of American literature came out of Huckleberry Finn. It's arguable that one tradition—modernist, masculine, urban, working-class—emerged from The Chantic Bird and the writings that followed it, irrespective of Ireland's invisibility to the culture at large.
Read the full introduction here.
The Chantic Bird, Ireland's first novel, was published in 1968. In the next decade he published five further novels, three of which won the Miles Franklin Award: The Unknown Industrial Prisoner, The Glass Canoe and A Woman of the Future, which are all now available as Text Classics. His work is characterised by a deep engagement with working-class Australia and the dehumanisation of modern labour practices. In the author's own words: 'It has been my aim to take apart, then build up piece by piece, this mosaic of one kind of human life...to remind my present age of its industrial adolescence.' His contribution to Australian literature was recognised in 1981, when he was made a member of the Order of Australia.
Don't miss a rare opportunity to hear one of Australia's greatest writers—David Ireland joins Geordie Williamson in a one-off event to discuss David's life and career at the 2015 Sydney Writers' Festival. Click here for more details.
Yarra: A Diverting History by Kristin Otto
Take a leisurely journey down the Yarra with this week's special deal.
The shape of this river echoes in its stories.

There are meanders in the telling, billabongs,

islands, snags, floods…
It was John Wedge, Batman's private surveyor, who named the Yarra Yarra. In September 1835 he was at the Turning Basin with some Kulin and heard them identify the river as it came over the Falls as, he wrote, 'Yarrow Yarrow'. It was only some months later that Wedge discovered they had been referring to the pattern and movement of water over the Falls, not the river itself.
Ever since it has been the Yarra's fate to be misunderstood: maligned for its muddiness; ill-used as sewer and tip; scooped, sculpted, straightened and stressed; 'cleaned up' to the detriment of its natural inhabitants; built-over, under and beside; worked mercilessly and then bridged almost to maritime extinction.
In Kristin Otto's superbly entertaining history, the whole sorry tale is laid bare. From the creation stories of Kulin owners and geologist blow-ins to the twenty-first-century waterside building boom, Otto traces the course of Melbourne's murky river. 
Erudite, affectionate and witty, with more meanders and diversions than the river itself, Yarra is both a fascinating read and a fitting tribute to the 'noble stream'.
'In Otto's hands the Yarra reveals itself , not so much upside down as inside out and top to bottom.' Age
'For all Melburnians curious about the history of the Yarra and their city...Yarra is to be recommended. It does more than "entertain". It adds substantially to our knowledge and understanding of the river and its city.' Australian Book Review
'With this book, the river that is said to flow upside down regains much of its lost dignity. Kristin Otto's definitive account of one of Australia's most famous rivers...offers a fascinating and entertaining history.' Weekly Times
Yarra: A Diverting History is $19.99 this week only, with free postage. Read more.
Editor David Winter has a yarn with Ramona Koval, part 1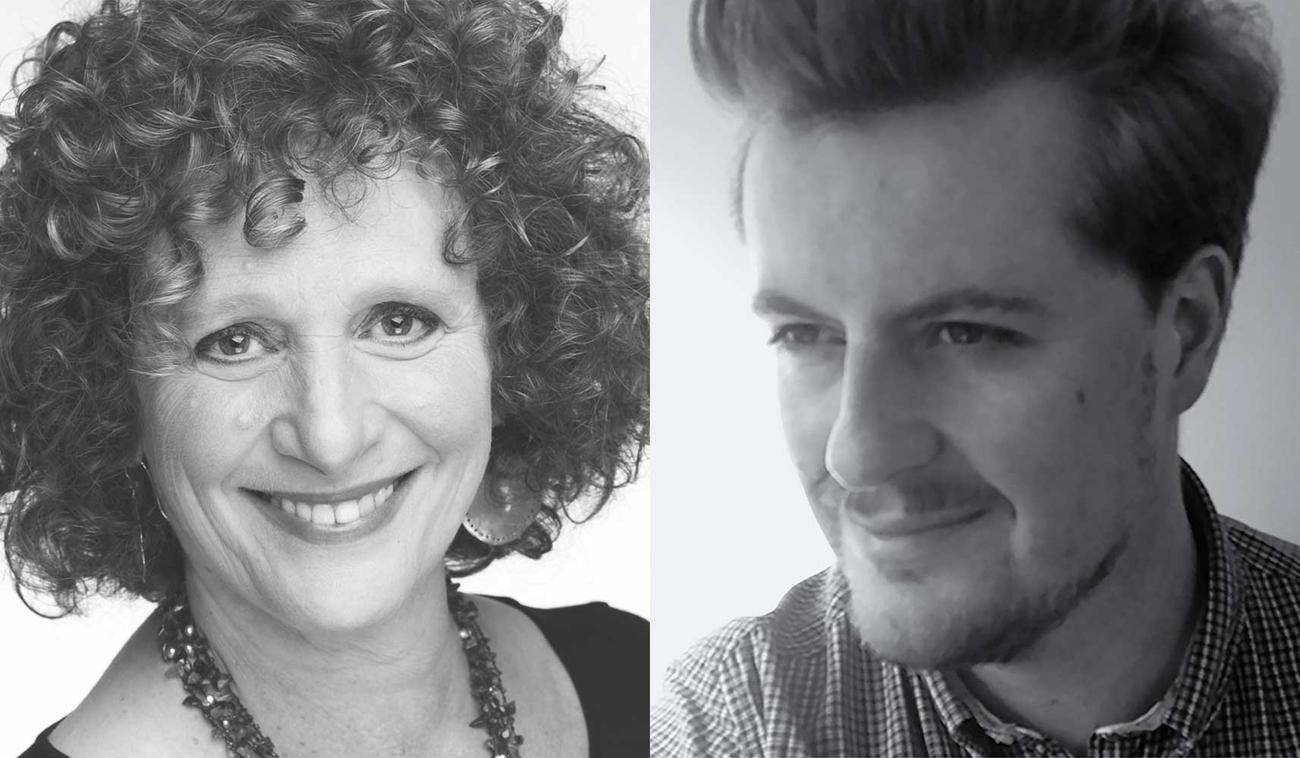 The first in a two-part email conversation between author Ramona Koval and senior editor David Winter about writing, editing and the benefits of an occasional shot of vodka.
David Winter: Hi, Ramona. Well, here we are two weeks from printing Bloodhound. We're down to the last corrections to the proofs. Once it's all ready, we'll wait for another fortnight until the copies come in. Then we can toast your new book! It will only be one more month till it's on sale! So, here are your choices from the Text bar: tap water, Mandy's fizzy drink (don't choose this), Marcus's sparkling mineral water, sparkling wine, red wine, white wine, beer, HG's Delicious Birthday Vodka Straight from the Freezer. I bet I know what you'll choose, as your shindig for By the Book is still the only book launch I've been to where the author was doing shots before the speeches. More's the pity...Anyway, can you tell me how you found your favourite poison?
Ramona Koval: You are so right, David. I'm all for HG's Delicious Birthday Vodka Straight from the Freezer. I hope there is some left, although I need only one shot. Or at the very most, two. Then I will drink tap water for the rest of the night while I observe the bad behaviour of others.
My family were not great drinkers. Perhaps a vodka or a brandy at a wedding or bar mitzvah. I heard about vodka not leaving an after-smell on the breath and I thought that was neat. I haven't really developed a taste for wine. A shot of vodka is all I needed for courage. Whenever I have tried fancy cocktails I have regretted it in the morning. And for the rest of the week.
DW: Just a shot for courage, then watch others' bad behaviour—I like that. I've always found that white spirits make me a bit crazy; but I'd not heard about vodka having magical breath properties, so maybe I should give it another try.
Perhaps you could explain a bit about what you're celebrating? I mean, beyond a new book, which is always a huge thing. The action in Bloodhound—the quest to find out who was your biological father, and all the things you do to further that quest, the wild detours and so on—takes place over about fifteen years, but in a sense it's the story of your whole life. From a young age you believed your father was not your real father. People who know you as primarily a broadcaster might be surprised to know that for all that time you've also been an undercover detective of sorts, albeit in the genealogical sense. Is it hard to stop searching—can you ever really give up being a bloodhound? 
RK: It was a revelation to me when I realised I was a bloodhound. I had the smell of a story in my nostrils and there was almost nothing I could do about the urge to follow every clue to resolve it. After a few years I began to realise that much of my life's work had prepared me for the chase. I had studied science because the world was confusing to me and I found it exciting to think that there were immutable laws of science that could make the world more predictable. I studied genetics, of all things, because I was fascinated by the idea that traits could be handed down through families. I became a journalist, a professional asker of questions, to be able to follow my hunches, my interests and my gut reactions, as well as my intellect. Everything seems, in retrospect, to have been ordained by my need to know more. Can I ever give up being a bloodhound? Could I possibly have been anything else?
And what about you, David? Since we are going to talk about editor–author relations, what made you into an error hound? Or a hound sniffing out the best book a manuscript can be, hidden behind the miasma presented by the author? 
DW: Well, you have to aspire to do all the detail, and also come up with creative insights that help an author to lift up their manuscript a level or two. And there's the talent spotting, too. So it has the appeal of needing to get very different attributes working simultaneously. Why me, though, I don't know...the percentages are better than anaesthetics: ninety-nine per cent boredom, one per cent terror. Editing doesn't pay as well as anaesthetics, but the risk of losing someone on the operating table is so much lower. 
I know you're thinking now about what book to write next, and considering heading back to science. Science, in fact, infiltrates most of the chapters in Bloodhound. When you're tossing ideas about, what do you consider—what do you worry most about? Is it whether a subject can sustain your interest, or whether readers will want what you have to say, or other things? (I worry about sinkholes. Maybe you could write a book about how they seem to be opening up everywhere at the moment.) 
On a tangent, how do you rate the health of long-form non-fiction writing at the moment, at the literary end of the spectrum, and whose writing in that area has grabbed you recently? 
RK: Ah yes, sinkholes. I just watched two South Koreans get off a bus and walk a few steps and disappear beneath an innocent-looking pavement. Sinkholes are indeed intriguing. If I were to write you a book about them I would have to be transported by the idea of them, by the story of the why and the what and the how, by a range of ideas and disciplines—history, psychology, geology, game theory, human ingenuity, urban development, I could go on—and now I see I am almost talking myself into the possibility...
For me, the next big project will take me across the space–time continuum and introduce me to a range of utterly enthralling ideas. It will certainly not involve any complex negotiations with my family. I've found that my enthusiasms, well told and researched, will interest enough people to make the project viable. Is the idea sustainable into a book? Will it take me over? These questions are the start of things, and then I let the momentum of passion and persistence take over. 
I have immersed myself in Bloodhound for the longest time, and almost to the point of singular obsession over the last year, so I have not been able to read widely in other areas, but I'm convinced of the continuing health and vitality of long-form literary non-fiction. It's the form I love to write and to read. I find it compelling and in these revolutionary times—digital, humanoid, terrestrial—I'm compelled to understand just what's really going on. I'm attracted to books about one thing—sand, rubber, fishing, whatever—and knowing everything there is to know about that thing. 
When you say you worry about sinkholes, do you dream about them? I'm just remembering that phrase people use about wishing there was a way for the earth to open up and swallow them, getting them away fast from where they didn't want to be...like getting sucked into a black hole. Did you see that film Interstellar? I loved it.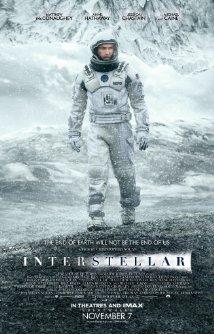 DW: There's something primal about it, isn't there: we depend literally on the ground beneath our feet, and figuratively on all the sayings about it. I'm glad to say I don't dream of sinkholes, because that would be the same old falling nightmare most of us have as children. (My dreams are both more elaborate and more banal now.) Did you see the news this morning that scientists have discovered a black hole the size of twelve billion suns? I don't find it any easier to process that kind of information now I'm older; I just make a quiet groaning sound, then worry about whether there's any yoghurt left and why does there have to be an editorial meeting this morning and would the cat stop howling for no reason. 
I haven't watched Interstellar yet; I should, but I feel like I'm on a downward trajectory with Christopher Nolan. I love reading about space: Lem's Solaris is amazing, and I dragged myself through Mailer's A Fire on the Moon recently, which is an incredibly detailed and brilliant explanation of the science of the moon landing, but also has the author constantly referring to himself in the third person as Aquarius...Have you read it? I much prefer your approach in Bloodhound, the unabashed 'I', an unpretentious first-person narrator who confides in the reader instead of reaching out to punch them in the face. 
So, I'd like to get down to the nitty-gritty. Let's talk about the past few months, gloves off. What's been the hardest thing for you in the publishing process? For me, getting my head round the time shifts in your story—the chapters of Bloodhound switch between different periods in the past fifty years—and returning to the Holocaust stories, particularly the testimonies at the war-crimes trials, have been the biggest challenges. But I wonder what it's like for you, not just the editing and reworking but also being presented with a cover design showing you as a child with the father who raised you, the man who you've always felt was not your dad. This must be confronting? Or is it no big deal after having watched countless hours of survivors' accounts of the death camps? 
RK: I must say it was a shock to see the cover design, the little toddler girl, me, leaning into the squatting haunches of Dad, in his thirties then, so much younger than I am now. We are in a park and the big tree behind him is a kind of ominous presence. I'm smiling, unaware of the path before me. He always looked uncomfortable in photos, so maybe it's not me that's caused it. Or maybe it is. Did he have an inkling of the tenuous link between us? 
It seems rather private, this photo. I never imagined it was going to be the cover of this book, the code for my story of chase and revelation. At first I thought it was too close to home, and then I remembered the whole book is close to home, close to the bone. 
I had some hard months of research, watching and reading Holocaust survivors' testimonies, but I could pause the film or put the book down and get some fresh air whenever it got too hard. Which is more than they could do. So I owed it to them to persevere. 
It was worrisome to negotiate the path of this book through family and those to whom I was indebted for information and help. A writer wants to write. Others prefer not to broadcast their stories. I had to come to an understanding with people while protecting important relationships. I had to wait for the main protagonists to die. It took fifteen years, but that was exactly the right time for the book to cook. It couldn't have had the twists and turns and what I hope is the mature resonances if I had spent a moment less on the task. 
And—thinking about your problems with time shifts—aren't we lucky to have your facility with the English language and knowledge and skill with tenses in all their glory. When someone tells their story, they hold all the time shifts in their head, the stories melding backwards and forwards, meanings being generated, foreshadowed and skirted around. It was wonderful to have your careful eye clarifying the writing, honing the story so that meaning was sharpened. 
DW: In the book you mention briefly a couple of times your years of psychoanalysis. That can be a process of story-making, to make sense of the past. Does the act of writing your story for readers, making it public, have any therapeutic value? Or does it feel like a different process? Readers will see that Bloodhound becomes more and more about stories: about why we need them. 
RK: Yes, I mention some four and a half years of psychoanalysis. It was an attempt to test the story I was telling myself about the way things had been, the way they were. I embarked upon it after I returned from Poland and had made a radio documentary called The Cellar, the Hinges and the Copper Samovar. I had thought that making the trip and the doco would be liberating, but I was still feeling a bit confused about the identity of my father. I remember being very suspicious of my analyst at the beginning. I couldn't find very much that he had written about the process. I was doing my research as usual. He told me that it was very hard to write about what might happen. How to connect various dots, dreams, misapprehensions and transactions to make a coherent story? In the end it is hard to say exactly what I was left with, other than some strands of story that I felt I knew well, that had stood the test of the telling.
It was years after this time that I started writing Bloodhound. And because I was not sure where I would be taken with the unfolding quest, where I ended up was a surprise for me and, yes, a kind of relief, too. And yes, psychoanalysis is a very different experience than writing was, but both approaches were additive and mysterious.
DW: I like your phrase 'stood the test of the telling'. Irvin Yalom had a case study in the New York Times the other week, 'A Curious Case of Writer's Block'. He describes the end of their one consultation, the patient saying: 'I regret having to leave you with so many riddles...but I'm afraid our time is up.' I loved the role reversal. Are you a fan of TV shows with analysis storylines (Dr Katz, The Sopranos, In Treatment)? 
RK: I just read Yalom's piece. It is improbably amusing, and I get the delicious reversal of the patient deciding when the doctor's time is up. The only TV show of those that I followed closely was In Treatment, which I thought was wonderful. I especially loved the behind-the-scenes view of what was really going in the analyst's life, and the wonderful weekly visits to his own therapist. We imagine that the analyst holds all the wisdom in his hands/head, and it's a shadow worry to imagine that this is not the case. Can you really trust him? You can learn quite a lot from what your projections about the life of the analyst might be. 
After it's all said and done, and you've bid your goodbyes, it can be even more fun to discover where the truth lies! These social and professional circles can be quite small really, and overlapping in a most amusing way.
Tune in next Wednesday to read the second part of the conversation, about telling jokes, learning languages and moving on.
Read Easter Differently this Year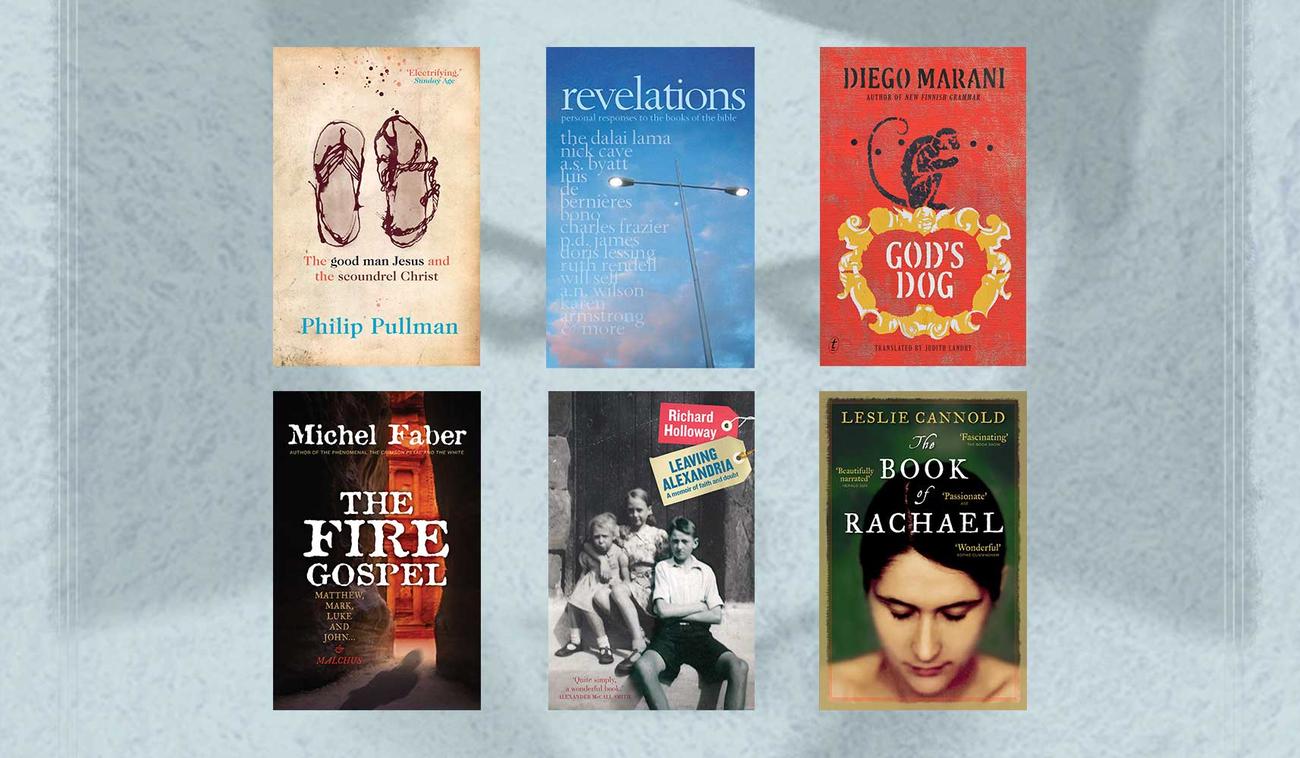 Think about faith in a different way this Easter, with these remarkable books from Text.
Easter is a time to reflect on faith and what it means in the twenty-first century. These books pick it up, turn it over and give it a good long shake. From the sincere to the absurd, these intriguing books, by some of the best storytellers in the business, reinvent, reimagine and reinterpret these age-old tales.
In The Good Man Jesus & The Scoundrel Christ, Philip Pullman reimagines the most influential story ever told. Charged with mystery, compassion and great power, it says something new about who Jesus was and why the charismatic person of a spontaneous, articulate man has captured the hearts and minds of so many. Right to the end the betrayal of Jesus retains the intensity and suspense of high drama. As does the identity of Jesus Christ.
'There is nothing disrespectful in this intriguing take on the Gospels. Pullman deftly reflects the essential dualism of the Christian philosophy by dividing the historical figure we know as Jesus Christ, into fictional twins.' Telegraph
Leslie Cannold puts the women of Nazareth centre stage in The Book of Rachael: the rebellious Rachael, consigned by her sex to a life of drudgery; Bindy, the crone who teaches her the skills of the healer; Shona, her sister, the victim of a harsh social code; and their mother, Miriame, a woman seemingly unable to love. When Rachael falls in love with her brother's dearest friend, the rebel Judah of Iscariot, it seems that at least one of the women of Nazareth may find happiness. Then a message comes from her brother in Jerusalem. And the events begin to unfold that will change not just Rachael's life, but the world—forever.
'This retelling of the Jesus story will resonate with women of faith who wish to forge their own path and stay true to their values...This is a good pick for readers who enjoyed Anita Diamant's The Red Tent or Alice Hoffman's The Dovekeepers.' Library Journal
An ambitious scholar, Theo Griepenkerl, discovers a fifth gospel in Michel Faber's The Fire Gospel—with an all-too-frank eyewitness account of the Crucifixion. It could have incendiary implications for the faith of millions. But in the meantime Theo has a publishing sensation to promote in this masterful combination of theological satire and book-world farce by the bestselling author of The Crimson Petal and the White. The Fire Gospel is a celebration of human fallibility that will delight Faber fans old and new.
'This highly entertaining recasting of a Christian myth is witty and intelligent...Highly recommended.' Canberra Times
Diego Marani takes a swipe at institutionalised religion in his futuristic thriller God's Dog. On the eve of the Pope's canonisation, Domingo Salazar, Vatican secret agent, is hellbent on defeating the Angels of Death, pro-abortion and pro-euthanasia dissidents who are undermining the Pope's authority. But as Salazar closes in, the tables are dramatically turned and suddenly it is Salazar who is under suspicion of sabotaging the administration. His concept for a globalised religion called Bible-Koranism has upset the Church and he is in grave danger, as is the infamous Swahili-speaking chimpanzee Django.
'God's Dog is a rare kind of literary detective novel: thrilling, hard-boiled and action-packed, with beautiful imagery and compelling insights into religion, science and philosophy.' Readings
On a more sincere note, Revelations, introduced by Richard Holloway, is an extraordinary collection of essays by thirty-four of the most celebrated writers and thinkers of our time, in which they respond in personal and heartfelt ways to specific books of the bible. The contributors include Peter Ackroyd, Karen Armstrong, Louis de Bernieres, Bono, A. S. Byatt, Thomas Cahill, Nick Cave, the Dalai Lama, E. L. Doctorow, Charles Frazier, David Grossman, P. D. James, Ruth Rendell, Will Self, Joanna Trollope, Fay Weldon and A. N. Wilson.
'Revelations offers a series of thought-provoking essays, rigorously argued in a multitude of voices...Invigorating.' Daily Mail
And in his fascinating memoir, Leaving Alexandria, Richard Holloway charts his journey as a young priest working in the slums of Glasgow, to his controversial resignation as Bishop of Edinburgh in 2000—having lost heart with the Church over its condemnation of homosexuality. In his years as a priest Richard touched many lives, but behind his confident public face lay a mind troubled by questions. Why is the Church, which claims to be the instrument of God's love, so prone to cruelty and condemnation? And how can a person live with the tension between public faith and private doubt? Richard gives us a wise, poetic and fiercely honest book that recounts a fascinating life—and attempts to answer those questions.
'At a time when the world has urgently needed wise and compassionate leadership, this poignant memoir, written with the integrity, intelligence and wit that we expect from Richard Holloway, lays bare the ludicrous and entirely unnecessary mess we have made of religion.' Karen Armstrong
These stories could change the way you think about religion, about God and about one of the most enduring stories of all time. Explore old stories told in new ways in this unique collection. All under $20, with free postage for one week only.
Three Text Authors on the 2015 Miles Franklin Literary Award Longlist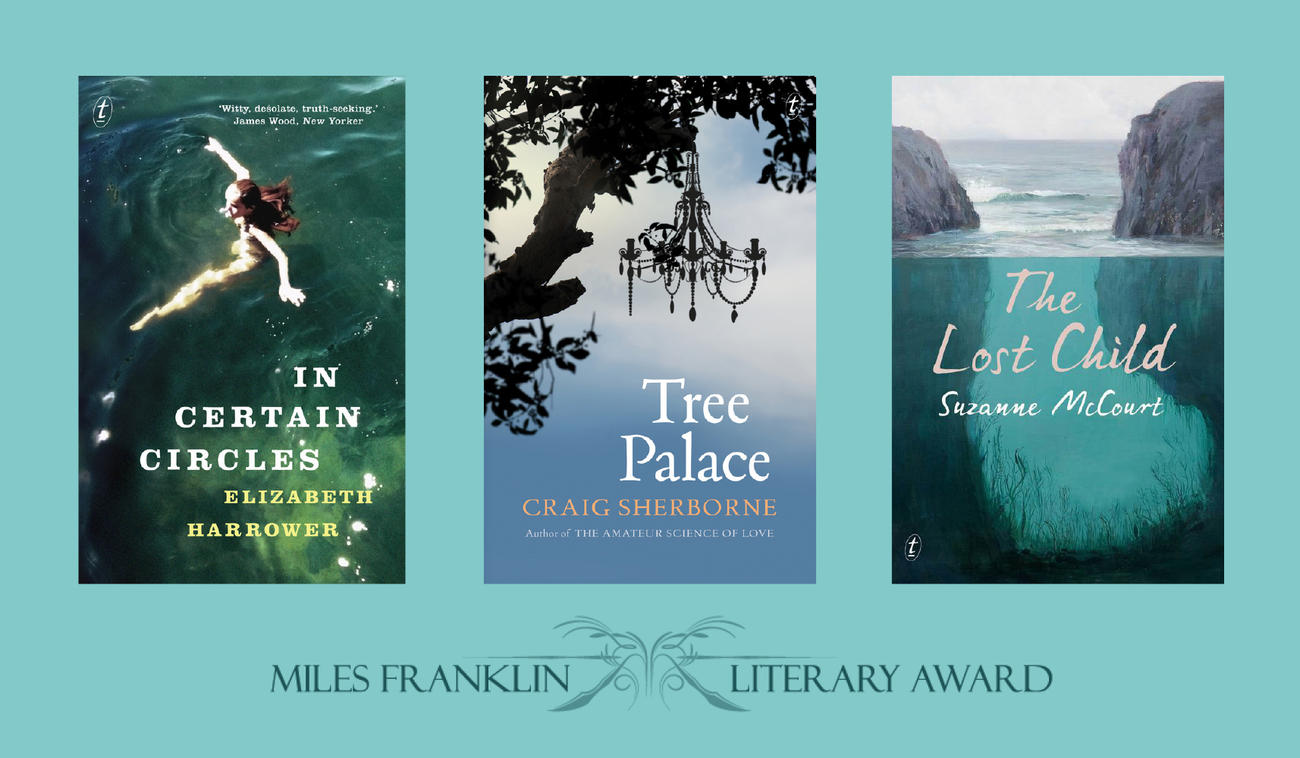 Congratulations to the three Text authors whose books have been longlisted for the 2015 Miles Franklin Literary Award—Elizabeth Harrower, Suzanne McCourt and Craig Sherborne. 
Elizabeth Harrower's In Certain Circles has had a remarkable journey. Originally due to be released in the early 1970s, it was withdrawn from publication at the last moment. The manuscript remained in the archives of the National Library of Australia until 2013 when Harrower granted Text's publisher Michael Heyward permission to read it. We are thrilled to see this lost book achieve such recognition.
In Certain Circles centres around four young people, who, despite coming from different social worlds, spend their lives moving in and out of each other's shadow. Set amid the lush gardens and grand stone houses that line the north side of Sydney Harbour, it is an intense psychological drama about family and love, tyranny and freedom.
Harrower is one of Australia's most important postwar writers and was admired by many of her contemporaries including Patrick White and Christina Stead, who both became lifelong friends. Her novels are now being acclaimed by a new generation of readers. Her four earlier novels are published in the Text Classics series: Down in the City, The Long Prospect, The Catherine Wheel and The Watch Tower.
'A novel of astonishing psychological insight exploring the darker aspects of human attraction.' Saturday Paper 
'Her insights into the nature of love, the role of women and the torsions of power in even the most ordinary relationship are bitter and sometimes cruel, wielded in the way that acute honesty may be, like a whip. Yet they are always delivered via the honeyed dipper of her prose.' Geordie Williamson, Monthly
'A brilliant exploration of relationships, marriage, thwarted passion and the beauty and the price of love.' Herald Sun
Read more great reviews, an extract or download book club notes here.
In the tradition of Tim Winton and Robert Drewe, Suzanne McCourt has written an enviable debut novel about family, identity and growing up. Set in the 1950s The Lost Child  is about five-year-old Sylvie, who lives in Burley Point, a fishing village south of the Coorong on Australia's wild southern coast. She worships her older brother, Dunc, but when he goes missing Sylvie is terrified that she is the cause. Now her father is angry all the time and her mother won't leave the house. Sylvie is a charming narrator with a big heart and a sharp eye for the comic moment, who finds her salvation in the bush and the birds and the endless beach.
'The Lost Child is an assured and bittersweet coming-of-age tale with a vivid sense of time and place…The novel is a strong addition to the shelves of Australian literary fiction.' Books+Publishing 
'Debut novelist McCourt steers clear of feyness to produce an account that is notable for its freshness, vividly drawn characters and atmospheric setting...McCourt's is a name to note.' Daily Mail
'There's a watchful intensity to McCourt's writing, a remarkable ability to discover within the most concrete details a rich and raw emotion...a novel that is at once very familiar and entirely fresh.' Weekend Australian 
Read more great reviews, an extract or download book club notes here.
Craig Sherborne's memoirs Hoi Polloi and Muck received wide and critical acclaim. His first novel, The Amateur Science of Love (2011), won the Melbourne Prize for Literature's Best Writing Award, and was shortlisted for a Victorian Premier's Literary Award and a NSW Premier's Literary Award. His writing has appeared in most of Australia's literary journals and anthologies. 
In Tree Palace he turns his beautiful prose to a family of itinerants, living in the Victorian countryside. Shane, Moira and Midge, along with young Zara and Rory, roam the plains northwest of Melbourne in search of disused houses to sleep in, or to strip of heritage fittings when funds are low. When they find their Tree Palace outside Barleyville, things are looking up. But Zara, fifteen, is pregnant and doesn't want a child. She'd rather a normal life with town boys, not trant life with a baby. Moira decides to step in: she'll look after her grandchild. Then Shane finds himself in trouble with the local cops...Witty and warm, Craig Sherborne's second novel is a revelation—an affecting story of family and rural life.
'With the crystallisation and compression of poetry, Sherborne explores ideas of property, freedom and loyalty, and produces a novel as beautiful in its conjunctions as the chandelier swinging over its landscapes.' Australian
'[Tree Palace is] moving, terrifying and wonderfully well observed and, as with all the strange books Sherborne writes, a triumph...The main character [is] one of the great portraits of up-against-it Australian womanhood in our literature, a figure to put with Lawson's Drover's Wife and Barbara Baynton's women.' Peter Craven, Sydney Morning Herald
'[Tree Palace has] insight, empathy and supple, observant prose.' Advertiser
 Read more great reviews, an extract or download book club notes here.
See the full longlist at the Miles Franklin Literary Award website, or read articles in the Guardian and Australian on the longlist announcement.