Number 3 chiller
Better Than Three Percent—Translating New Voices, by Penny Hueston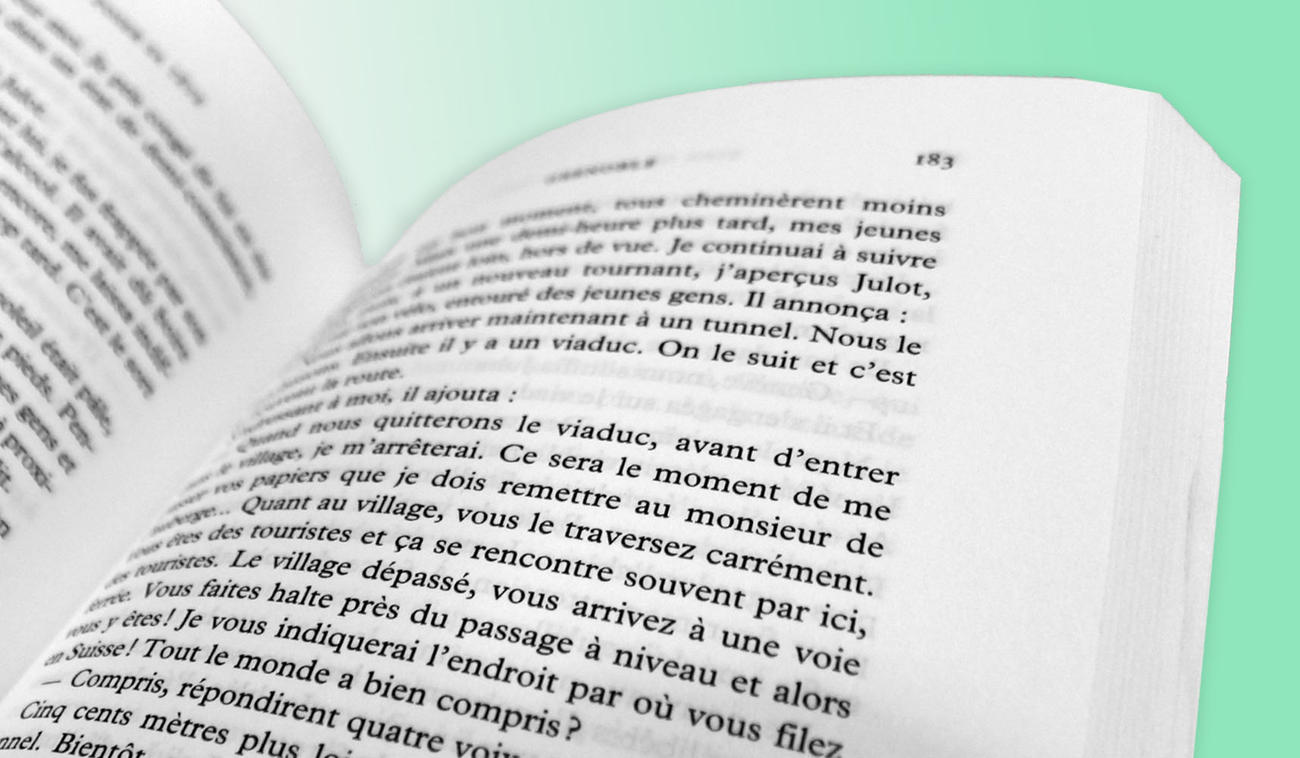 English-language publishers have a poor track record when it comes to translating books. The website Three Percent, launched in 2007, took its name from the fact that translated books amounted to a mere 3% of all books published in the US. But when I look at publishers' lists from Europe, Asia, South America and Scandinavia, where they publish vast amounts of literature in translation, it is always a shock to be reminded just how Anglocentric the global penetration of English has made us—and the UK and the US—in our reading and publishing habits. 
So I decided to measure the percentage of translations we publish at Text and was pleased to find out that it is around 13%. Here are some of the languages our authors write in: Albanian, Dutch, Finnish, French, German, Hebrew, Hungarian, Indonesian, Italian, Japanese, Mandarin, Norwegian, Russian, Spanish, Swedish, Yiddish. We have, for instance, just published Beauty Is a Wound by the extraordinarily talented young Indonesian writer Eka Kurniawan, and The Story of the Lost Child, the final book in Elena Ferrante's Neapolitan series. In the next six months we will publish Good People, by the brilliant young Israeli writer Nir Baram; Fever at Dawn, by the Hungarian Péter Gárdos; The Trap, a mesmerising debut thriller by the German novelist Melanie Raabe; The Interpreter, by the Italian Diego Marani; Men, a new novel by Marie Darrieussecq; and The Life of Elves, by the bestselling French writer Muriel Barbery. 
Of course, our literature in translation is not necessarily going to sell in vast numbers, but all of these books have the potential to shape our market. And translation has an extraordinary role to play in making audible voices we would otherwise not hear. We are immensely proud to publish brilliant Chinese writers like Yan Lianke, Yu Hua and Liao Yiwu, many of whose books are censored in China. They are superbly written and reveal a China we would never otherwise know. And of course it is wonderful when we have literary bestsellers like the novels of Nicolò Ammaniti and Elena Ferrante. 
The translations of all these books need editing. In the case of French and Italian, I try to ensure that the idiosyncrasies of the source language are in some way retained in the target language, English. In all translations, however, the priority is to render the English as completely idiomatic and fluid as possible, so that we don't have that unsettling sensation of reading translatorese—some kind of lumpy, indigestible hybrid English. 
As well as editing translations, untangling knots, smoothing out creases in the fabric of the prose, I translate from the French. Romance languages are very different from English. They are, for example, gendered, which allows more syntactical freedom: adjectives and nouns can be separated and we still know the meaning, thanks to the agreements. In English the qualifiers and modifiers have to be closer together, so sometimes I have to break down longer source-language run-on sentences of nouns and agreeing adjectives. 
Marie Darrieussecq, a brilliant contemporary French novelist, is a joy and a challenge to translate. Darrieussecq often uses words and expressions that connect with her Basque origins. Like Elena Ferrante in her Neapolitan novels, she uses dialect to express obscene or sexual layers of expression and is fascinated with the play of language(s), with the ways in which language shapes us and our dreams—she is also a psychoanalyst. In All the Way the fault lines between language and sex are a source of comic confusion for the character of adolescent Solange as she negotiates her sexual initiation. Working out how to translate the plays on stock phrases and stereotypes, or word plays, double-entendres and jokes, is like working out a complicated puzzle. But 'a good match, that's the truth about translation', as David Bellos says in his book, Is That a Fish in Your Ear?. In Darrieussecq's work, I try to get the flavour of the vulgar language and avoid too much 'Tranglish', the 'third code' that Bellos talks about. 
Solange reappears in Men (Il faut beaucoup aimer les hommes, May 2016) as a young woman having an affair with a black man who is making a movie of Heart of Darkness in LA and in Africa. It is exhilarating trying to match Darrieussecq's highwire act of combining an appealing and humorous naiveté with a piercing intelligence, and in this case an insight into knee-jerk racism.
It was quite a different experience translating the prize-winning French young-adult novel Max, by Sarah Cohen-Scali (February 2016). This novel is narrated in the voice of an outrageous young Nazi punk (from the womb to the age of nine), a product of Hitler's notorious Lebensborn program. Max does not know any other ethos or language except that of Nazism, which is all he has ever known—but then he meets a Polish Jewish boy, a stolen child. Max is a brilliant and shocking exploration of indoctrination and propaganda. The work of the translation was above all about maintaining the credibility of a voice—of a boy who is equally a horrifying brat and a pitiful lost soul. 
The process of translating is mysterious: I try to enter into a trance, a zone in which both languages hover in my mind, until the patterns and style of each emerge, and I feel I have reached some way into the author's mind. My trance leads me to a rough copy, with all its false starts and hesitations. Then I do lots of drafts, re-reading, rewriting, reading out loud, checking rhythms, fine-tuning, trying to find solutions to unresolved problems. In a sense editing is a form of translation, just as translation can be seen as a form of editing. 
Literary language is much easier to translate than idiomatic, popular speech. I try to keep internal rhymes and equivalent alliterations whenever possible, but not at the expense of meaning. The translation should not be more exotic than the original. The key is to translate the style, the voice. In the trance state, I have to apprehend the imaginary place or vision out of which the author is writing, and also work out my take on how that vision is formally transmitted. It's tonal.
My goal is to be faithful to the source text. It is in my view obligatory to translate every aspect of the text, even parts you might find less than admirable. You shouldn't clarify, simplify, or moralise, even if you think it could all have been said better, or not at all, in the original. And so I prefer Flaubert's approach, of finding a resemblance in style and spirit, over that of Nabokov, who stressed the artificiality of the endeavour. Borges is inspirational on the subject: 'When I translate Faulkner, I don't think about the problems of translating Faulkner.'
Marguerite Yourcenar said, 'translating is writing'. Javier Marias talks about the fact that every word of a translation was written by the translator, not the author. Perhaps that's what's behind the annoying phrase traduttore traditore. Despite the process of close approximation in meaning, some form of betrayal is inevitable in the radical transformation incurred by a switch of language. Of turning oranges into apples. 
It is more than obvious that a translation can never be exactly the same text as the original, precisely because the process has changed the text, and every translator changes it differently.But for the reader it's like trying to see on the other side of a mirror: unless you know the source language, you'll never really know the original text—you'll never hear it. The changes wrought on the original are in the nature of alchemy. The great translator from the Spanish, Margaret Jull Costa, once said, 'A good translation is a truly bilingual text, one that combines the writer's and the translator's voice.' 
Umberto Eco says translation is the art of failure. Maybe, but literature would die without translation, and so would we, without these messages from other cultures. So we persist in making these versions as true as possible to themselves, and to us. Translating is a radical act of literary empathy. 
Go ahead, broaden your mind: read more books in translation!
---
Senior editor Penny Hueston has previously blogged here about translating 2014 Nobel Prize winner Patrick Modiano. 
And Publishing Perspectives and Harvard Magazine have also shone a light on recent success in book translation for the US market.
What's New in December?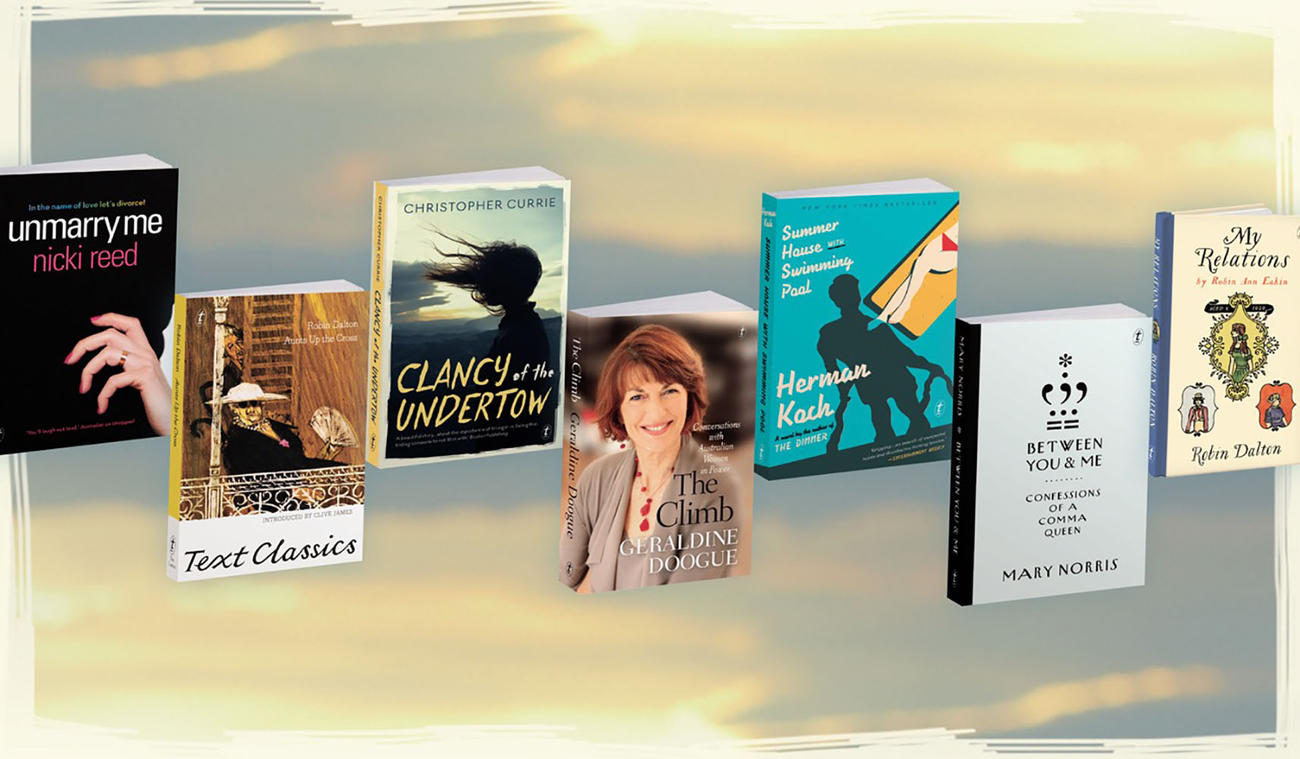 We're giving away a copy of each of our December releases!
Just tell us why you'd like any of these books in the comments section on Text's Facebook page (one book per person only).
Competition is open to AU/NZ residents only, entries close 10am AEST Monday 23 November. Winners will be notified on Facebook by 5pm AEST Monday 23 November.
* 
The weather is warming up, the festive season is upon us—it's impossible to ignore the wreaths and storefront displays popping up around the city—and today we publish our final collection of books for the year.

First up is Unmarry Me, the madcap romantic comedy from Nicki Reed, author of the equally exuberant Unzipped, which Toni Jordan described as 'hilarious, intelligent, snappy and sassy'. In Unmarry Me, Ruby takes up the cause of gay marriage on behalf of her sister Peta by telling her husband she wants a divorce. Thus begins the Unmarry Me campaign, including T-shirts, badges, TV appearances, a flash mob, a dead rat and public humiliation. A perfect summer-holiday read.
We have two new books by the irrepressible Robin Dalton: the fiftieth-anniversary edition of Aunts Up the Cross and the first edition of My Relations. Aunts Up the Cross is the story of Dalton's childhood in 1920s and '30s bohemian Kings Cross. With an introduction by Clive James and illustrations by Dinah Dryhurst, it's a perfect, warm and funny addition to the Text Classics series. Dalton wrote the delightful My Relations as a young child and it is now published for the first time in a beautiful hardback edition, with Robin's original drawings.
We are also publishing new editions of three recent stand-out titles—Summer House with Swimming Pool by Herman Koch; The Climb: Conversations with Australian Women in Power by Geraldine Doogue; and Between You & Me: Confessions of a Comma Queen by Mary Norris.
Featuring the razor-sharp humour and acute psychological insight that made The Dinner an international phenomenon, Summer House with Swimming Pool is another controversial, thought-provoking novel from Koch that weaves sex, celebrity and medical ethics in an addictive mix.
In The Climb, iconic journalist and television presenter Geraldine Doogue conducts a series of interviews with high-profile women, including Gai Waterhouse, Julie Bishop and Nancy Milne, to uncover what it means to be a woman in power in Australia today. A fascinating and insightful read for anyone interested in power and what it takes to get to the top.
For all the grammar lovers out there, Between You and Me: Confessions of a Comma Queen is released in a new edition just in time for author Mary Norris's Australian tour. Mary Norris is an institution at the New Yorker and if her remarkable videos are anything to go by, you shouldn't miss the chance to hear this delightfully droll grammarian in person.
And young-adult readers, like all of us in here, will surely fall in love with Clancy, the feisty teenage misfit in Chris Currie's new coming-of-age story, Clancy of the Undertow, set in small-town Queensland.
Happy December!
Two New Books by the Extraordinary Robin Dalton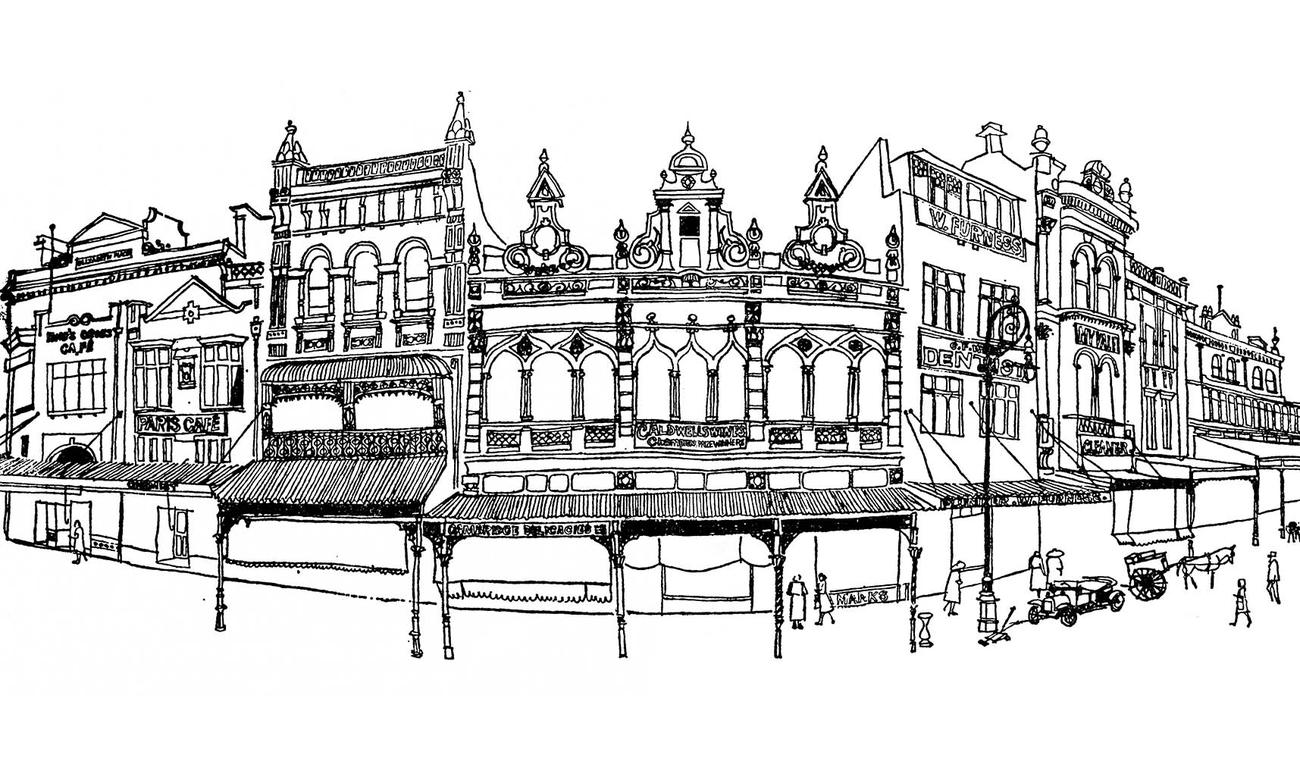 Next month sees the release of two books by the extraordinary Robin Dalton—the fiftieth-anniversary edition of Aunts Up the Cross and the first edition of My Relations.
Robin Dalton was born Robin Eakin in Sydney in 1920 and left for London in 1946. She married and had two children, and worked as a television performer and an intelligence agent for the Thai government. In 1963 she became a literary agent for an illustrious list of clients including four Booker Prize winners—David Storey, Bernice Rubens, Ruth Prawer Jhabvala, Iris Murdoch—as well as Edna O'Brien, John Osborne, Margaret Drabble, playwrights Arthur Miller and Tennessee Williams and movie directors Peter Weir and Louis Malle. She also became a successful film producer with credits for Madame Souzatska starring Shirley Maclaine and Oscar and Lucinda starring Cate Blanchett.
In 1965 Dalton wrote the story of her childhood in 1920s and '30s bohemian Kings Cross, surrounded by eccentric aunts, uncles and a constant supply of houseguests. Told with warmth and humour, Aunts Up the Cross is a delightful glimpse of a bygone Sydney and a classic tale of Australian life. With an introduction by Clive James and illustrations by Dinah Dryhurst, Aunts Up the Cross is a wonderful addition to the Text Classics series.
In his introduction, Clive James writes: 'When I read it, I realised that it was a prize example of a genre I had been looking for: the small Australian book that was better written than the big ones...Here at last was the living proof that a civilised, unpretentious, fully evocative prose style had been available in Australia ever since the young Robin Eakin handed in her first school essay.'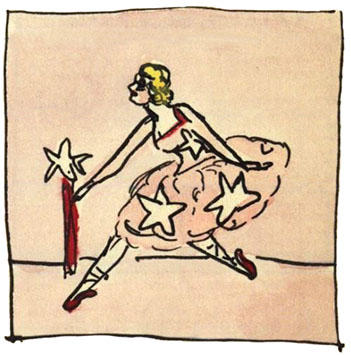 Even earlier, in fact, because in 1929 as a very precocious eight-year-old, Robin wrote and illustrated another book about her family, or, more correctly, an invented family. Called My Relations, it has an array of eccentric aunts, uncles and cousins, created with love and humour by an imaginative child who had few relations. And lucky for us, her grandmother kept the little bound diary, which has been beautifully published in a full-colour hardback collectors' edition with Robin's original drawings.
In her notes to My Relations, Robin writes, 'I wrote My Relations, a book of fiction about relations I never had, when I was eight years old. Many years later, as a thirty-eight-year-old, I wrote a non-fiction book called Aunts Up the Cross about the few relations I did have, thereby putting the record straight. I thoroughly enjoyed my real relations, but I do have a momentary nostalgia when I read about the ones who lived only in my imagination.'
Real and imagined, Robin Dalton's relatives are an extraordinary bunch of free spirits that will charm you and take you on a delightful journey back in time.
My Relations and Aunts Up the Cross are published on 18 November. Order them online or at your favourite bookshop now.
Text is Hiring a Finance Assistant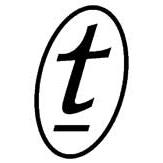 Text Publishing is looking for an outstanding individual to join our hardworking team in the newly-created role of Finance Assistant. The successful applicant will report to the Finance Manager, and can configure their role as full or part-time.
The Finance Assistant's responsibilities include:
Performing extensive data entry
Analysing and reporting weekly sales data
Managing accounts receivable and accounts payable
Processing debtor and creditor invoices through MYOB
Preparing bi-annual royalty statements
Preparing invoices and maintaining invoice records
Performing general finance duties, including banking and petty cash

The selection criteria for this role is:
First-rate administration and organisational abilities
Advanced skills with Microsoft Office, particularly Excel
Demonstrated experience in the use of MYOB
High numerical accuracy skills and attention to detail when working at speed
The ability to maintain a calm manner in a high pressure, deadline-driven environment
Knowledge of the book industry and a love of books would be an advantage 
Applications MUST include a response to selection criteria, and must be received at applications@textpublishing.com.au by 9am on Monday 23 November.
An Extract from Garry Disher's New Novel, The Heat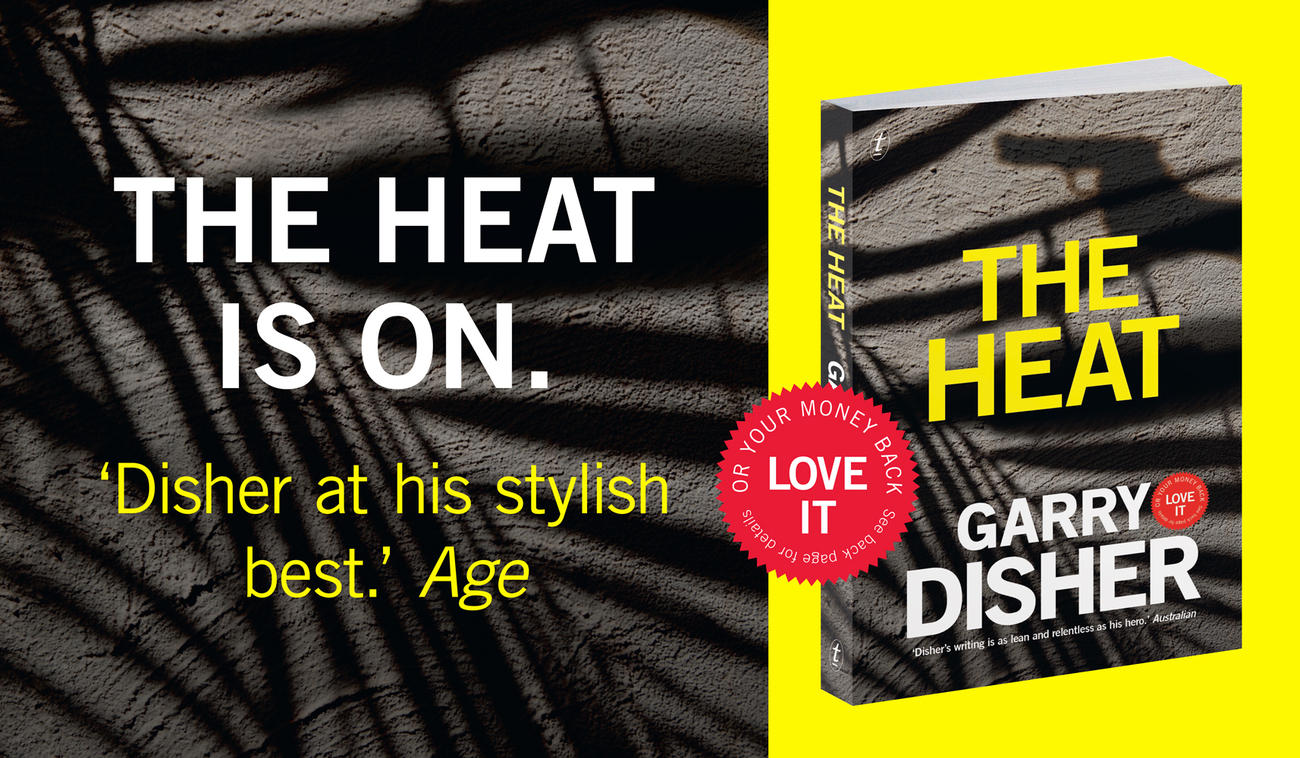 Sunday, 6 a.m., Wyatt waking fully alert, listening, coiling to a crouch, then standing. The room was safe. He listened to the news, showered, wrapped the fake bandage around his calf and dressed. Hobbled downstairs to the dining room. 
Back in his room he shoved the Ruger and a change of clothing into the book bag and heaved on his crutches along Hastings Street to hail a cab outside the tourist information centre. He directed it up the hill towards Noosa Junction and along the side street where the man named Alan Trask apparently lived. 'Slow down,' he said, as if looking for a house number, eyeing the apartment block carefully as the taxi rolled past. 
One police car parked at the rear, an unmarked at the kerb. The taxi prowled on, and, at the end, Wyatt grunted and muttered as if to himself, 'Not home.' He lifted his voice to the driver: 'Sorry, change of plans: Mossman Court.' 
Mossman Court was a little knob of expensive houses across the water from Iluka Islet. Wyatt alighted, gave the driver fifty dollars and said, 'Keep the change.' Guessing he'd be more likely to remember a stingy passenger than a generous one. He let the guy see him limp in the direction of a cobbled driveway. 
When the taxi had disappeared back across the little bridge, Wyatt stepped down across a patch of grass to a small arc of sand and stared across at Ormerod's house. Too far away, too obscured, to know if Ormerod had returned. Why had he run? What was he hiding? 
Perhaps Wyatt's imaginary disability had blunted his senses. A snap beside his right ear surprised him. He ducked and waved his hand about, trying to spot the miner bird. There. Springing from a tree branch, coming in again at a shallow dive. Wyatt ducked again. 
If not for that simple act, he would have died. The bird, inhabiting the space where Wyatt's skull had been, caught the bullet with a puff of feathers and a spray of blood. 
Wyatt threw away the crutch and fished out the Ruger as he rolled behind a hedge. He crept the length of the hedge, darting looks above it, trying to pinpoint the shooter. Another shot, wild this time, ricocheting off a fence post and into a window. Now people were calling to one another. Soon there would be alarms. 
He ran. 
Onto Noosa Parade, where he grabbed a mountain bike from under a guy decked out in full Tour de France lycra. Dressed like that, he deserved to have his day ruined. Wyatt shot down the street, the wind in his hair, heading for the river. 
It didn't last. He didn't have the stamina to cycle out of trouble and mad pedalling would attract attention. He needed a vehicle. A minute later he dropped the bike, ducked along a couple of alleys and cut through the grounds of Laguna Cove Resort, inland of Gympie Terrace, looking for a car to steal. 
He paused at the resort's swimming pool. A dozen unoccupied sun lounges spread with towels; people messing about in the water. Snatching a yellow towelling hat and dark glasses, Wyatt strolled out to the car park. He knew the statistics: vehicles were stolen every day because the owners had left them unlocked or with the keys in the ignition. But there was nothing like that here. Nothing on the street, either. 
He walked out onto Gympie Terrace and across the road, checking cars at the kerb, and continued east, coming to a large paved area near tennis courts. It was parking for a motley assortment of 4WDs, hitched to empty boat trailers. Wyatt checked these vehicles, too. 
He turned his attention to the boat ramp that angled into the water. As he stood there a white Holden twin-cab appeared, towing a small powerboat. He watched it reverse down the ramp, the trailer dipping into the water. Male driver and male passenger got out, walked down to the boat, fiddled with the stays holding it onto the trailer. 
Left the keys in the ignition, motor running. 
Wyatt slid into the gap between trailer and rear bumper. He released the tow hitch. Trailer and boat splashed down-ramp into the water, panicking the men, whose instinct was to save the boat, not stop Wyatt. He leapt into the driver's seat and gunned away from the river. 
It wouldn't be long before the police were called. They'd be nearby already, investigating the shooting and the bicycle theft. But in the land of small tradesmen, the Holden was legion. If the cops were stopping battered white twin-cabs they'd have to stop a fair few before they found him. The numberplate might sink him however, so he drove to a supermarket and engineered a plate swap with a New South Wales station wagon. 
Then he climbed back in the Holden, changed into another set of clothes from the book bag and headed across to Tewantin. He didn't know who'd shot at him, but he did know that everything hinged on what Leah Quarrell was up to and where she was now. 
Quarrell had requested witness protection, according to Minto, and Wyatt was guessing they'd take her to a temporary safe house. It would be close by because they'd need regular access to her. Would she be guarded? Yes. If in real danger, she'd need protection, and she'd need watching in case she was simply buying time, hoping to run as soon as they turned their backs. 
They'd have moved her quickly yesterday. Out in the open she was a hindrance, getting in the way, attracting attention, overhearing when they made decisions, using up badly needed personnel. Move her straight to a safe house and place armed officers with her, rotating shifts, 8 a.m. till 4 p.m. till midnight. 
No time to stop at her house to collect toiletries or a change of clothes. Besides, they might find themselves walking into another round of gunshots on a suburban street. You can make do for one night, they'd say. In the meantime, make a list please, Ms Quarrell. One of our officers will collect your things tomorrow. 
That's how Wyatt saw it. It was instinct, all he had to draw on now that Minto was dead. But could Minto have helped him anyway? It was unlikely the man's police contacts would know anything about witness protection decisions, methods, databases or safe house locations. 
His only hope: get to Leah Quarrell's house in Tewantin before protection officers did. 
Plenty of people about. A Sunday morning in spring, school holidays almost over. Dressed in his baggy shorts with sunglasses and the yellow sunhat, Wyatt sat at a coffee-shop sidewalk table on Moorindil Street. Sunday newspaper spread out, teapot, milk and sugar at his elbow, the book bag in his lap. He didn't want the tea; just the clutter. A dad grabbing five minutes' peace from the family. 
Not a young dad, but built like one. Most men of Wyatt's age were running soft, worn down by job stress and petty deceits. Some were balding, others worried about the silver in their hair, a little more each year. They moved slower nowadays. None of which was true of Wyatt, but he tried to sit as if it was. He wouldn't get away with it forever, but right now he was just some guy. Who happened to have a clear view across the street and part-way down a nearby side street to Leah Quarrell's house, two doors from the corner. 
The police were there, a handful of uniforms and plain-clothed officers, removing files, a laptop computer, a desktop computer, ledgers, photograph albums. The tourists and the locals sauntered by, eyeing the action. Unwittingly supplying Wyatt with additional cover. 
But had the witness protection officers come and gone? 
Wyatt thought about that and decided no. Major crimes detectives would want to search anything requested by Leah Quarrell before it was delivered to her: clothing pockets, diaries, correspondence, footwear, toiletry bags… 
It was time to move from the coffee shop. Forty minutes was long enough to sit alone, reading, sipping from a cup. 
He got to his feet, tucked the newspaper under his arm and sauntered down to the water, passing Quarrell's house on the opposite footpath. A uniform stared at him a beat too long, confirming Wyatt's notion that they'd been told to expect trouble, but Wyatt wasn't the only rubbernecker taking an interest in the police activity. 
He stopped when he reached the river. Looking back, he saw the police cars pull out. He strolled up to Moorindil Street again. 
This time he stood in the window of Riffs & Reels, flipping through shallow cardboard trays of new and used CDs and DVDs. The place smelled of dust and incense. He was the oldest person there, but no one noticed. The place attracted obsessives in all shapes and sizes. 
Eventually Wyatt saw a plain white sedan nose into Leah Quarrell's street. It stopped outside Quarrell's house and the driver, a woman, got out, glanced around once and walked to the front door. She consulted a sheet of paper briefly, then selected a key from a bunch, unlocked the door and went in. 
If she was there to collect a list of Leah Quarrell's clothing and personal effects, it would be a five-minute task. Wyatt stopped browsing and left the shop and headed for the stolen twin-cab. 
And, as he approached one of the outside tables of the coffee shop, he noticed the intent way a woman drinking coffee was watching Leah Quarrell's house. Facing away from him, she was dark haired, slim and elegant with more of continental Europe about her than any other woman on the coast that day. A moment later she rose swiftly and strode along the footpath ahead of him, slowing as she reached a white Corolla with a rental sticker. 
Holding back, crouching behind a wheelie bin, Wyatt watched Hannah Sten peer in at the Corolla's rear seat and the footwell between both rows of seats. After that, she walked around to the other side of the car and checked the front passenger footwell. She's had training of some kind, he thought. Habits of self-preservation that he used himself. 
Apparently satisfied that her car was empty, Sten pressed the button on her ignition key. She opened the driver's door, manoeuvred herself onto the seat, lifting one leg in and then the other, and when she was at her most vulnerable, searching for the seatbelt, Wyatt slipped in behind her and ground his pistol barrel into the hinge of her jaw. 
He rasped, 'Tell me what you're doing here.' 
*
Text is offering readers a money-back guarantee they'll love this book, see the back cover for details.
Who Is Your Favourite Dog in Literature? Tell Us for Your Chance to Win.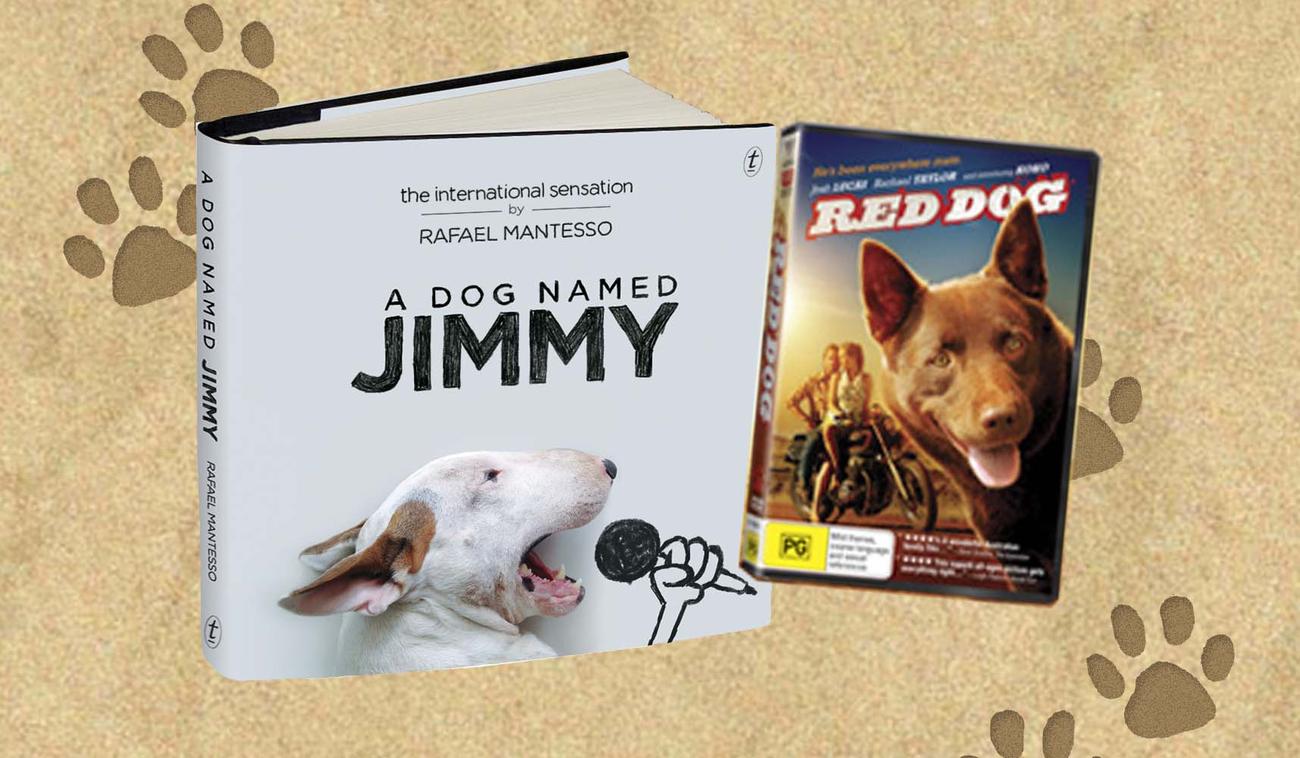 Somewhere a dog barked...and then, occasionally, leapt straight out of the darkness and into the centre of the story where it captured the hearts of readers everywhere.
Tell us about your favourite dog in literature and be in the running to win one of ten copies of the gorgeous new coffee-table book A Dog Named Jimmy, plus a DVD of the smash-hit Red Dog.
A Dog Named Jimmy features more than 100 charming and cheeky images of the world's favourite bull terrier, Jimmy Choo. During the summer of 2014, Jimmy went viral on the internet, when his owner, Brazilian visual artist Rafael Mantesso, started posting images of Jimmy in various poses and costumes, often with quirky line illustrations as backdrops. You can see some of the images on Jimmy's Facebook page.
To celebrate the release of A Dog Named Jimmy, we are giving ten copies away with the Red Dog DVD. Red Dog is based on the incredible true story of a terrific Kelpie who hitched his way to a mining town in WA and won the hearts of all its residents. Red Dog was based on the novel of the same name by Louis de Bernières and won the Best Film Award at the Australian Academy of Cinema and Television Arts Awards (AACTA), 2012.
To win the book and DVD, simply tell us in the comments who is your favourite literary hound.
And for a little inspiration, read on for some favourites from Text staff.
This competition is open to AU/NZ residents only, entries close midnight ADST Sunday 1 November. Winners are eligible for one pack only and will be notified within seven days of the competition closing date.
Léa Antigny, publicist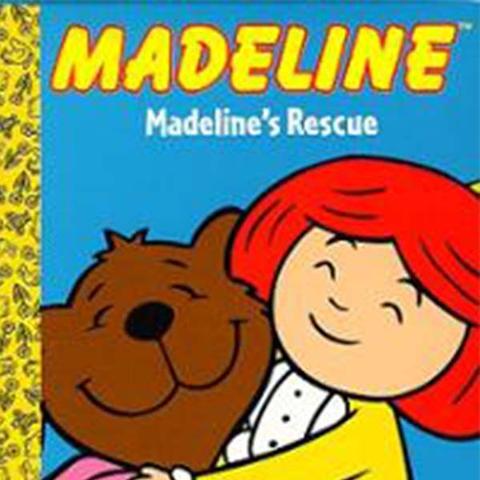 My favourite little rescued stray is Genevieve, the juggling, maths-doing dog from the Madeline series. Throughout preschool and primary school, I was relentlessly teased for being the shortest in class, so I strongly identified—perhaps stronger than is healthy—with Madeline, the precocious little brat who 'may be teeny-tiny, diminutive petite'. Genevieve was a stray dog who rescued Madeline from drowning in the river Seine—a childhood experience we can all relate to—after which she became an unofficial boarder and mainstay at the old house in Paris that was covered in vines, and there was not a thing Lord Cucuface could do to stop her. 
Michelle Calligaro, digital manager
The dingo in Stephen Daisley's Coming Rain is one of the most striking animals I've encountered in fiction. She is smart, cunning, fierce when hunting and gentle and protective with the young.  Set in the WA wheatbelt, Coming Rain is largely the story of two men—shearers, roustabouts—who travel around looking for work. But this is the dingo's home and she is always there in the shadows, hunting, waiting, and struggling to survive the human invasion of her land. She makes you reconsider everything you think you know about the bush.
Kirsty Wilson, sales & marketing director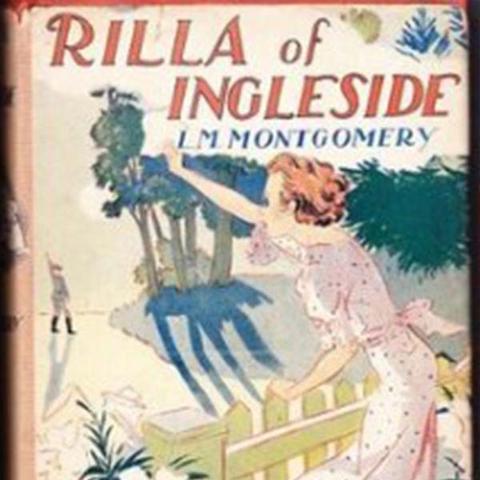 My favourite literary canine is Dog Monday, a wonderful character in L.M. Montgomery's 1921 novel Rilla of Ingleside. (Rilla is Anne of Green Gables' youngest daughter, and—spoiler alert—her dad is Anne's former high school rival Gilbert Blythe.) Rilla of Ingleside is set 'on the home front' during WWI, as three of Rilla's brothers enlist to serve in Europe. After the eldest of them, Jem Blythe, departs their sleepy little town by train, Dog Monday won't go home with the family, and instead sits on the platform at Glen St Mary Station waiting for his master for four years. One of the brothers, the lovely Walter, doesn't return from the war, and that's very sad. But the scene toward the end, in which Jem Blythe comes home on an afternoon train to find no one waiting for him but his old arthritic dog, is one of the most moving I've ever read. 
Rebecca Starford, editor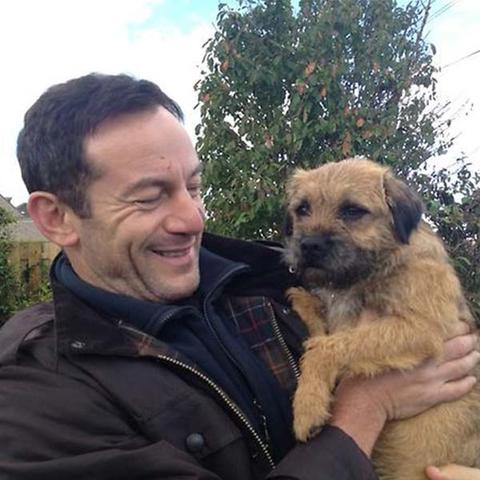 The older I get, the more of a sucker I am for stories with dogs. I never used to be so soft, but now I have a dog of my own—a not so intelligent terrier-cross called Jumble, himself named after the trusty companion of William Brown, the tearaway hero of Richmal Crompton's children's book series, Just William—I am a pushover. Recently, my favourite literary canine is the Ambassador from Kate Atkinson's Started Early, Took My Dog. After Jackson Brodie, the novel's poetry-loving private detective, rescues the bitzer from a violent skinhead in a park, he and his new best friend are inseparable for the rest of the novel—Jackson even smuggles the Ambassador into his hotel room. Swoon!
Alice Lewinsky, publicist
While most readers of J. M. Barrie's Peter Pan are quickly charmed by the titular lost boy, the idea of a dog for a babysitter had my six-year-old heart racing. Nana is a Newfoundland and she's damn good her at job, tucking the Darling children into bed, ensuring they take their medicine and just generally keeping the household afloat. Warm, friendly and with a shiny coat of fur, Nana seemed like the perfect mix of discipline, patience and cuddles. I might be considered an 'adult' these days, but I certainly wouldn't mind having a dog like Nana around.
Jane Pearson, senior editor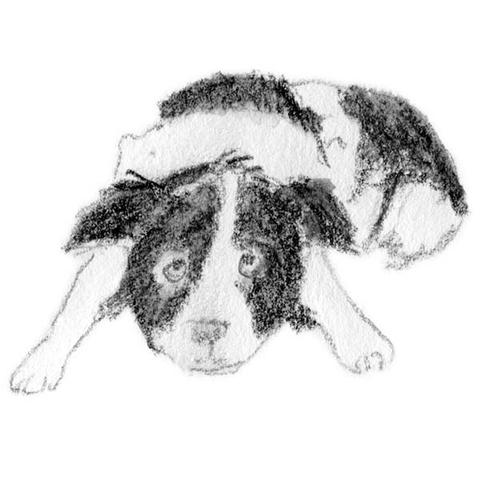 Maude is a 'black-and-white collie with slightly-too-large, black, hairy, upstanding ears and a freckled nose'. She's Molly's dog in Martine Murray's delightful novel Molly and Pim and the Millions of Stars, and she's the best. Not showy or superior like the cat Claudine, just everything a dog should be: there by Molly's side—with a tail-wag at the right moment, a bark to alert Molly to danger or something interesting, and an always-listening ear for Molly's troubles. She doesn't like being cuddled but she lets Molly do it anyway. That's just about the ultimate in dog-love. And, as Molly says, 'It's always nice to sing to Maude.'
How to Paint a Novelist by W. H. Chong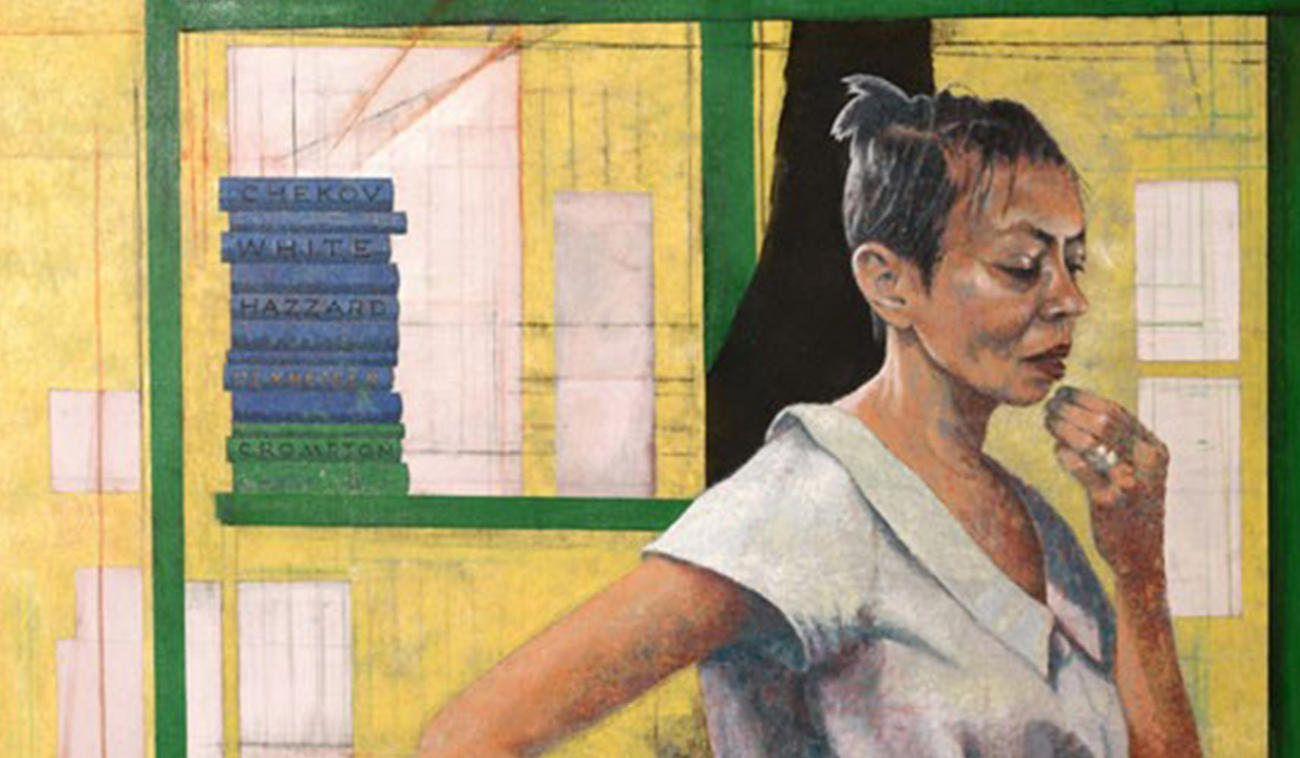 W. H. Chong is Text Publishing's design director. His brilliant portrait of Michelle de Kretser was acquired by the National Portrait Gallery in early 2015. This post is adapted from an original piece on Chong's blog, Culture Mulcher, at Crikey.
ARTISTS ON PORTRAITURE

Artists are always joking about their work.
In May I saw the impressive and joyous exhibition, 'Sargent: Portraits of Artists and Friends' at the National Portrait Gallery in London. John Singer Sargent was a great if reluctant portraitist who made stellar paintings of the rich and famous. In between despised commissions—which rewarded him richly—he would go on excursions and paint pictures of artist-friends painting, dashed off with virtuosic élan in situ. These works have a palpable ease and camaraderie—the affection between friends—impossible and inappropriate within the grand manner of his society portraits.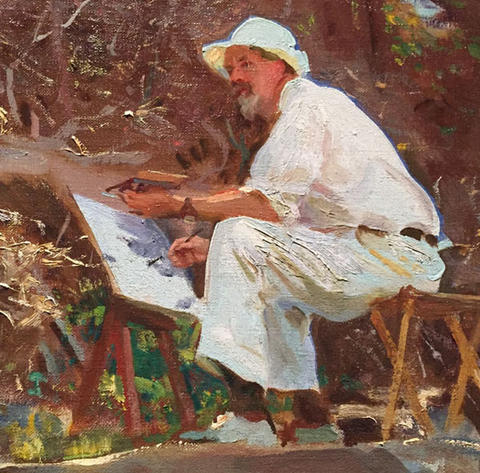 Sargent said: 'A portrait is a painting with something wrong with the mouth.' That's a good one, but let's make it briefer: 'A portrait is a picture with something wrong.'
Another joke: 'Every time I paint a portrait I lose a friend.' Of course, a portrait commission doesn't involve friendship. But the implication is clear, which Sargent makes explicit in a challenge to his sitters: 'I do not judge, I only chronicle.'
The great Ingres also complained about portraiture: 'Cursed portraits!' he wrote a friend in 1847. 'They always keep me from undertaking important things...for a portrait is a difficult thing.' A student of his noted that a portrait drawing would take Ingres a full four hours, split between morning and afternoon.
Beyond Sargent's caution, sitting for a portrait is a mental and physical challenge—being silent and staying still. 'Sit like an apple!' commanded Cezanne. 'Does an apple move?' Ingres may have taken four hours for an exquisite drawing, but Lucian Freud required 120 hours over three months for a small head of David Hockney in oil. Sitting: being scrutinised. The lurking suspicion or assumption that a portrait is also an opinion, visible evidence of what the artist thinks of you.
Of course you shouldn't always trust what artists say about their work; and even less should you trust what critics say about artists. As William Goldman said about Hollywood, 'Nobody knows anything.' He meant, nobody knows what will work until it does, and we all know that a row of critics will often laud and trash the same film. So let's say a portrait is a picture with something wrong, but we can't agree which bit it is. We must look first before listening, then return to looking.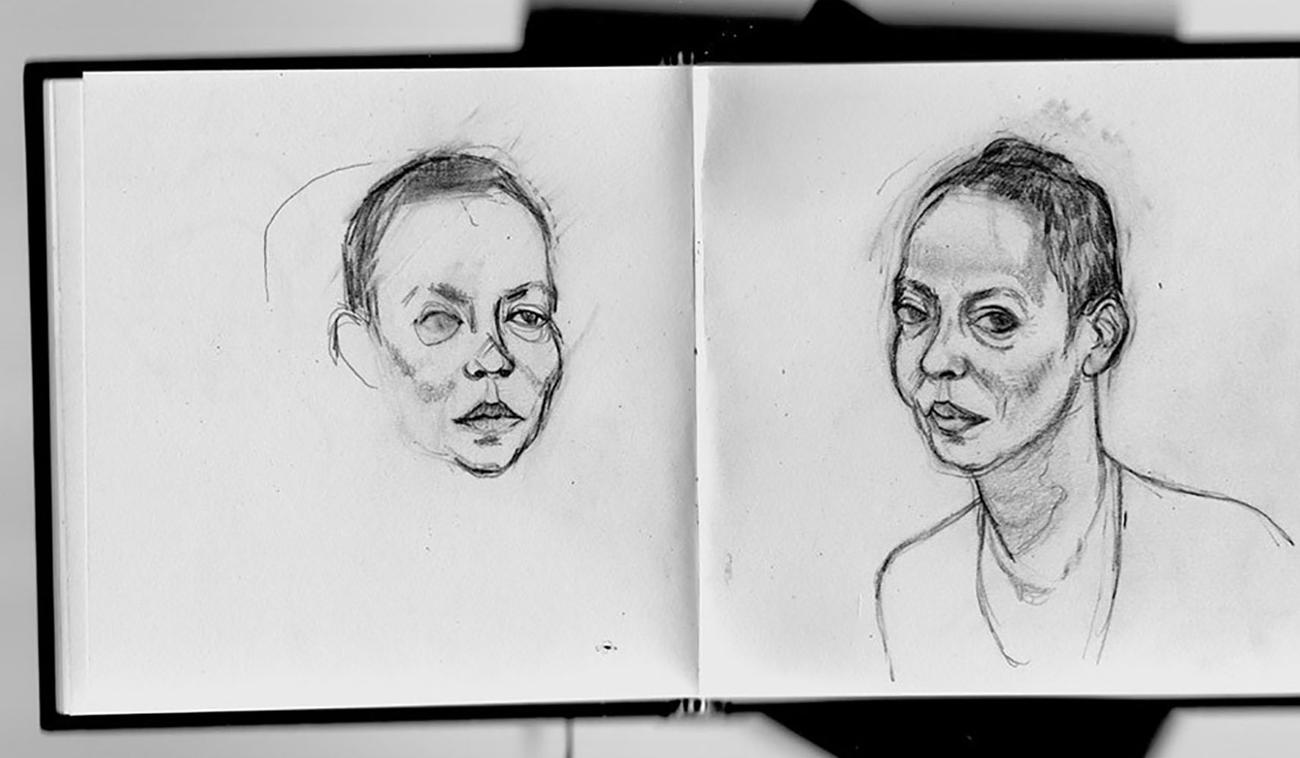 PAINTING MICHELLE DE KRETSER

In 2013, I worked on a portrait of Michelle de Kretser, whose superlative novel Questions of Travel swept most of that year's literary awards. It was radioactive with acclaim, scoring eight major prizes (including the Miles Franklin, the ALS Gold Medal and the Prime Minister's award) and being shortlisted for another seven. Michelle is an old friend so I suggested it was time she had her portrait done, an itch I had wanted to scratch.
Photography, and then digital media and photoshop have opened all kinds of approaches to portraiture, not least that many painters use photos of their subjects as their main source material. Well, I like to paint, so that's the medium I chose, though it included several very contemporary techniques—such as spray cans and stencils, just like your neighbourhood graffiti artist. The only rule I followed is that the painting shouldn't end up looking like a photograph, because I don't want to spend all those hours only to deliver visual redundancy.
As we live in different cities Michelle couldn't sit for me, as I knew the picture would take a while. We spent a few days together in Sydney where I made drawings, took snaps with my phone, jotted colour notes and compositional ideas. Walked the dogs and talked.
I always knew it would be more than an image of head and shoulders—that it would incorporate narrative elements, that it would have layers of references and be dense with allusions. It would be quite large, 2m x 1m. An early draft shows a seated figure with books and shelves, laptop and dog, palm tree and brugmansia. The naturalistic backdrop fell away and it finally became a standing figure. Michelle's interesting smock-dress was the one she had on when I arrived.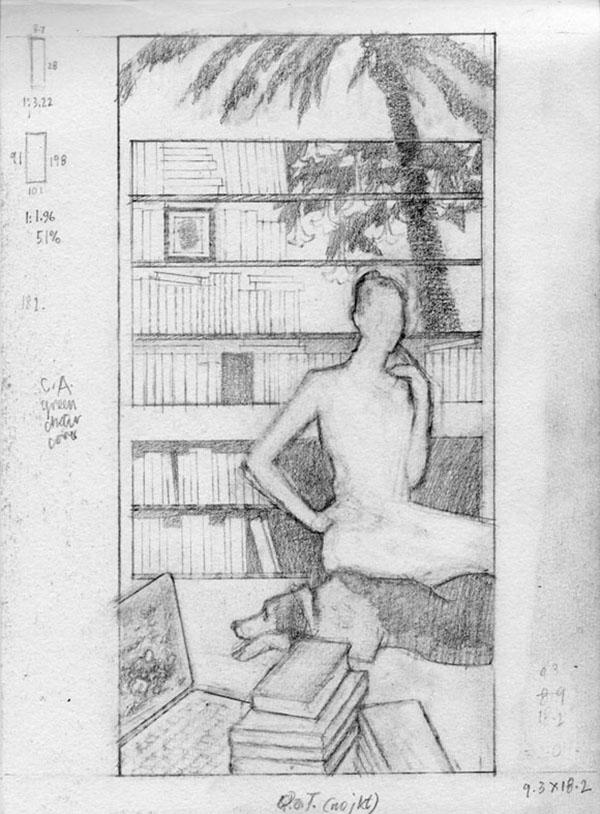 For what it's worth here is my artist's statement: 'Michelle de Kretser, Geography and History'.

Reading Michelle de Kretser's novels, I am always drawn to the ways the characters are shaped by their history and changing geography. This portrait makes some allusions to the author's own passages.
The non-naturalistic compositional device, the fusion of abstraction and figuration, also nods to the post-modernist mode evident in de Kretser's writing. The dominant scheme of green and gold has as much to do with 'Australia' as with her hot and distant birthplace of Sri Lanka (whose flag actually includes stripes of green and gold). The palm tree and schematic bamboo blinds refer to tropics past but also to her home in the new tropics of Sydney, after many years living in Melbourne. The book stack names writers who have affected her, including Patrick White, who is the tutelary spirit in the painting, seen top left.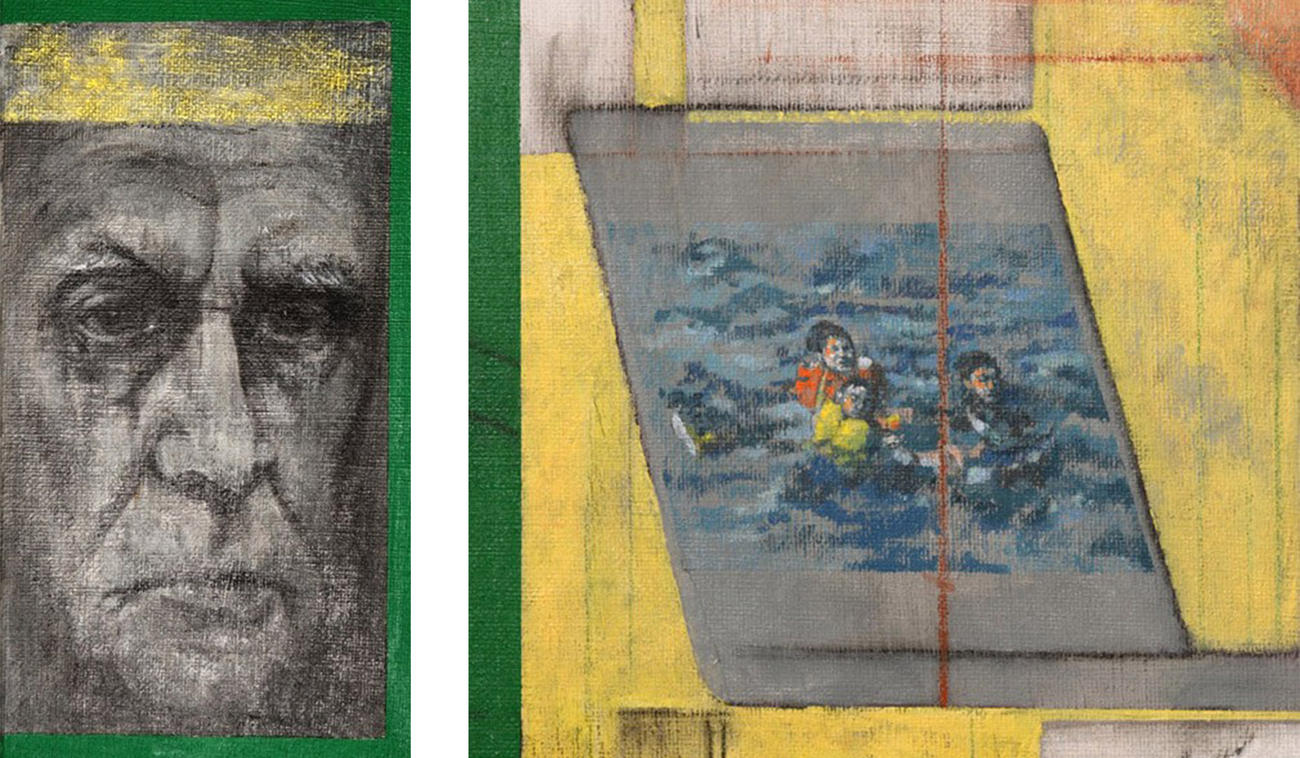 The screen image on the laptop is derived from the notorious photos of the Children Overboard affair in 2001, the kind of problematic 'voyage' informing de Kretser's Questions of Travel.
Books have pictures, too—so the dog shape at the base of the picture is a quote of Deborah Williams' etching used on the original cover design of de Kretser's The Lost Dog (there are often dogs in her books). The palm tree is a quote from the cover of a novel about the dark side of Sydney life—Down in the City by Elizabeth Harrower; Harrower is an author admired by de Kretser.
Beyond all that description and scene-setting there is the question of atmosphere and expression. Here, it's best for people to decide for themselves. A friend thought the Michelle portrayed looked like someone who had seen life and suffering, who was within intellectual and spiritual restraints. Another felt that she was searching inwards, turned away from the rest of the picture. But that's the thing, our readings of others are individual and contingent. Not all of us are artists, but we all make our own portraits of other people.
PORTRAITS OF WOMEN

So my sister was visiting from overseas a few months ago and we drove up to Canberra to see the picture. It's right at the front of the main gallery on a wall with writers—to its right are Rick Amor's Shane Maloney, and Kristin Headlam's portrait of her partner, the poet Chris Wallace-Crabbe. On the facing wall are portraits of three musicians; a nice juxtaposition. (Two of these pictures have since moved, replaced by two other men!) My sister made an acute observation: 'There are eight portraits in this room—and only one is of a woman: Michelle.' Notwithstanding, she loved the whole setup, and at the end we had to drag her away from Gallery Seven with its exhibit 'Women in Focus', where there is nary a man in sight.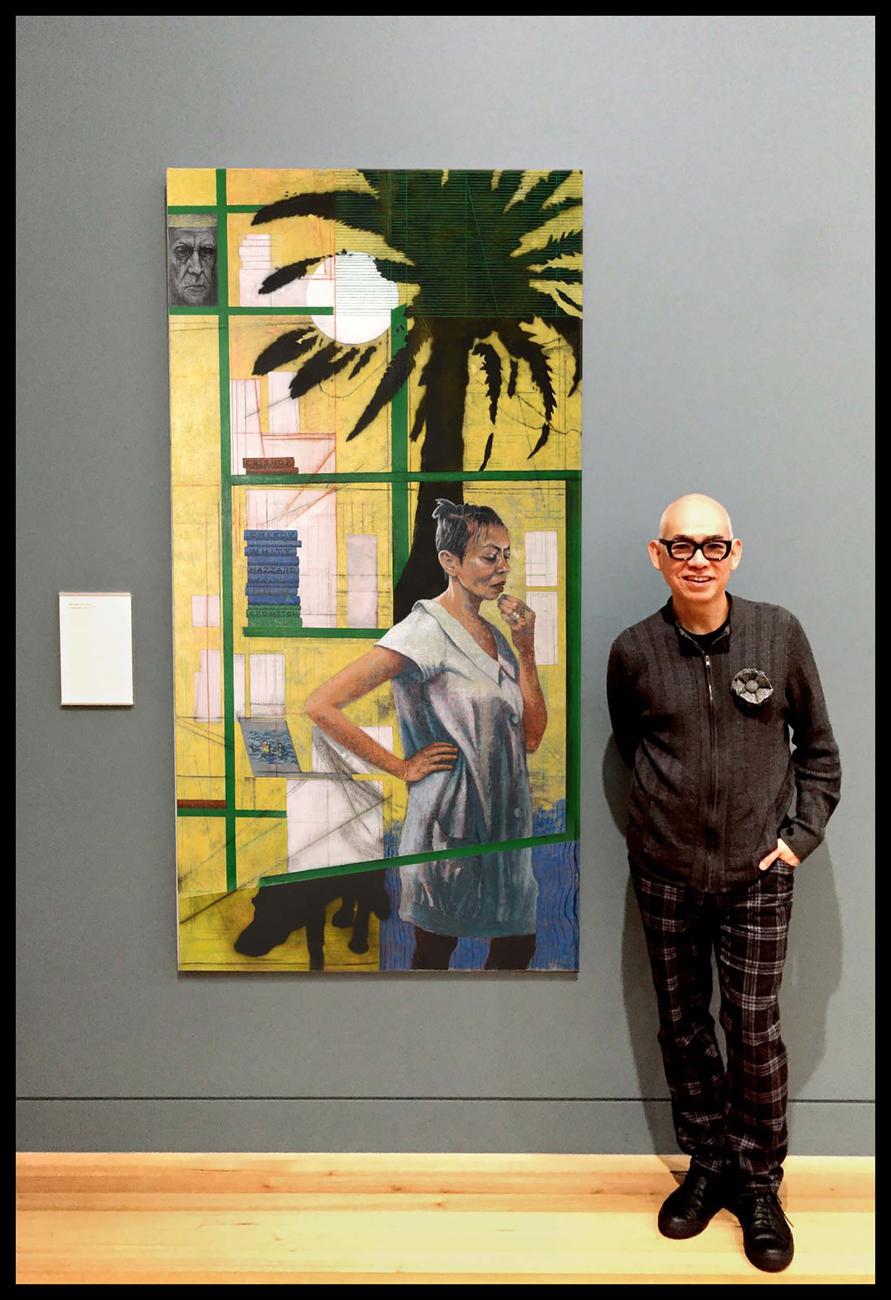 An Extract from Neil Strauss's New Book, The Truth: An Uncomfortable Book About Relationships
Chapter 21
I wake up alone in the rehab dorm, the sun diffusing through a small dirt-filmed window, the muffled mating calls of birds and cicadas announcing another morning, and a raging hard-on pressing against my boxer shorts. 
My mind drifts to an image of Carrie and the suggestive way she handed me her note. I remember she's roommates with Dawn and I start picturing a threesome with them. I think about how her caretaking qualities must extend to the bedroom and I imagine her using her breasts in considerate ways. Some guys are ass men; others are into breasts, legs, or faces. My theory is that it has to do with the sexual position you prefer. If you like it doggy style and you're looking at a woman's ass when you come, you're going to associate your sexual pleasure with that part of her body. If you like missionary, maybe you're a face man. And if you like her on top, you've usually got an eyeful and a handful of breasts when you orgasm. And if...fuck, I just made a mess in my boxer shorts. 
I waddle to the bathroom and wipe up. I feel like an alcoholic who's smuggled a fifth of vodka into rehab and just guzzled it. 
As I get ready for the day, I think about a book Rick Rubin once showed me. It was about a seventies commune called the Source Family, which was run by a bank robber, vegetarian-restaurant owner, and aspiring rock star known as Father Yod. In the book, there was a photo of him—looking eerily like Rick—sitting outdoors in his commune in the Hollywood Hills with thirteen of his hippie wives and lovers gathered around him, at least two of them pregnant with his children.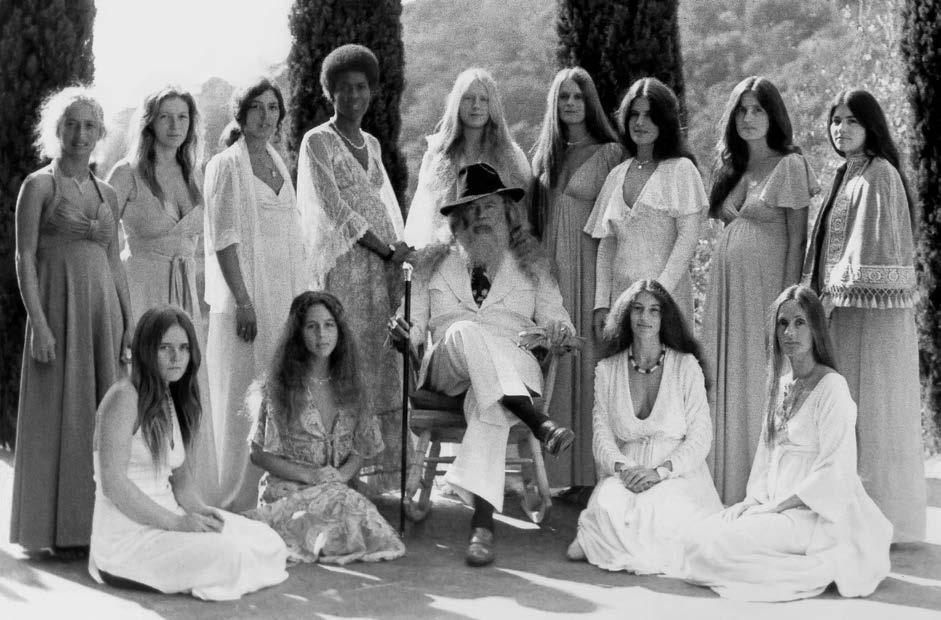 And I wonder what it would be like to live in an environment of open and unrestricted sexuality, with friends and lovers coming in and out freely, no one claiming ownership of another's body as if it were a personal possession. 
That's when I realize why today, of all days, my mind is spinning out of control: It's Sunday and Ingrid is coming. The force of light, monogamy, stability, marriage, children, and a normal life is on her way. And now my "disease" is blossoming like mold. 
Check-in: guilt. And shame. 
Guilt is about making a mistake. Shame is about being a mistake. 
And fear. 
Two days earlier, when I was lying in a puddle in group therapy, seething over the violence of the phrase emotional incest, Joan suggested a couple of things. The first was that I call Ingrid and tell her what I'd learned about myself and why I'd cheated on her. The second was that I ask my parents to come for family week to work on healing our trauma and dysfunctional relationships with one another. 
As I masturbated, Ingrid was driving hundreds of miles to see me for the first time in weeks and talk about my recently diagnosed intimacy issues. I think of her driving so far all alone, and I'm touched she would do that for me after what I did to her. And how do I show my gratitude? By plotting orgies. 
I'm not a bad person, I tell myself. I'm just scared of intimacy. 
Unlike reaching out to Ingrid, calling my parents and telling them I was in rehab for sex addiction wasn't liable to be greeted with the same degree of support. So, like anyone faced with doing something emotionally difficult, I put it off until later. 
Every Sunday, all patients are required to attend family-week graduation. So I walk across the property to a large classroom, where a dozen addicts and trauma survivors sit with their families in the front of the room. One after another, sons, daughters, parents, siblings, and spouses stand up and talk about how the week has begun a much-needed healing process for them. 
"A lot of times, people in a family think it's just one person who causes all the trouble," Lorraine, the therapist who lectured us on trauma, is telling the assembly. "But a family is a system, and a sick person is the product of a sick system." 
As the ceremony continues, I feel a dry, sticky crunching in my navel hair. Evidently I didn't wash away my sins well enough. I look around to see if it's possible to slip away, but then the freckly woman from Henry's rape-and-incest meeting rises from her seat and turns to face us. She's wearing black slacks and a blue cardigan, and looks much less sallow than before—almost upbeat, bordering on charismatic. She's standing next to a man in his late sixties with a large red face, a porcine body, and huge, crevassed hands. It is the adoptive father who molested her. 
I don't sense any hatred from her, nor any warmth. Someone looking at a photo of the two of them might think it was of a schoolteacher giving an old janitor an award for forty years of dedicated service. 
"If some of you remember, when I first arrived, I was very depressed and cried a lot and thought about killing myself," she is saying. "I don't think I talked to anyone for my first two days here. But thanks to family week, I feel like a human being again." 
She turns to her father and everyone sits stock-still, waiting to hear what he has to say. "It was very hard for me to make the decision to come here," he says. No shit: You're staring at a room full of trauma survivors who hate you. "I feel very bad about what I've done. And I think Laura is an incredibly brave woman for being here and for allowing me to be here. I know nothing I can do or say will take away the past, but I'm happy that Laura can have a future now. I think I've grown more as a person with the therapists here than I have in my entire life." 
Listening to him, I resolve to call my parents. Since the day I left home for college, I've called my mom nearly every Sunday; the few times that I haven't, she's given me a guilt trip to remember. And it is a Sunday. 
Besides, if this woman could invite the monster who molested her to come, then surely I can ask a woman who merely grounded me a lot. Not only would it be good for my parents to face the truth—my mother and I have never told my dad that we know his secret—but maybe the family healing will relieve me of whatever is hanging over my head and standing in the way of having a happy, honest relationship. 
Chapter 22
Rehab, One Hour Later 
You're not a sex addict, you're a man. If someone wants to play with you, you're not going to walk away. What are you, a dork? You're going to play back. 
The voice belongs to my mother. 
Yes, but not when I'm in a relationship. 
In my book, that's how men do it. I believe in honesty in relationships, but if you're going to cheat, you gotta keep it to yourself. As a woman, I've been asked out for coffee a couple of times and I say no thanks. But that's because I'm a woman and that's not my nature. Though if he were a multimillionaire and he wasn't married, maybe I'd get coffee with him. 
As I listen to her talk, I'm floored. I've never heard her views on fidelity before, except when she's disclosing the latest piece of evidence supporting her conviction that my father is having an affair. Yet here she is on the phone, making the exact same argument I've been making all week—except she's doing it her way. 
She continues... 
I don't think you need treatment. Everything about you is going to be in those hospital files for the rest of your life and the world is going to know about it. All you're addicted to is life and living it. 
It's too late now. But I'm learning some things that will help my life. And the week after next, they have something called family week, when the parents of the people here visit. It really completes the healing process and I wanted to see if both of you could come for it. 
To go there would be useless. 
I really need you and Dad here. It would mean so much to me. And it would help me a lot. 
Listen, you're an unusual but normal person. If it were a life or death situation, we'd do it. 
My father is also on the phone, but he doesn't say a word—except to apologize when my mother tells him he's breathing too loudly into the handset. No wonder I'm scared of marriage. Whenever someone I'm dating starts treating me worse than they treat a stranger, that's always the beginning of the end for me. 
What if I have a therapist from here call you and explain why it's important? 
Don't you dare give anyone my phone number. 
Okay. Please, Mom. I don't know what to say. 
There's nothing you can say. Physically, it's just very difficult to travel. 
If they have therapists in Chicago they recommend, can we all go see one together? 
I don't think so. There's nothing we could do or add. We don't feel you have a problem. Whatever problem you have, you know and we know. 
It would help us connect. Remember my ex-girlfriend Lisa? When she saw us together, she said it didn't seem like there was any warmth or love between us. 
Lisa was just with us for one meal. I wasn't comfortable with her. She wasn't friendly or smiling. She didn't relate to us at all. 
Joan's words ring in my head as she speaks: another example of the women I date not being good enough for my mother. The implicit message is that sex and affairs are okay, but don't get a real girlfriend because that would be competition. 
I try using her own weapon against her: guilt. 
As a mother, it would be one of the best things you could ever do for me. 
How would it help you exactly? 
It would help me be happier, healthier, and capable of having a functional relationship and starting a family of my own. 
Charlie Aaron didn't get married until he was in his seventies, and he was never happier. And he didn't need any kids. 
My breath catches in my throat. I've never heard of a mother who didn't want to be a grandmother. Every word coming out of her mouth seems to support Joan's horrific diagnosis. 
But remember Irvin from high school? He said he didn't even know the meaning of the word love until he became a father. 
Irvin was your brother's friend? 
No, he was my friend. 
That's not possible. You were a dork. You didn't have any friends. 
Why would a mother ever say that to her son? I wonder. Then I realize that I just recently learned the answer: She's keeping me in my place. I beg and plead for them to come, countering objection after objection, until she says flatly... 
I have some really valid reasons why we can't come. We love you, and we'd do anything else for you. 
Hard to believe that right now. 
Can just Dad come then? 
No way, José. 
He says nothing. He has no voice in the relationship. I try one last angle, my ace in the hole: promising to keep the secret. 
Whatever you're worried about, and I think I know what it is, we don't have to discuss that. 
I know who I am. I know who my parents are. I had an idyllic childhood. I think I turned out to be a great mother with two wonderful kids. I wouldn't change you an ounce. But if you're not satisfied with you, then you can help you by yourself. I'm not coming for personal reasons—very personal—and that's it! Tell them not to call. 
The words fall like a sledgehammer, breaking the ground around me, isolating me, sending me spinning off into space alone. I reach for a lifeline. 
Can I ask you to just send me a copy of the keys to the house instead? They said it would give me a sense of closure if I could wear them around my neck as a symbol that I can be trusted. 
I realize that since leaving home for college, I've always had an odd key fixation. I've never thrown one away, even to old dorm rooms, cars, and apartments. 
Sorry, Charlie. It's not you, it's me. I don't feel safe. And, besides, you're absentminded. You lost that tape recorder when you were twelve and a million other things. And I can't endanger my feeling of safety. 
Okay, thanks for listening. Bye, Mom. 
We can hire two people and send them to family week instead if you want. 
That's okay. 
Enjoy your incarceration. 
The world I once knew, the one I thought I grew up in—strict, yes, but full of love and sacrifice from the parents who conceived, nurtured, and supported me—is gone. What she's saying, ultimately, is that her issues are more important than my well-being. And they always have been. 
It could be worse, though. At least she has a sense of humor. 
Chapter 23
I shower for a second time, making sure to use a washcloth, soap, and pressure, then trudge to a men's circle in progress on the lawn. The thirty or so guys there are using what they call a talking stick, and only the person holding the erect-cock-sized piece of wood can speak. When he's done, he says "aho," which is some sort of macho Native American sound, and hands the wooden dick to the next lunatic. 
"Hi, I'm Calvin and I'm a sex addict. And I'm feeling a lot of fear right now, but also joy, because Mariana"—the Brazilian prostitute he impregnated—"just told me she wants to keep the baby. Aho!" 
He hands me the stick. It's my turn to check in and I want to get it over with quickly: "I'm Neil and I'm tired of labels and I'm fine. Aho!" 
Everyone sucks in air or exclaims "ooooh" like I've just stepped in shit. 
"What?" I ask. 
Charles gestures for me to hand him the stick. I shake my head in annoyance and hand it to him. Idiotic rule. 
"Fine stands for fucked up, insecure, neurotic, and emotional," he says. 
"That's about right." 
The men glare at me in silent accusation: I spoke without holding the talking stick. You'd think I just shot someone. 
Charles hands me the talking dick and I place it on the ground next to me. "I love how someone can just make up a random fucking rule and you all follow it like sheep," I tell them as I walk off. "I've been in a fucking men's circle all week anyway. Aho!" 
No one responds because no one is holding the talking stick. 
I'm aware, as I walk away, that I'm not really mad at them. And I'm not mad at the talking stick. It's actually a decent rule. If I'd had the chance to speak uninterrupted as a child and express myself and truly be heard, I'd probably be much healthier. 
What I'm mad about is that some people's parents can't come to family week because they're dead or broke or in prison, but my parents just won't. A guy who molested his daughter has the balls to show up here. As for my father, he doesn't even have the balls to speak up for himself on the phone. 
Check-in: fucked up, insecure, neurotic, and emotional. And rethinking everything I thought I knew about my childhood, my life, and who I am. 
The perfect frame of mind to see Ingrid after all this time apart. 
*
The Truth: An Uncomfortable Book about Relationships is available in bookshops and online now.
Text's APA Digital Intern, Angus Tonkin, Recounts Six Months in Publishing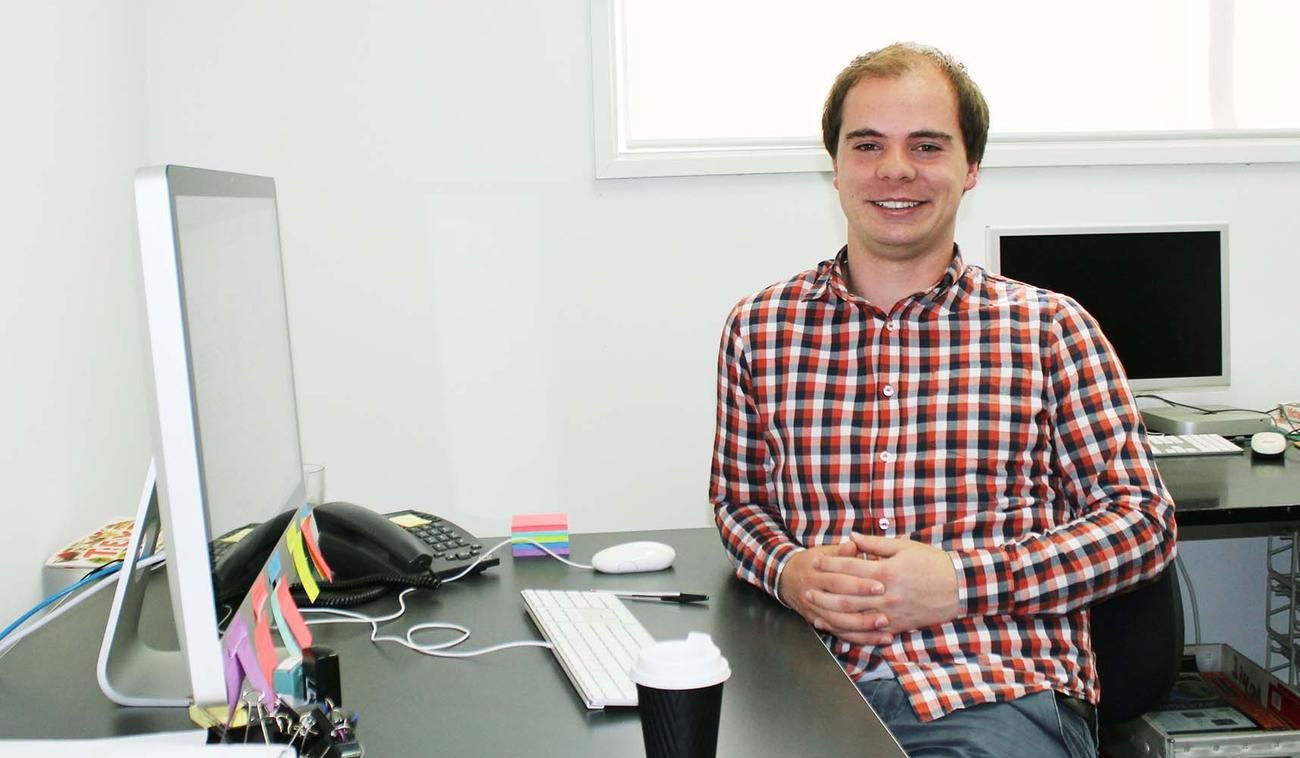 For the past six months I've had the great privilege of working at Text Publishing as a digital intern. It's part of a program generously sponsored by the Australian Publishers Association that enabled six aspiring publishers to work at publishing houses around the country for a period of six months. 
First of all, I'd encourage anyone studying publishing to apply next year. Opportunities like these don't come along often, and this internship has challenged me to learn new skills while firming my decision to pursue a career in the world of books.
As digital intern, I'm working with Text's digital manager, Michelle Calligaro, on the website and ebook program, and also helping out the marketing team more broadly. A day might include creating database records, sending out ebooks and metadata to e-retailers such as Amazon and iTunes, updating website content,  adjusting prices and trying to make friends on Goodreads. I've also sent out newsletters, written blog posts, distributed marketing materials to booksellers, written up events, eaten cake, stuck condoms onto books...and I'm sure I've missed a few things in there.
Almost all of this has been new to me—developing new skills, improving organisation, working with new programs—at times daunting, but always exciting. It's a huge learning experience and a pleasure to work in such a productive environment with talented, innovative and dedicated people. Overall, this broad introduction has given me a great insight into how the publishing house works.
Publishing is a dynamic space, and as I've learned over the past five months, this is particularly the case in the new digital landscape. I've been lucky enough to work at a company that is always looking for new ways to reach readers and help them discover great books, whether new gems or old classics. The challenge in that regard is partly one of finding your audience, as the online world has fragmented the public's attention quite a bit.
One of my major tasks was to develop a survey for Text website members, with the aim of better understanding how the Text community engages online. With the help of the marketing team I chose a platform and then designed, tested and delivered the survey. It included a prize which I also administered—coordinating the flight arrangements and accommodation for two to attend the Text party and the Melbourne Writers Festival in August. (If you're not a member already, get on it! This year's winners tell me they had a great time—despite flying from sunny Sydney into a Melbourne hailstorm/tram strike.)
It goes without saying that reading books and manuscripts is central for anyone coming into publishing. Working here has not only challenged me to learn new skills but also to broaden my reading interests. Between the World and Me by Ta-Nehisi Coates is one example of something I wouldn't have picked up in previous years, but in this environment it helps to be willing to venture beyond your comfort zone; as a result, I've had one of my most revelatory reading experiences in years. Regardless of their reading interests, everyone in this company has the chance to argue for books they love. And when you have a whole company looking at prospective titles with this same open-mindedness, it's no surprise that Text has such a wide and thought-provoking cross-section of great books.
This exposure over the past six months to the various departments—editorial, administration, publicity, marketing, design, finance, rights—has given me a whole new level of understanding about the publishing process and everything that is involved in making sure a great book gets the readership it deserves.
I'm sure all the interns in the APA's program have been equally thrilled with what they've been able to accomplish, and the experience they've accumulated, and it's exciting that these hands-on pathways are available. So, thank you again to the APA for paving the road. Furthermore, Text has been a superb host throughout, so thank you to everyone here for making this as entertaining as it has been enlightening.
Unfortunately, the six months is ending soon for me, but I look forward to the next opportunity, wherever that is.
Merging Minds and Machines: Read the Opening Paragraphs of Malcolm Gay's The Brain Electric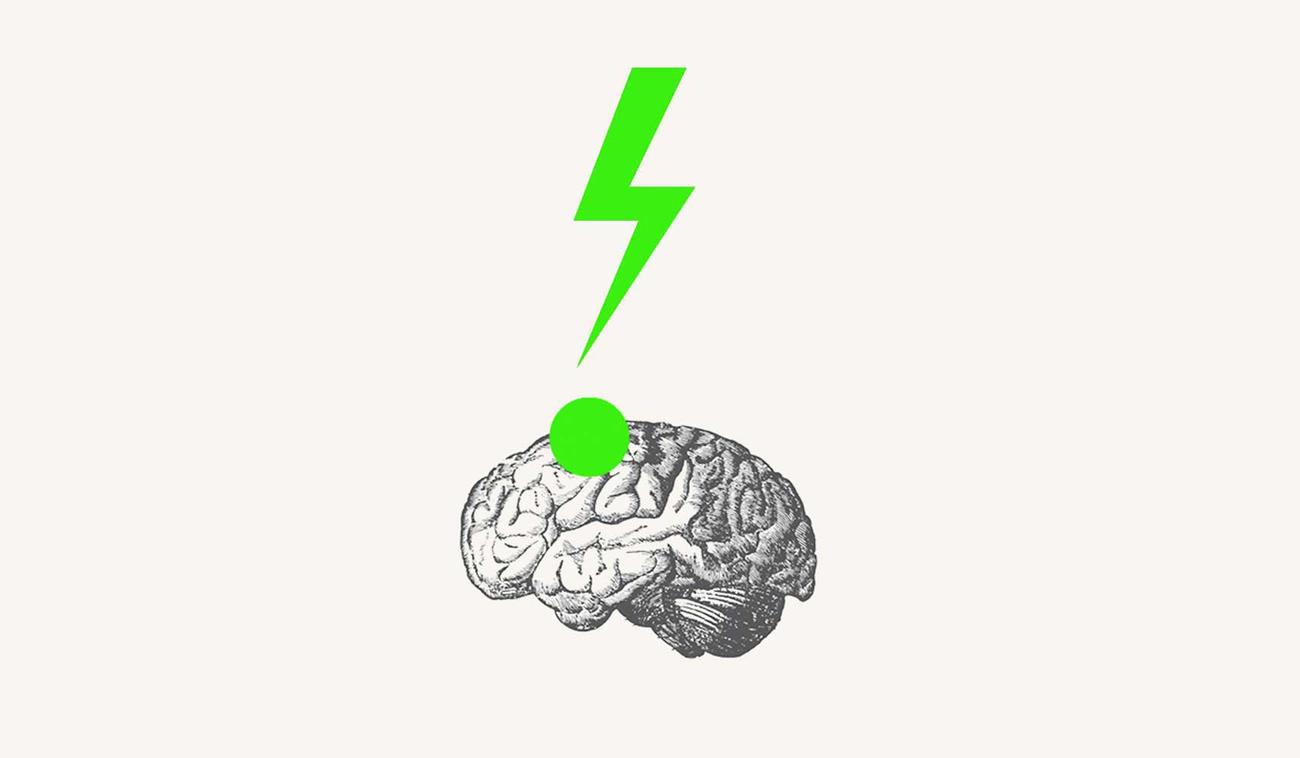 The plan, which had already elbowed out the other six cycling through Eric Leuthardt's head that day, was to peel back the scalp, pry open the skull, and install a web of electrodes atop D. Brookman's brain. Barring any unforeseen circumstances, Leuthardt hoped to slip an additional phalanx of sensors behind Brookman's left hemisphere—but not before he'd plunged five more deep into the brain itself, tunneling through its mille-feuille of neurons to home in on the epileptic root. A routine procedure, to be sure, and if all went as planned, Leuthardt would have the scalp stapled shut by noon, allowing him time to update the family before heading into an ideas session about enzyme-based treatments for Alzheimer's disease.
It was a typical morning for Leuthardt, rising before dawn for surgery and then trekking from the operating room to the research bench, an invention session, or a meeting with medical device manufacturers. In his dealings with others, he had proven to be collaborative, intense, and eager to please. Now in his early forties, Leuthardt had a muscular build, a thick head of brown hair, and a sloping nose that supported a small pair of glasses. He also possessed that fabulous ability to yoke together worlds previously discrete, binding brain surgery to research, research to the private sector.
Today would be no different. Leuthardt hoped his electrodes would act as a sort of neural seismometer, helping him to pinpoint the source of Brookman's seizures. But diagnostics were only part of the project. Leuthardt's electrodes would serve a second function as well: by melding his platinum sensors to the brain, he hoped to eavesdrop on Brookman's thoughts, creating a link between his patient's brain and the digital world outside.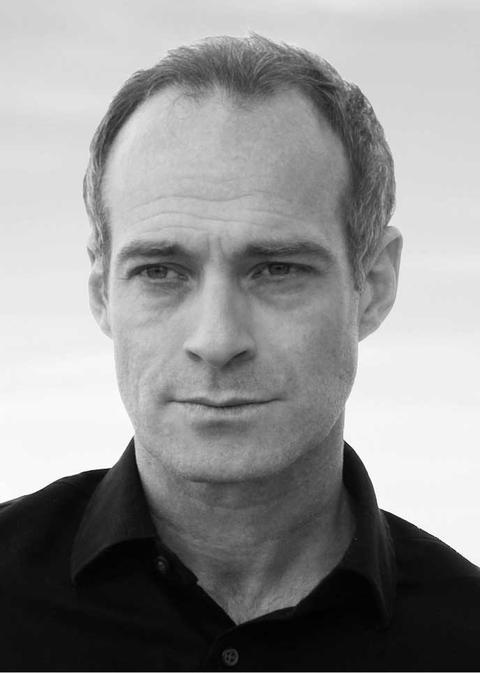 Leuthardt wasn't angling for thoughts as we know them—conscious considerations like 'I feel hungry' and 'what a lovely sunset'. He was after the electric current of thought itself: the millions of electrical impulses, known as action potentials, that continuously volley between the brain's estimated 100 billion neurons. Those neurons are connected by an estimated 100 trillion synapses, the slender electrochemical bridges that enable the cranium's minute universe of cells to communicate with one another. Like an exponentially complicated form of Morse code, the cells of the brain exchange millions of action potentials at any moment, an electric language that physically underlies our every movement, thought, and sensation. These are not sentient thoughts, per se, but in sum this mysterious and crackling neural language is what makes consciousness possible—a sort of quantum programming code that remains all but unrecognisable to the consciousness it creates.
Leuthardt's hope was to understand that language. Using electrodes to ferry Brookman's neural signals into a nearby computer, he would forge what's known as a brain-computer interface—a wildly intricate union of synapses and silicon that would grant his patient mental control over computers and machines. As this pulsing language streamed from Brookman's brain, the machine's algorithms would work to find repeated patterns of cellular activity. Each time Brookman would think, say, of lifting his left index finger, the neurons associated with that action would crackle to life in a consistent configuration. Working in real time, the computer would analyse those patterns, correlating them with specific commands—anything from re-creating the lifted finger in a robot hand to moving a cursor across a monitor or playing a video game. The end command hardly mattered: once Leuthardt's computers had adequately decoded Brookman's neural patterns—his thoughts—Leuthardt could conceivably link them to countless digital environments, granting Brookman mental control over everything from robotic appendages to Internet browsers.
It's a union whose potential beggars the imagination: an unprecedented evolutionary step—effectively digitising the body's nervous system—that conjures images of not only mental access to everyday objects like computer networks, appliances, or the so-called Internet of things but also telekinetic communication between people and cyborg networks connected by the fundamental language of neural code.
Just as the body's nervous system comprises both sensory and motor neurons, the wired brain offers an analogous two-way means of communication. Brookman's brain-computer interface may give him control over computers, but it would also grant Leuthardt's computers access to Brookman's brain—a powerful research tool to study the behavior of individual neurons as well as deliver new forms of sensory information.
'We may actually for the first time be able to interact with the world in a non muscular manner,' Leuthardt said. 'I've always needed muscle to communicate with you by moving my vocal cords or giving a hand expression or writing a note or painting a painting—anything. But that may not be the case anymore. So how does that change us? You unlock the mind and make it accessible to science and technology, and suddenly all this other stuff becomes possible. Everything changes. It's a whole new palette for the human imagination.'
The Brain Electric: The Dramatic High-Tech Race to Merge Minds and Machines is published on 21 October. Order from your favourite bookshop or online now.