Number 3 chiller
Safety Not Guaranteed: Great Armchair Travels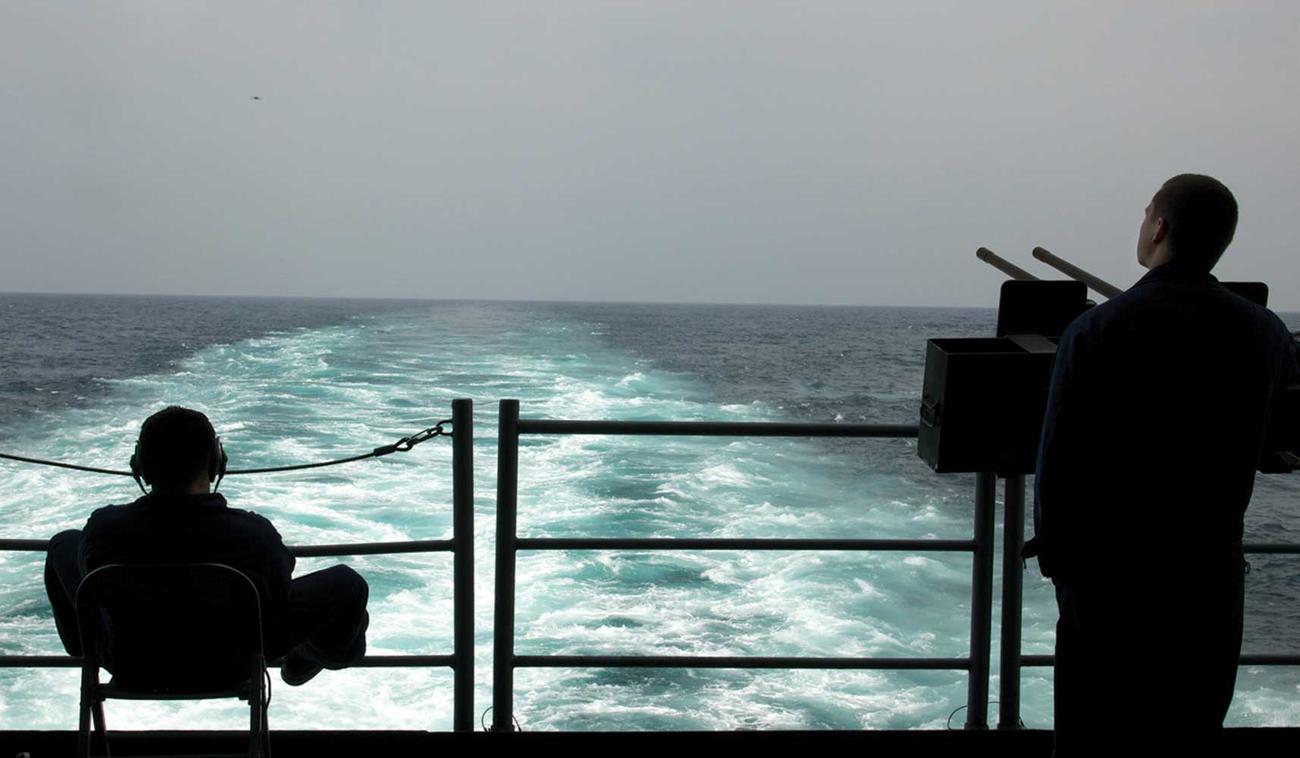 Are holidays a while away? We know how you feel.
We like holidays as well. But since they're few and far between, we've made up new ways to get out of the country.
Whether it's riding the high seas with the US Navy, charging off to Thailand for a Full Moon Party or putting your feet up by an azure Mediterranean sea, there are few experiences you can't have through the pages of a book.
So what kind of armchair tourist are you?
In search of self-discovery
Daniel Klein was about to spend a hefty amount on dental work when he thought perhaps a year in Greece might be a better use of his time and resources. There he would observe how the Greeks manage to live happy lives into authentic old age. Funny, sincere and with a profundity reserved for only the brightest philosophers, Travels with Epicurus is a trip made for all the right reasons. Zero schmaltz, just good living.
Dinner-party professional
Mark Adams is one of the best exponents of the journalistic travel genre. With an unquenchable curiosity, this inexperienced adventure travel expert takes you along on a re-creation of the 1911 expedition to Machu Picchu in Turn Right at Machu Picchu, led on this occasion by an Australian.
Off the beaten track
Of course, there are some places most of us can't go on holiday. Which is the type of holiday Geoff Dyer likes—name another author who travels with a heavily armed navy escort. Dyer has an award-winning penchant for probing odd subjects in unique and intriguing ways, and his experience aboard the aircraft carrier USS George W. Bush is recounted with Dyer's signature dry wit in Another Great Day at Sea.
History buff
Perhaps you're a keen student of civilisation. What better way to capture the chaos of the Indian city of Delhi than reading Rana Dasgupta's Capital: A Portrait of Twenty-First Century Delhi? From walled city to world city, Capital describes a place as terrifying as it is intoxicating.
Get raucous
A haven for cheap tourism and unregulated hijinks, South-East Asia can play host to the idyllic and the seedy in equal measure. Throw in a Belfast hard man, looking for redemption for a violent past, and you have Chris Flynn's brilliant A Tiger in Eden —a heady ride of sex, drugs and bar-room brawls.
The cynic
Murray Bail's 1980 Age Book of the Year, Homesickness, is the classic portrait of the Australian tourist experience: a hilarious, aimless, globe-hopping critique of gormless travellers. What's more, it's the perfect antidote to that winter longing for a holiday abroad—perhaps travelling isn't all it's cracked up to be.
Better read a book instead.
What Does It Mean to Become a Man?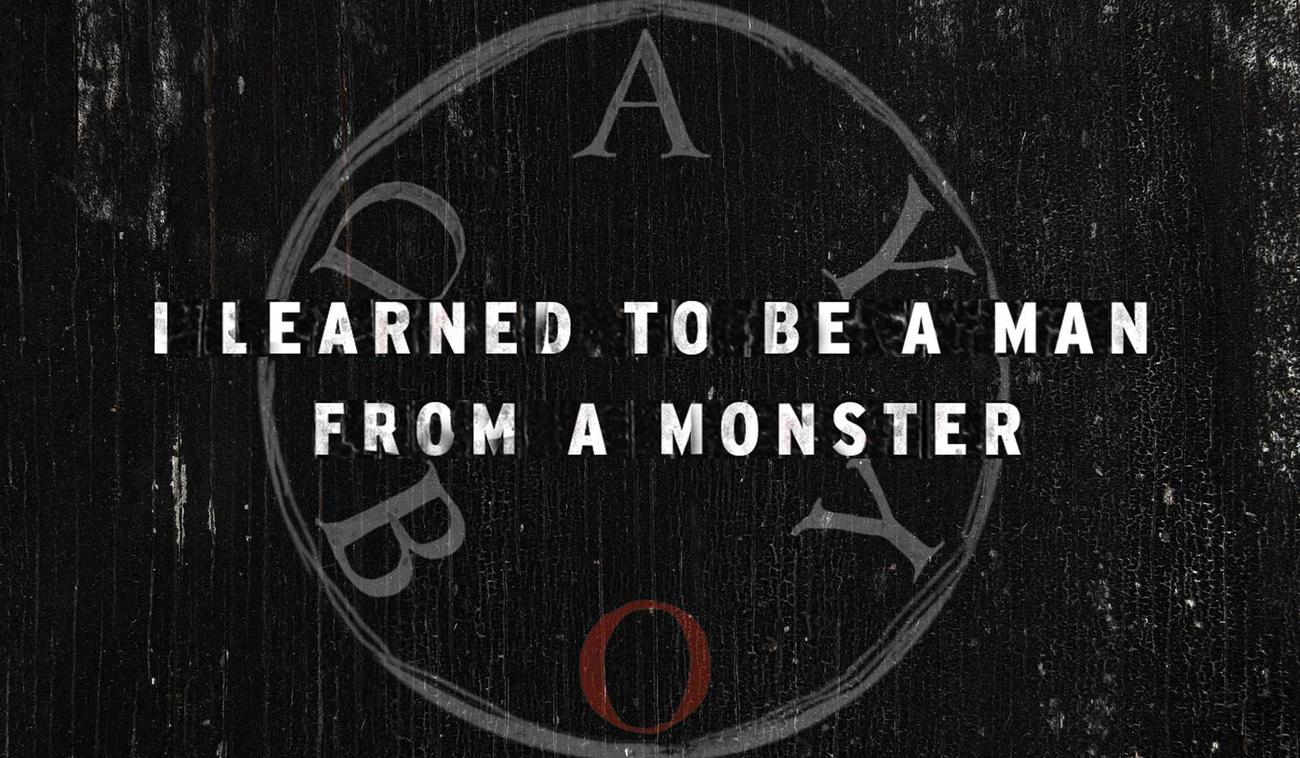 Mark is a Day Boy.
In a post-traumatic future the Masters—formerly human, now practically immortal—rule a world that bends to their will and a human population upon which they feed. Invincible by night, all but helpless by day, each relies on his Day Boy to serve and protect him.
But as Mark grows to manhood and his time as a Day Boy draws to a close, there are choices to be made.
Will Mark undergo the Change and become, himself, a Master—or throw in his lot with his fellow humans? As the tensions in his conflicted world reach crisis point, Mark's decision may be crucial.
I learned to be a man from a monster.
You need to know that if you're to
understand anything that follows.
I am, I believe, a good man; so was he—
but the monster was always there.
I learned to be a man from a monster; 
there's no escaping that.


But the God honest truth is that I miss him.
In Day Boy Trent Jamieson reimagines the elements of the vampire myth in a wholly original way. This is beautifully written and surprisingly tender novel about fathers and sons, and what it may mean to become a man. Or to remain one.
'This a book about boys and men, their rivalries and cruelties, and the love of fathers and sons...It is a joy.' Vampires in the Sunburnt Country
Trent Jamieson is a teacher, bookseller and writer of science fiction and fantasy, including the Death Works series. He has twice won Aurealis Awards for his short stories. In this guest post for Readings he talks about his love of vampires and the inspiration for Day Boy. And in this short video he talks about the thrill of being fourteen years old and discovering your place in the world.
You can follow Trent on Twitter. Or visit his website for pics from the launch at Avid Reader with Isobelle Carmody and to check out the new Day Boy cocktail!
Burn: The Rephaim Book 4, #1 on the iBooks YA Bestseller List!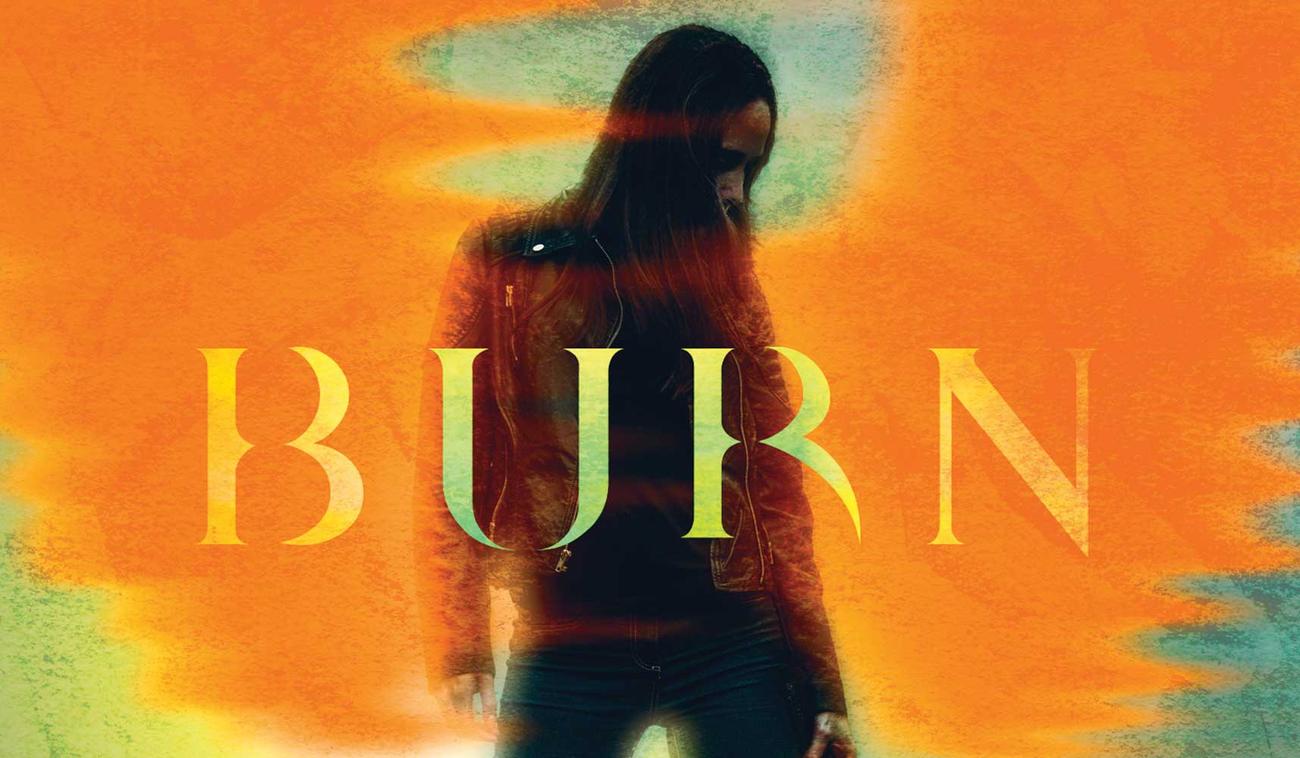 Love. Nightmares. Angels. War.
Burn, the long-awaited finale to Paula Weston's paranormal Rephaim series, hit the shops last week and went straight to number one on the iBooks bestselling young-adult list. 
'What do you remember?' Jude keeps his voice low, doesn't move closer. I press my lips together. Memory after memory rises up like a wave, crashes down. Replaced by another; they just keep coming.
Gaby is back. And, suddenly, she remembers everything.
For a year she believed she was a backpacker chilling out in Pandanus Beach. Working at the library. Getting over the accident that killed her twin brother.
Then Rafa came to find her and Gaby discovered her true identity as Gabe: one of the Rephaim. Over a hundred years old. Half angel, half human, all demon-smiting badass and hopelessly attracted to the infuriating Rafa.
Now she knows who faked her memories, and how—and why it's all hurtling towards a massive showdown between the forces of heaven and hell.
More importantly, she remembers why she's spent the last ten years wanting to seriously damage Rafa. 
Burn completes The Rephaim series in smouldering, heart-stopping style. A must-read for fans of Lauren Kate's Fallen series and Laini Taylor's Daughter of Smoke and Bone. 
If you've somehow missed this amazing series, catch up with books one to three—Shadows, Haze and Shimmer.
Find out 'where the magic happens' for Paula in this interview with Kirsty Eagar. Or follow her on Twitter and Facebook.
And if you're lucky enough to be in sunny Queensland, Paula is out and about signing books, so try to catch her in a bookshop near you. See her event listings here.
Praise for The Rephaim series
'The best angel-themed paranormal series I've ever read.' ALPHAreader
'Late for dinner, late for work, late late late. Thanks so much, Paula Weston, I picked up Shimmer and forgot everything else.' Adelaide Advertiser
'The Rephaim is an excellent example of everything that is amazing about YA literature, and Burn a thrilling, bittersweet conclusion.' Speculating on SpecFic
'The smart-mouthed character of Rafa kicked the Edwards, Peters and Jacobs of the YA world to the kerb. If only he were real.' Sun Bookshop 
'If you told me last week that I'd be fan-girling over a YA urban fantasy series I would've stared at you blankly then hurled a copy of Friday Brown at your face...I loved this book. Loved. And it's an angel book.' Trinity Doyle, author of Pieces of Sky, on Shadows
'I have been dying to get my hands on the third book of The Rephaim series ever since Haze officially turned The Rephaim series into my favourite angel series ever. The tension is palpable and the pacing is sharp making Shimmer the most fierce and kick-arse book in the series so far...I haven't been this pumped for a series since those early Hunger Games days.' Inkcrush blog
'Beautiful writing, witty dialogue, badass characters and an intense and richly crafted tale, what else can you ask for? If you want an angel series that will blow your mind away, this is the one. Now, I only have one question: where's book 4?' YA Midnight Reads
School's Out—Brave, Smart and Adventurous Holiday Reading for Kids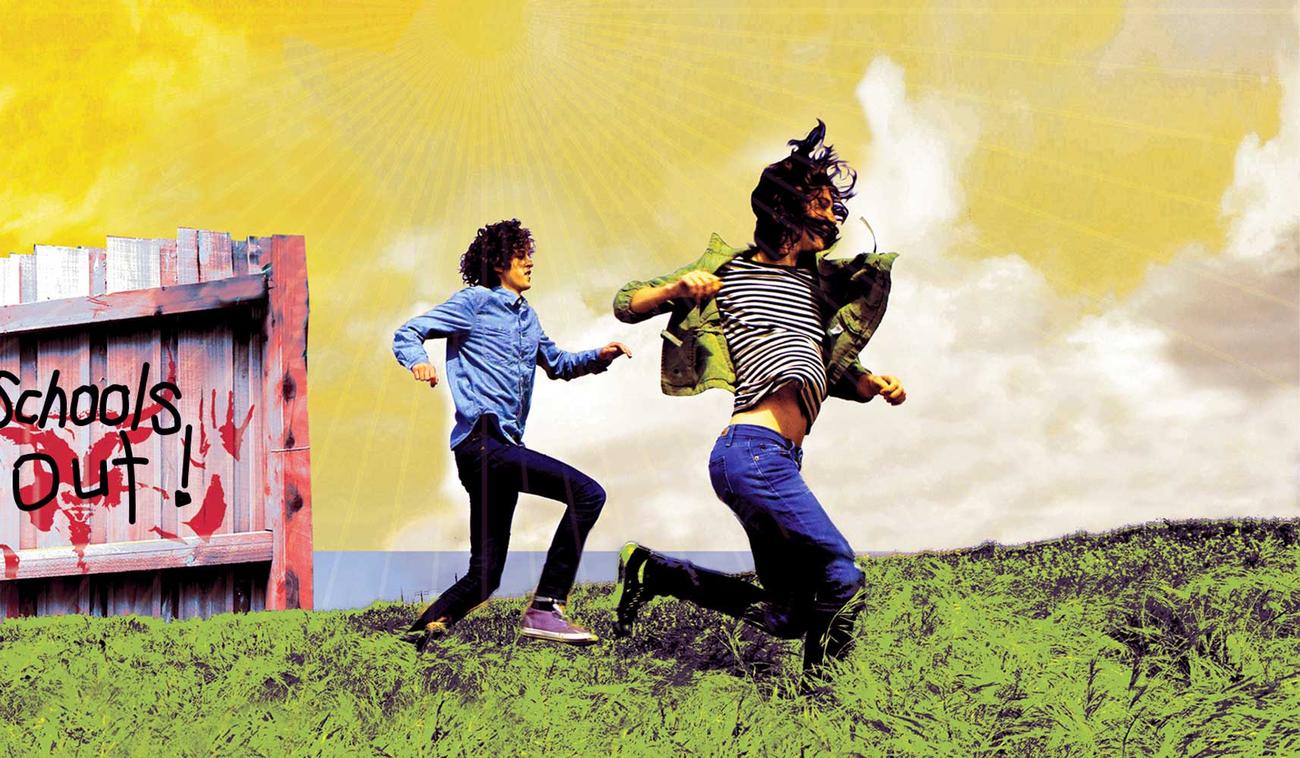 'We don't need no education...'
I'd like to think that Roger Waters would think twice about his gloomy 1979 proclamation today.
But while we are full of admiration for the teachers, librarians, teacher-librarians, principals, department heads, subject coordinators, admin staff, teacher organisations and curriculum bodies for all the excellent and tireless work they do, there is something deliciously anti-authoritarian about Pink Floyd's iconic anthem.
And because school's out, here are our book recommendations for children and young adults to dive into this school holidays, featuring the kind of protagonist Text loves best: questioning, brave, smart and adventurous, reaching out to the rebel in all of us.

The Minnow, Diana Sweeney
A 2015 CBCA shortlistee and winner of the 2013 Text Prize. Pregnant teenager Tom has dropped out of school after her world is torn apart to make sense of everything that has happened. An intensely moving story with an unforgettable protagonist and a  whimsical feel that belies the heartbreaking truth of tragedy, grief and loss.
'Quietly powerful and compelling. A tender, lyrical book about love, loss and starting over.' Meg Rosoff
The Bridge, Jane Higgins
Our fierce and thought-provoking 2011 Text Prize winner explores the dangerous complexities of warfare in a futuristic setting. When their high school gets blown up, Nik and his friends cross into enemy territory. Its gripping sequel, Havoc, was published in March this year to rave reviews.
'A brilliant novel with echoes of John Wyndham's The Chrysalids, its young protagonists show heart in a world of despair.' West Australian
The True Story of Spit MacPhee, James Aldridge
An Australian classic for the young adult who loves camping and the great outdoors. Barefoot country boy Spit MacPhee, who rarely goes to school, is taken in by a family, but he is determined to stay true to his independent Huckleberry Finn spirit. James Aldridge describes Spit wonderfully: 'An Australian boy who asked absolutely nothing of anyone because he expected others to ask nothing of him.'
Friday Brown, Vikki Wakefield
In this 2013 CBCA Honour Book, runaway Friday Brown meets a gang of kids who live in an abandoned house. A stunning portrayal of outsiders, small-town Australia and facing your past, Friday Brown is contemporary YA fiction at its best.
'There are no words to describe this novel adequately. There is only humbled, awestruck, heartbroken silence.' Mostly Reading YA
The House that Was Eureka, Nadia Wheatley
Sixteen-year-old Evie has left school and can't find a job in the suburb her mum and step-dad have moved to: Newtown, in inner-city Sydney. The past and present collide when she meets Noel and discovers the history of their connected terrace houses.
'Wheatley's book has urgency and a fierce strength...The characters from both eras are "alive and flying", freedom fighters who are aware that they are making history.' Maurice Saxby, The Proof of the Puddin'
Puberty Blues, Gabrielle Carey and Kathy Lette
This iconic coming-of-age novel follows teenagers Deb and Sue as they navigate the sunkissed, freewheeling experience of adolescence.
'I don't recall reading Puberty Blues so much as devouring it. I was about thirteen, alone in my bedroom with the door firmly shut. I was fascinated.' Kylie Minogue 
Fire in the Sea, Myke Bartlett
Fire in the Sea, another great Text Prize winner, is a fast-paced thrilling adventure with a feisty heroine who is not afraid to fight for what she knows is right. Sadie is sixteen and bored with life in Perth. It's summer, and lazing on the beach in the stifling heat with her cousins and Tom is a drag. Then something comes out of the sea. 
'A thrilling adventure with a Katniss Everdeen-style heroine...this is one showdown you won't forget in a hurry!' Dolly Magazine
Browse more great kids' reading here.
Lucy Sussex Talks about Her New Book, Blockbuster!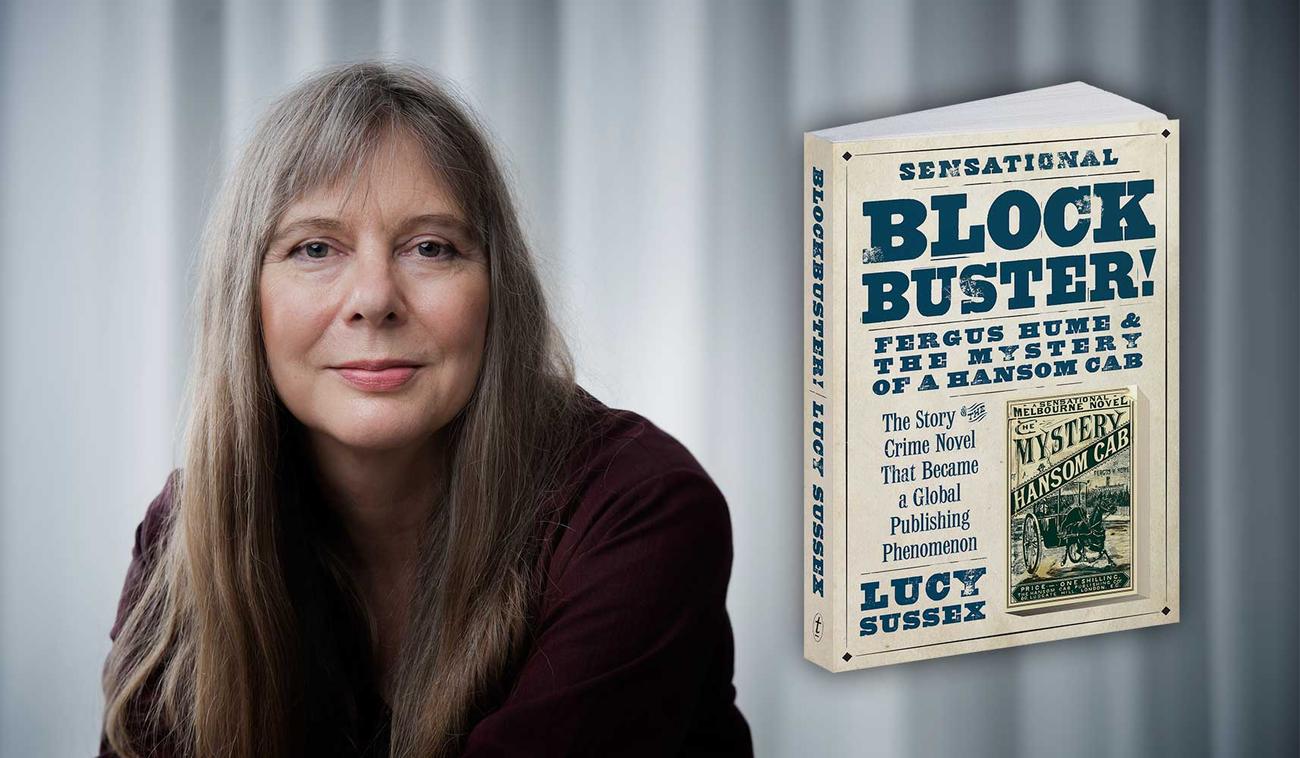 Lucy Sussex is an award-winning author and in her latest book, Blockbuster! Fergus Hume and The Mystery of a Hansom Cab, she delves into the background of one of Text's most beloved Classics. In doing so, she takes us on a winding tour through the streets of Marvellous Melbourne, probes the history of the crime genre, and unveils the secrets of a book that has never been out of print, Fergus Hume's The Mystery of a Hansom Cab.
We chatted with Lucy about her book and the publishing phenomenon that inspired it.
When did you first read Fergus Hume's The Mystery of a Hansom Cab?
When I grew up in Christchurch, New Zealand, I never heard of Hume. In fact I didn't know about Hansom Cab until I worked as a researcher for crime-fiction historian Professor Stephen Knight, who did several Hume editions. I read it then, and learned about its success. Quite how important a book it was I came to understand in the course of this research.
What were your initial impressions of Hume and the novel?
It came across as a nineteenth-century mystery novel still very readable today (which is not always the case). And a superb picture of 1880s boomtown Melbourne. Of Fergus? A sense of mystery, stronger even than the book. 
How many times have you read it since?
Lost count, but each time I pick up something new, like his putting what must be his own address into the text, giving it to hero Brian. Or a really shameless brown-nosing of J. C. Williamson, whom he wanted to stage his plays, as also does an ambitious young man of letters in the novel.
Blockbuster! is the first book to really delve deep into the Fergus Hume story.

 

How did you go about researching his life and that of his books?
The problem with Hume is that he left no descendants, no diaries, there are few letters and the most relevant publishers' records do not survive. David Green, the Trischler family historian, kindly gave me a lot of information about Fred Trischler, Hume's brilliant publisher. Rowan Gibbs, Hume's New Zealand bibliographer, was an endless help. But mostly I used digitised newspapers and other records, which provided more than enough for a book about Hansom Cab alone. Which is a fascinating story in itself.
After so many years of research did you find it difficult to begin the writing process? Were you ever concerned that the research phase would become all-consuming?

                   
I researched as I wrote, aware that more and more digitised material was coming online. I just had to hope that none of it would completely contradict my narrative. As it happened just before the book went to press I got dress details (though no photo) of Jessie Taylor, who owned Hansom Cab's copyright. It was very hard to stop researching, given what was happening online. Perhaps I never will stop...
In Blockbuster! you discuss how Hume's Melbourne provided the ideal melting pot for the making of a literary bestseller. How do you think Melbourne's reading public has changed since this time?

   
Not necessarily, as the place is still full of keen readers. Even in the 1860s the market for books in Melbourne was 'huge'. They just have a lot more distractions, like social media etc.
Why do you think Hume's portrait of Melbourne remains so iconic?
There is nothing quite like it, Ada Cambridge's novels apart. He sees exactly what is important and interesting in the place, and writes it down, very well. He also sees that the boomtown cannot last, either.  Glory and impending doom, a great combination.
To what extent do you think Hume's New Zealand upbringing and outsider status in Melbourne informed his ideas in the book?

 
One helluva upbringing, to grow up in the madhouse his father managed. But it gave him an extraordinary knowledge of abnormal psychology. Theatre was used as  therapy in the asylum—that made Fergus want to be a playwright. Dunedin was a very cultural place, then and now, and it educated him as a literary man. As an outsider in Melbourne he could observe it dispassionately, and because it was harder to succeed without connections, he put everything he had into the novel. He did so want it to advertise him as a cultured and clever chap, who could write good plays.
What does the Melbourne of today still share with Hume's Melbourne?
Some of the architecture, though not nearly enough. Death to developers and style-blind architects! The hidden secrets. The desperate chase for money.
What would be some must-see hotspots on a hypothetical 'Fergus Hume Walking Tour of Melbourne'?

 
If you walk across the Fitzroy Gardens, you retrace his walk to and from East Melbourne—little has changed. Scots Church, where the novel begins. Perhaps some enterprising soul will send Hansom Cabs up St Kilda road, but now the open carriages suffice. For the opium dens and slums of nineteenth-century Melbourne we would need a time machine.
Why do you think Hume's subsequent novels were unable to match the success of his debut?
He got it absolutely right on his first attempt, not with his best novel, but with the one which anticipated the market demands.  He subsequently devalued his personal brand with some hurried work, and confused it by ventures into children's writing, utopias and disaster novels. What he was best at was detective writing, but by the time he wrote works such as the superb The Silent House, he was no longer leading the market.
What do today's crime novels owe to Hume and The Mystery of a Hansom Cab?
It helped create the market category of detective writing, and show publishers how well it could sell. Without Hansom Cab the Sherlock Holmes series might have stopped with A Study in Scarlet—Doyle certainly intended it as a one-off.
Why do you think The Mystery of a Hansom Cab is currently experiencing a renaissance of sorts among readers today?
It's never been out of print. The telemovie helped, but there is something alluring about 'our valiant old cab', to use Miles Franklin's description.
Come along and celebrate the launch of Lucy Sussex's Blockbuster! at Reader's Feast Bookstore on 1 July.
New This Month: The Mothers by Rod Jones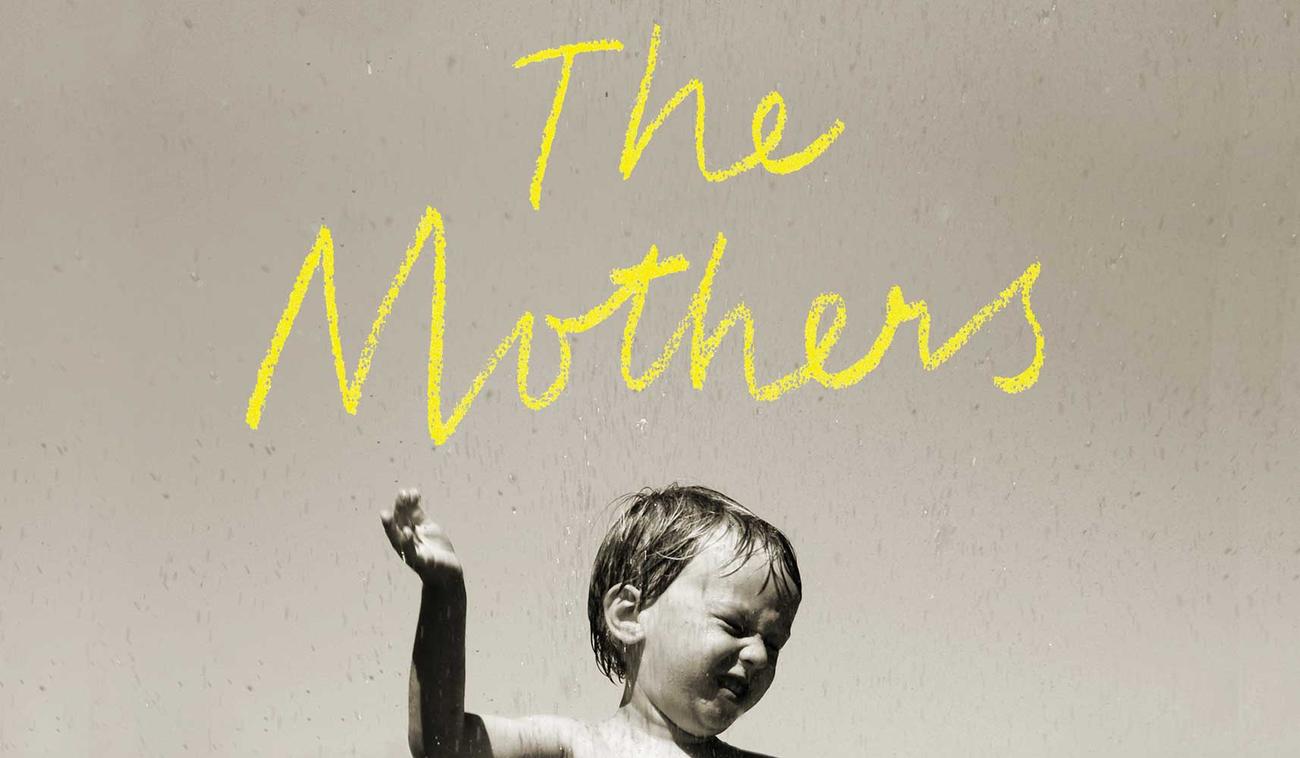 It's wonderful to be publishing a new book by Rod Jones, whose first novel, Julia Paradise, we published as a Text Classic in 2013. Julia Paradise won the fiction award at the 1988 Adelaide Festival, was shortlisted for the Miles Franklin Award and was runner-up for the Prix Femina Étranger. It has been translated into ten languages. Jones' four other novels, Prince of the Lilies, Billy Sunday, Nightpictures and Swan Bay, have all either won or been shortlisted for major literary awards.
In his new book, The Mothers, Jones draws deeply on his own personal experience to create an authentic and intimate portrait of a family. He tells the story of three generations of women—Alma, Molly and Anna—and the stories and secrets that bind them. The Mothers is also a beautifully rendered social history of inner Melbourne through a large part of the twentieth century.
In 1917, while the world is at war, Alma and her children are living in a sleep-out at the back of Mrs Lovett's house in working-class Footscray. When Alma falls pregnant, her daughter Molly is born in secret. As Molly grows up, there is a man who sometimes follows her on her way to school.
Anna meets Neil in 1952 at her parents' shack at Cockatoo. She later enters a Salvation Army home for unmarried mothers, but is determined to keep her baby.
Fitzroy, 1975. Student life. Things are different now, aren't they? Cathy and David are living together, determined not to get married. Against the background of the tumultuous events of the sacking of the Whitlam government, a new chapter is added to the family's story.
In this interview with the Sydney Morning Herald, Rod Jones reveals that he was adopted as a baby. He was thirty-five years old when he contacted his birth mother by inviting her to a reading of his first novel, Julia Paradise. Her life, and those of his adoptive mother and grandmother, inspires this rich and rewarding story.
Don't miss the chance to hear Rod Jones in conversation with Readings' Mark Rubbo on 15 July.
Praise for The Mothers
'Rod Jones' The Mothers is beautifully written and deeply poignant. One of the most satisfying Australian novels I've read in years.' Alex Miller
'I was captivated by the humanity and heart of the characters. Rod Jones has created a vivid and compelling world and I cared about everyone in it.' Toni Jordan
'With depth and insight, Jones explores maternal-filial love.' Books & Publishing
'Quietly moving...If you like Colm Tóibín's work, I'm sure you will love this book. The Mothers is a terrific achievement for Jones.' Readings
'This is a big-hearted novel, and it is an affecting tribute to generations of Australian mothers who have been unjustly treated.' Saturday Paper
'[The Mothers] gives us a rich panoply of characters, places, and issues. The overall effect is rather like that of looking through a box of faded photographs, turning each one in the light, hearing something of their story, bringing lost faces and eras to life.' Australian Book Review
'Big-hearted...an ambitious work, combining social history set in Melbourne suburbs not yet gentrified, with personal stories of birth, shame and identity.' Booktopia Buzz
Read more about Rod Jones and The Mothers here.
Ten Great Reads to Celebrate a Dark and Chilly Mid-Winter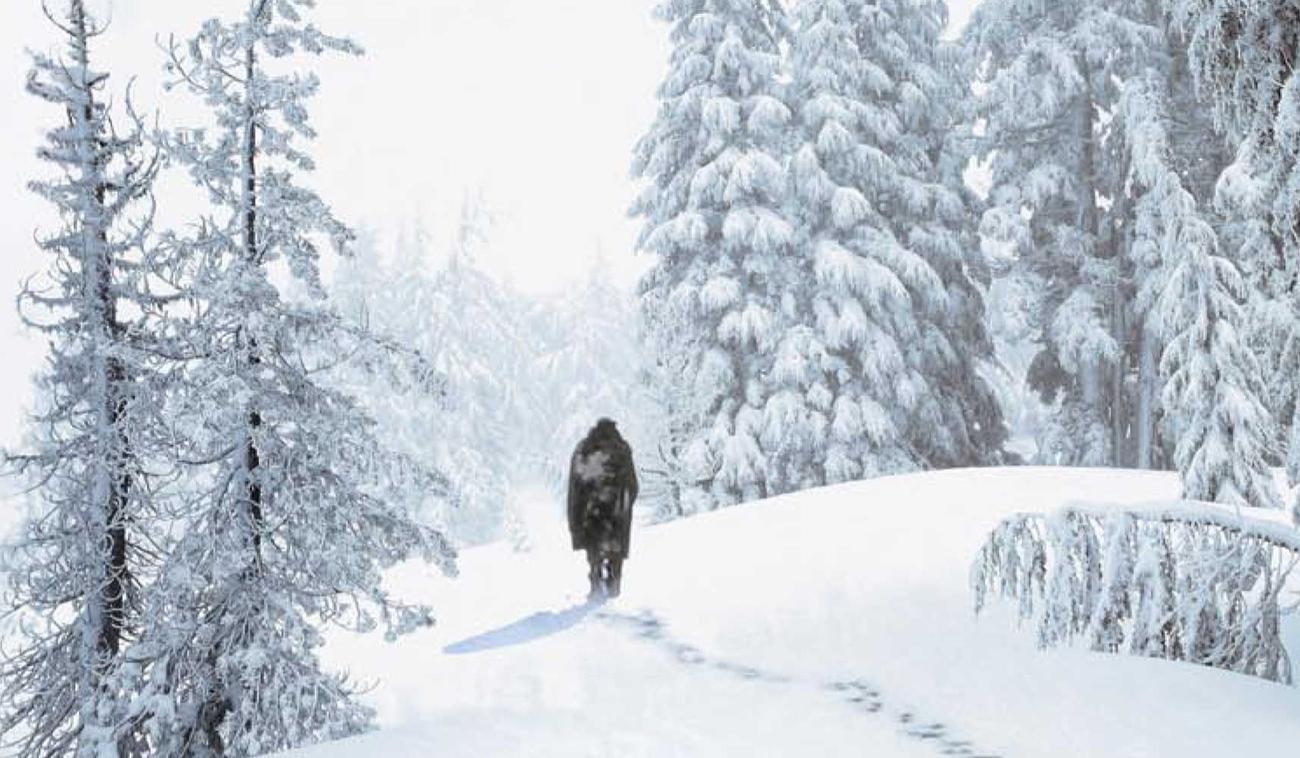 It's the winter solstice this Sunday, when we experience the shortest day and longest night of the year. As the dark and cold grips the imagination, snuggle up and hunker down with one of these wintery reads. Set in locations from the Arctic to the Antarctic, from Scandinavia to Russia, these stories are inspired by the intense power of nature's  extremes.  
Through a frozen winter landscape an escapee from a northern gulag trudges into a remote Russian village, disrupting the uneasy balance between the villagers, a small Christian sect and military outpost.  And when the local shaman is discovered dead, terror and suspicion engulf the town. Winner of the Royal Society of Literature Ondaatje Prize, Meek's novel brilliantly evokes the Russian masters in a finely rendered and thrilling narrative, detailing one of the most unenviable but hauntingly desolate settings you could imagine. Read more.
James delivers a powerful tale of an arctic sea search for the lost expedition of Sir John Franklin in the mid-nineteenth century. This remarkable debut gives you a vivid sense of nature's treacherousness: the ice is closing in around the boat; a pregnant woman has smuggled herself aboard; and their target still unaccounted for. Assured, moving and oh so freezing. Read more.
3. Dog Boy, Eva Hornung
Have you ever considered your dog, perched shivering on the porch, and wondered: what kind of dog would I be? For a vivid and thrilling blueprint for what life might be like, look no further than Eva Hornung's winner of the Fiction category at the 2010 Prime Minister's Literary Awards. As winter closes in and four-year-old boy Romochka, hungry and homeless, seeks to escape the cold, he follows a stray dog to her lair and so begins his life as a dog. Read more.
4. Harbour, John Ajvide Lindqvist
The chill surrounds of Scandinavia are perfect for a spot of horror, and it is an environment few know how to harness better than John Ajvide Lindqvist. On a winter trip home to the mysterious island of Domarö, Anders and Cecilia take their six-year-old daughter Maja on a walk across frozen ice to a lighthouse—a trip from which Maja will not return. Here, there are ample chills to go around in more than one sense of the word. Read more.
The last place you want to be in a winter storm is knee-deep in an ancient burial ground, knowing at least one person who would wish you dead. But this is exactly the situation that university researcher Murray Watson finds himself in. How did it come to this? This page-turning dose of creepy, laced with the Louise Welsh's trademark wit, is perfect for an extended late-night reading session. Read more.
6. Snapshot, Garry Disher
It's winter, the weather is bleak and the people of Waterloo have some strange habits for keeping warm—blackmail, murder, sex parties. If anyone will find out how it all adds up, it's Hal Challis. This is the third installment in Garry Disher's gripping Peninsula Murder Mystery series, and is another example of Disher's mastery of the crime genre. It's an especially relevant read if you're thinking about throwing your own sex party on Victoria's Mornington Peninsula. Read more.
7. Demons, Wayne Macauley
Here, the Great Ocean Road along Victoria's coast turns out to be anything but great. A winter weekend escape takes a downward turn as eight Melburnians are stranded by a freak storm. As they begin to tell each other stories, darker truths are unveiled. Sharp, scathing but discomfortingly familiar, this is brilliant on many levels, not least of which being a demonstration of how not to organise a digital detox. Read more.
Former NPR Moscow chief David Greene traverses the length of modern Russia, exploring the changes that have come about since the fall of the Soviet Union. Talking to everyone from singing babushkas to environmental activists, Greene is both tourist and documentarian as he trains from Moscow to the Pacific port of Vladivostok. If you don't have the budget, the visa or the mittens and fur hat to do this trip yourself, the next best thing is experiencing it from your living room couch. Read more.
Speaking of journeys best made through literature, who could forget Ernest Shackleton's struggle to reach the South Pole? The journey's drama and hopelessness are here detailed and wound up in a triumphant climax that defies belief. You can always rely on a book like this to remind you just how cold you could be. Read more.
10. First Light, Rebecca Stead
In multi-award-winner Rebecca Stead's debut young-adult novel, Peter is visiting his father, a climate-change scientist, in Greenland and is led further into a frightening but enticing new landscape, while Thea is part of a long-exiled colony of people living deep within an arctic glacier. Soon their paths will collide. First Light is a warm tale of mystery, science and the importance of striving for what you believe in. Read more.
Robyn Davidson Introduces I Saw a Strange Land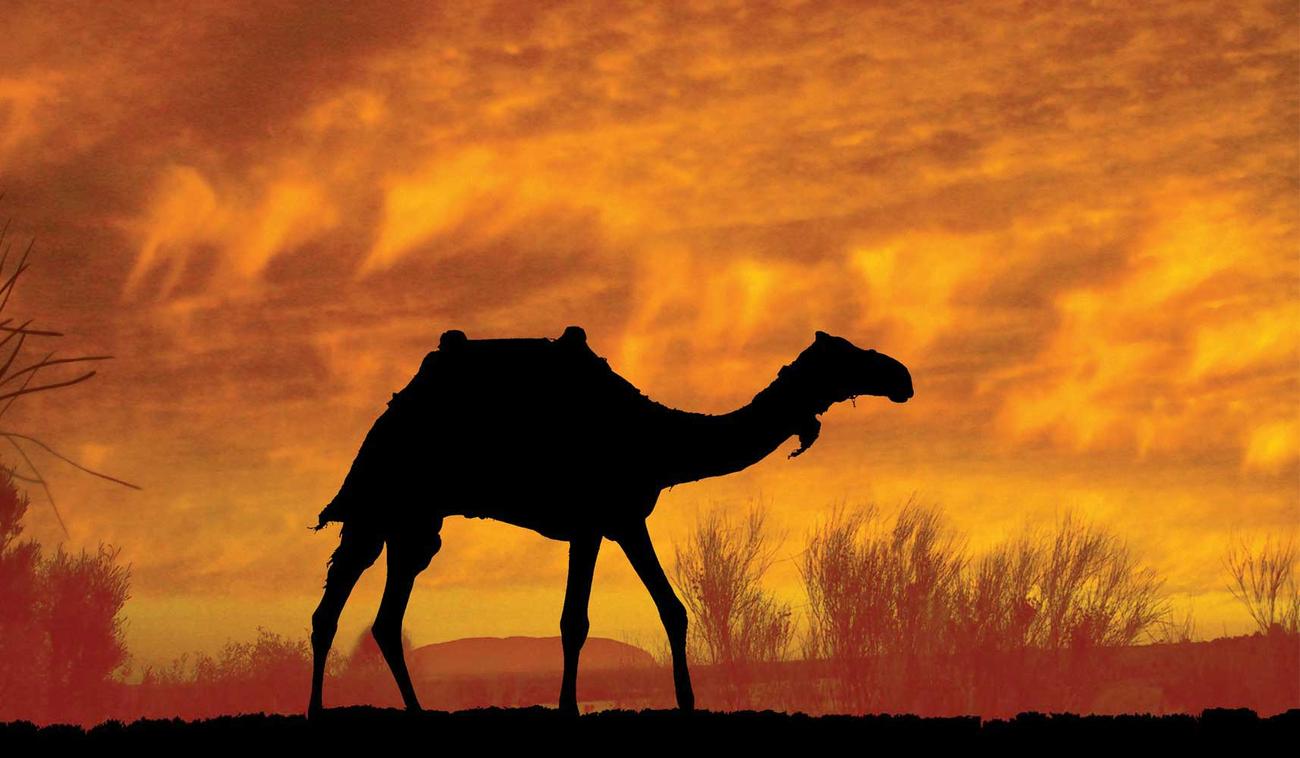 'I followed in the footsteps of Arthur Groom, a young man who explored the "amazing series of parallel ranges that wall the heart of Australia" thirty years before I did.' 
Robyn Davidson is the award-winning author of Tracks, the bestselling story about her trek across the deserts of west Australia. This piece is the introduction to the Text Classics edition of Arthur Groom's I Saw a Strange Land.
Before horses and the wheel our species walked: heads up to survey the horizon, down to follow tracks and gather food. The human body's proprioception, its internal rhythm, is still geared to walking pace. We soothe our babies with it; our deepest understanding of time is measured by it. When we walk, the unconscious (the machinery that takes up most of the brain's effort) is free to do its work beneath the surface. Forget Rodin's sculpture—our best thinking is done on our feet.
There seems always to have been this intuitive connection between walking and cogitating. For the religious, pilgrimage healed the soul. The Greeks philosophised while strolling about. Aborigines went on walkabout as part of ceremonial life.
Where you walk matters as well. City walking is fine if you want to be overwhelmed by stimulus. But country walking, specifically spectacular-landscape walking, allows you to have, as Virginia Woolf put it, space to spread the mind out in.
There is a tremendous freedom in setting off on foot, with minimal fuss and baggage. The constraints of your life fall away, revealing a less cluttered self 'as pure as a polished shell', said the Buddha.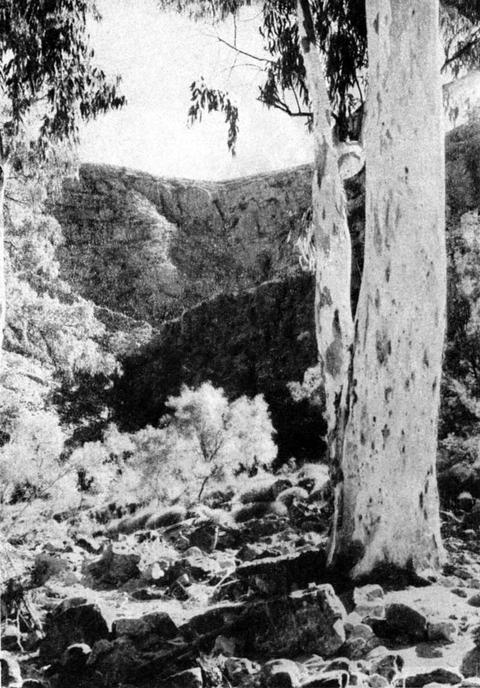 I know this because I did it myself, back in 1977. And, although unaware of it at the time, I followed in the footsteps of Arthur Groom, a young man who explored the 'amazing series of parallel ranges that wall the heart of Australia' thirty years before I did. I Saw a Strange Land, first published in 1950, is Groom's journal account of this trip. And if it were nothing more than lyric descriptions of the terrain he traversed, it would still be fascinating. Sometimes he uses camels to cart his gear, as I did, but mostly he carries what he needs on his back. He thinks nothing of trudging forty miles a day, or night. (You do not know what forty miles is until you have walked it: through sandhills, up and down plunging broken escarpments, along desiccated riverbeds.)
His evocations of the stupendous landscape uncovered memories that I had thought permanently buried. Muscle memories of scrambling over rocks and spinifex, of freezing dawns and hot days, of the unique intensity of being alone in a terrain that is surely among the most affecting in the world. Because I walked the landscape, slept on it, breathed it, drank it, I feel that, in some peculiar way, that country knows me. I am always homesick for it.
Groom even describes an experience I wrote about in my own journey-book, Tracks. A mournful, unaccountable sound, as of something haunting the air, sometimes far off, sometimes close. Both of us discovered (with relief) that it was the pre-dawn breeze, beginning in the high-up gorges, or in the tops of trees, while everything below remained perfectly still.
The range country of the Centre lends itself to those kinds of feelings. We are awed by its age, power and beauty; astonished at the play of light and colour; inhabited by atavistic reverence. If Jehovah is anywhere, then surely he visits the chasms, escarpments and rivers of those primordial hills.
But ways of seeing are mediated by culture. Aboriginal people who belong there have, I imagine, a different aesthetic response. To them, all land is sacred, therefore it is all beautiful. Yet it was Albert Namatjira who first translated the Centralian colours to a European eye. Arthur Groom's meeting with the Great Man himself, and his talks with Namatjira's teacher, Rex Battarbee, form one of the many beguiling interludes in the book:
Battarbee had been right. Here was natural colour beyond description. It was high up in the sky, with shades of blue and mauve reflected from the cliffs. It was in the patches of green spinifex, clinging in pinheads on the rubble slopes. It was in the water, the sand, even in the trees; and perhaps the slow-moving deep shadows were more colourful and mysterious than anything else. The colour was in the water-worn rocks of the river bed. There were boulders and slabs of green, grey, mauve, pink, white, red, black, and all the shades between. This colour system was entirely different to the bright colours of the canyon walls. It was of shades and tints, and went up about ten feet to normal flood level, proving that the basic colour of red was gradually being washed out of all the rocks crashing from above.
Groom worries about the effect tourism will eventually have on the area. Will graffiti be carved into the sandstone, or Aboriginal rock art be defaced? But, while it is likely that Jehovah makes himself scarce when buses full of tourists arrive at the better-known gorges and chasms of the MacDonnell Ranges, tourism, it turns out, has been the least of the desert's problems.
When I set off on my journey, many people thought I was mad; after it was over, I was constantly asked why. Even in 1946, Arthur Groom was thought a little odd, a man who walked when he did not have to.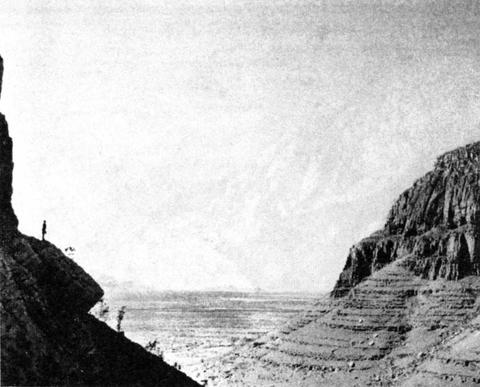 The spark for his journey occurred, he tells us, twenty years before, when he was working as a jackaroo on a cattle station near the Queensland–Northern Territory border. He would have been about seventeen. Out of the eastern horizon a mirage appears: a tiny family and their sheep, heading into the 'elusive west', a visual archetype of striving pioneers. He neglects to ask the names of that 'insane family', but vows to one day find out their fate, and to do something 'as brave and big'.
His curiosity is also aroused by 'one hundred and fifty natives...dirty and diseased, hungry and miserable, the obvious remnants of a dying race' arriving from the opposite direction, out of the mythological west. He wonders 'what was being done to ease the passing of Australia's primitive man'. And so, a year after the end of World War II, he heads for Central Australia.
I find it impossible not to like Groom. You get the sense that he is a decent, somewhat naive young man, at the liberal end of the era's thinking. He is an early template for the conservationist, and something of a jack-of-all-trades. He is also a natural writer. His descriptions of landscape are in the Romantic mode, and his ear for dialogue is acute and charming. (The book is full of Aussie yarns—dry, comical anecdotes from the characters he comes across.) The scraps of history he weaves into his travels, and the light he casts on the assumptions and attitudes of the time, elevate his book above mere travelogue.
The first story he recounts is the epic of the Lutheran missionaries who journeyed into the desert to build a safe haven for Aborigines, and to teach them something of the Christian God. It is a tale of staggering hardship and grit. Against all odds, they founded Hermannsburg Mission, which is Groom's first port of call out of Alice Springs. Here he discovers that the 'Aboriginal race' is not dying out after all.
In the 1920s Aborigines were still in the process of 'coming in' to missions and settlements from distant desert areas. Imagine it: the estates you have successfully managed for at least forty thousand years have been cut to pieces by hard-hoofed animals, invaded by new species of plant and predator, and colonised by people with technology derived from the transition to agriculture. The waterholes and soaks your survival depends on have been fouled by cattle, or used up by the camel trains delivering goods to 'the Outback'. Foxes, cats and rabbits are already doing tremendous damage to the productivity of your grounds. Bush tucker and indigenous animals are becoming scarce. Then comes a drought. The hunting-gathering economy unravels. And there are whitefella diseases, reprisals for killing stock or settlers, the odd massacre and, above all, hunger. In this unfolding catastrophe, missions and work-for-rations cattle stations provide basic security.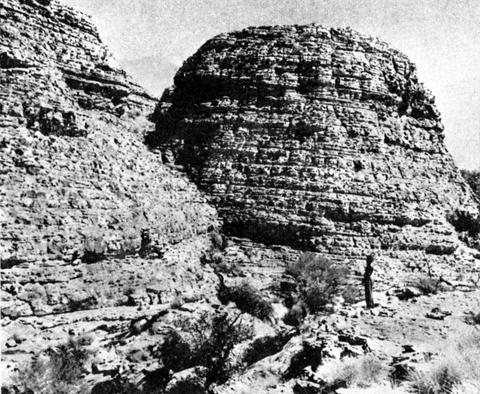 Groom does not quite seem to grasp how extraordinary it was that, while many of the 'pioneers' could not survive in the desert, Aborigines had managed to thrive. They were able to navigate vast areas of the desert using their understanding of nature, a knowledge welded into an entire poetic conception of reality. They were less technologically advanced, yet infinitely more developed at living in and using the natural world.
While he gives us a sense of the heroism of the missionaries, he cannot quite see that the Aborigines under their care are heroic on a grander scale. His interest in and sympathy for their plight is undoubtedly genuine but his tone can be excruciatingly paternalistic to a modern ear. Sometimes it's as if his perceptions struggle against the truisms he has absorbed. The truisms tend to win, but then, who can think and live too far outside the received thinking of their time?
We have the benefit of an intervening half century of scholarly research, and can hear the voices of Indigenous people themselves. Carl Strehlow recorded what he knew of their knowledge systems in 1915, but it wasn't until the 1950s and '60s that a plethora of publications on Aboriginal history and philosophy became widely available.
These days we can read our way into an appreciation of the intellectual feat of the Dreaming. It is not easy to understand. Sometimes I think that, if non-Indigenous Australians could truly comprehend the reach, complexity and sophistication of Aboriginal cosmology, we would fall on our knees in reverence to human ingenuity and imagination—the instinct towards meaning that unites us all.
I Saw a Strange Land reminds us how little life in the desert has changed. While cities on the seaboard hurtle into the future, constantly transforming themselves, Australia's remote areas seem hardly to alter at all. The screeching hordes of Aboriginal kids coming out to greet you, their high spirits at odds with the desolation of the camps; the failed, broken-down homesteads; the bogged cars and creaky old windmills—they are all still there. Any changes are subtle, and only observable to an experienced eye. Groom's account reveals how advanced the process of environmental deterioration was, even back then.
These days we rely almost totally on technology to find our way. When it fails us we become lost, literally and figuratively.
It's one thing to get lost in a town where help is nearby; it's quite another to do so when there is no way to reorient yourself. This happened to me once during my walk across the continent, and I will not easily forget the sudden enormity and indifference of the desert around me. The Australian desert is not a landscape to be taken lightly.
Nevertheless, my advice is to take I Saw a Strange Land for a very long walk. Use it as inspiration and guide. Go to the Larapinta Trail, let's say, a physically demanding but relatively safe introduction to the MacDonnell Ranges. Get out of the car. Ditch the GPS. Use your legs. Rediscover the primal link between walking and thinking. (But don't forget to take water.)
Silent Shock: Thalidomide in Australia
Silent Shock exposes the devastating truth about the prescription of Thalidomide in Australia, but at its core is the story of a deeply loving family and the sacrifices they have made to care for each other.
The baby started to come out. Head first, everything OK. But then I saw that there were no arms. And then no legs. The little girl had only a torso and a head.
Lyn Rowe was born in Melbourne in 1962, seven months after her mother Wendy was given a new wonder drug for morning sickness called Thalidomide. Wendy and Ian Rowe already had two healthy daughters and were unsuspecting of the shock that lay ahead.
'Dr Dickinson told me my baby did not have arms or legs. What do you think about at a moment like that? I just remember thinking, we're going to look after this little girl.' 
Despite being advised to turn their backs and hand her over to professional care, the Rowe family looked after Lyn. Decades of exhausting, round-the-clock work. 'Most babies learn how to walk and to feed themselves, and dress and go to the toilet, and wash themselves. Fifty years later, I still do all of that for her.' 
But then in 2011 Lyn Rowe launched a legal claim against the Thalidomide companies. After years of hardship and poverty, and against incredible odds, she won a multi-million-dollar settlement. 
Former journalist Michael Magazanik is one of the lawyers who ran Lyn's case. In Silent Shock he exposes a fifty-year cover up concerning history's most notorious drug, and details the damning case against manufacturers Grünenthal—whose enthusiastic promotion of their lucrative drug in the face of mounting evidence beggars belief. 
Spanning Australia, the United States, the United Kingdom, Japan, Canada, Sweden and, of course, Germany, Silent Shock is an epic account of corporate wrongdoing against a backdrop of heroic personal struggle and sacrifice. It is crucial, compelling reading.
The Sydney Morning Herald describes it as 'an extraordinary story with villains and brave heroes...Magazanik has moulded [the Rowes'] story into a modern Australian myth, the battlers who took on the pharmaceuticals and won.'
You can also read features in the Telegraph and Guardian that review this incredible tale of corporate negligence or watch an interview with ABC's Virginia Trioli.
Michael Magazanik will be in converation with Jill Singer at the Wheeler Centre on 30 June to discuss his book.

Read more about Silent Shock: The Men Behind the Thalidomide Scandal and an Australian Family's Long Road to Justice. 
The Secret River Heads to the Small Screen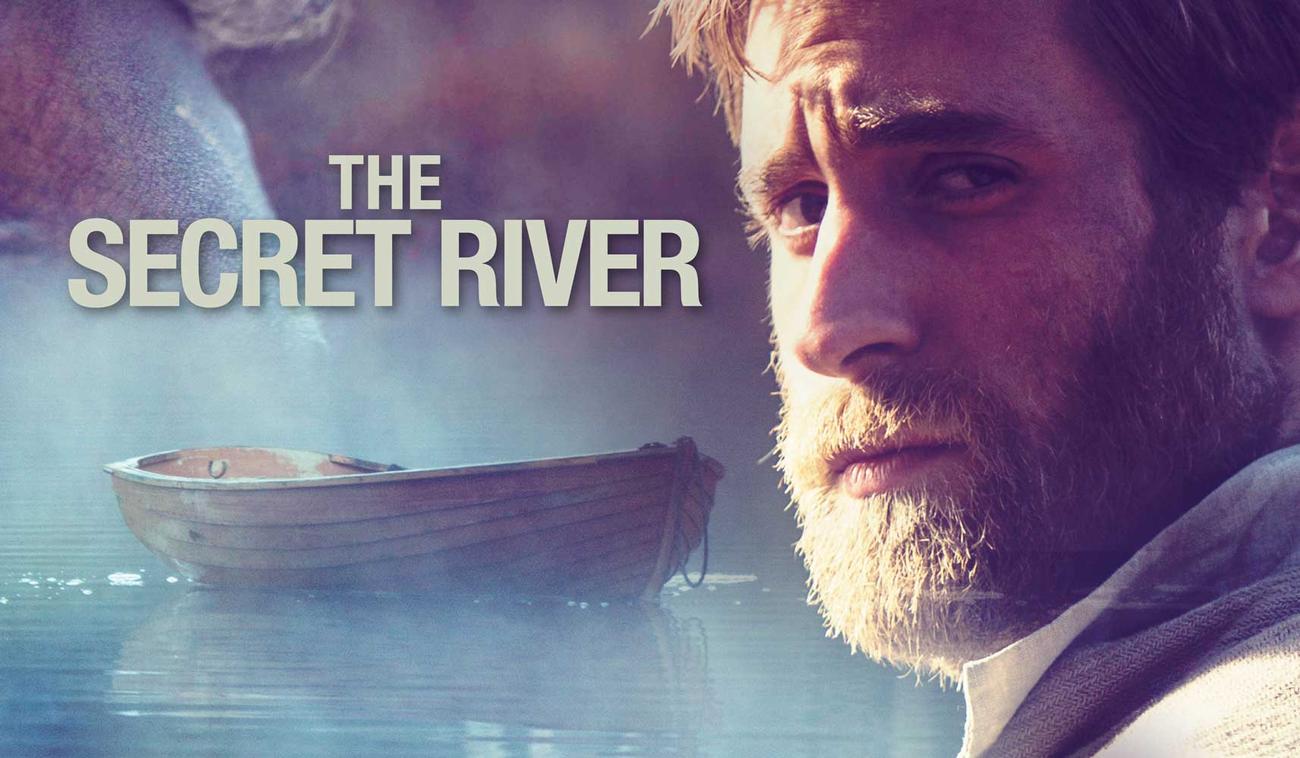 Don't miss the first episode of The Secret River screening on ABC1 this Sunday. The two-part miniseries is adapted from Kate Grenville's bestselling novel, which won the Commonwealth Writers' Prize, and was shortlisted for the Man Booker Prize and the Miles Franklin Literary Award. 
Almost a decade since first publication—and about 200 years after William Thornhill settled on the Hawkesbury—Grenville's groundbreaking story is as haunting and relevant as ever.
After stealing a plank of wood Will, a quick-tempered Thames bargeman, is convicted and sent with his wife Sal to Sydney for the term of his natural life. Eventually securing his freedom, he takes up land along the Hawkesbury River, determined to make his fortune—even if that means defying those inhabitants who would wish him gone.
The tale, inspired by Kate's research into her own family history, recounts a young man's second chance at life and his exploration of an alien landscape. It initiated a vital conversation on the issues surrounding land rights, identity and modern Australia's origins.
The TV series, directed by Daina Reid (Paper Giants, Miss Fisher's Murder Mysteries), stars British up-and-comer Oliver Jackson-Cohen and Sarah Snook. Grey Beard will be played by the experienced Trevor Jamieson, with the cast also including Lachy Hulme and comedian Tim Minchin.
The buzz around the premiere last week was high and it received great reviews including those below.
Just had the privilege of attending premiere screening of #TheSecretRiver. Spectacular, gripping, deeply necessary. @ABCTV @text_publishing

— Clare Wright (@clareawright) June 1, 2015
'Translating a rich, detailed novel—where the writing is as important as the story—is a slightly frightening task but everyone here has paid as much attention to their part in the process as Grenville has to her pros...[W]e have something that convincingly captures the reality of the period with nuance, a clear-eyed intelligence, and real emotional depth.' Melinda Houston,  Age
The Secret River is an Australian story not to be missed. It is also the first in a loose historical trilogy by Kate Grenville, which includes The Lieutenant and Sarah Thornhill. She has also written a wonderful book about writing her award-winning novel called Searching for the Secret River.
Released in 2015, continuing her exploration of family and history, Kate Grenville's new book One Life is a heartfelt and absorbing memoir of her mother. Books+Publishing described it as 'evocative and fascinating, this brave and heartfelt tribute will appeal to anyone interested in their own family story, Australian history, or the lives of women.' Read more about One Life and Kate's touring schedule here.
Explore the books below to read reviews, download book club notes, watch videos and much more, about the works of one of Australia's greatest contemporary writers.