The Boundless Indigenous Writer's Mentorship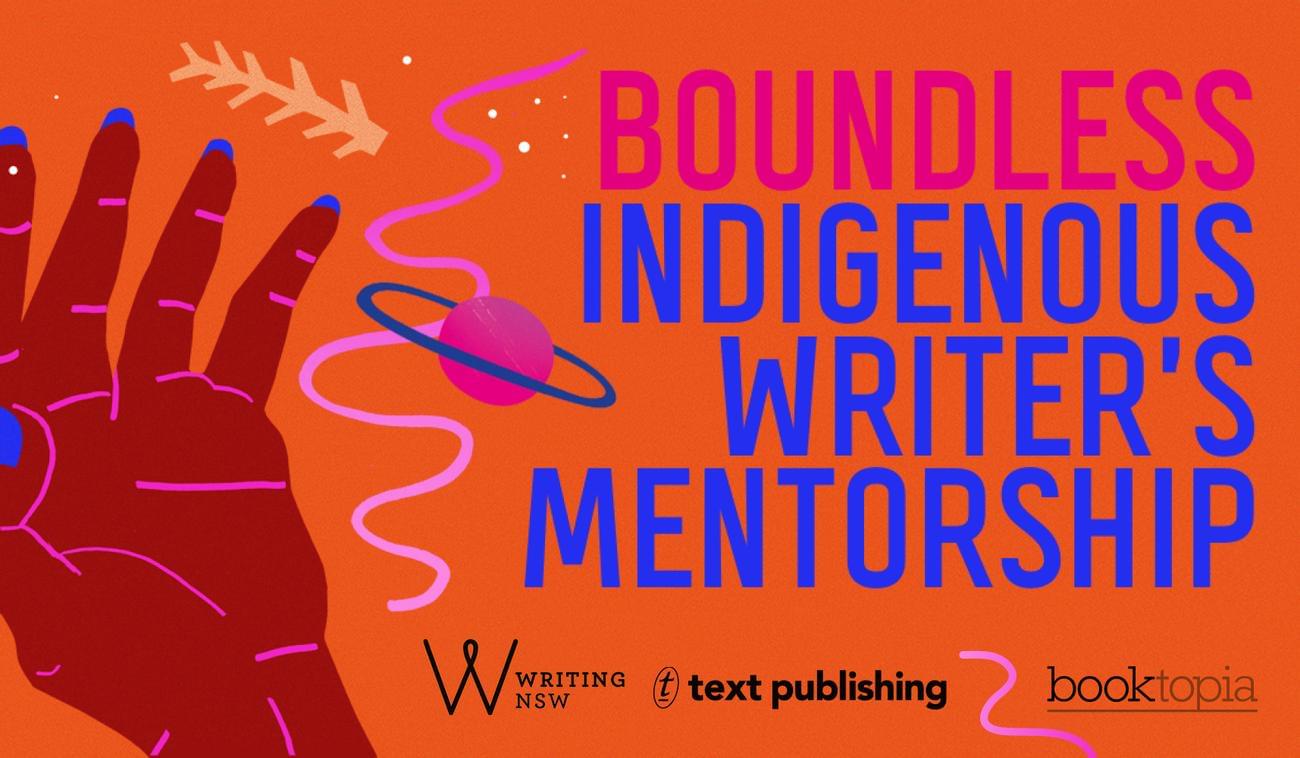 The Boundless Indigenous Writer's Mentorship is a joint initiative between Text Publishing and Writing NSW. It is awarded to an unpublished Indigenous writer who has made substantial progress on a fiction or non-fiction writing project. The purpose of the program is to discover and nurture a powerful new Indigenous voice in Australian literature and to support the writer as they develop their manuscript and seek publication. 
The Boundless Indigenous Writer's Mentorship will open for applications in late 2022. Details on how to apply can be found here. 
The recipient of the year-long mentorship will be paired with a senior Indigenous writer working in the same genre, who will provide feedback on their manuscript and professional advice. They will also receive professional development from Text Publishing and Writing NSW. 
The 2022 mentorship, judged by Burruberongal writer Julie Janson, the acclaimed author of Benevolence, alongside representatives from Text Publishing and Writing NSW, was won by Judi Morison for her family saga, When Grandmothers Speak. You can read about her winning manuscript here.
'"When Grandmothers Speak" is a capable and ambitious novel with great potential. The depiction of racism in the 1950s is a painful reminder of Australian recent history. It is realistic and the story paints an image of love and shame, with adoptive parents who are cruel at times and a father who commits crimes of molestation upon the young daughter.'
— Julie Janson
A proud descendant of the Gamilaroi people of north-west NSW, and of Welsh, Irish and Cornish settler families, Morison will be mentored by award-winning Indigenous writer, filmmaker and academic Larissa Behrendt, whose books include Legacy and After Story.
'Winning the Boundless Indigenous Writers Mentorship is inspiring for me. The prospect of working with, and learning from, Larissa Behrendt, such a remarkable senior Indigenous writer, with added support from Text Publishing and Writing NSW, has refocused my commitment to writing about the social issues and recent history my work explores, and makes the writing journey feel less solitary.'
— Judi Morison

The Boundless Mentorship was launched in 2018 and was welcomed by the Indigenous writing community. Submissions were received from all over the country.
Mentorships are an important link in First Nations writing. Either through informal or formal structures, writers gain skills and knowledge of their craft but also of the industry. For First Nations writers, mentoring by their peers can bring literary knowledge but also a cultural perspective in keeping our stories strong without losing the essence of the story.
— Cathy Craigie, founding Director of the First Nations Australia Writers Network
Allanah Hunt was the winner of the inaugural Boundless Indigenous Writer's Mentorship for her submission Forever and Ever. She was mentored by author Tara June Winch. You can read more about Allanah's winning submission and the 2019 shortlist here.
The Boundless Indigenous Writer's Mentorship is an outcome of Boundless – the festival of Indigenous and culturally diverse writers.  
For more information, including the opening date for submissions for the 2021 mentorship, please stay connected to Text and Writing NSW's socials. All enquiries about the mentorship should be directed to Writing NSW.