What Text wants (and will give) for Christmas 2014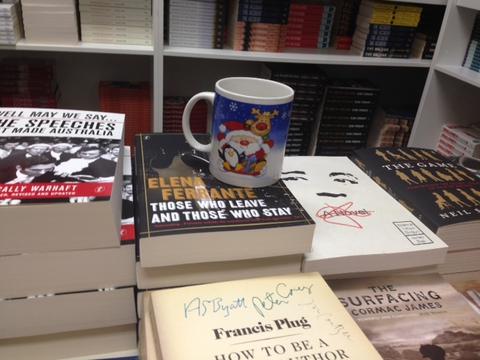 There will be a lot of small rectangular presents under the Text Christmas tree, and not just because we're lousy at wrapping anything without straight edges. Read on to see what staff are hoping Santa brings them, and what books they'll be getting for friends and loved ones.
Léa Antigny, Publicist
With two weeks of holiday lined up I'm well and truly ready to put my feet up with about seventeen mangoes and a good book or three. On my wish list this year is Amy Poehler's Yes Please—I want to knock back tequilas and do karaoke with Amy, so this is my feel-good choice. I'm hoping to finally read Americanah by Chimamanda Ngozi Adichie, after being completely smitten with The Thing Around Your Neck earlier this year. I've also been dropping hints like mad for Yotam Ottolenghi's Plenty More. My gift to myself will be precious time to finally pick up Christos Tsiolkas's Merciless Gods, which has been waiting patiently on my bedside table since its release.
My loved ones have long accepted they'll receive books from me, whether they like it or not. (How could they not? Are you even my real family?) My mum will be getting a copy of Ceridwen Dovey's brilliant Only the Animals as well as The Rosie Effect by Graeme Simsion. For Dad, I'll be wrapping up Carl Hoffman's thrilling Savage Harvest. For my brothers, Silence Once Begun by the wonderful Jesse Ball and Don Watson's The Bush. For my friends, I'll be giving the gift that is Elena Ferrante, starting them on My Brilliant Friend and watching them fall head over heels in love.
David Winter, Senior Editor
For Christmas I'll be stuffing stockings with copies of the handsome little hardback Three Stories, by J. M. Coetzee; the essential collection Well May We Say: The Speeches that Made Australia (vale, Gough), edited by Sally Warhaft; and Midnight in Siberia, David Greene's tale of Russia by rail. If there are copies to hand in time, the new paperback edition of In Certain Circles, Elizabeth Harrower's long-lost final novel, will also find its way to the nearest and dearest.
From outside Text, Cat Sense and Boring Postcards, Vogliamo Tutto and Penelope Fitzgerald are being thrown into Santa's random-looking sack. And I believe I'll be the recipient of a new Roz Chast (hurrah!), as well as books about The Fall and Nick Drake. For holiday reading, I'm going to get stuck in to The Palm Wine Drunkard, from 1952; Grass for My Pillow, from 1966; and Mary Costello's recent Academy Street.
Imogen Stubbs, Production Coordinator
A beautifully designed, bite-sized book I'm sure all my friends will love is Three Stories by J. M. Coetzee. Mum's requested The Rosie Effect for her beach reading, I think my sister will enjoy Rebecca Lee's short story collection Bobcat, while the delightful biography of Dame Maggie Scott will be perfect for Grandma. The charming The Guest Cat (Takashi Hiraide) will be ideal for my cat-loving sister, and I've been thoroughly enjoying (reading and eating) the vegetarian salad cookbook Community (Hetty McKinnon) so that's fast becoming my go-to present.
Having just started listening to the audiobook of Amy Poehler's Yes Please, which is as hysterical and enjoyable as you can imagine if you're a fan, I'm hoping Santa will drop off the book version so that I can snoop through her photo collection. I've also got Only The Animals (Ceridwen Dovey), All My Puny Sorrows (Miriam Toews) and The Love Affairs of Nathaniel P. (Adelle Waldman) on my wish list, so here's hoping they find their way under the tree.
[ed. note: Imogen also submitted a picture of cats wearing Santa hats, but that has not been included due to copyright concerns.]
Kirsty Wilson, Sales & Marketing Director
My Ferrante-addicted parents are getting the third novel in the Neapolitan series, Those Who Leave and Those Who Stay, as well as Barrie Cassidy's Private Bill. My three sisters are receiving funny books: Graeme Simsion's The Rosie Effect, Paul Ewen's Francis Plug: How to Be a Public Author and Amy Poehler's Yes Please. And my boyfriend will be keeping his cool at the family Christmas with Mark Henshaw's The Snow Kimono and David Greene's Midnight in Siberia. I'll be spending my holidays reading more of Dorothy L Sayers' Lord Peter Wimsey mysteries, to which bestselling Text author Toni Jordan has got has got me completely hooked.
Jane Novak, Publicity Manager
It's been a big year so I'm looking forward to relaxing with some fiction over the Christmas break. I would love to receive a copy of the new Sarah Waters, I've so enjoyed her work and I've heard good things about The Paying Guests. I adored Karen Joy Fowler's We Are All Completely Beside Ourselves so am keen to read all of her backlist now. And from this year's Booker shortlist I'd like Neel Mukherjee's The Lives of Others.
A Bone of Fact by David Walsh is one of the most beautifully designed books of the year and I have a couple of people in mind who I think will enjoy it. The Snow Kimono was one of my favourite novels this year and Elizabeth Gilbert's novel The Signature of all Things remains a favourite so I'll be giving copies of both to friends and family.

Stephanie Speight, Publicist
Presents, right. Great crime is always a good gift, I'm sure I'll remember several people to give Crucifixion Creek by Barry Maitland. My friend who stole my copy of Here Come the Dogs by Omar Musa will get her own copy of that, as I would actually like to finish reading it.
My 12-year-old cousin will get all three of Darrell Pitt's Jack Mason Adventures and the 10-year-old who loves the kitchen (he has the most adorable apron) will have fun with Lene Knudsen's Mug Cakes.
For me, this summer I want to finally read We Were Liars by E. Lockhart and Us by David Nicholls, which has been on my list for ages as a fan of One Day. Oh, also Bernard Beckett's August, Laurie Halse Anderson's Speak and Wintergirls and yes, this list is getting much, much too long...
Alice Cottrell, Rights & Admin
This Christmas I'm going to give everyone I know copies of My Brilliant Friend, The Story of a New Name and Those Who Leave and Those Who Stay by Elena Ferrante. They're beautiful, savage, riveting books and widening the pool of people I can discuss them with is a sneaky present to myself. I'll also be gifting a few of my other favourite books of this year: A Golden Age by Joan London, In Certain Circles by Elizabeth Harrower and Golden Boys by Sonya Hartnett.

I know Christmas is all about giving and not receiving, so I would love other people to give me things. I loved The Narrow Road to the Deep North, and I'm keen to read some of Richard Flanagan's backlist—I've been dropping hints about Wanting. I'm a big fan of the Penguin Great Ideas series, and have been hankering after An Apology for Idlers by Robert Louis Stevenson. I'm hoping I can paraphrase the content when I'm explaining to January's new gym-goers why I'm not proactively pursuing any New Year's resolutions. Books are always best accompanied by snacks, so I'd also like a cookbook. I'm hoping for Nutella: The 30 Best Recipes. For obvious reasons. 

Penny Hueston, Senior Editor
In my Santa sack, along with the chocolate, I'd like Rachel Cusk's Outline, Samantha Harvey's Dear Thief, David Mitchell's The Bone Clocks, Christos Tsiolkas's Merciless Gods, the collected works of Penelope Fitzgerald, so I can re-gift my doubles, Penelope Fitzgerald: A Life by Hermoine Lee, Jerusalem: The Biography by Simon Sebag Montefiore.
I'll give a full set of Text Classics (or a few '5 for $50' packs), Academy Street by Mary Costello, This House of Grief by Helen Garner, The Night Guest by Fiona MacFarlane, and the first three volumes of Elena Ferrante's Neapolitan series: My Brilliant Friend, The Story of a New Name and Those Who Leave and Those Who Stay, so readers will be ready for the final in this riveting quartet, which Text is publishing in October next year.
Mandy Brett, Senior Editor
Dear Santa,
Please bring me a copy of Lila by Marilynne Robinson. She writes astonishing, perfect books (and NB  I never thought I'd use those last two words in sequence) so that's really all I want for Christmas. And world peace, obv.
Don't worry about my dad. As usual he's getting Text crime (two words I use in sequence quite frequently) so I'll get them on my staff discount and save your store-elves the trouble. Barry Maitland's brilliant nailbiter Crucifixion Creek and Helen Garner's quite wonderful This House of Grief should keep him going till Boxing Day. I'll put Joyful by Robert Hillman in the parcel, too. It's not exactly crime, inasmuch as it's a literary novel about love and grief in which legal transgression is entirely absent, but I love it. Sometimes you just have to give the people you love the things you love, regardless of whether they think they want them.
Michelle Calligaro, Digital Manager
It can't be Christmas again already! Thankfully, there have been some brilliant books published this year, so gift shopping is easy. Mum is loving Elena Ferrante's Neapolitan Novels, so I'll be giving her book three—Those Who Leave and Those Who Stay. Dad is keen to read the Kerry Stokes biography and my brother's gift will include the beautiful hardback edition of J. M. Coetzee's Three Stories. I think my older sister will enjoy The Climb and my younger sister is going to New York, so I hope she has a great time...Mark and I are going camping for Christmas, and we're both big fans of Marilynne Robinson, so I am looking forward to sitting under a tree reading aloud passages from her new book, Lila.
Alaina Gougoulis, Editorial Coordinator
Everyone is getting a nifty little copy of J. D. Salinger's Three Early Stories this year, which is the perfect size for stockings and letterboxes alike. If they're really good, I might throw in a copy of J. M. Coetzee's Three Stories, too. (Now we need to publish a book called Three Late Stories, to complete the set.) I badgered everyone into buying Rebecca Lee's Bobcat and Other Stories earlier this year, but the foot-draggers will be getting a copy, along with the first three books in Elena Ferrante's Neapolitan series and Ceridwen Dovey's Only the Animals. Some might also get a copy of Carl Hoffman's Savage Harvest, because Christmas ain't Christmas without a visceral description of a very rich man being killed and eaten by cannibals in New Guinea.
With any luck, Santa will bring me Denis Johnson's The Laughing Monsters, Helen Macdonald's H Is for Hawk, Lawrence Wright's Thirteen Days in September: Carter, Begin and Sadat at Camp David, Emmanuel Carrère's Limonov and Patricia Lockwood's Motherland Fatherland Homelandsexuals. I've already Santa'd myself a copy of Michael Schmidt's The Novel: A Biography, which will be taking up most of my baggage allowance.
FRIENDS OF THE CHILLER
SUBSCRIBE TO TEXT'S NEWSLETTER