Articles tagged "extracts"
Read an Extract from War and Turpentine by Stefan Hertmans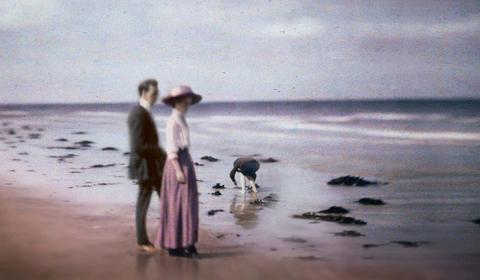 This week we publish the deeply moving novel War and Turpentine. Using the diaries of his grandfather, Stefan Hertmans has written a poetic and enthralling account of an artistic life and how it was forever shaken by the great tragedy of the First World War. Publishers Weekly describes it as 'a masterly treatise on the interconnections of life, art, memory, and heartbreaking love…Hertmans's prose, with a deft translation from McKay, works with the same full palette as Urbain Martien's paintings: vivid, passionate—and in the end, life-affirming.'
Helen Garner on the Illicit Thrill of Filmmaking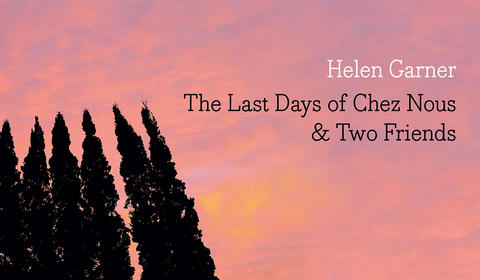 Read the Opening Chapter of the Unforgettable New Book The Road to Winter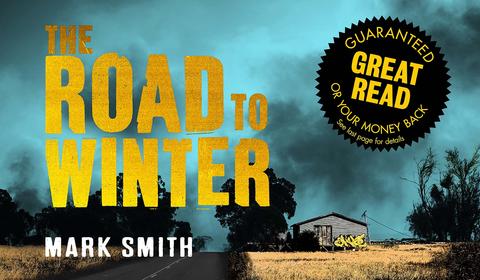 There's heaps of buzz around the release of Mark Smith's exciting debut, The Road to Winter.
Finn is living wild after a virus wiped out his small town. He hunts and fishes and surfs, his dog Rowdy his only companion.
A Message from Zeeb Blatsnart, Editor: An Extract from A Toaster on Mars by Darrell Pitt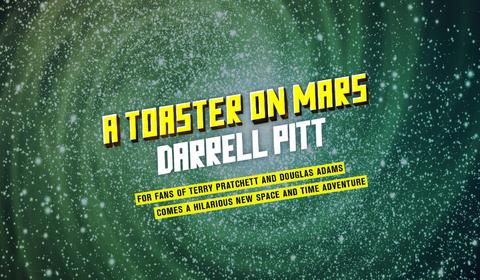 The year is 2509 and Earth is a rather polluted blue dot that suffers from global warming, overpopulation and not enough people using deodorant. Blake Carter, star agent with the Planetary Bureau of Investigation, is having a bad day that spirals out of control when the world is held to ransom by his nemesis, evil genius Bartholomew Badde.
When We Were Young: An Extract from Elspeth Muir's Wasted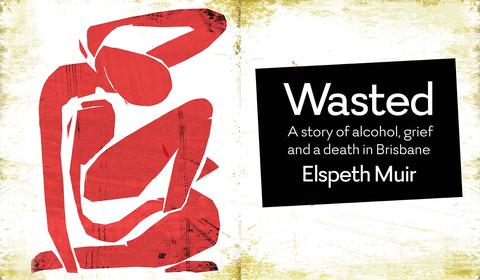 In 2009 Elspeth Muir's youngest brother, Alexander, finished his last university exam and went out with some mates on the town. Later that night he jumped from the Story Bridge and drowned in the Brisbane River.
Rusty Bore's Favourite P. I. and Takeaway Queen is Back!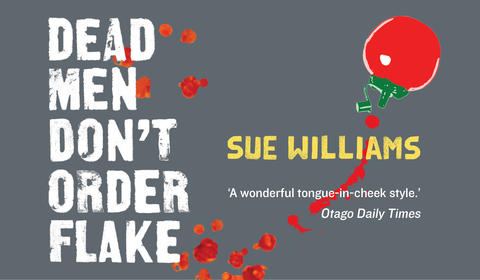 Sue Williams's Murder With the Lot introduced us to smart, sassy Cass Tuplin—owner of the best, and only, takeaway in Rusty Bore, with a nose for a nice bit of juicy gossip and anything that might be considered suspicious behaviour. Murder With the Lot was shortlised in the 2013 Ned Kelly Awards for Best First Fiction, and now Cass is back in another irreverent and refreshing crime caper: Dead Men Don't Order Flake. Or do they? Read on to find out in this extract from chapter one.
A Mediaeval Quest to Defeat the Forces of Evil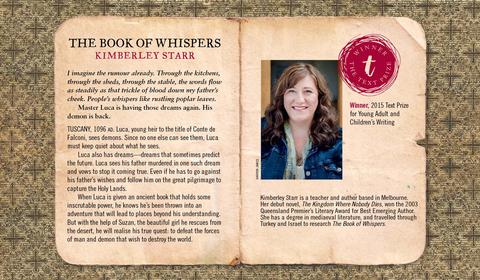 The Book of Whispers by Kimberley Starr won the 2015 Text Prize for Young Adult and Children's Writing. The Book of Whispers is an imaginative and gripping historical fantasy novel set during the first Crusade, in a world where demons are real and gaining power, and almost no one can see them. Strap yourself in for an epic mediaeval adventure!
Arnold Zable's Introduction to Herz Bergner's Between Sky & Sea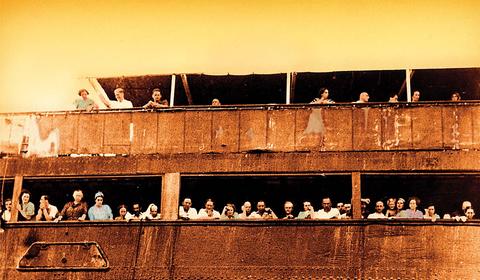 The newest addition to the Text Classics is Herz Bergner's Between Sky & Sea, a dark and compelling tale of a group of Jewish refugees on board a dilapidated freighter charting a course for Australia. Fleeing terrible scenes of destruction in Europe, they are bound by a deep sense of loss and the uncertainty of their fate. Arnold Zable's introduction (extracted below) highlights the chilling parallels between Bergner's tale and the sinking of the SIEVX off the Australian coast, giving the reader pause to reflect on the continuing plight of asylum seekers throughout history and across the globe.
An Extract from Muriel Barbery's New Book, The Life of Elves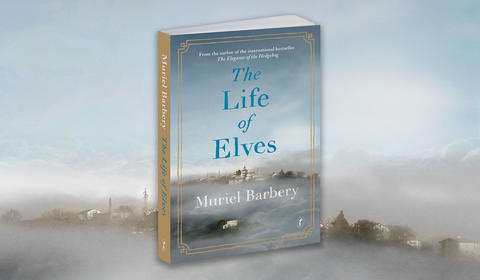 We are thrilled to be publishing The Life of Elves by Muriel Barbery in March. The Elegance of the Hedgehog sold more than six million copies worldwide and was described by Le Figaro as 'the publishing phenomenon of the decade'. The Life of Elves is another moving and enchanting novel about art, nature, dreams and how imagination can help us build a better future. Fans will not be disappointed. Below is the opening chapter of The Life of Elves, which will be in bookshops on 24 February.
Read an Extract from Yann Martel's Brilliant New Novel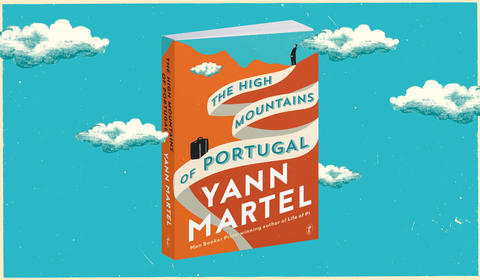 Happy New Year! We're starting off with a bang by bringing you an extract of Yann Martel's gorgeous new novel, The High Mountains of Portugal, which will be on bookshop shelves in three weeks. Martel's Man Booker Prize-winning Life of Pi sold more than ten million copies worldwide and was adapted into a highly acclaimed feature film. The High Mountains of Portugal is a crowd pleaser in the same vein: entertaining and thought provoking, in true Martel style. It's a colourful, rollicking journey through Portugal told in three intersecting stories interwoven with delightful historical detail. Read on to get a taste of this wonderful new novel.
FRIENDS OF THE CHILLER
SUBSCRIBE TO TEXT'S NEWSLETTER