The Twelve Books of Christmas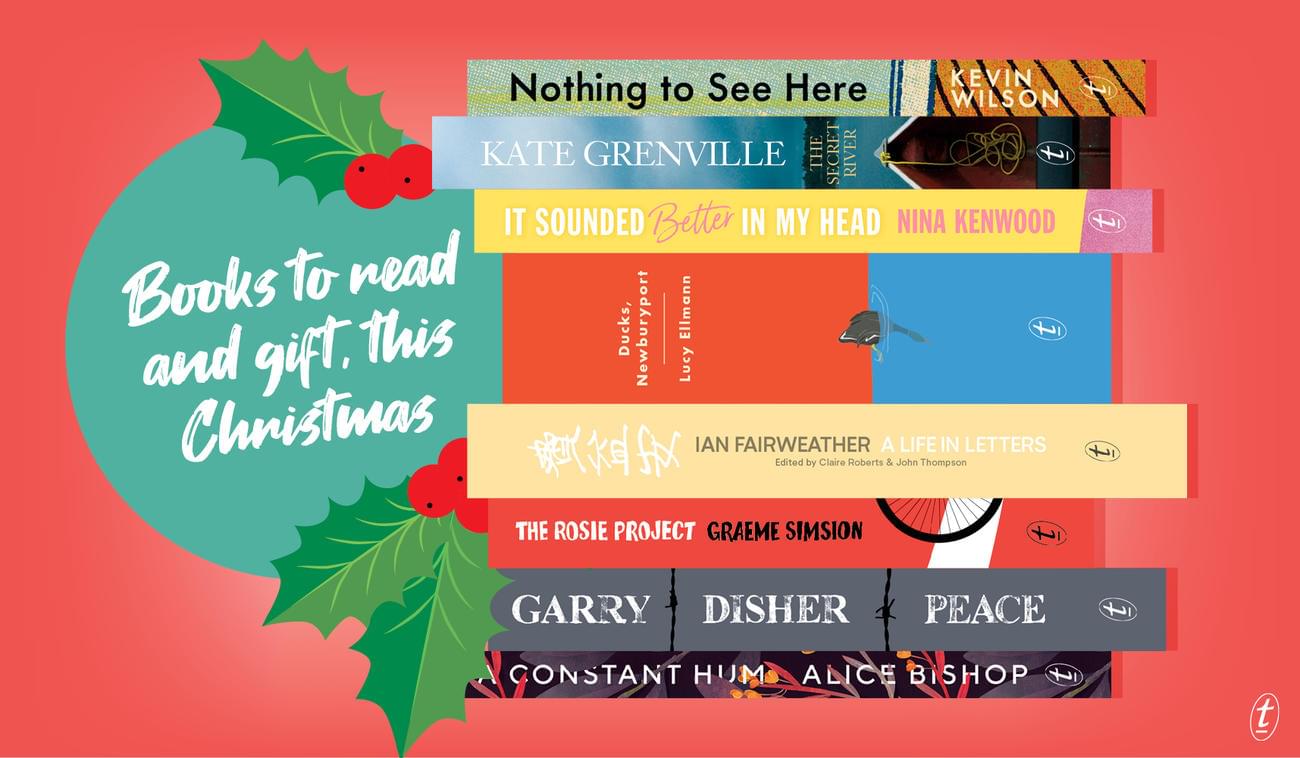 With Christmas fast approaching, all right-thinking people should be asking themselves two time-honoured and important questions : What should I read over my holidays? and What books can I give my family and friends that I also want to read and can borrow as soon as it's decent to ask?
Text being comprised only of right-thinking people, we can answer those questions for you. Here are our twelve books of Christmas.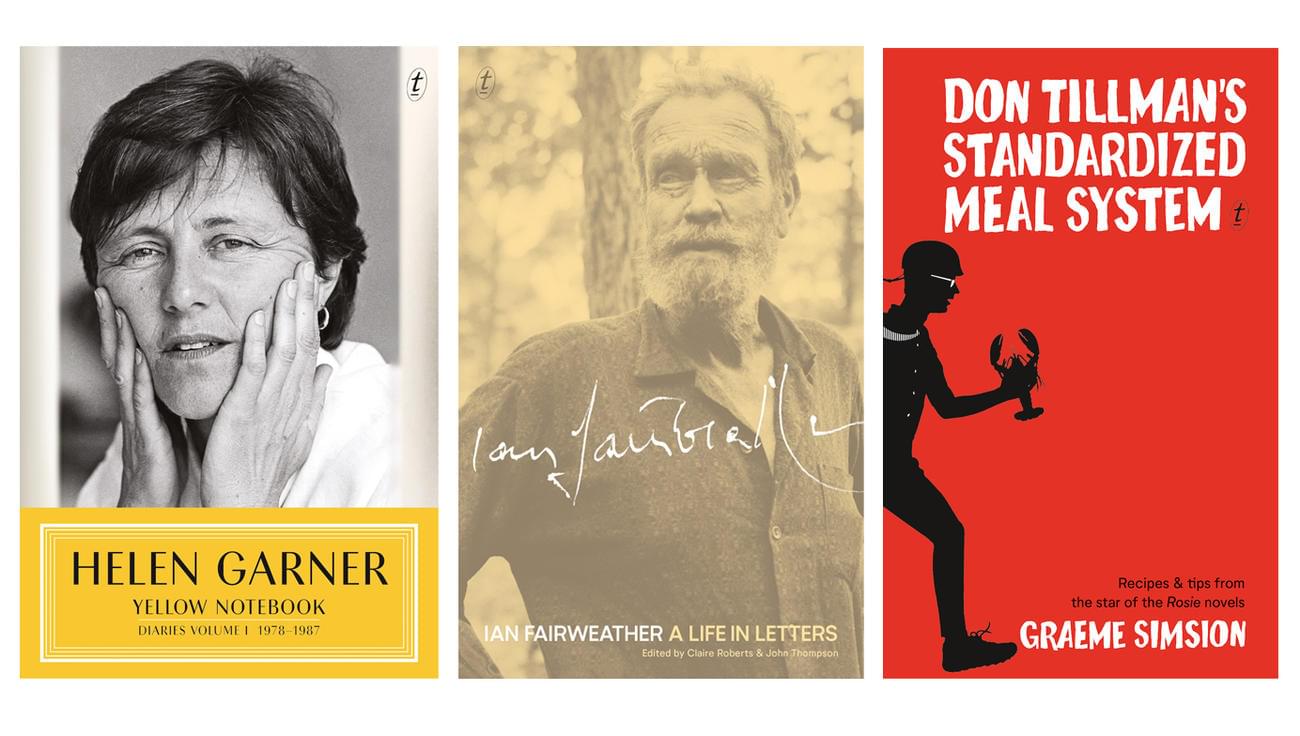 What better place to start than with one of our greatest writers? Editor Samantha Forge picks Yellow Notebook: 'Give the gift of Helen Garner's innermost thoughts and perfect prose to all your friends and family this Christmas. This compelling diary traces ten years of Garner's early writing life, and is brimful of her trademark insight, wit and grace. You'll want to steal it back as soon as you've given it away; maybe get two copies, so no one has to share.' 
Also tailor-made for the bottom of the tree is publicist Jamila Khodja's pick:  'Ian Fairweather: A Life in Letters: a beautifully bound gift, this selection of letters from one of Australia's greatest artists is a must-have book for art lovers.' 
Looking to mix practicality with playfulness? Then you'll be wanting publicist Jane Watkins' choice, Don Tillman's Standardized Meal System: 'This is Graeme Simsion's gift to the millions of fans of the Rosie Project, Rosie Effect and Rosie Result who begged him for the secrets to leading man Don Tillman's famous margarita or lobster recipes.' 

Export & inventory coordinator Nikki Boltz says, 'A solid gifting choice this season is Catherine Jinks's ripping tale of the young poacher Tom Clay on the run from a madman. With its 1840s setting, gripping suspense, cover-your-eyes frights and a flock of unforgettable characters (including a loyal pup called 'Gyp'), Shepherd stuffs easily into the stockings of historical fiction readers, thriller buffs, horror aficionados and any lovers of classic outback mysteries.'
Marketing manager Shalini Kunahlan says, 'If you're looking for a book that stays with you and shifts your thinking in a way you didn't know possible, take the time to savour Sand Talk: How Indigenous Thinking Can Save the World by Tyson Yunkaporta. It's been embraced by Indigenous and non-Indigenous readers alike for its cheeky, generous, educational and revelatory content. As Bruce Pascoe says: 'Read it'.' 
Digital manager Darren Nash is on a crime spree this Christmas: 'The Red Hand is essential reading for fans of the late, great Peter Temple. Sure, you could buy it solely for the first quarter of what would have been the fifth Jack Irish novel – and no one would blame you – but that would be to miss out on the glories of Temple's short stories, personal reflections, book reviews and other gems. Read this tribute to one of our masters cover-to-cover. Then read it again. If Temple has a successor to the title of Australia's Greatest Crime Writer, that successor is Garry Disher and Peace is the novel that showcases his brilliance. A small country town, a one-cop police station, the searing Christmas heat of rural Australia and a crime that's much bigger than the usual Friday night pub fights – there'll be precious little peace and goodwill for Constable Paul Hirschhausen, this holiday season.'
Art director Imogen Stubbs has a couple of recommendations for you: 'To give as a gift: A Constant Hum by Alice Bishop. While close to home at the moment as the country burns, this beautiful and timely collection of stories sheds a much needed light on the human aspect of the devastation of bushfires. An easy gift for a reader who likes to dip in and out. To read for myself: It Sounded Better in My Head by Nina Kenwood is a funny, engrossing and pleasurable read for by the beach.'
Khadija Caffoor, our rights manager, agrees: 'This charming, witty rom-com is one of our favourite books of the year. Buy one for everyone you know, and gift a copy to yourself – plus, the story kicks off on Christmas Day. What could be more perfect?' 

From editor Alaina Gougoulis: 'My Christmas pick is the year's – maybe the decade's, maybe history's – greatest book, the Booker-shortlisted, Goldsmiths-winning Ducks, Newburyport by Lucy Ellmann. Give it to your James Joyce-loving mum, give it to your baking-enthusiast boyfriend, give it to your obnoxious interstate uncle who you know hasn't shelled out for checked baggage and now has to try to fit it into his carry-on. Give yourself the gift of ignoring your friends and family to sit in a cool room and read this masterpiece without interruption. It's been a long year, and you need this. 🦆🦆🦆'
Marketing coordinator Kate Lloyd picks a New York Times bestseller: 'I plan to push Nothing to See Here by Kevin Wilson into the hands of every one of my family members and friends this Christmas. It's the perfect book to read over the summer break because it's clever, hilarious and heartwarming. Life is tough enough, this is a book that'll make you smile after a long and arduous year. Plus, it has children who spontaneously burst into flames, so, you know.'
The last word goes to Shalini again, who says, 'A sure-fire way to please every kind of book lover is to present them with the Rosie series by Graeme Simsion. The final novel in this bestselling series, The Rosie Result, was published earlier this year and brought the series to a meaningful and touching close. It's been such an incredible ride for Graeme who first emerged in the Victorian Premier's Unpublished Manuscript Prize then took the world by storm.'
Happy reading!



FRIENDS OF THE CHILLER
SUBSCRIBE TO TEXT'S NEWSLETTER