Text in October—New Books Released Today!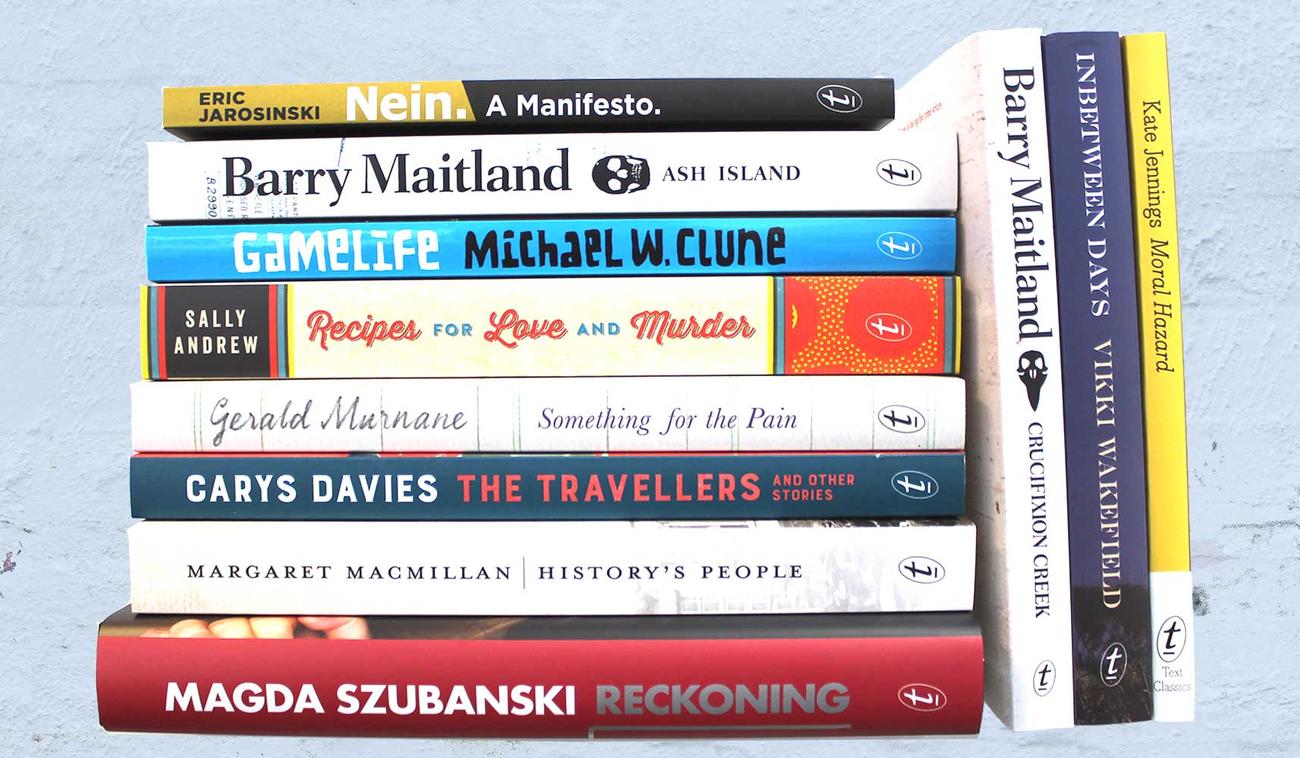 In the spring a young woman's fancy lightly turns to thoughts of books. 
At least it does in Melbourne, where 'spring weather' means 'bring a spare coat and umbrella actually just don't bother going outside everything is horrible.'
Books: the perfect companion in weather both fair and foul. Whether you're on a sunny beach or snuggled up on the couch, we have the perfect book companion for you this month. 
Love memoir? Magda Szubanski's Reckoning is an extraordinary autobiography by a much-loved Australian performer, about life, family and a tragic inheritance. Something for the Pain by Gerald Murnane is unlike any other book by the author: the unique story of a life seen through the lens of horse-racing, for lovers of literature and of the turf. And Michael W. Clune's Gamelife—part memoir of childhood in the 1980s, part meditation on the imaginative world of computer games—will make you see things differently.
If it's crime you're after, snap up the first Tannie Maria Mystery book by Sally Andrew, Recipes for Love and Murder, which brings mystery, romance and amazing cooking together in the most entertaining new series in years. Or grab Ash Island, the second book in Barry Maitland's Belltree Trilogy—if you've missed out on number one, it's available in a cheaper format this month, too.
If you're looking for something both lighter and heavier, try Nein. A Manifesto.—Eric Jarosinski's hilarious four-line compositions, inspired by the aphorisms of Nietzsche and Adorno, seek to illuminate our most urgent questions.
Elizabeth Harrower is a great fan of Carys Davies' spare and singular tales in The Travellers and Other Stories. Bestselling and internationally acclaimed historian Margaret MacMillan gives her personal selection of the memorable figures of the past who have changed the course of history in her 2015 Massey Lectures, History's People. Kate Jennings' multi-award-winning Moral Hazard is a wonderful addition to our Text Classics list, with a new introduction by Gideon Haigh. And Inbetween Days is the latest exciting young-adult novel by Vikki Wakefield, author of CBCA Honour Book Friday Brown.
Win a copy of Recipes for Love and Murder!
Tannie Maria used to write a recipe column for the Klein Karoo Gazette. Then Head Office decided they wanted an advice column instead, so now she gives advice. In the form of recipes. Because, as she says, she may not know much about love, but food—that's her life.
Everything has been going well. A tongue-tied mechanic wins his girl with text messages and Welsh rarebit. A frightened teenager gets some much-needed sex ed with her chocolate-coated bananas.
But then there is a letter from Martine, whose husband beats her, and Tannie Maria feels a pang of recognition and dread. This may be a problem that cooking can't solve…
Warm, funny, poignant: Sally Andrew's irresistible heroine brings mystery, romance and amazing cooking together in the most entertaining new series in years. And all of Tannie Maria's mouthwatering recipes are right there in the book!
To win a copy of Recipes for Love and Murder, send us an email with your mailing address and your favourite recipe by Tuesday 29 September—the most delectable recipe wins! And all entrants will receive Text's monthly newsletter with new books, events and competitions.
FRIENDS OF THE CHILLER
SUBSCRIBE TO TEXT'S NEWSLETTER