Text Authors in Awards Bonanza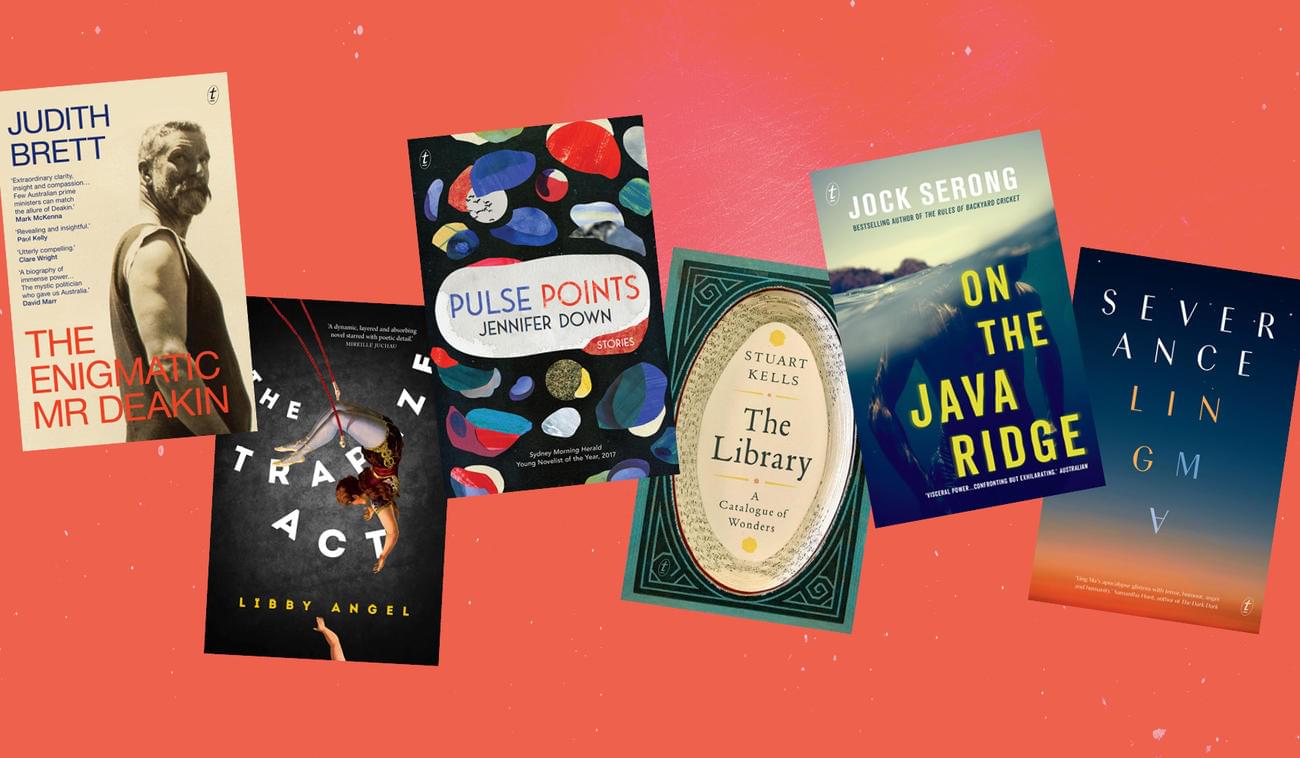 What's better than a shortlisting? Three shortlistings, that's what. What's better than a win? Six wins, of course.
So, if you'll forgive us blowing our own trumpet, here's a round-up of our authors' recent award triumphs...


---
A Writing Life: Helen Garner and Her Work by Dr Bernadette Brennan has won the 2018 CHASS Australia Book Prize.
Helen Garner is one of Australia's most important and most admired writers. She is revered for her fearless honesty in the pursuit of her craft.
But Garner also courts controversy, not least because she refuses to be constrained by the rules of literary form. She has never been afraid to write herself into her nonfiction, and many of her own experiences help to shape her fiction. But who is the 'I' in Helen Garner's work?
Bernadette Brennan's A Writing Life is the first full-length study of Garner's forty years of work, a literary portrait that maps all of her books against the different stages of her life. Brennan has had access to previously unavailable papers in Garner's archive, and she provides a lively and rigorous reading of the books, journals and correspondence of one of Australia's most beloved women of letters.


Jennifer Down's story collection, Pulse Points, has won both the 2018 Readings Prize for New Australian Fiction and the 2018 Queensland Literary Award for Best Short Story Collection.
The characters in Jennifer Down's Pulse Points live in small dusty towns, glittering exotic cities and slow droll suburbs; they are mourners, survivors and perpetrators, brought to life in a diverse range of colourful stories that take the reader from the USA to Japan and back to Melbourne. 
Readings commented: As well as being impressed by Down's masterful use of emotion in her writing, the judging panel also appreciated the great attention to detail throughout the book. These stories are set all around the world, with characters from all sorts of backgrounds, but every incident feels authentic – it's clear that she researched these places and situations comprehensively. Pulse Points is a subtle, elegant and accomplished short story collection. It stood out to the judging panel for its emotional maturity and complexity. Down's ability to make a reader feel what her characters are feeling is remarkable.
Ling Ma's Severance has won the 2018 Kirkus Prize for Fiction. 
Candace Chen, a millennial drone self-sequestered in a Manhattan office tower, is devoted to routine: her work, watching movies with her boyfriend, avoiding thoughts of her recently deceased Chinese immigrant parents. So she barely notices when a plague of biblical proportions sweeps the world.
Severance, Ma's debut as a novelist, offers a portrait of our times – especially our fears, the judges commented. It's a stunning, audacious book with a fresh take on both office politics and what the apocalypse might bring, said Michael Schaub in his review of the book for NPR. This is the way the world ends, Ma seems to be saying, not with a bang but a memo.


The Trapeze Act by Libby Angel has won the Australian Society of Authors' 2018 Barbara Jefferis Award. 
In the mundane streets of suburban Adelaide, young Lorette Maartje Lord has always lived in the shadow of her brilliant yet unconventional mother, Leda. Sometimes warm and vivacious and at other times cool and cruel, she represents Loretta's greatest influence, for better or for worse.  Told through Loretta's eyes, The Trapeze Act weaves together stories of her mother's former life in the circus, her father's bizarre dealings as the town lawyer and Leda's own eccentric childhood. 
The judges commented: Poet Libby Angel's debut novel, The Trapeze Act, bounces off the page with all the energy and élan of the trapeze artist pictured on the cover. Barbara Jefferis was a feminist, and the judges imagine that she would have loved this book. Leda is an immensely flawed woman, and a painfully ordinary mother, but her bravery, her willingness to risk everything for herself and those she loves is ultimately admirable. The quietly watchful Loretta grows exponentially as she absorbs the lessons of her audacious mother, who refuses to compromise – ever.
Jock Serong's On the Java Ridge has won the prestigious Colin Roderick Award for 2018.  
Previous winners include Thea Astley, Peter Carey, Thomas Keneally, David Malouf, Ruth Park and Peter Temple, so Jock is keeping excellent company.

On the Java Ridge, skipper Isi Natoli and a group of Australian surf tourists are anchored off the Indonesian island of Dana. In the Canberra office of Cassius Calvert, Minister for Border Integrity, a federal election looms and a hardline new policy on asylum-seekers is being rolled out.
Not far from Dana, the Takalar is having engine trouble. Among the passengers on board fleeing from persecution are Roya and her mother, and Roya's unborn sister. The storm now closing in on the Takalar and the Java Ridge will mean catastrophe for them all...
The judging panel said: The writing in On the Java Ridge leaves you breathless and there are passages that are brilliant! Serong brings together thriller, political critique and adventure story in a way that might be reminiscent of James Bond, were it not that governments turn out to be the most evil of all.



On the Java Ridge is also shortlisted for the inaugural Staunch Book Prize – a UK prize for books in the thriller genre in which no woman is beaten, stalked, sexually exploited, raped or murdered.

Stuart Kells' The Library has been shortlisted for the 2018 Prime Minister's Literary Awards in the Non-Fiction category.
Libraries are filled with magic. From the Bodleian, the Folger and the Smithsonian to the fabled libraries of Middle-earth, Umberto Eco's mediaeval library labyrinth and libraries dreamed up by John Donne, Jorge Luis Borges and Carlos Ruiz Zafón, Stuart Kells explores the bookish places, real and fictitious, that continue to capture our imaginations.
The judges commented: 
This is a beautifully written account demonstrating that the library truly is a catalogue of wonders. A book that will appeal far more broadly than just to bibliophiles. This is a book for readers, for lovers of libraries and for those who like to think about knowledge and how it is conveyed across the years.  Kells has given gravitas to the very first libraries as he ponders the rich archival nature of stories and culture provided in Australian Indigenous song lines. Kells skilfully illustrates how important knowledge, books, archives and the narratives these contain are for understanding human history.
Elegantly written The Library is both delightful and charming.

The Enigmatic Mr Deakin by Judith Brett is shortlisted for the 2018 Prime Minister's Literary Awards Prize for Australian History.
Alfred Deakin was instrumental in creating modern Australia. In the first biography of Deakin in more than half a century, acclaimed political historian Judith Brett deftly weaves together his public, private and family lives. She brings out from behind the image of a worthy, bearded father of federation the principled, passionate, gifted and eccentric figure whose legacy continues to shape the contours of the nation's politics.
The judges' comments: This is the first book to bring together the spiritual, political and personal life of one of Australia's most significant politicians – Alfred Deakin. As Brett deftly explores and weaves these strands together we begin to understand Alfred Deakin, his motivations and indeed his enigmatic qualities...Beginning with his Melburnian upbringing Brett shows how his social and familial context shaped him. The city of Melbourne of the period is revealed as crucial to how we are to comprehend and understand Deakin. Brett is a fine writer, and the text displays her curiosity and her depth of knowledge. This is a comprehensive work which will stand as a definitive source on Alfred Deakin.

Huge congratulations to our talented authors from all at Text. 
FRIENDS OF THE CHILLER
SUBSCRIBE TO TEXT'S NEWSLETTER