Some 2015 Highlights, from Text Staff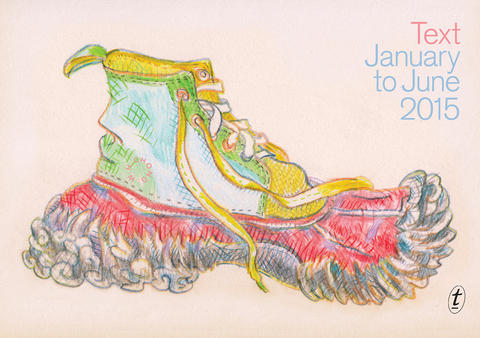 We're all out of panettone, so the holidays are well and truly over. Luckily, there's a lot to look forward to in 2015—browse our January–June catalogue to see what's in store. Below, Text staff talk about some of the books they're working on and looking forward to.
Michelle Calligaro, Digital Manager
I'm not usually a memoir reader, but two books I've enjoyed immensely from our 2015 list are A Fifty-Year Silence: Love, War and a Ruined House in France by Miranda Richmond Mouillot and One Life: My Mother's Story by Kate Grenville, which both delve into very personal family histories. In A Fifty-Year Silence Miranda Richmond Mouillot visits the former home of her Jewish grandparents in rural France, and tries to unravel the unhappiness that engulfed their future lives. Confronted with a long abandoned and crumbling house, and struggling to understand her own motivations, she eventually builds a new life for herself in the village. Kate Grenville's One Life is also a very personal story about her mother, who became a pharmacist in a period when very few women went to university, and then successfully ran her own business while raising very young children. She explores the questions that face us all—how to find love, balance work and child-rearing and have a meaningful life. Both stories are deeply moving and beautifully written. The other books that I can't wait to get my hands on include new titles by Stephen Daisley, Elena Ferrante and Jesse Ball.
Imogen Stubbs, Production Coordinator
This year is packed full of interesting releases. In March I'll be delving into the world of Iron-Age Britian in Skin by Ilka Tampke, a terrific debut novel about a strong young woman fighting for her place in a changing world. In the same month there's a new David Vann novel to look forward to, Aquarium, and it's as dark, thrilling and heartbreaking as his past work. In April, Catherine Chanter's The Well is my pick for an unputdownable novel about a not too distant world where climate change is altering people's lives for good and bad. And then in October we've got a new title from Australian convict buff and local illustrator Simon Barnard, this time about convict tattoos, intricately detailed and extremely interesting.
Jane Novak, Publicity Manager
There are so many good books on our list for 2015—the first six months alone are stacked with amazing reads. I've read three extraordinary memoirs from three extraordinary Australian women: Hannie Rayson's hilarious Hello, Beautiful!: Scenes From a Life; Kate Grenville's moving tribute to her late mother, One Life: My Mother's Story; and Ramona Koval's quest for truth in Bloodhound: Searching for My Father.
There is a lot of great fiction coming too but so far there are two stand-outs. Coming Rain, the new novel from Stephen Daisley, is breathtaking in its simplicity and brutality—an evocative look at life on the land in 1950's Australia. Daisley's first novel, Traitor, won the 2011 Prime Minister's Award and this is a more than worthy successor. I think of Daisley as a kind of Australian Hemingway.

Eka Kurniawan is a an Indonesian writer well-known in his home country but I hope we can bring a legion of new fans to his work with the publication of Beauty Is a Wound. This incredible novel has been compared, quite justifiably in my opinion, with the work of Marquez and Rushdie and I think it will knock readers' socks off. Both a crazy, dream-like tale of one woman who goes to remarkable lengths in order to survive and the history of one of closest neighbouring nations, this is one of the most astonishing pieces of fiction I've read in a long time and I'm incredibly excited about it.
Kirsty Wilson, Sales and Marketing Director
In 2015 I'm particularly looking forward to new books by long-term Text authors Kate Grenville (One Life: My Mother's Story), Peter Singer (The Most Good You Can Do: How Effective Altruism Is Changing Ideas about Living Ethically) and Garry Disher (Down to Dust), and debuts by Trent Jamieson, Ilka Tampke and Anne Buist. But the book I'm most excited about publishing is the gripping, brilliant Adrift by Paul Griffin. Keep your eyes out in August!
Léa Antigny, Publicist
We have a fantastic list for 2015 and I am particularly excited for some of the stellar non-fiction in store. Silent Shock: The Men Behind the Thalidomide Scandal and an Australian Family's Long Road to Justice by Michael Magazanik promises to be an explosive book, telling the story of the Australian families whose lives were devastated by Thalidomide. Between You & Me: Confessions of a Comma Queen by Mary Norris is already one of my personal favourites, perfect for the word nerd in all of us. Bloodhound: Searching for My Father by Ramona Koval promises to be a powerful memoir and I can't wait to read it. In fiction, Skin by Ilka Tampke is a really exciting debut—it took me completely by surprise as I'm not very widely read in this genre. I was enthralled and I can't wait for readers to discover it. I'm also beyond excited that Text will publish Elena Ferrante's backlist, to tide fans over while we wait for the final instalment in the Neapolitan novels. 

David Winter, Senior Editor
The Text titles I'm excited about in 2015 are Kate Grenville's One Life: My Mother's Story (April), which reconstructs the life of Kate's mother from memoir-fragments she left behind; and Ramona Koval's Bloodhound: Searching for My Father, which recounts Ramona's decades-long quest to establish who was her biological father. These two wonderful, very different books—one about a pioneering pharmacist from country New South Wales, the other about a family riven by the Holocaust—will go to the top of many readers' bedside stacks.
On another tip, Mary Norris's wise, hilarious and salty Between You & Me: Confessions of a Comma Queen is the most fun you'll ever have reading about grammar, pencils and life behind the scenes at the New Yorker. In the ever-expanding Text Classics series we have notable entries from Amy Witting, Kenneth Mackenzie and David Ireland. And S. J. Watson, who chilled us with Before I Go to Sleep, is back with the ultra-tense novel Second Life: don't get too comfortable on the couch…
Stephanie Speight, Publicist
2015? Wow. Well, every year the Text Prize winner is exciting for me to work on: in 2015 it's our first YA memoir, the powerful How To Be Happy by David Burton, which is sure to get people talking. This is an exciting and important book. Day Boy by Trent Jamieson is one of the most original fantasy novels I've read in a really long time. The third writer on this list is the third one from Brisbane, is there something it the water? If there is Chris Currie must have drunk deeply: he's written a book I could read and read and read in Clancy of the Undertow. If the phrase 'instant classic' wasn't horribly over-used, I'd use it here.From the UK, Catherine Chanter's debut The Well is an enticing novel, genre-bending and mysterious.Oh, did someone say there's a new Vikki Wakefield? Yes, yes they did. Breathe. And the final Rephaim book from Paula Weston...and ok I'm almost done! I have to say that few books have ever excited me as much as Adrift by Paul Griffin. I have been waiting, and would wait a very long time, to be able to share this with you. What I would give to relive reading this astonishing book for the first time...

Alice Cottrell, Rights and Administration
2015 is shaping up to be a big one. I'm very excited about a brilliant debut novel called The Truth and Other Lies, written by one of Germany's most prominent screenplay writers, Sascha Arango. The story moves at breakneck speed, and is a fantastic black comedy featuring the best anti-hero since Patrick Bateman. 

We've also got some stellar international non-fiction coming up. I'm particularly looking forward to Another Great Day at Sea by Geoff Dyer, which chronicles Dyer's residency onboard the aircraft carrier USS George H.W. Bush. Between You & Me: Confessions of a Comma Queen by Mary Norris is out in May. I'm hoping the practical advice on grammar and language usage will curtail the relentless proofreading of my emails by other Text staff. 

I adored The Young Desire It so I'm looking forward to reading more from Kenneth Mackenzie when The Refuge is published in the Text Classics in March. It will be accompanied by a superb introduction from another one of my Text favourites, Nicolas Rothwell.

Alaina Gougoulis, Editorial Coordinator
Too many gems to count on the frontlist, so here's just a smattering: On Immunity: An Inoculation by Eula Biss, Hello, Beautiful!: Scenes From a Life by Hannie Rayson, Aquarium by David Vann, Between You & Me: Confessions of a Comma Queen by Mary Norris, Elena Ferrante up to pussy's bow, lots of great Text Classics, an exciting new project from John Freeman, Gerald Murnane's memoir, and so on, and so forth. Our 2015 runneth over.
FRIENDS OF THE CHILLER
SUBSCRIBE TO TEXT'S NEWSLETTER