May New Releases and Giveaway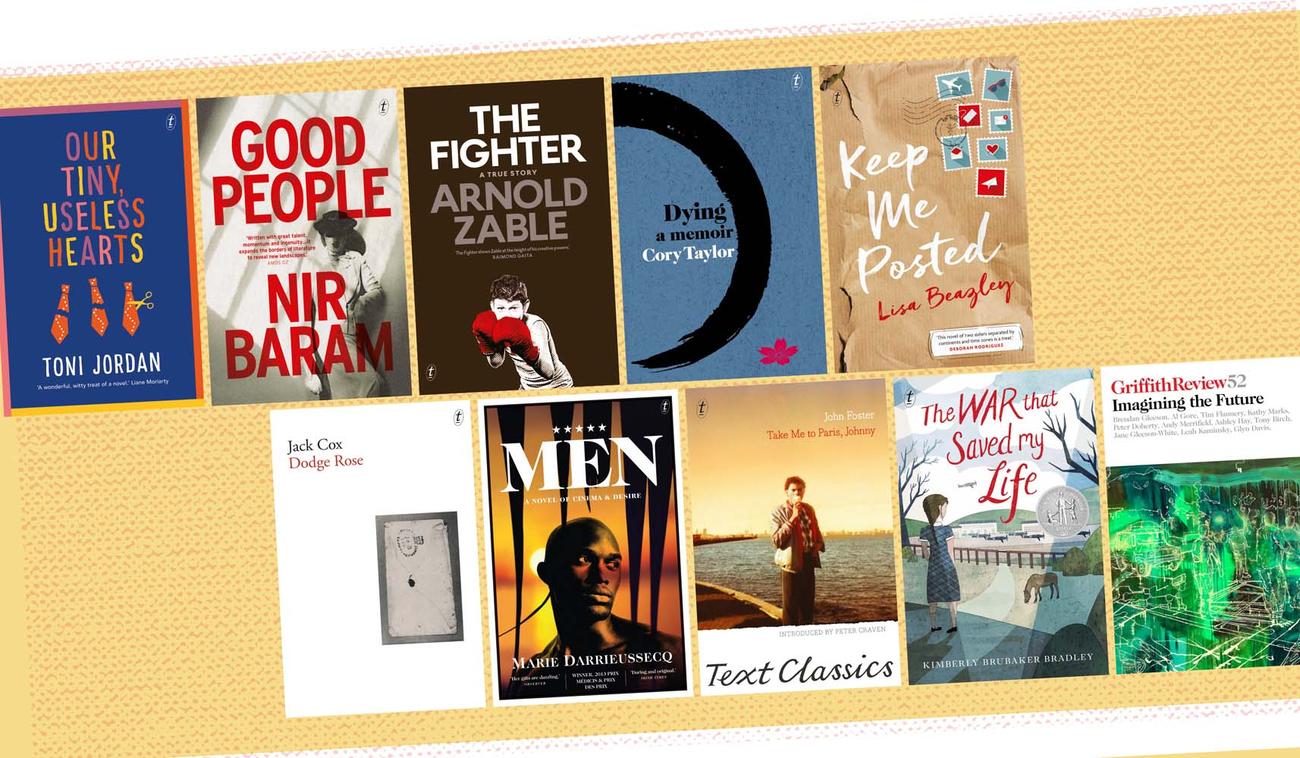 Text in May. A delightful new romantic comedy by Toni Jordan. Cory Taylor's extraordinary memoir on dying. 'One of the most ambitious, unusual and difficult first novels in recent Australian literary history' by Jack Cox. And so much more.
Pick your favourite and head on over to Text's Facebook page to tell us why you would like a copy.
Our Tiny, Useless Hearts 
by Toni Jordan
The razor-sharp new comedy about love and marriage from the acclaimed author of Addition and Nine Days. Our Tiny, Useless Hearts examines our anxieties around relationships and families through a wild farce of love affairs and family entanglements.
Read an extract and watch Toni Jordan talking about her delightful new book.
Good People 
by Nir Baram
Already a bestseller in Israel and across Europe, Good People, with its acute awareness of the individual amid towering historical landscapes, is a tour de force: sparkling, erudite, a glimpse into the abyss. 
Dying: A Memoir
by Cory Taylor

Aged sixty, the novelist Cory Taylor is dying of melanoma-related brain cancer. A clear-eyed account of what dying has taught Cory and why she would like to be able to choose the circumstances of her own death, Dying: A Memoir is a breathtaking book about vulnerability and strength, courage and humility, anger and acceptance. 
The Fighter 
by Arnold Zable
A moving work of non-fiction from one of Australia's most beloved storytellers, The Fighter is a tender portrait of Henry Nissen, a former champion boxer turned social worker. An incredible depiction of an outstanding, unsung Australian and his working-class, immigrant-family story. 
Keep Me Posted 
by Lisa Beazley
Cassie and Sid Sunday, once as close as sisters could be, have drifted apart. So when Sid suggests they reconnect the old-fashioned way—through real, handwritten letters—Cassie is on board. Keep Me Posted is a fresh and funny debut about the struggles of keeping in touch, keeping it real and keeping it together.
Read a Q&A with Lisa Beazley on the Text blog.
Dodge Rose 
by Jack Cox
Eliza travels to Sydney to deal with the estate of her Aunt Dodge, only to find Maxine, a hitherto unknown cousin, occupying Dodge's apartment. This highly original work has been hailed as 'the most astonishing debut novel of the decade' and marks the beginning of a remarkable career for Jack Cox.
Men 
by Marie Darrieussecq
Men is a brilliantly droll portrait of romance, race relations and movie-making. In 2013 it won the Prix Médicis and the Prix des Prix.
Griffith Review 52: Imagining the Future 
edited by Julianne Schultz & Brendan Gleeson
Australian politics and national life are trapped in a permanent present. Imagining the Future will imagine new possibilities. It is time to envisage the future, without fear, as a landscape to be won through human striving and expression. Contributors include Tim Flannery, Tony Birch, Al Gore and many more.
Take Me to Paris, Johnny 
by John Foster
Introduction by Peter Craven
First published in 1993, Take Me to Paris, Johnny recounts John Foster's relationship with the Cuban dancer Juan Céspedes. Through racial and sexual prejudice, terrifying illness and bureaucratic discrimination, theirs is a powerful story of love, loss and humanity.
Read Peter Craven's introduction on the Text blog.
The War that Saved My Life
by Kimberly Brubaker Bradley
Reminiscent of the great classics of children's literature, The War that Saved My Life is a 2016 Newbery Honor Book and has already featured on eighteen best-of lists in 2016, including in the Wall Street Journal and Publishers Weekly.
Watch Kimberly Brubaker Bradley talking about her book here.
---
Visit our Facebook page now and tell us which book you would like (one book per person only).
Competition is open to AU/NZ residents  and entries close 10am AEST Wednesday 18 May. Winners will be notified on Facebook by 5pm.
FRIENDS OF THE CHILLER
SUBSCRIBE TO TEXT'S NEWSLETTER