Get Into Dad's Good Books this Father's Day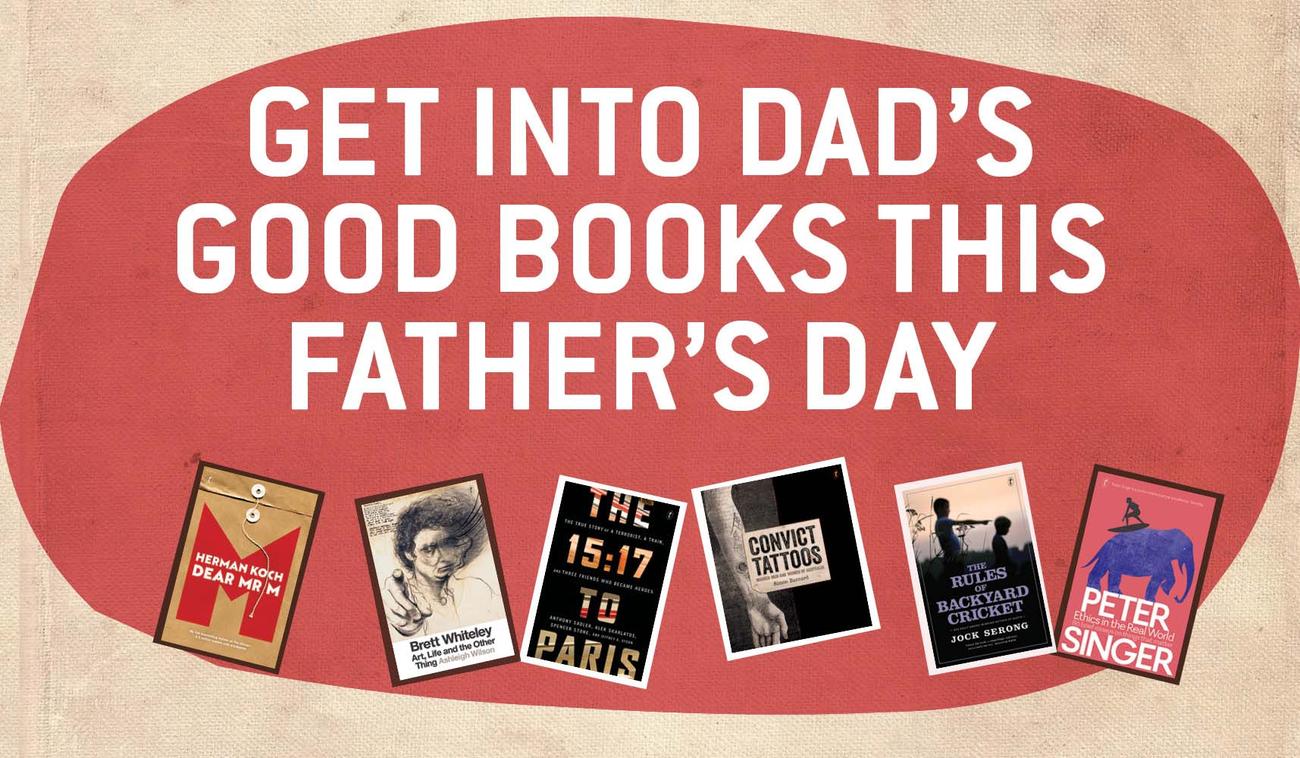 Sunday 4 September is Father's Day! Treat your dad with one of these great reads, recommended by the Texters. And don't forget to brush up on the knock-knock jokes and have a few of his favourite treats hidden in the back of the pantry.
Kirsty Wilson
My dad Ray, who played fierce matches with his four brothers in suburban Melbourne in the '50s and '60s, but finds modern cricket a bit of joke, is going to love Jock Serong's darkly funny new crime novel, The Rules of Backyard Cricket. And while it's not published by Text, I've bought him a copy of Bruce Pascoe's award-winning, perception-smashing book about early Aboriginal history, Dark Emu, too. I saw Bruce in conversation with Tony Birch a few months ago and thought they were fantastic storytellers; Dad will love them.
Lucy Ballantyne
There isn't a problem in the world that a biro, a Spirax notebook and an hour with my dad can't solve. For Father's Day this year I'll be giving Dad Peter Singer's new book, Ethics in the Real World, so he can flex some of that ethical dilemma muscle.
Alaina Gougoulis
Dad's getting Peter Mares's Not Quite Australian: How Temporary Migration Is Changing the Nation, some dark chocolate peppermint buttons (he prefers milk, so I'm hoping that I'm the one who will get to eat them) and the sappiest card I can find.
Léa Antigny
I've been spending the last few months making my way through our backlist, catching up on titles I didn't personally work on or get a chance to read on release. I'm halfway through Gerald Murnane's Something for the Pain, and I have no doubt this book is going on my gift list this year. It is one of the most original, endearing and affecting memoirs I've read. The fact that neither I nor my dad know the Melbourne Cup from the Grand Prix doesn't matter in the least. This is a beautiful story of obsession and imagination, and deserves to be read far and wide.
Brendan Eichholzer
My father hasn't read a book in my lifetime, so he'll be getting fishing lures again this father's day. However, this year I have two brothers who are both celebrating their first Father's Day. The one with the newborn will be getting Magda Szubanski's incredible Reckoning to enjoy as his little one sleeps through the night. My other brother has twins who are very nearly one, so he will be getting Go the F**k to Sleep and You Have to F**king Eat to chuckle at when he opens them, only to be cast aside as he returns to trying to coax a small human into eating, sleeping or putting on pants.
Jane Pearson
I'm going to completely spoil my dad this year with a copy of the Man Booker longlisted His Bloody Project, Graeme Macrae Burnet's spellbinding novel set in a crofting village on the beautiful west coast of Scotland in the 1850s—not just because that's one of my favourite places in the world, but because this story of a young man who commits a shocking crime is stop-you-in-your-tracks good and my dad's very particular about his literature! And, continuing the theme of crime and punishment, I'm also going to give him Simon Barnard's Convict Tattoos because it's a remarkable look at our convict heritage through a fascinating new lens, and because it's the only way my dad will ever get to own a tattoo.
Jane Finemore
I'm imagining that my wise, intellectual, footy-loving father is still with us. He was happiest with an unsteady stack of books beside his reading chair and an overflowing ashtray and pipe close by. A devotee of gnarly Australian crime and a cricket tragic, Dad would have devoured Jock Serong's The Rules of Backyard Cricket. Jock's superb prose and gripping narrative, combined with his clear-eyed observation of masculinity and humanity, brings to mind the best of Peter Temple. And because the law was his passion Dad would have applauded how Peter Mares unpacks the complex issue of our growing culture of temporary migration in his insightful Not Quite Australian.  I can see his happy grin as he opens the present!
David Winter
I have two hearty, arty recommendations for those in search of a book for dad. In The Art of Rivalry the Australian-born critic for the Boston Globe, Sebastian Smee, takes us inside four competitive friendships at the centre of modern painting. Anyone interested in the creative process and the anxiety of influence will be engrossed by this skilful and original book. Similarly enjoyable is Ashleigh Wilson's Brett Whiteley, an essential new biography of a major figure in Australian culture. Cheeky, polarising and a skilled self-promoter, Whiteley was nonetheless utterly committed to his art. This highly readable life gives us the man, the artist and everything in between.
Emily Booth
When my dad receives a book he typically stops what he's doing and starts reading immediately. It's an endearing habit, offering the giver immediate feedback on whether he enjoys the gift. I've been able to assess in this way whether he liked Carl Hoffman's Savage Harvest [yes], Mark Adams' Meet Me in Atlantis [yes] and Ben Schott's Schottenfreude [laughing too much to answer]. This year I'll be evaluating his instant response to Peter Ryan's Fear Drive My Feet—a profound memoir of a young man's wartime experience, isolated in strange territory and reliant upon his wits for survival. Aged only eighteen, Peter Ryan was an intelligence operative in PNG during Australia's WWII Pacific campaign. His openness to the magnificence of the people and landscape he encountered, and understatement of his own physical and psychological challenges, make this an outstanding read.
Michelle Calligaro
Dad reads like he works—at top speed—so he's a bit hard to keep up with. This year I've chosen five BIG Classics that I think he will not only enjoy, but will take him a while to get through: For the Term of His Natural Life (512pp), The Explorers (400pp), Such is Life (400pp), The Dig Tree (384pp) and the whopping great The Fortunes of Richard Mahony (950pp!!) That should keep him busy for a bit. Happy reading, Dad!
FRIENDS OF THE CHILLER
SUBSCRIBE TO TEXT'S NEWSLETTER