Raphaël Jerusalmy and Bram Presser go Head to Head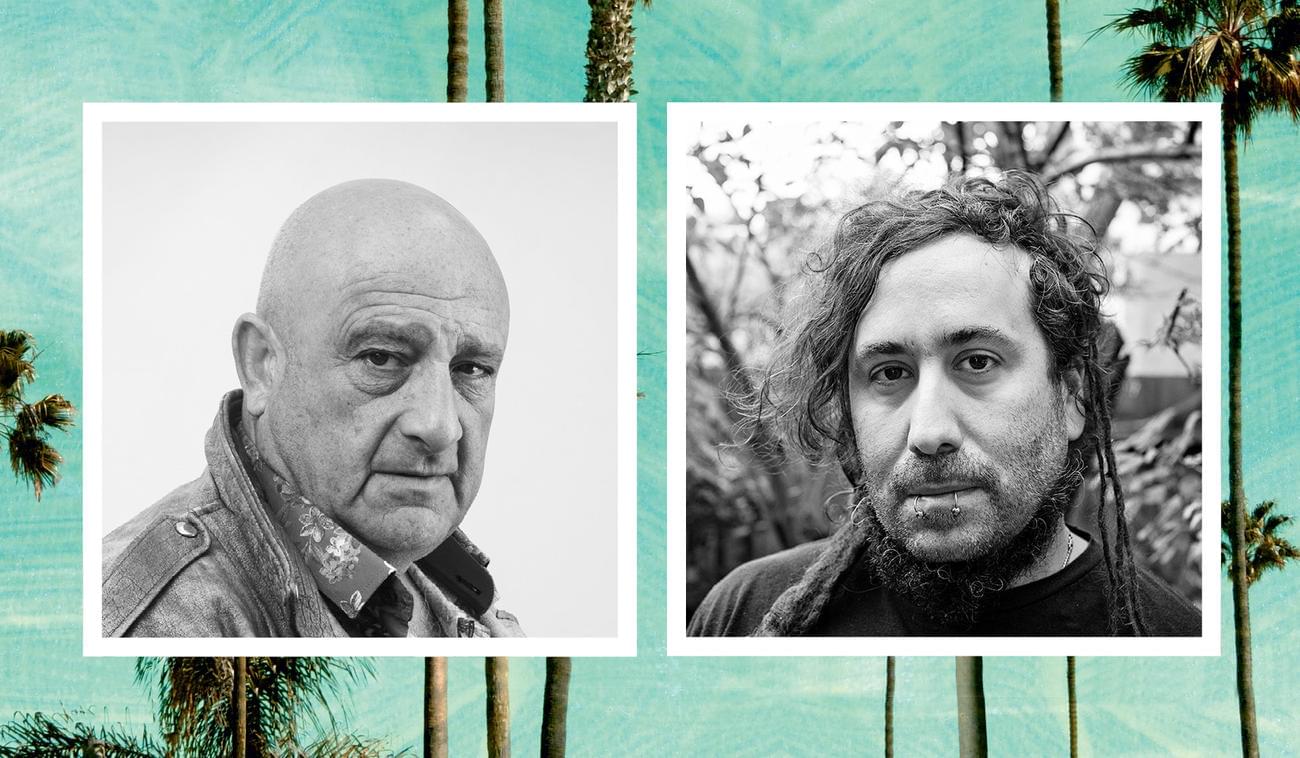 Evacuation is a new novel about acts of resistance from French writer Raphaël Jerusalmy, who imagines an evacuation in war-torn Tel Aviv.
In his novel, Naor, a young filmmaker, is driving with his mother. He tells her about being in Tel Aviv after a recent evacuation.
Everyone else has fled, except for Naor and Yaël, his artist girlfriend, and Saba, his grandfather, who is a writer. The occasional missile explodes nearby. But Saba refuses to leave the place he loves. And Yaël has her own secret aspirations.
In defiance of the war, they scavenge an existence and explore the mysteries of their beloved city—until the unthinkable happens.
This is a novel of suspense, a profound tale about our choices under pressure, about love, for each other and for a place, about death, and about finding a way to peace, and it is Raphaël Jerusalmy at the height of his powers.
We asked Bram Presser (man on the right), author of the acclaimed The Book of Dirt, if he'd like to ask Raphaël Jerusalmy (man on the left – and take a moment please to appreciate the collective cool of those two headshots...) a couple of questions about his new novel and his writing.
Bram agreed. 
The result was highly anticipated. 
We were not disappointed.
Read on...
---
Evacuation imagines Tel Aviv cleared of its civilian population during a time of war in the unspecified future. Although speculative there is never a sense that it isn't absolutely real. Do you feel that reality has now surpassed the fantastical in understanding a world teetering on the brink of catastrophe?
The threat hovering over Israel is very real and the next conflict imminent. As seen in Syria, Yemen or Libya, urban areas and civilian populations are indiscriminately targeted by the military, sometimes with unconventional weapons. Tel-Aviv and Haifa have been attacked and hit by missiles twice in the past and the Israeli defense forces (IDF) have drawn operational plans for evacuating major cities, if needed. More often than not, reality will surpass works of fiction in harshness and cruelty. War is a marvellous literary tool that Evacuation uses to take reality one step further towards its own absurdity. But also to disclose what can never be hit or destroyed by any weapon.
Aside from a few missile attacks, the war rages mostly in the background. People learn of any developments – incursions, casualties, peace negotiations – by listening to the radio. To what extent does this reflect everyday life in Israel?
In all war zones, you will find that life just goes on in an amazing show of resilience. Even in Syria today, you often witness children coming out to play amongst the rubble, during moments of relative quiet between air attacks.
Israelis closely monitor any security-related event. Most of them have alert apps downloaded on their phones. Their high level of readiness results from their military training (three years of military service for boys, two years for girls). But it originates even earlier, starting with frequent emergency drills in all kindergartens and at school.
The good side of living in relative insecurity is that nothing is taken for granted. Not even tomorrow. That is how Israelis thrive, by enjoying the moment.
The three who stay behind – Naor, Yael and Saba – are all artists. Naor and Yael both respond to the evacuation through their art, he by making a film and she by painting scenes and breaking into galleries. Why, then, does Saba, a writer, refuse to engage, preferring instead to read Beckett's Molloy and act in Naor's film?
Reading the same book over and over again is a literary statement in itself. Refusing to write is yet another one. Saba does not wish to transmit his teachings by means of words, either written or spoken. He purposefully refrains from making speeches or delivering any kind of sermon. He has chosen to bequeath his love of life by making a show of it. Isn't the best way of doing that by acting in a movie? In Naor's film, entitled 'Evacuation'.
As in your previous novel, Saving Mozart, Evacuation explores the role of the individual in resisting authority during times of major upheaval. Notably, though, Saba, Naor and Yael each stay in Tel Aviv for very different reasons. Do you feel that there is some kind of hierarchy of resistance and does it impact on how we, as readers, respond to each of the three characters' fates in the book? Moreover, does hope ultimately reside in the "ordinary" person? 
The power of any individual lies in his or her very individuality. In just being fully yourself, and remaining so no matter what. That is why there are as many ways of fighting injustice or resisting oppression as there are individuals. You do not know what you are capable of until you are put to the test. In Evacuation, I invite the reader to face a challenging situation and I suggest different manners of coping with it. In the end, I show that the ultimate power of any individual is his or her ability to love another. Naor, Yael and Saba may have different ways of facing adversity but it is their love for one another that eventually prevails, beyond danger, war and even death.
Finally, Evacuation is equal parts love letter to and wrestling match with a city you have chosen to call your home. Did writing it change your understanding of Tel Aviv and your place in it?
I was born in Paris, France. So, I am an urban animal of sorts. Cities are made of lots of stones and lots of people. Paris displays gorgeous stonework of the highest craft. Tel Aviv has no such beauty to offer to the eye. But it will smother you with a whole lot of humanity. Sometimes a little too much (which is so very Jewish). I therefore decided to relieve Tel Aviv of its noisy rowdy people for a while. Just to find out that, in the empty streets, the forlorn alleys, this sense of humanity remained. It made itself felt even more strongly. At the wailing wall of Jerusalem, many feel the presence of God. At the terrace of a Tel Aviv bistro, you will feel the presence of life, and the wish to live it in togetherness and peace. 
---
Evacuation is available now in all good bookshops, on the Text website (free postage) and as an ebook.
FRIENDS OF THE CHILLER
SUBSCRIBE TO TEXT'S NEWSLETTER