Politics, Memoir, Crime or Adventure: Text Staff Give Their Picks For Father's Day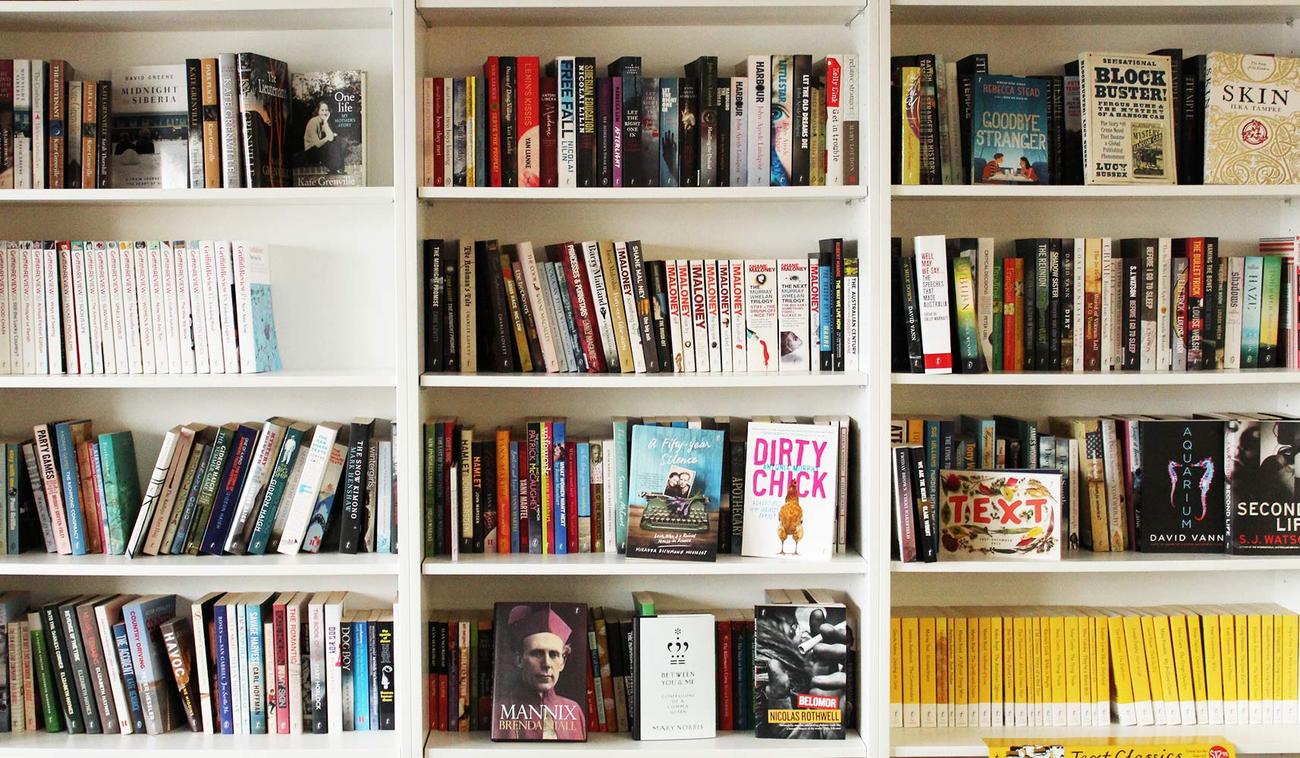 It's Father's Day on 6 September—what would your dad like, you wonder, that won't be stashed with the stubby holders and golf calendars of Father's Days past?
Here's a thought: get him a book! It's thoughtful and says many thousands of words, none of which you have to think up yourself.
We asked around the office, and this is what Text staff are getting for their dads.
Rebecca Starford, Editor
For my dad this Father's Day, it's got to be Two Futures: Australia at a Critical Moment, by bright young Labor parliamentarians Clare O'Neil and Tim Watts (who is the local member for my dad's electorate of Gellibrand).
I've got so many memories of talking politics with Dad at the dinner table, and these conversations first sparked my fascination with our political system.
More recently, our chats about the current state of political affairs have been fairly despairing, but I know that Two Futures—which identifies the big changes looming for Australia and outlines creative and insightful ways for tackling them—will rekindle all that hope and enthusiasm for our politics, and our politicians!
Jane Novak, Publicity Manager
Like me, my Dad is an eclectic reader and enjoys both fiction and non-fiction. I'm planning to give him Two Futures by Tim Watts and Clare O'Neil because I think he will appreciate the thoughts of these two bright up and coming political stars on where our nation is heading. Beauty Is a Wound by Indonesian writer Eka Kurniawan blew me away, an epic mix of magical realism and comedy that is both passionate and confronting. Reading this novel reminded me of the excitement I felt when reading Marquez for the first time. Coming Rain by Stephen Daisley is one of the most extraordinary Australian novels I've read in years. His exploration of Australian masculinity and his observations on landscape and labour make this novel exceptional. I think of him as our Hemingway. Dad will have to wait a couple of weeks after Father's Day to read Reckoning by Magda Szubanski. We share Polish heritage but unlike my dad, who came to Australia as a refugee as a toddler, Magda's father was an assassin in the Polish resistance. This beautiful and moving memoir tells the story of Magda's father and the shadow that this terrible history cast over her life and that of her family. It's one of the best non-fiction books I've ever read and announces the arrival of a seriously talented writer. 
Kirsty Wilson, Sales and Marketing Director
My dad is probably only five foot six, but in my mind he's a giant. When I was a kid he ran marathons, did solo hikes through the Tasmanian wilderness, kayaked down wild rivers. In his fifties he rode from Canberra to Uluru—on a mountain bike. In short, he's the kind of man who appreciates a challenge. So this Father's Day he's getting a selection of survival stories—Paul Griffin's gripping, brilliantly written novel about five teenagers lost at sea, Adrift;  the 1852 memoir of the legendary convict who 'went native' around Port Phillip Bay, The Life and Times of William Buckley, edited by Tim Flannery; and Griffith Review's Surviving, which features fiction and non-fiction by Lloyd Jones, Ashley Hay, Sophie Cunningham, Sally Neighbour, Matt Condon and many more great ANZ writers. Between those three great reads and the new Gurrumul CD, Dad'll be a happy man.
David Winter, Senior Editor
It has to be deux Modiano: Little Jewel et Paris Nocturne. And maybe a single malt?
Lea Antigny, Publicist
I know you're all thinking your dad is the best dad ever but I'm claiming it: I have the actual best one. He does the cryptic crossword in English as his second language while I can't do them in English as my first, he cooks bang-on cheese tarts (is there any phrase that encapsulates the life of a second generation French-Australian better than 'bang-on cheese tarts'?), and he's fostered my love of literature for as long as I can remember. I'm hoping to find some French-language editions of the two Patrick Modiano novels we have just published, Paris Nocturne and Little Jewel, but I'm still going to send him our English language editions because the gorgeous covers by WH Chong are two of my favourite designs of the year. I'm also sending Ta-Nehisi Coates's truly remarkable Between the World and Me, because Toni Morrison has declared it required reading and what Toni says goes. 
Anne Beilby, Rights Manager
This is my husband's first real father's day. Last year our baby was one day old and I got him nothing. This year Father's Day falls on our baby's first birthday so once again my husband will come second. That said, I've wrapped up some books I think he might appreciate. Our baby is now on solids so Adam Mansbach's You Have to F**king Eat is a timely read. Henry Hayden, the protagonist in Sascha Arango's The Truth and Other Lies is a memorable villain and the cracking plot will sustain a reader's interest through the long sleepless nights nursing a baby. Michael Magazanik's Silent Shock is a gripping read about the pursuit of justice for an Australian family affected by thalidomide and makes us grateful to have a happy, healthy baby. We don't get to see many films these days, so I'll also be giving Randolph Stow's Tourmaline, which is currently being turned into a film by Bryan Brown and Rachel Ward.
Shalini Kunahlan, Marketing Coordinator
This Father's Day I will be giving my wise and wonderful dad (who lives in Kuala Lumpur) Two Futures by Clare O'Neil and Tim Watts. 
The political situation in Malaysia is, believe it or not, in even more trouble than the one here. I think this book will help steer thought, discussion and the feisty debate he is so fond of (beyond the banal minutiae Malaysians are continually subjected to) in the coffee shops and pubs of KL!
FRIENDS OF THE CHILLER
SUBSCRIBE TO TEXT'S NEWSLETTER