Trio of Text Authors Shortlisted for the Melbourne Prize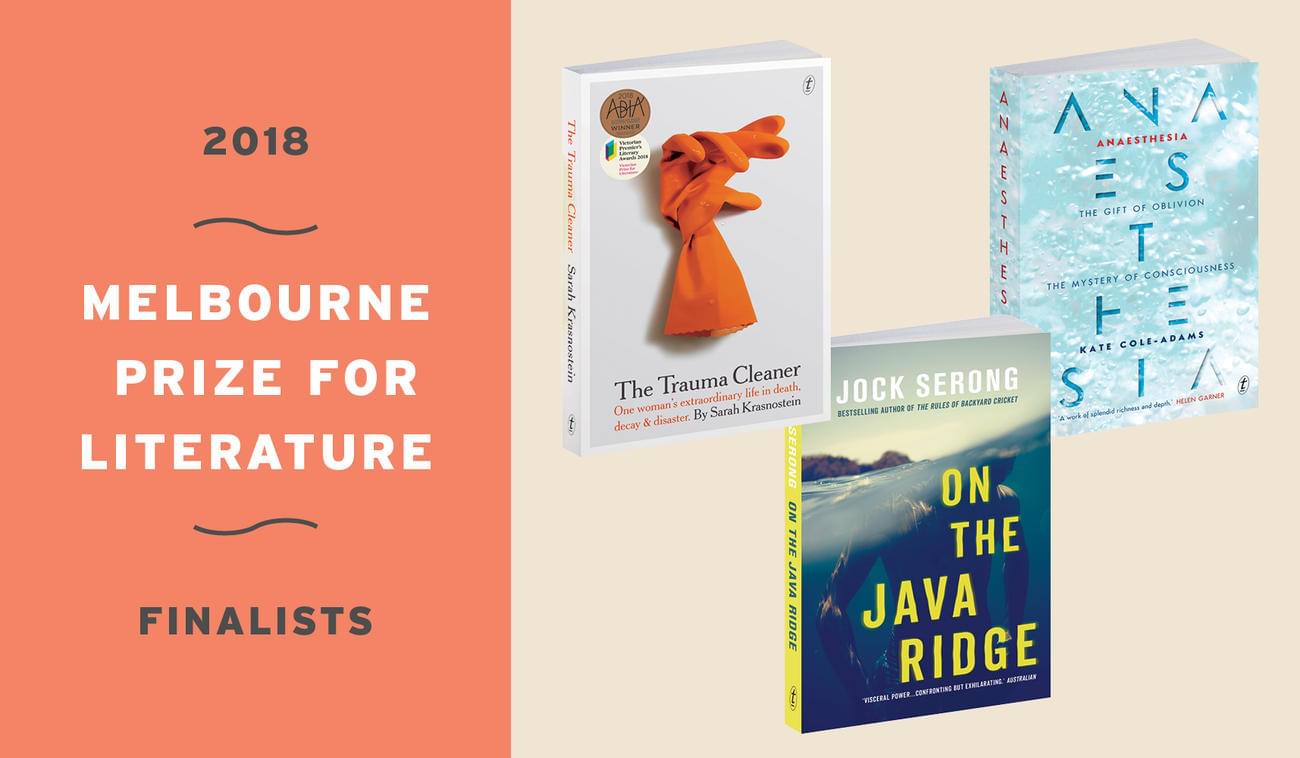 We are delighted to announce that Text Publishing authors Kate Cole-Adams, Sarah Krasnostein and Jock Serong have all been selected as finalists for the 2018 Melbourne Prize for Literature Best Writing Award. Our congratulations to Kate, Sarah and Jock for this wonderful achievement! 
The Melbourne Prize is one of Australia's most prestigious awards for the arts. Established in 2004, it runs on a three-year cycle, awarding prizes for urban sculpture (2017), literature (2018), and music (2019). 
Kate Cole-Adams' Anaesthesia has been widely acclaimed as a brilliant and compelling work of literary non-fiction – as Helen Garner put it, 'A work of splendid richness and depth.' It has also impressed the experts in the field. The Australian Society of Anaesthetists' official publication Anaesthesia Intensive Care Journal calls it: 'The single best account of our profession's most philosophically fragile constructs – consciousness and self…Cole-Adams has distilled and articulated the art of our profession.'

Sarah Krasnostein's first book is an utterly absorbing account of a remarkable woman. For most writers, an account of what it's like to clean up after homicides, home deaths, fires and other traumatic events would be material enough, but Sarah Krasnostein goes further – sensitively telling the story of Sandra Pankhurst, who, before she was a trauma cleaner, was so much more: husband and father, drag queen, gender reassignment patient, sex worker, small businesswoman, trophy wife… Read it and you'll understand why The Trauma Cleaner is already the winner of a stellar array of awards, including the Victorian Prize for Literature. 
Ned Kelly Award-winner Jock Serong is known as one of Australian fiction's rising stars. On the Java Ridge cements that reputation; it is an extraordinary and timely thriller that shows the very human cost of remote political decisions – garnering praise from readers, reviewers and booksellers alike.

Three extremely powerful books: different subjects, different styles, but all by writers at the very top of their game. The 2018 literature winner will be announced Wednesday 14th November, so you've got plenty of time to read through our shortlisted authors' latest works!
FRIENDS OF THE CHILLER
SUBSCRIBE TO TEXT'S NEWSLETTER