Alice Lewinsky Recaps the 2015 Melbourne Writers Festival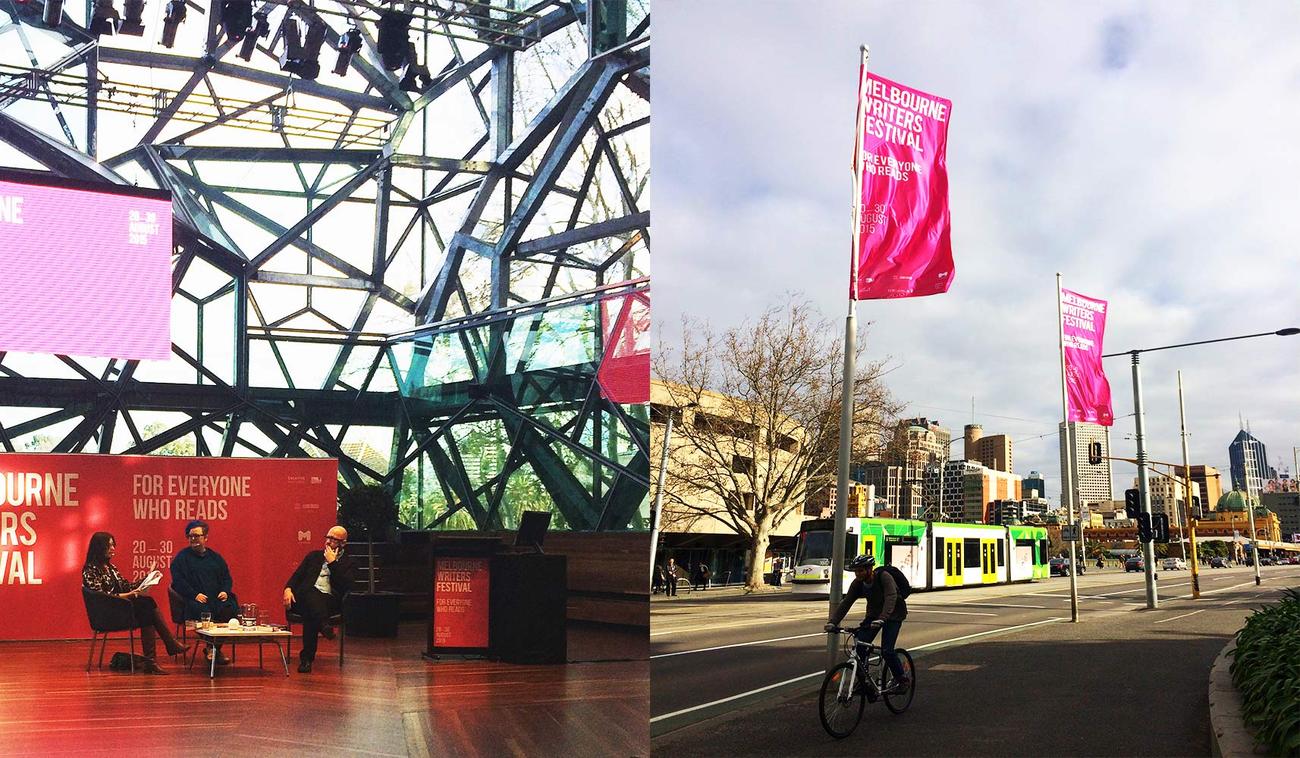 There's nothing like the buzz of Melbourne during a festival. And yes, while that may be every other week in our city, there is something special about the enthusiasm and energy of the annual Melbourne Writers Festival.
Having interned with the festival last year, I felt a warm sense of familiarity walking the corridors of ACMI and the Fed Square Atrium these past ten days. I am working now from the other side of the business, and Text staff have been kept busy with a slew of international authors on the bill, like New York publishing giant Jonathan Galassi, Indonesian rising star Eka Kurniawan and otherworldly short-story writer Kelly Link. A number of local and interstate Text authors were also involved in the program, including Peter Singer, Hannie Rayson, Kate Grenville, Graeme Simsion and Clare Wright, just to name a few.
My own festival experience kicked off with a sunshine-filled afternoon session at Footscray's Town Hall as part of the festival's Words in the West series. Supported by the Maribyrnong City Council, these free events act as a celebration of the West's cultural artistry and are a chance for locals and visitors alike to discover the creativity and passion of the Western suburbs. Award-winning Text author Rod Jones was joined by the incomparable Maxine Beneba Clarke to discuss the influence of Footscray on their writing. Rod's most recent work, The Mothers, explores the trials and triumphs of three generations of Melbourne women and opens on the recently abandoned Alma as she cradles her two children, alone in Footscray Park. Author and journalist Paul Mitchell was on hand to facilitate a warm and generous conversation between these two unique Australian talents.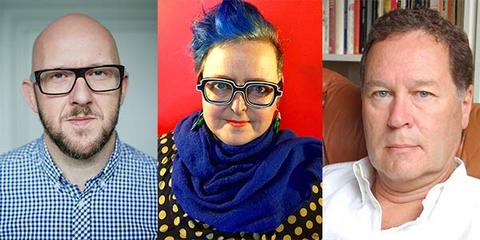 Racing back to the CBD, I soon found myself front row for a quiet Sunday evening of literary titillation in Fed Square's Deakin Edge. In conversation with the Big Issue's Melissa Cranenburgh was internationally bestselling author S. J. Watson, in town to discuss his new psychological thriller, Second Life. He was joined by Krissy Kneen, Australia's queen of erotica, in a discussion of 'Dubious Consent'. From sexual fantasies to racy taboos, the pair explored the art of the risqué with thoughtful consideration. After reading a hot and heavy passage from her latest literary flesh fest, The Adventures of Holly White and the Incredible Sex Machine, Krissy dared S. J. to consider reading an excerpt from one of his more saucy scenes at his next book event—so keep an ear out for that!
Mid-week, the festival's schools' program sees hordes of excited, literature-loving students descend on Fed Square for five days of imagination, exploration and big ideas. On Tuesday evening I fell down the rabbit hole at the festival's Alice in Wonderland-themed YA Salon. Celebrating 150 years of Lewis Carroll's legacy, a panel of Alice-aficionados offered their take on the beloved but bizarre children's story. Despite stepping in as a last-minute addition to the line up, Leanne Hall was always going to be well prepared for such an occasion, revealing a lifelong devotion to the weirdness of Wonderland and indeed a tattoo of Alice on her upper arm. Allyse Near investigated our unyielding passion for all things Wonderland, while Andrew McDonald shared stories from his teenage years spent working at the Pancake Parlour and Justine Larbalestier diagnosed Alice as a cold-hearted psychopath. Closing the evening, New Zealand author Bernard Beckett quietly disclosed that he had never read Alice's Adventures in Wonderland, before subsequently enlightening us with a mind-melting reinterpretation of the book's broader concepts of identity and morality.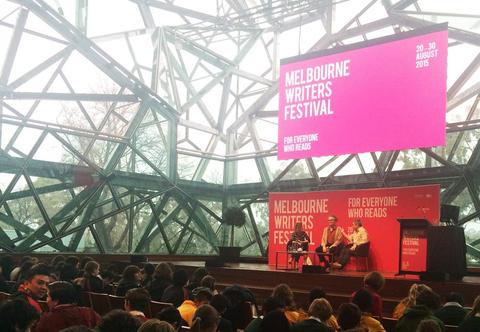 Back down in Fed Square on Thursday afternoon, I accompanied Bernard Beckett to the final event on the schools program, 'Desert Island Books'. Bernard's latest book, Lullaby, is based around a truly original thought experiment that unpacks society's more rigid ideas of mortality. Alongside Sally Rippin and Bernard Caleo (two Bernards!) the panel revealed the three books they would cling to should they find themselves washed ashore on a desert island. From Watership Down to Tintin in Tibet, the trio presented an eclectic mix of life-saving literature. When it came time for the students to share their own Desert Island titles, hands sprang up across the room with suggestions that ranged far and wide, from the entire collection of Aussie Bites to Jack Kerouac's On The Road.
Returning to MWF in 2015, this time as a member of the Text team, I had a newfound appreciation for the many hands that work so hard to help the festival come alive. In 2014 I witnessed the full scale of backstage operations at play. Technicians, volunteers, interns and festival staff all have an important role in ensuring the festival runs smoothly. Multiple venues and concurrent programming means extraordinary coordination behind the scenes, but relies equally on the goodwill and 'can do' attitude of all involved. 
Comparatively, in the lead up to this year's festival, I've seen just how much work it can take to get a festival guest on the ground. Outside of festival sessions, authors and publicists are often seen dashing between radio interviews, bookstore visits, various press duties and yes, maybe a party or two. After months of preparation in the office (think email chains as tall as me) it was an absolute treat to sit down and see our authors take centre stage, especially those who had travelled from far away. And while it is an exhausting whirlwind for us all, being surrounded by passionate readers for ten days straight certainly helps to recharge those batteries.
Ultimately the Melbourne Writers Festival is a wonderful celebration of the diversity and creativity of our industry. From podcasting to screenwriting, politics to journalism, from literary giants to the Next Big Thing, the depth and breadth of events on offer was staggering. Flipping through the program, carefully designed 'For Everyone Who Reads', I was reminded of the ferocious appetite of Melbourne's reading public and the festival's uncanny ability to spoil us year after year.
The festival action rolls on this month at the Brisbane Writers Festival. If you're in the sunny north this weekend don't forget to check it out.
And thanks to everyone who came down and had a drink with us last Thursday: the Text Party photo album is here.

FRIENDS OF THE CHILLER
SUBSCRIBE TO TEXT'S NEWSLETTER