ABA Text Publishing Bookseller of the Year 2019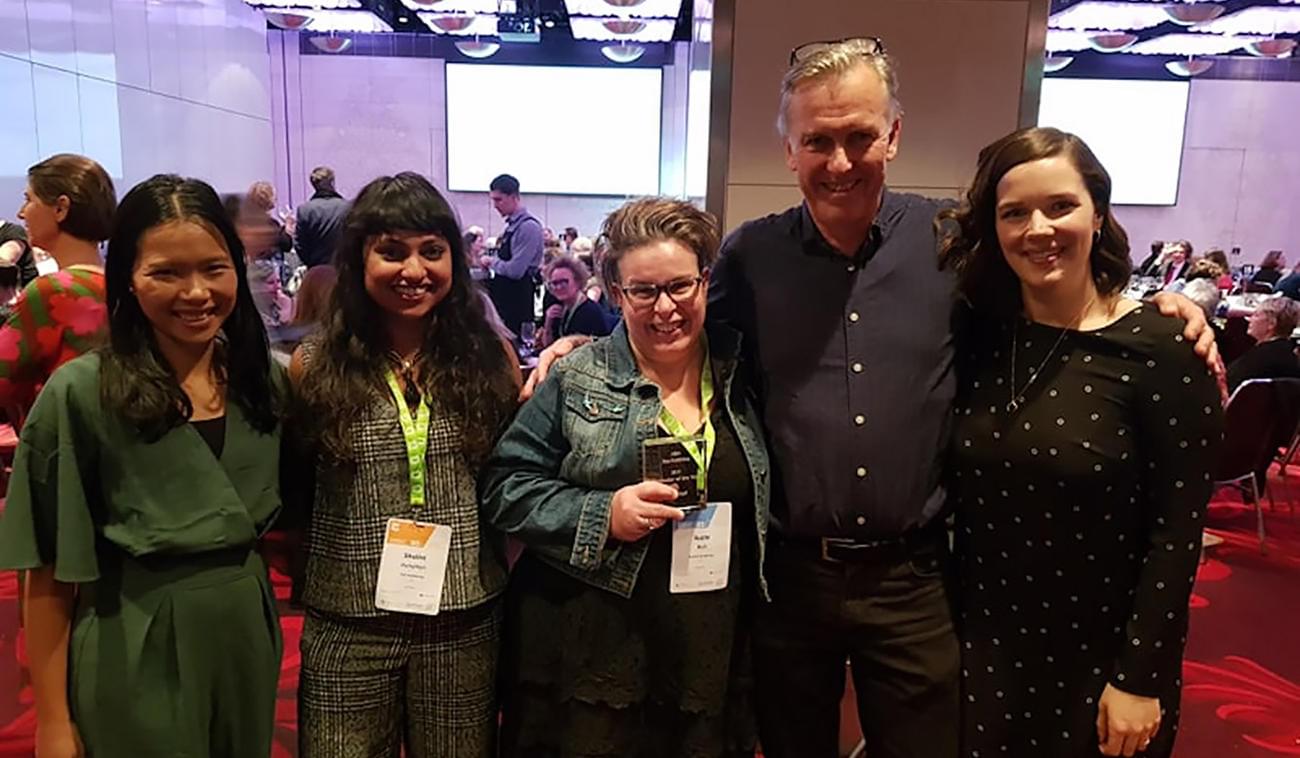 Suzie Bull of Farrells Bookshop in Mornington won the 2019 ABA Text Publishing Bookseller of the Year Award last month at a dinner at the Australian Booksellers Association Conference. 
As in previous years, the shortlist exemplified the extremely high quality of Australia's booksellers:
Desiree Boardman (Readings Hawthorn)
Suzie Bull (Farrells Bookshop)
Sarina Gale (The Sun Bookshop)
John Mitchell (The Bookroom Collective)
Linda Tassone (Jeffreys Books)
It is always tough to pick a winner from such a high-calibre shortlist, but this is a well-deserved award for someone who has risen to the challenge of leading an important independent bookshop of over four decades' standing in the local community, following in the footsteps of much-loved owners Ian and Meredith Horton and, before them, Roy and Liz Farrell.
Farrells Bookshop's nomination of Suzie for the award made clear her devotion to customers and staff alike:
'Suzie is a passionate and committed career bookseller whose significant contribution to Farrells has recently seen the store voted 2019 Regional Bookstore of the Year by publishers. Suzie is beloved by owners, staff and customers alike and we would love to see her recognised for the wonderful job she is doing in our store, for our community and in the industry more broadly.'
Michael Heyward, Publisher at Text agreed, adding:
'We need to celebrate our bookstores and booksellers every day of the year. They share our risk with new books and they invite our writers into their stores. We stand on their entrepreneurial shoulders. I congratulate Suzie Bull from Farrells on winning the Bookseller of the Year Award. We had an outstanding shortlist this year, testament to the strength of our bookselling culture. Over many years Suzie has done an extraordinary job with an iconic bookstore, and it is impossible to separate the success of Farrells from her own contribution to its growing strength.'
---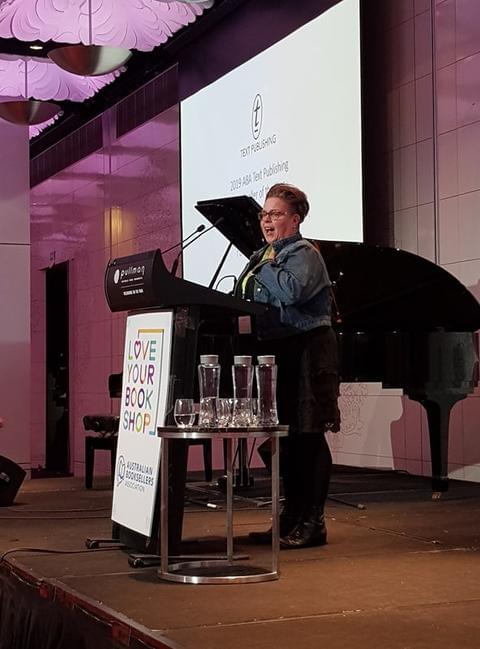 So apart from being an amazing bookseller, who is Suzie Bull...?
Suzie, first of all, congratulations on being named 2019 ABA Text Publishing Bookseller of the Year. Casting your mind back to the pre-management days, can you tell us about your first job involving books?
My first job involving books was working as a shelver at the University of Melbourne. It was a great job to have, as I could fill in the hours between lectures and tutorials. I was also studying librarianship at the time and loved the opportunity of putting some of the skills I was learning into practice.
What do you love about bookselling that you don't find in any other job?
The thing I love most about bookselling is the ability to discuss shared experiences with your customers, colleagues, publishers and authors. I come to work everyday and I get to recommend books and hear feedback from people about what they've read. It reinforces for me the sense of community around reading. I feel so lucky to work in an industry that I am passionate about and that I get to share that interest with people on a daily basis. There is also that ability to keep stretching the brain and to learn everyday.
We imagine you've hosted a lot of well-known authors over your dozen years at Farrells, have any stood out in particular?
Hands down you would have to say that it is an experience like no other when you have Terry Denton & Andy Griffiths visit. We have been lucky enough to have them visit our shop a couple of times, and each time it causes chaos outside the store as the line winds up the street and around the corner of the shopping block. It always amazes me how patient the kids are, waiting often for more than an hour for the opportunity to meet their bookish heroes. Terry & Andy are always generous with every child (and parent) they meet, and make sure it is a positive experience for everyone. We all go home exhausted yet exhilarated at the end of the day.
On a smaller scale, though by no means less fun, is children's author Patrick Guest. Whenever he has a new picture book out, we always support him for his usual fun filled reading of his book. His family always gets involved re-enacting the book, with many interesting costumes and lots of laughs. It is always a lot of fun for everyone involved. Patrick's books come from the heart, and that shows in how he interacts with readers young and old.
From the arrival of Borders to online retailing to the rise of ebooks, independent bookselling has come through a lot of challenges, why do you think bookshops have proven to be more resilient than, say, music shops or video rental stores?
Books are a very tangible thing, and most readers still enjoy the feel of the physical item. There is something special about the feel and the smell of a book and holding it in your hands. Books have outlasted the physical format of music and videos because as long as there is good light, they can be accessed anywhere, anytime. I also believe there is a side of us that revels in the ownership,  seeing one's book collection grow on the shelves – and often throughout the house.
Spot quiz! A man comes into the shop with that famously desperate look on his face, wanting to buy a book for his mother-in-law but having no idea what she actually likes to read. What do you recommend?
Ah, a regular dilemma, and one which is always fun to try and solve. Often I will veer towards a new release title, so that if she is a regular reader it may be one that she hasn't been exposed to yet. However, there are a few tried and tested older titles that I would recommend. If going for a non-fiction suggestion, there are three titles that seem to be a good starting point: Penguin Bloom by Cameron Bloom, Educated by Tara Westover and The Trauma Cleaner by Sarah Krasnostein. All of these titles offer a unique look at the human experience and seem to have a universal appeal across many ages and interests. If recommending a fiction title, I would recommend either The Dry by Jane Harper, A Gentleman in Moscow by Amor Towles or Home Fire by Kamila Shamsie. All of these titles have done so well by word of mouth, and the feedback for all of them has been overwhelmingly positive.
Same question but this time it's a woman wanting a book for a male relative.
Once again, I would suggest a range of fiction and non-fiction titles. As a predominantly non-fiction reader, I like to make sure that our readers are exposed to some wonderful narrative non-fiction titles. The non-fiction I would recommend for an unknown male reader would be The Land Before Avocado by Richard Glover, Marching Powder by Rusty Young, and a book with much local interest, Fifteen Young Men by Paul Kennedy. For fiction titles, ANY title by Jock Serong, though I guess my favourite is still On the Java Ridge, I Am Pilgrim by Terry Hayes or Child 44 by Tom Rob Smith. All have drama and intrigue and get you in from the very first page.
Staying with the same theme, what's the most unusual request or question you've had from a customer?
I remember many years ago, a customer coming in asking for a book, saying she couldn't remember the title or the author but it was something like 'Dah Dah Dah'. That was not much information to go by and I thought there was no chance of solving her dilemma. Out of the blue I suggested Eat Pray Love and, surprisingly, she shouted out 'Yes, that's it!'. To this day, I have no clue how I solved the mystery.
Finally, is there a book you can say, hand on heart, has changed your life?
My Place by Sally Morgan, which we read for Year 12, is the book that changed my life. It exposed me to the plight of the stolen generation, and also developed in me a social conscience that translated into a profound interest in social issues. My Place also was my first exploration of narrative non-fiction, and sparked admiration for the power of the spoken word through shared experiences.



---
It's booksellers like Suzie Bull and shops like Farrells that continue to keep literary culture alive and well in an increasingly distraction-heavy world. They, and all of the shortlisted booksellers and shops, need and deserve our support – both moral and financial. Please visit your local bookshop on a regular basis and help keep Australian literature vibrant and relevant.
Who knows? Your new favourite book might be one friendly conversation away...
FRIENDS OF THE CHILLER
SUBSCRIBE TO TEXT'S NEWSLETTER