The Australian Booksellers' Conference: Inside the Book Trade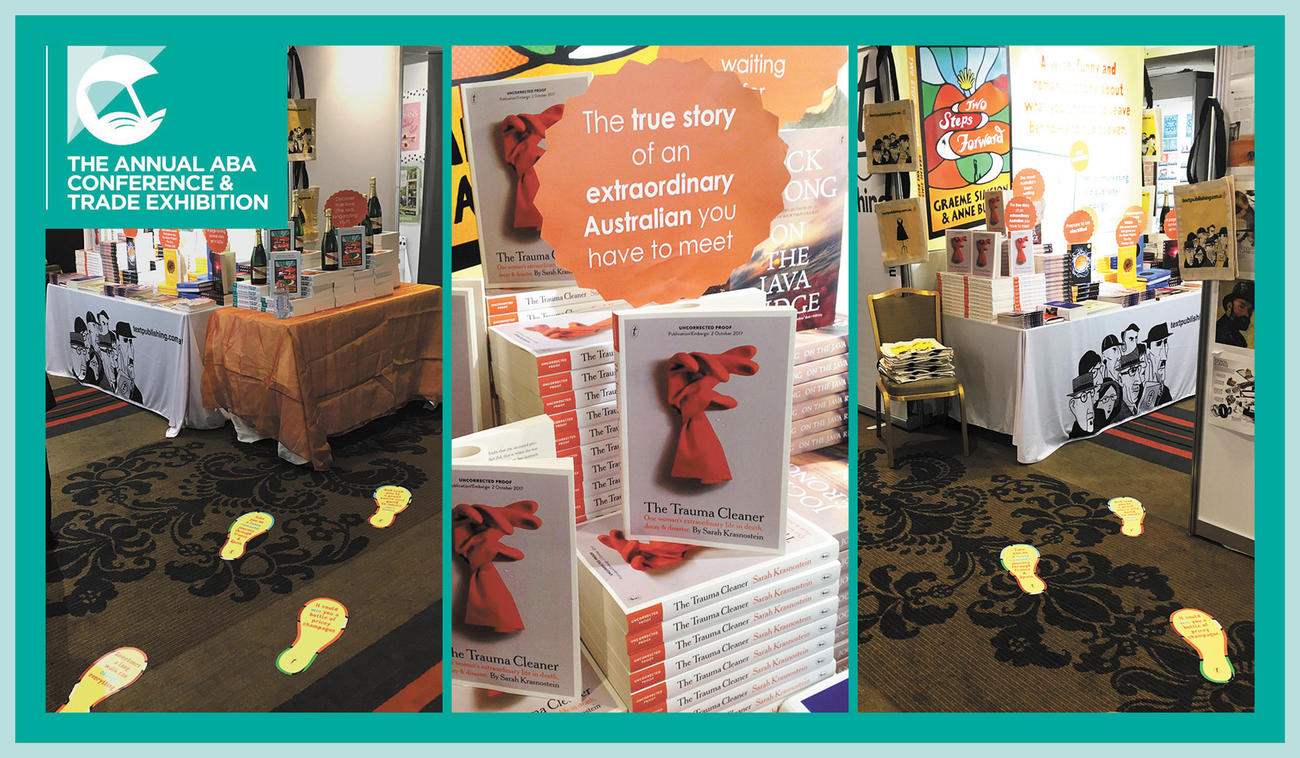 The Australian Bookseller Association's Conference, Trade Show and Gala Awards Night took place  last weekend in Melbourne. 
We thought we'd give you a behind-the-scenes peek at what goes on at this glittering and glorious weekend that celebrates Australian bookselling and publishing.
At the trade show, Australian publishers pitch the best and brightest of their upcoming books for the rest of the year non-stop to all the booksellers. Bear in mind, this means every sales-and-marketing person from every Australian publisher spruiking their books and conveying all the love and excitement they have for them. Frankly, I envy and don't envy the attending booksellers in equal amounts.
Here are some of Text's crack sales-and-marketing folk to tell you more about it, straight from the trenches...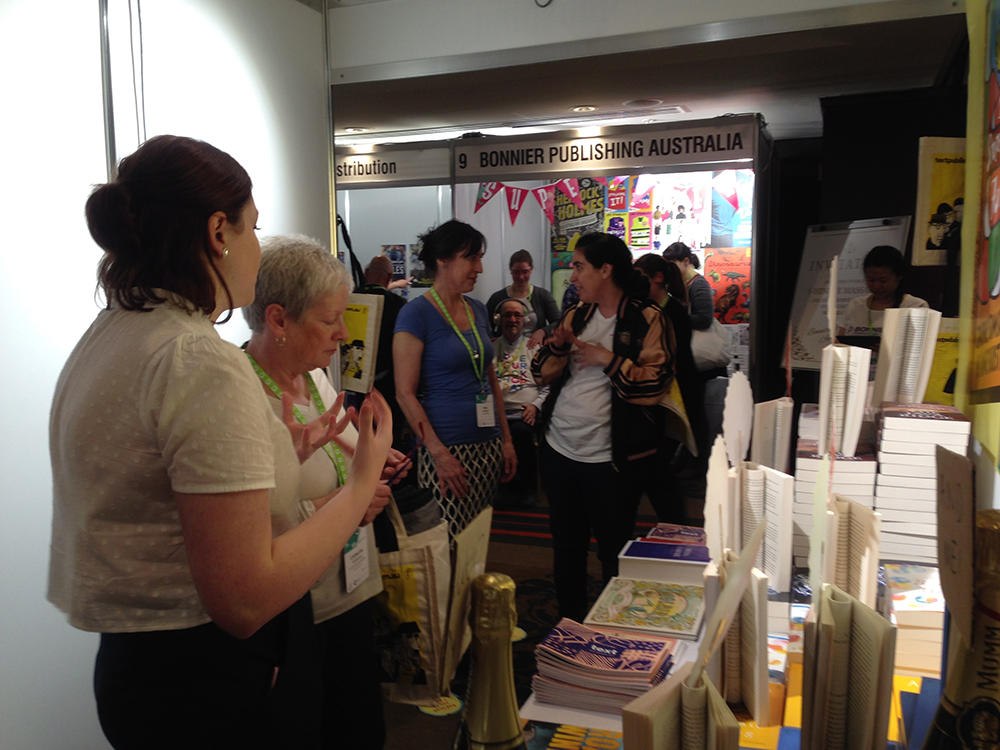 Kate Sloggett – Sales Manager
Trade shows are our big opportunity to speak to as many booksellers as humanly possible in an afternoon.  It's a cross between catching up with old friends, speed dating with strangers and showing off the kids.
We get to display and talk about all of our wonderful upcoming books to the people that can put them into the hands of readers.  It's our time to inspire booksellers to read our books, to tell the books' stories. 
Planning for a trade show starts early, we look ahead at the books we have coming in the second half of the year and decide which ones we'll showcase.  Once we have a wish list it's off to the editors to see if they will have finished books or print-ready manuscripts available in time. If a manuscript isn't ready we sometimes take a chapter sampler or booklet instead, which is two or three chapters, so booksellers can get a feel for the book and the author.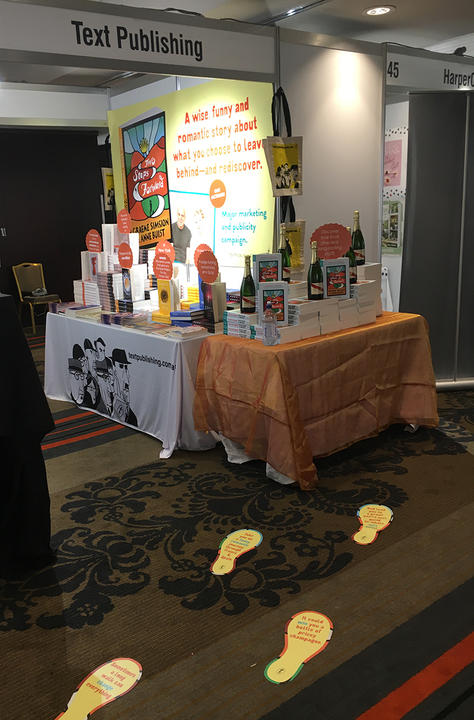 Closer to the date we discuss the stand's theme, this year we decided to highlight Two Steps Forward, the upcoming book from husband-and-wife team Graeme Simsion and Anne Buist. Graeme is rather famous for The Rosie Project!   Graeme and Anne have twice walked the famous St James pilgrim's trail in Europe, the Camino, and Two Steps Forward is about two people finding themselves and each other whilst walking through France and Spain to Santiago. Everyone loves to win something so we entered booksellers in the draw for bottles of our favourite french Champagne Mumm. This ensured the books were very popular!
We arrive early Sunday morning and unpack tonnes of books, put up posters and make sure we have piles of the popular Text bags ready to go.  After a quick bite of lunch its time to meet the trade!  It's so lovely to talk to everyone, and to see people excited about our books and loaded up with Text books to read.  At the end of the afternoon we have only six books left which means we know we've had another great show!
Danielle Bagnato – Marketing Assistant
The ABA Conference went incredibly well. It was such a delight to talk to booksellers in person.
This was my first conference and I was expecting to chat to some booksellers but I didn't expect it to be so busy! We spent three hours talking about our lead titles which I thought would be really tiring, but it was actually a lot of fun. We had quite a bright stand and had made teaser signs for each book such as: 'A New York Times bestseller' and 'The true story of an extraordinary Australian you have to meet' which were a hit.
The books we showcased were: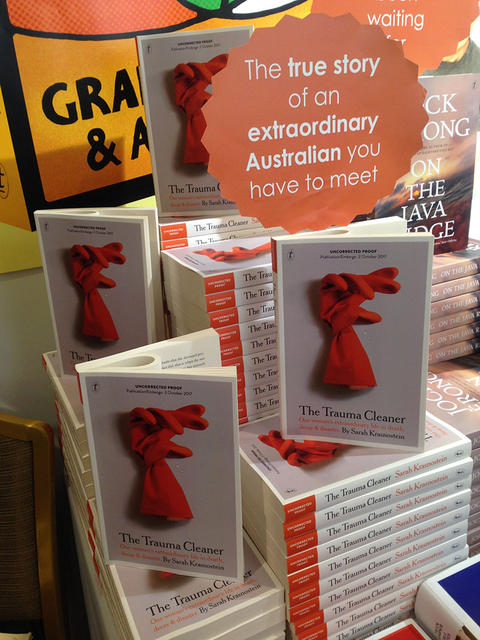 Everyone was particularly excited about The Trauma Cleaner, and I was told by many booksellers that the cover was the reason they came over to our table. This book is  incredible and as soon as I started talking about it, everyone was hooked. It's about  Australian woman Sandra Pankhurst who was raised as a boy in a neglectful family, became a husband and father, a drag queen, a gender reassignment patient, a sex worker, a small business woman, a trophy wife, and now, in her sixties, runs a trauma cleaning business. She has so many extraordinary stories to tell (and that's an understatement) and puts all the trauma of her past life into hard work and compassion for every single one of her clients, who she believes deserve no less.
I loved telling everyone about our upcoming books and I also had a great time chatting to booksellers about their stores, their customers and the books that they love.
At the end of the day I took a walk around the room and was given a glimpse into other publishing houses' lists and marketing strategies. We saw some beautiful posters, bunting and other decorations that have given me a lot of ideas for our next conference.
There you have it, folks, just another weekend in the Australian book biz.
Stay tuned for an upcoming blog post about the ABA awards night featuring a Q&A with the Australian Bookseller of the Year, Catherine Schulz from Fullers Bookshop in Hobart. 
And remember to keep reading and support your local bookshops.
The Texters.
FRIENDS OF THE CHILLER
SUBSCRIBE TO TEXT'S NEWSLETTER