Text Prize FAQ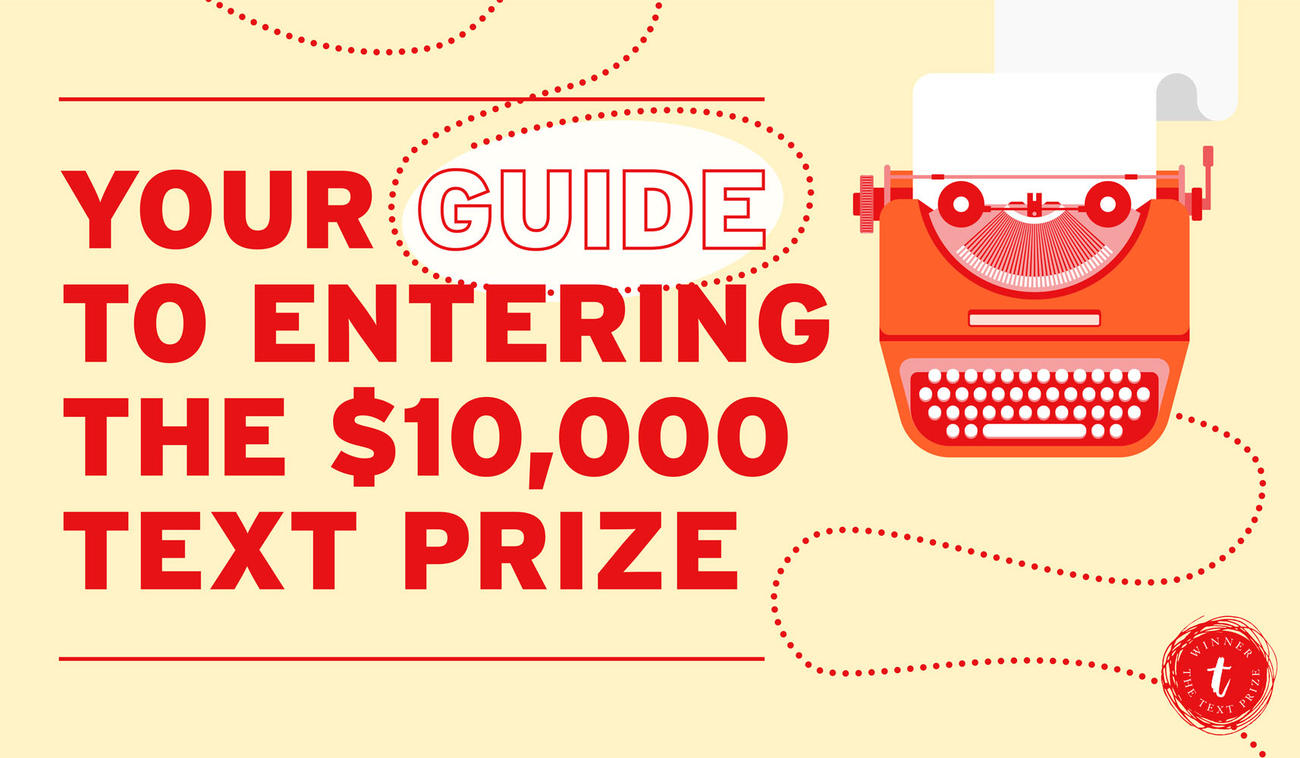 Is your manuscript ready to submit for the upcoming Text Prize?  Here's how to put your best submission forward.
FREQUENTLY ASKED QUESTIONS


When will submissions open?
Submissions for the Text Prize open near the beginning of each year. To be the first to know about the opening and closing dates, sign up for our email newsletter.
Can I submit non-fiction?
Yes, you can!
What is the Steph Bowe Mentorship for Young Writers?
The Steph Bowe Mentorship for Young Writers is an initiative designed to nurture and encourage an exciting new writer in Australian children's literature under the age of 25. It is awarded to the Text Prize entrant the judging panel believes would receive the most benefit from the mentorship.
 The winner is paired with a middle-grade or young-adult author for a 20-hour mentorship over a period of 6–12 months. They also receive a 12-month membership with Express Media and complimentary issues of Voiceworks Magazine, as well as a 12-month membership to their state writers' centre.
What should I include in my synopsis?
Unlike a blurb, a synopsis should contain the important plot points of your manuscript, including the ending. A full synopsis helps us to understand your vision for the manuscript, and is a useful reference tool.
How should I format my manuscript?
Your manuscript and synopsis should be submitted in separate documents. Both should be submitted in either Word or PDF format. We prefer manuscripts to have a simple and clear font, generous line spacing and numbered pages.
Can I submit more than one book?
Yes, but they must each be sent in with a separate entry form and fee. To be honest, you should probably submit only one manuscript, two at most. It's in your interests to submit only your finest work, so we suggest you save your cash and send in the best manuscript you have.
Why is there a minimum of 20,000 words?
We're looking for books for middle-grade readers and young adults, so we'd expect them to be longer than 20,000 words. The prize is not open to picture books. But we do accept graphic novels, which don't have a word count requirement.
Can I submit if I've had other works published elsewhere?
Yes! We welcome unpublished and previously published authors. However, the manuscript you enter in the Text Prize must not be on submission or under contract or option with any other publisher. More information on this point will be included in the terms and conditions with the callout for entries.
Do I get feedback on my manuscript?
Unfortunately not: we receive so many submissions that individual feedback isn't possible. Shortlisted authors might receive some feedback, but this is at our discretion and not guaranteed.
I've sent in my manuscript — what happens now?
We will publicly announce the shortlist before awarding the winner at a party in the middle of the year. We'll contact you by phone or email in advance if your manuscript has reached the shortlist, in which case you'll certainly be invited to the party announcing the winner.
We should caution, though, that since we have no idea ahead of time how many manuscripts we'll be reading in this year's prize, we can't know how long the judging period will take, so no date is set in advance for the shortlist announcement.
Text reserves the right not to award the prize at all, as per the terms and conditions on the form.
Where do you announce the shortlist and winner?
The shortlist is published on our website and social media, as well as via press releases sent to media and booksellers. We will also email all the writers who entered to announce the manuscripts that have been shortlisted for this year's prize.
The winner will be announced at a party in the middle of the year, and via press releases to media and booksellers.
Do you publish books from the Text Prize that don't win?
We have done this several times, yes. The End of the World Is Bigger than Loveby Davina Bell was shortlisted in the 2018 prize and, in an industry first, all shortlisted authors in the 2017 prize were offered book deals. We have also signed a number of titles from the 2020 shortlist that have yet to be published  look out for titles from Charlie Archbold, Lauren Draper, Kate Emery and Miranda Luby.
Why does it take so long for the book to come out?
The editorial process takes up most of the time between the award announcement and publication, and Text takes its editorial commitment to the winner incredibly seriously. We want to work with the author to publish the best book we possibly can, and that takes time. Most Text Prize-winning books have come out around fourteen months after winning, which is actually a pretty fast turnaround from acquisition to publication.
Can I ask you more questions?
Of course! Comment below or email us at books@textpublishing.com.au with Text Prize in the subject line. You can also speak to us on Twitter at @textpubYA and @text_publishing.
Visit the Text Prize page for more information.
FRIENDS OF THE CHILLER
SUBSCRIBE TO TEXT'S NEWSLETTER