The Most Talked-About Books of 2015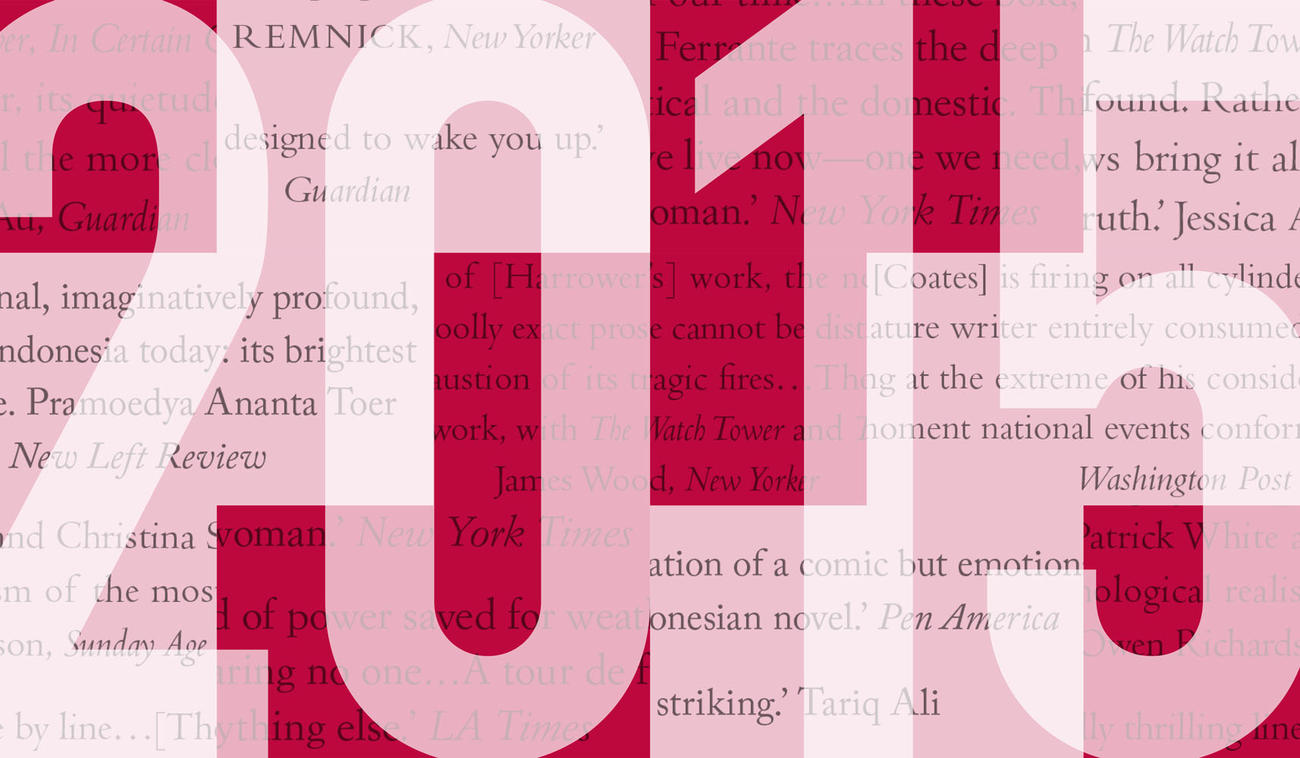 It has been wonderful to see so many Text titles appear on 'Best of 2015' lists here and internationally in the last few weeks. Here are the most talked-about titles—books that have inspired and delighted readers everywhere. (These are the ones to brush up on for your xmas lunches/dinner parties/beachside tête-à-têtes!)
It will probably be no surprise that the single most talked-about title is the extraordinary Between the World and Me by Ta-Nehisi Coates. Winner of the US National Book Award and the Kirkus Prize for Non-Fiction it was named one of the top ten books of the year by the New York Times. It also appeared in at least forty other best-of lists—they are still being announced—including the New Yorker, Economist, Guardian, Time, Vogue, Australian...
'Structured as a letter to his teenage son, this slender, urgent volume—a searching exploration of what it is to grow up black in a country built on slave labor and "the destruction of black bodies"—rejects fanciful abstractions in favor of the irreducible and particular. Coates writes to his son with a clear-eyed realism about the beautiful and terrible struggle that inheres in flesh and bone.' New York Times, 10 Best Books of 2015
'One of the truest works I have read in a while: honest, arresting, and challenging throughout.' New Yorker, Books We Loved in 2015
Another title that appears on a multitude of lists, including the New York Times' top ten, is Elena Ferrante's fourth and final book in the Neapolitan quartet, The Story of the Lost Child. In fact, if I add up all the listings that include the whole series, as well as her earlier works—Days of Abandonment and The Lost Daughter—Ferrante would come out on top. This is a brilliant author whose work digs deep into the heart of what it means to be a woman, mother, friend and lover like you've never read before. 
'Elena Ferrante's Neapolitan quartet was for me, as evidently for many, the outstanding literary event of the year: a powerful story of female friendship rooted in the poverty of postwar Naples, and subtly overshadowed, as the years pass, by loss, mystery, and moral ambiguity.' Ian Donaldson, Australian Book Review, Books of the Year 2015
'I was swallowed up whole by Ferrante's writing: the intensity of it, the unapologetic focus on every rendered nuance of a lifelong female friendship. I've never read anything quite like it. It is so, so good on women: the ones trapped by men and violence and the ones who break free, with all the associated costs.' Elizabeth Day, Guardian UK, Best Books of 2015 
Perhaps a slightly more surprising listee is Eka Kurniawan's Beauty Is a Wound. Not because it isn't fantastic, but because it is by a young, largely unknown Indonesian. Despite Indonesia being our closest neighbour, it is very hard to find Indonesian literature in Australia. Hopefully Eka's work will engage us in a whole new world of reading. The story of Dewi Ayu, a woman who rises from the grave twenty-one years after her death, tackles a dark period of Indonesian history through a compelling and twisted fable compared to the great works of magical realism. It appeared in the New York Times' 100 Notable Books, and Australian Book Review, Kirkus Reviews and Boston Globe lists among others. 
'The howling masterpiece of 2015 must surely be Eka Kurniawan's Beauty Is a Wound. It is—I mean it—a howl, an outrage, and a sheer burst of particular talent. It is the kind of thing you want fiction to do, and the kind of thing you want to imagine it is doing.' Chigozie Obioma, The Millions Year in Reading 2015 
'A ghost-filled, vastly populated, and rollicking contemporary mythic tale, in the spirit of Márquez's One Hundred Years of Solitude, but funnier.' Shannon Burns, Australian Book Review, Books of the Year 2015 
Magda Szubanski's extraordinary memoir Reckoning has taken Australia by storm—serious fans of Magda's comedy and literature lovers alike are finding themselves lost in this compelling family saga. A natural storyteller, Magda takes you on a journey back to her father's incredible military experience in Poland and the sadness and trauma that has been carried into her own life. 
'I also adored Magda Szubanski's memoir, Reckoning. She has great stories to draw on but it is her very fine writing that makes it such a joy to read.' Christos Tsiolkas, Age/Sydney Morning Herald, Best Books of 2015 
'Magda Szubanski's brave, compassionate—and hilarious—Reckoning may be some sort of masterpiece of the form.' Australian, Best Books of 2015 
Winner of the Patrick White Award and the Melbourne Prize for Literature, Gerald Murnane has written more than ten highly regarded novels. In Something for the Pain he tells his own story through the unique lens of horse racing, with the same careful style and sense of humour. If you haven't read Murnane, this is a great introduction. If you would like to read more, our own Alice Cottrell included A Lifetime on Clouds in her list of favourite Text Classics here. 
'A memoir of horse racing that speaks of triumphs and tragedies, of the infinite shades of friendship and romance, of the precision and persistence of memory, and—in its characteristically calm, direct prose as much as its contents—of virtue.' Times Literary Supplement, Best of 2015 
'Murnane's fastidious compositional style is matched perfectly with his comic genius.' Gregory Day, Age/Sydney Morning Herald, Best Books of 2015 
For lovers of the short form, Kelly Link's Get In Trouble received many rave reviews—her mix of the real and fantastic, the dark and the funny, make her a unique voice in literature today. 
'Link fuses the miraculous and the ordinary so gorgeously and delicately, you'll never find the seam between them.' Time, Top 10 Fiction Books of 2015 
'Exquisite, cruelly wise and the opposite of reassuring, these stories linger like dreams and will leave readers looking over their shoulders for their own ghosts.' Kirkus Reviews, Best Fiction Books of 2015 
There's something about Mary Norris, the wonderfully warm and funny New Yorker proofreader, that comes through in spades in her charming memoir, Between You & Me: Confessions of a Comma Queen. Anyone who loves language will love this book and many have included it in their best of 2015, including Amazon, the Millions, Kirkus Reviews and Publishers Weekly. 
'Who knew grammar could be so much fun...Clearly, Norris knows: her book is plenty smart, but it's its (one's a contraction, one's a possessive) joyful, generous style that makes it so winning. This is a celebration of language that won't make anyone feel dumb—but it's also the perfect gift for the coworker you haven't been able to tell that "between" is a preposition that never, ever, takes an object that includes the pronoun "I".' Amazon Best Books of 2015 
'Between You and Me is part memoir, part guide to the mind-bending nuances of English grammar, part homage to the New Yorker—where Mary Norris has spent more than twenty years as a highly specialized proofreader—and completely delightful. It brims with wit, personality and commas. Norris is a stickler who can't resist shtick.' NPR Best Books of 2015 
And for the kids, two of our YA titles appeared on several lists. Rebecca Stead has done it again with Goodbye Stranger, following on from her other great books: First Light, When You Reach Me (Newbery Medal winner) and Liar & Spy (Guardian Children's Fiction Prize winner). A tender story about the pain of young love, of friendship and making the wrong choices, Goodbye Stranger is a great read for eleven- to fourteen-year-olds. 
'A wonderful story, beautifully and realistically imagined but with a deft touch full of empathy and humour. I loved it!' Readings, Best Middle Fiction Books of 2015 
'Deeply empathetic and honest.' Boston Globe, Best Books of 2015 
'This gentle and generous novel is beautifully balanced.' Wall Street Journal, Best Books of 2015 
Vikki Wakefield's third novel Inbetween Days has also been hitting all the right notes. Wakefield's first YA novel, All I Ever Wanted, won the 2012 Adelaide Festival Literary Award for Young Adult Fiction, as did her second novel, Friday Brown, in 2014. Friday Brown was also named an Honour Book by the Children's Book Council of Australia and was shortlisted for the Prime Minister's Awards in 2013. Inbetween Days captures small-town life and the experiences of growing up in the same heartfelt and deeply personal ways. 
'Wakefield has never sounded more like Harper Lee, with poignant descriptions and on-point characterisations.' Alpha Reader, Favourite Books of 2015 
'[Vikki Wakefield] proves again that she's the mistress of YA twisted relationships and disturbed characters, all memorable, all sketched with compassion, wit and insight, the adults as well as teens.' Ruth Starke, Australian Book Review, Books of the Year 2015
FRIENDS OF THE CHILLER
SUBSCRIBE TO TEXT'S NEWSLETTER