The Common Room: Text's Quarterly Book Club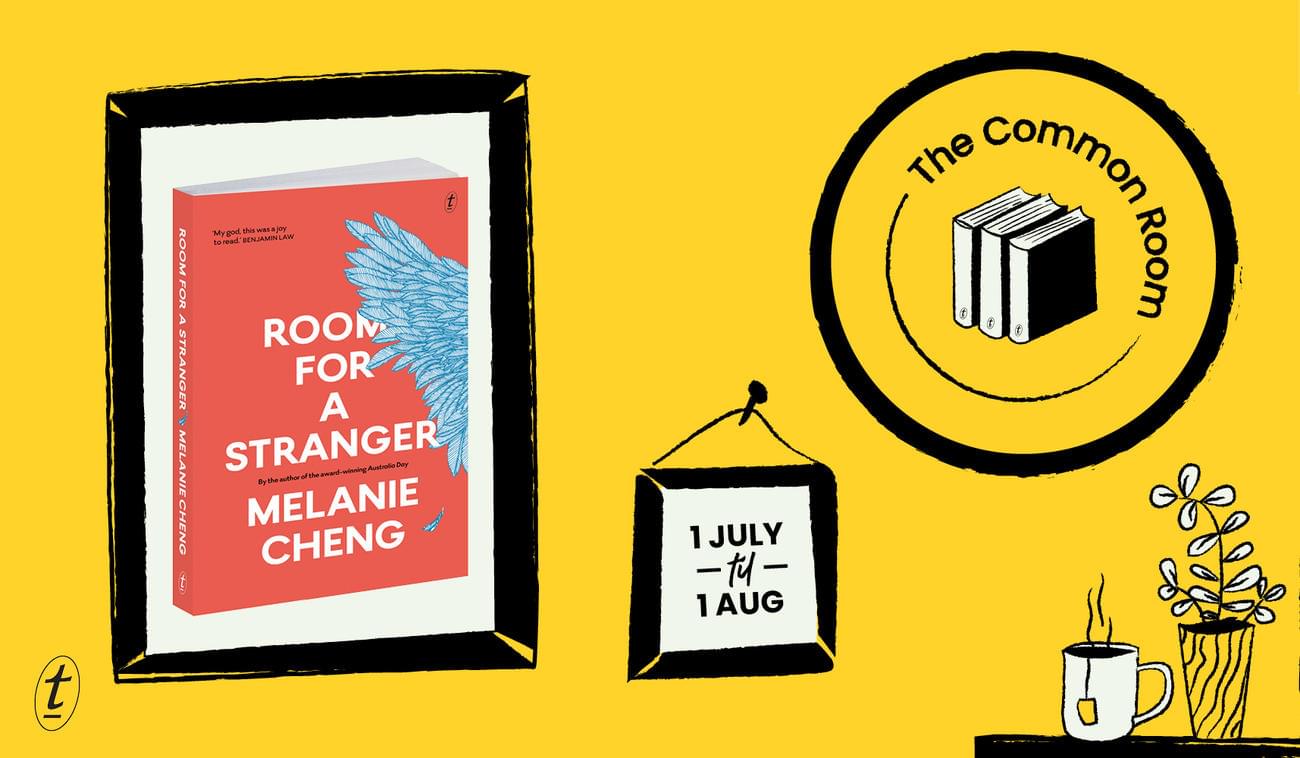 Welcome to the Common Room – an online gathering space for booklovers to come together and participate in our quarterly book club. At Text, we believe that reading should be a marvellous experience that brings people together. But while we are well and truly across the labour of love that brings a book to life, we don't always get to hear from the people who read and savour a book with a 't' on the spine. The Common Room gives us the opportunity to do just that. 
So, how does it all work? Let us take you through it. 
What are we reading this month?
We're thrilled to announce that the first book we'll be reading together is Room for a Stranger by award-winning Australian author Melanie Cheng. Reading kicks off on 1 July and we'll come together for a no-holds-barred chat in the Common Room on 1 August.
How do I sign up?
Become a Common Room Member by heading over to our private Facebook group. We require your email address, which will automatically subscribe you to Text's monthly enewsletter*. Once you're in the Common Room, introduce yourself to the group and start interacting with your fellow book club members. No need to be shy, we all have at least one thing in common: books!
What does it mean to be a member?
You get sweet perks: a 10% discount on our book club pick when you buy a copy from Readings' online shop (offer not valid in-store) and a delightful welcome pack sent straight to your door, which includes a set of book club discussion notes and a snazzy new Text tote bag**.
But don't go thinking we're leaving you high and dry throughout July – we want to keep the conversation going. Check back into the Common Room throughout the month to ask our very own Melanie Cheng some burning questions, get behind-the-scenes intel from the Texters and express your affection for Meg and Andy (you'll know who we mean once you start reading, trust us).
How often does the book club run?
Quarterly. The first book club will run in July, and then again in October 2019, January 2020 and April 2020.
If you have any questions, please contact our Common Room administrator Kate Lloyd at kate.lloyd@textpublishing.com.au.
We're looking forward to seeing you all in the Common Room!
*Get in touch with us if you'd like to unsubscribe to Text's marketing emails.
**Offer valid until 5 July 2019.
FRIENDS OF THE CHILLER
SUBSCRIBE TO TEXT'S NEWSLETTER