The Common Room: Honour & Other People's Children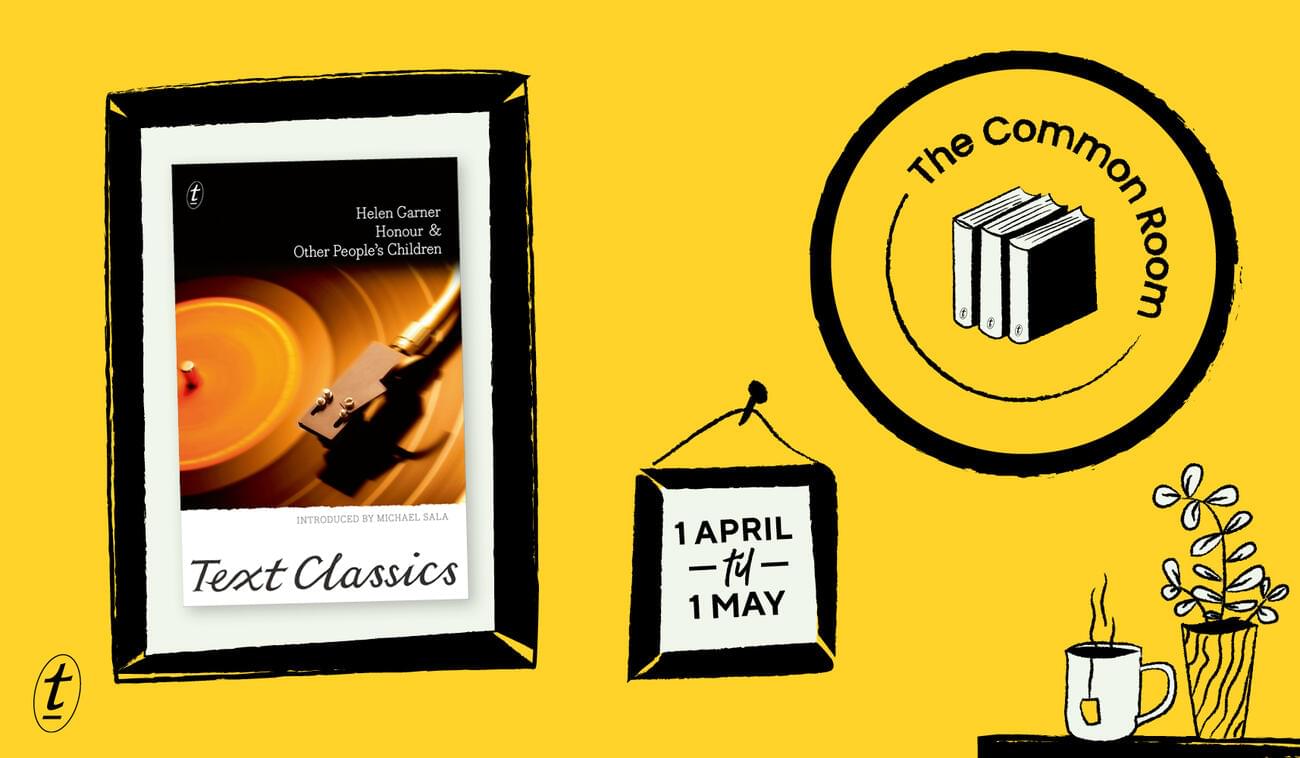 It feels like a lifetime since we all got together to read Nothing to See Here in January, doesn't it? Although the world has changed and most social events have been cancelled, the Common Room continues to thrive and there's never been a better time to be part of an online book club!
During uncertain times, it's nice to go back to the classics — the Text Classics to be exact. We ran a poll and gave our Common Roomers three options: Helen Garner's Honour & Other People's Children came out on top. So that's what we'll read throughout April.
Introduced by award-winning author Michael Sala, these two novellas focus on the deep connections we forge with the people we love, and the pain of breaking those connections. They're pure Garner gold and we look forward to reading alongside you.
Haven't joined the Common Room yet? Well hop to it! It's never too late. Here's how it works: 
How do I sign up?
Become a Common Room Member by heading over to our private Facebook group. We require your email address, which will automatically subscribe you to Text's monthly enewsletter.* Once you're in the Common Room, introduce yourself to the group and you can start interacting with your fellow book-club members. No need to be shy, we all have at least one thing in common: books! 
What does it mean to be a member?
You get to interact with the loveliest group of bibliophiles on the internet (we're not biased, we swear). You also get an exclusive 10% discount code for this month's book when you buy a copy from Readings! You can find the code pinned to the top of the Common Room discussion board. This offer is valid until 30 April.
When do we chat books?
Reading officially begins on 1 April (no joke). So, order your copy, grab some snacks and settle in for some nights of self-isolation. Be sure to post some snaps in the Common Room and share your reading journey. It's more important now than ever to feel connected and this is a great way to do it. We'll meet you in the Common Room on 1 May with thought-provoking questions and discussion points about the book.
How often does the book club run?
Quarterly. The next book club is in July and then again in October.
If you have any questions, please contact our Common Room administrator Kate Lloyd at kate.lloyd@textpublishing.com.au.
We're looking forward to seeing you all in the Common Room!
*Get in touch with us if you'd like to unsubscribe from Text's marketing emails.
FRIENDS OF THE CHILLER
SUBSCRIBE TO TEXT'S NEWSLETTER