Text's New Books in June Giveaway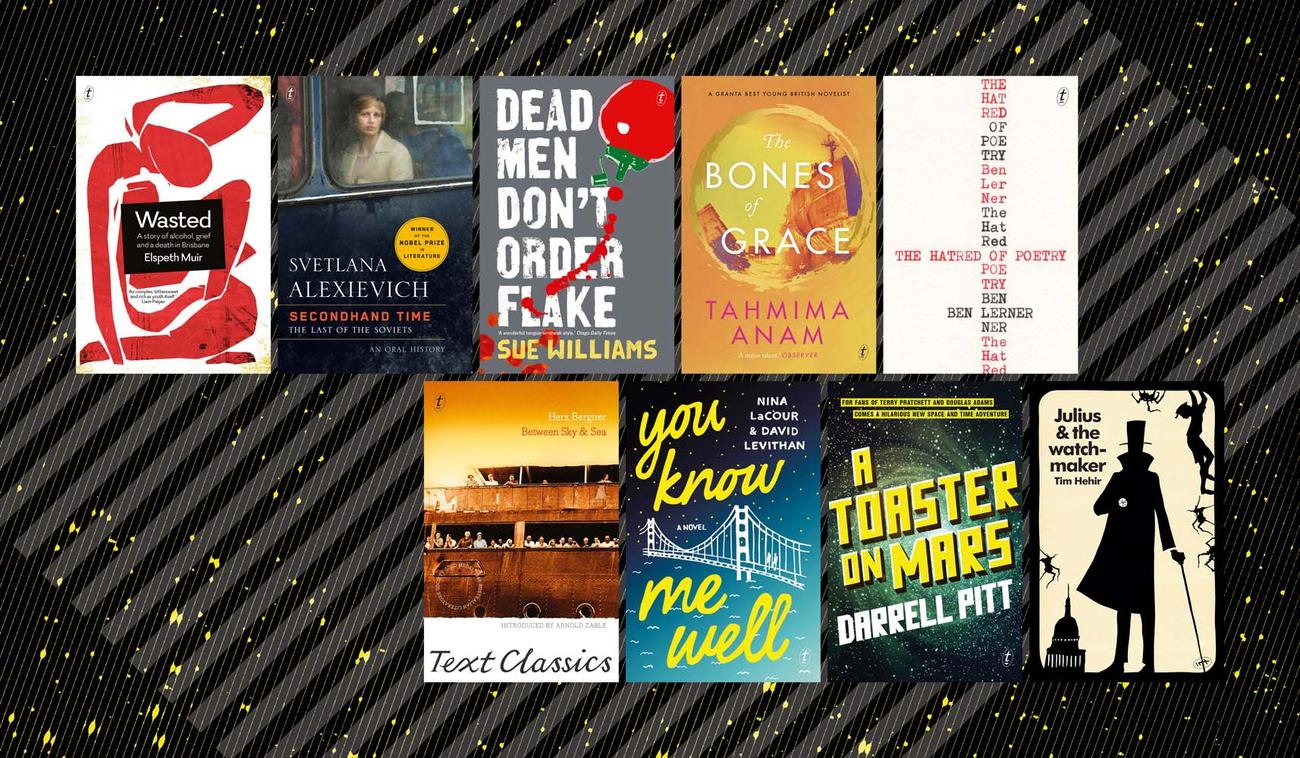 Tragic love, alcohol, poetry, Russia and crime—brilliant themes to warm your winter! Plus three new books for the kids, with none of the above—except, perhaps a bit of criminal shenanigans—but lots of fun, friendship, adventure and time-and-space travel. The kids need something to keep them warm this winter too! And our Text Classic this month is the profoundly moving Between Sky & Sea by Herz Bergner about the plight of a group of refugees escaping to Australia from Europe during World War II.
Pick your favourite from our new June reads below and head to Text's Facebook page to tell us why you would like a copy.
Wasted: A Story of Alcohol, Grief and a Death in Brisbane
by Elspeth Muir
In 2009 Elspeth Muir's youngest brother finished his last university exam and went out with some mates on the town. Later that night he wandered to the Story Bridge, climbed over the railing and jumped thirty metres into the Brisbane River below. Wasted is a gripping and deeply affecting memoir that explores Australia's complicated relationship with alcohol, from a remarkable young writer. Read an extract here.
The Bones of Grace
by Tahmima Anam
Zubaida has never known the truth about her parentage, but her search will lead her to Anwar, who holds the key to all of her questions. This tragic love story traverses continents and communities, bringing to life a truly twenty-first-century heroine. A must-read for fans of Richard Flanagan, Ian McEwan, Kamila Shamsie and Khaled Hosseini.
Secondhand Time: The Last of the Soviets
by Svetlana Alexievich
Winner of the 2015 Nobel Prize for Literature, Svetlana Alexievich is widely regarded as one of the greatest journalists of our era. Secondhand Time is her definitive, epic chronicle of the emotional history of the Soviet and post-Soviet individual, told through a carefully constructed collage of interviews.
Dead Men Don't Order Flake
by Sue Williams
Rusty Bore's self-appointed private investigator, Cass Tuplin, is back for a second helping. Funny, charming and uniquely Australian, Dead Men Don't Order Flake is escapist crime writing that will appeal to readers in city, town and country. Read an extract here.
The Hatred of Poetry, special release date 13 June
by Ben Lerner
No art has been denounced as often as poetry. In this inventive and lucid essay, Lerner takes the hatred of poetry as the starting point for his defence of the art. Lerner has crafted an entertaining, personal and entirely original examination of a vocation no less essential for being impossible.
Between Sky & Sea
by Herz Bergner, introduction by Arnold Zable
On board an old freighter bound for Australia, a group of European refugees struggles to come to terms with the horrors they've left behind. Between Sky & Sea is a powerful work of diaspora fiction and an important addition to our nation's migrant literature. Read Arnold Zable's introduction here.
You Know Me Well, special release date 13 June
by David Levithan & Nina LaCour
A big-hearted novel of friendship, self-discovery and growing up from the internationally bestselling author David Levithan, co-written with the award-winning San Francisco writer Nina LaCour.
A Toaster on Mars
by Darrell Pitt
A hilarious adventure for science-fiction readers of all ages. Blake Carter is a detective at the Planetary Bureau of Investigation in Neo City. He's on the trail of intergalactic thief Bartholomew Badde, and the stakes get even higher when Badde branches out into kidnapping.
Julius and the Watchmaker: The Watchmaker Novels, Book One
by Tim Hehir
A new edition of the first Watchmaker Novel to celebrate publication of the sequel, Julius and the Soulcatcher.
When Julius Higgins isn't running from Crimper McCready and his gang of bullies he's working in his grandfather's bookshop in Ironmonger Lane. Until Jack Springheel, a mysterious clock collector, turns up looking for the fabled diary of John Harrison—the greatest watchmaker of all time. Before he knows it, Julius becomes a thief and a runaway and makes a deal with Springheel that he will live to regret.
---
Visit our Facebook page now and tell us which book you would like (one book per person only).
Competition is open to AU/NZ residents  and entries close 10am AEST Tuesday 14 June. Winners will be notified on Facebook by 5pm.
FRIENDS OF THE CHILLER
SUBSCRIBE TO TEXT'S NEWSLETTER