September New Releases and Giveaways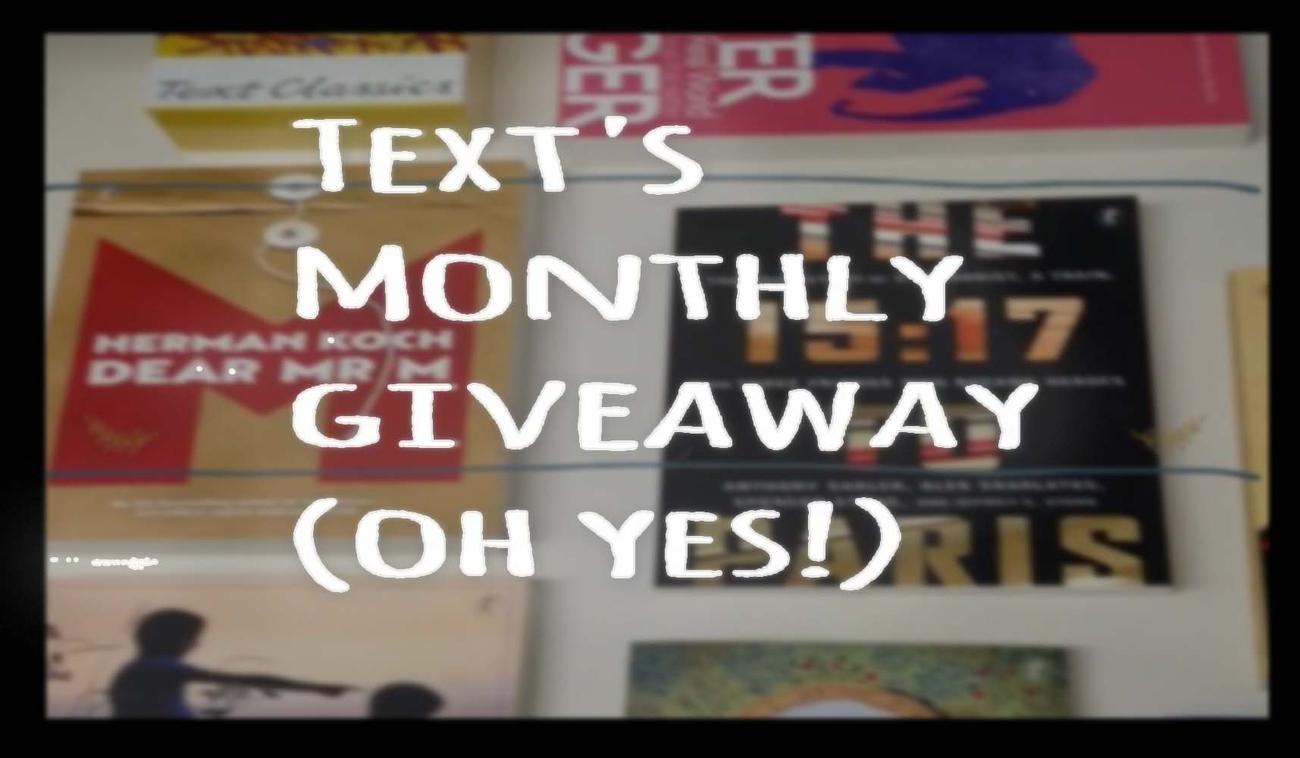 September is a huge month, starting with two Man Booker-longlisted titles by J. M. Coetzee and Graeme Macrae Burnet. The Dyehouse, the 100th Text Classic, hits the shelves, as well as a beautiful collectible Text Classics postcard set. Graeme Simsion, Herman Koch, Jock Serong and Eimear McBride all have new novels out. Matt Vickers' poignant call-to-action, Lecretia's Choice, contributes to the debate around assisted dying. The gripping real-life story of the three friends who stopped a terrorist attack, The 15:17 to Paris, is released, as well as a collection of essays on everyday ethical questions by Peter Singer. Simon Barnard has produced a fascinating historical collection in Convict Tattoos, and Sebastian Smee has an absorbing account of rivalry and friendships in modern art. And our new book for younger readers is the delightful Elizabeth and Zenobia, an adventure story about friendship, courage and the power of imagination. Not to mention that the festival season is well and truly in swing, with our authors out and about around the country.
But before you head out to meet them, enter our competition to win one of our new September reads! Just head to Text's Facebook page to tell us why you would like a copy of one of the books below.
The Best of Adam Sharp, released 19 September
by Graeme Simsion
A captivating new novel from the author of the international bestseller The Rosie Project, about love, music and coming to terms with the past.
The Schooldays of Jesus
by J. M. Coetzee
Longlisted for the 2016 Man Booker Prize
With the simplicity of a fable, The Schooldays of Jesus tells a story that raises the most direct questions about life itself. This startling sequel to the widely praised The Childhood of Jesus will beguile fans of the Nobel Prize-winning author.
His Bloody Project
by Graeme Macrae Burnet
Longlisted for the 2016 Man Booker Prize
This gripping, ethically complex crime novel tells the story of a triple murder in a farming village in 1860s Scottish Highlands, narrated by the self-confessed killer.
The 15:17 to Paris: The True Story of a Terrorist, a Train, and Three Friends Who Became Heroes
by Anthony Sadler, Alek Skarlatos, Spencer Stone, and Jeffrey E. Stern
In the summer of 2015, three ordinary young Americans became international heroes when they thwarted an ISIS terrorist attack on a Paris-bound train. This is the never-before-told story of what these men did, their enduring friendship and what allowed them to perform such an extraordinary act of bravery.
Lecretia's Choice: A Story of Love, Death and the Law
by Matt Vickers
The true story of Lecretia Seales, a young lawyer who launched a High Court challenge to win the right to an assisted death after being diagnosed with a terminal brain tumour. As told by Lecretia's husband, Matt Vickers, this is compulsory reading for everyone who cares about the dignity we afford terminally ill people who want to die on their own terms.
The Rules of Backyard Cricket
by Jock Serong
The story of two brothers, raised by a single mother, who have tremendous cricket abilities and a fierce rivalry. With glorious writing harnessed to a gripping narrative, The Rules of Backyard Cricket is a literary thriller in the tradition of Peter Temple's Truth, from a rising star of Australian fiction.
Dear Mr M
by Herman Koch
With sardonic wit, and a sharp eye for human failings, Herman Koch, the author of the international bestseller The Dinner, once again spares nothing and no one in this gripping new thriller.
The Lesser Bohemians
by Eimear McBride
One night an eighteen-year-old Irish girl, recently arrived in London to attend drama school, meets an older man. The tumultuous relationship that ensues risks undoing them both. A dazzling second novel from the author of the multi-award-winning A Girl Is a Half-formed Thing.
Ethics in the Real World: 86 Brief Essays on Things that Matter, released 19 September
by Peter Singer
Provocative and original, these new essays will challenge—and possibly change—your beliefs about a wide range of real-world ethical questions.
The Art of Rivalry: Four Friendships, Betrayals, and Breakthroughs in Modern Art
by Sebastian Smee
Matisse and Picasso, Manet and Degas, Bacon and Freud, De Kooning and Pollock: each relationship had a flashpoint that led to audacious innovations. Absorbing, informed and provocative, The Art of Rivalry takes us to the heart of each of these relationships.
Convict Tattoos: Marked Men and Women of Australia
by Simon Barnard
From the author of the award-winning A–Z of Convicts in Van Diemen's Land comes a unique and fascinating account of the skin markings of the convicts transported to Australia. Meticulously researched, this rich pictorial history offers a fascinating glimpse of the lives of the people behind the records.
The Dyehouse
by Mena Calthorpe, with an introduction by Fiona McFarlane
Set in a textile factory in 1950s Sydney, Mena Calthorpe's The Dyehouse is a beautifully crafted ensemble novel and an astute social-realist portrait of a bygone era. This unjustly forgotten portrait of postwar Australia is the 100th book in the Text Classics series.
Text Classics Postcards
designed by W. H. Chong
Text is celebrating the publication of its 100th Classic with a delightful set of 100 collectible postcards featuring W. H. Chong's iconic and original book covers. All for the price of one Text Classic.
Elizabeth and Zenobia
by Jessica Miller
Shortlisted for the Text Prize for Young Adult and Children's Writing. A middle-grade gothic fairytale about friendship, courage, the power of imagination and the divides between real and imagined worlds.
Visit our Facebook page now and tell us which book you would like (one book per person only).
Competition is open to AU/NZ residents. Entries close 10am AEST Thursday 1 September. Winners will be notified on Facebook by 5pm.
FRIENDS OF THE CHILLER
SUBSCRIBE TO TEXT'S NEWSLETTER