My Dad Wrote a Review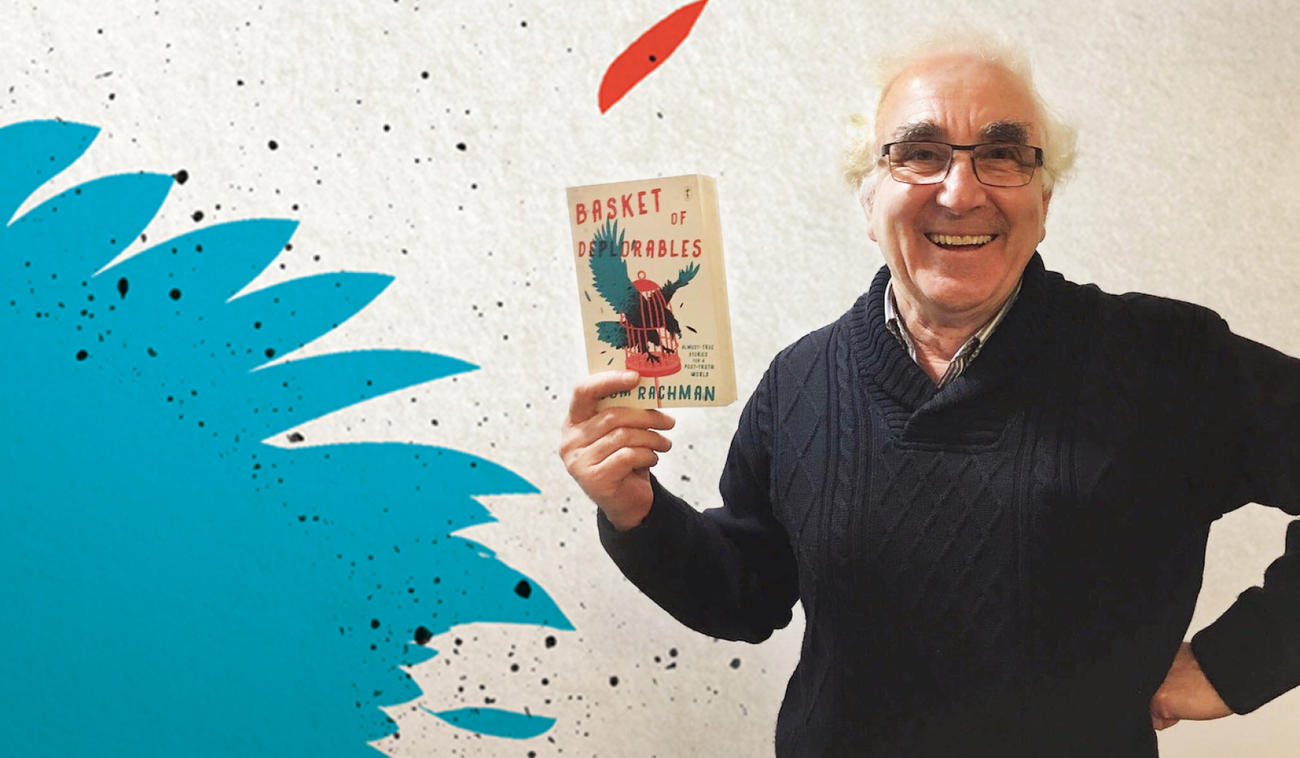 We at Text love books.
We love them so much that we've decided to get our families on board. 
If you've got a family you'll know that everyone's GOT AN OPINION. And in most cases, they're happy to let you know ALL ABOUT THEM. 
We decided to let them tell us all about their thoughts on Text's books. Thus, today we kick off our 'Text Family Members Review Books' series.
Today's book review is from the father of our senior publicist, Alice Lewinsky. Mr Stephen Lewinsky read and reviewed one of our latest releases, Basket of Deplorables by Tom Rachman. 
Take it away, Mr Lewinsky!
---
Tom Rachman has threaded together five whimsical short stories. The stories are engaging in themselves but there is also the enjoyment of connections between them as well as resonances from the period immediately in the wake of the Trump election.
Each story stands alone and readily intrigues the reader. Sentence after sentence is a treat, but the stories roll along and even create a wish to hurry to the end for the outcome.
The book grabs you from early in the first story, taking place at an elegant gathering on election night. The ebb and flow of the results across the States clearly distresses most of the attendees. The reader is initially gently hit with examples of the pre-election hubris and then the post-election shellshock of the commentariate that took Trump so lightly: it's gentle at first, presented fairly neutrally,  but then becomes a near torrent. Distinct from this is a crescendo from the hostess: is it true or a false truth? An added layer of connections running through the stories takes the reader back and forth, particularly if recognition is slow.
There are the catch phrases and Trumpisms from that period, with 'truth', 'false truth', 'social media damage' as well as the meaningless phrases and corruption. The book however is not a tirade against the new President – both sides are covered. It is an offering of the issues before us and a take on the topsy-turvy nature of the events since late in 2016.
 One can only wonder if the events since the inauguration dangle before the author for another serving. Whatever comes of that, Basket of Deplorables is a gentle, sweetly provocative collection sufficient in itself. It is short and quick read, which still occupies you even after you put it down with an urge to get back to it as soon as possible.
---
You heard it HERE from Stephen Lewinsky. 
(And if the above photo alone doesn't make you want to go out and get the book, we don't know what will convince your cold, icy hearts.)
Basket of Deplorables is available now at all good bookstores, on the Text website and in ebook.
Until the next review, 
Keep reading,
The Texters (and their families!)
FRIENDS OF THE CHILLER
SUBSCRIBE TO TEXT'S NEWSLETTER