Get your pet's mug on a mug: giveaway plus an extract!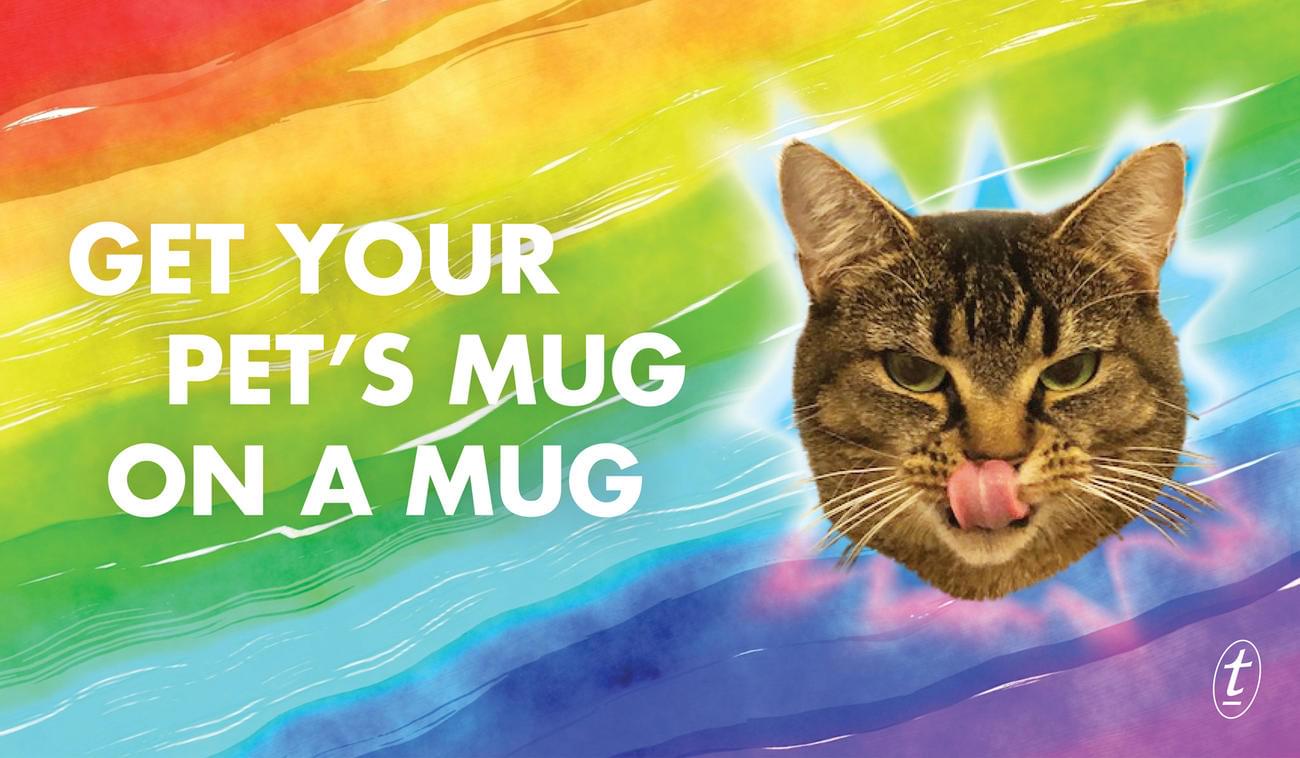 I first learned that I could see and feel coloured light around Kitty – a grey tabby cat, my first pet…Now, as an adult, I don't feel the need to hide it anymore. I include auras in my pet portraits because they're part of the animal's being. I feel them together, the colour and the animal. They're inseparable.
'Nails the Perfect-Yourself 35–43 gen in all of its hopeful internet-brand-conscious pyramid-scheming empowering goddessiness. Social satire + cultural insight whipped into a yummy froth!' @MargaretAtwood
Sip a grounding herbal tea with your book club, switch off Insta notifications and indulge in Sarah Selecky's Radiant Shimmering Light, a sharply funny and heartfelt novel that brilliantly captures female friendship and the blurring between our online and personal lives, with a refreshing focus one of social media's largest audiences: women in their thirties and forties.
To celebrate heroine Lilian Quick's remarkable talent and pet-aura Etsy business, we'd like to give one lucky book club the chance to win a book-club prize pack – 'pet aura' themed.
How to enter: PM us on our Text Facebook page  with your book club's wackiest pet photo. Cats, dogs, birds – it doesn't matter! Use the image above for inspiration.
The prize: We will pick our favourite photo, design an aura for the pet and put them on a mug! Your book club will receive six copies of Radiant Shimmering Light, six sets of book-club notes, and six mugs featuring your pet and their aura.
Terms of entry: The competition runs from 31 August to 7 September. Open to residents of Australia only. For Text's privacy policy, click here.
Read an empowering sample extract from Radiant Shimmering Light below. 
'Every page delights and provokes. This book is a dazzler.' Karen Joy Fowler
---
January 2016
My dearest Lilian,
Hello, gorgeous. I'm writing you from Venice, California.
I love the weird, brave, you-can-do-anything energy of Los Angeles.
This morning, I found white feathers and rhinestones scattered on the sidewalk as I walked to the beach.
I met a wise seagull at the shore. We danced in the surf together as a silver balloon, untethered, floated away in the sky above me.
Gratitude and respect to the incredible women who attended the spectacular Express Your Enlightenment (EYELos Angeles) last night. It was an honor to meet them, and to witness their transformation begin.
The EYE tour is a gathering of souls. Like-minded women who are quenching their thirst for life and love. Women just like you, who know deep in their hearts that they're meant to live a life they love, doing something beautiful and real. Women who understand that they are meant to help the world transform as they evolve into their highest, most inspired selves.
I'm sending you this special note because I know you live in the Ontario area. It's not too late for you to get tickets to Express Your Enlightenment Toronto, Lilian! I'm only coming to your city for one night: Saturday, January 9th.
As you know, early enrollment for the Ascendency Program is open. But you don't need to be an Ascendant to come to any of my EYE events! These are open to all women. And we have a few spots left. But just a few. You still have time to decide, but don't take too long. Lilian, are we holding your seat? I want to see you there.
This Saturday night could be the turning point you've been waiting for.
Express Your Enlightenment events happen every year in different cities around the world. I don't know the next time I'll be in Toronto. This is your chance. You don't want to miss it.
Click here to register now.
Love,
Eleven


I AM TEMPTED to check Instagram, but it's still early morning. I haven't even had a cup of tea yet. Morning is sacred creative time. As an artist, I must fight the urge to look at what other people are making before I make something myself. Create before you consume. How will I use my creativity this morning?
   I put the kettle on for tea. My phone makes a tinkling sound.
Define yourself. Declare your intention. #depthcharge
   I open a coconut, apricot, and chia granola bar. It's small and sticky, and I eat it in two bites. It's delicious. Why did I eat that sugary thing for breakfast? Organic cane sugar is the second ingredient. I should have made myself a slice of gluten-free toast with tahini. Now I have chia seeds stuck in my teeth.
   My newsletter is scheduled for 11:45, just in time for people's lunch breaks. I let my client list know that I have new blank cards ready in my Etsy shop. It's a dachshund set, four watercolour portraits of Millie, a dog with a blue aura and a goofy smile. I usually get a couple of orders when I send out a newsletter.
   This apartment is a sublet. I have it until the summer, when the tenant returns from Thailand. Then I have to find a new place. Even as a sublet, the rent here is steep, and every little bit from my Etsy shop helps. I'm not sure where I'll live this summer, but I'm trying not to worry. Things have a way of coming exactly when we need them. It just takes faith and trust.
   My kettle whistles. I open a brand-new box of ginger green tea and select one of the individually wrapped tea packets. I tear the top, but the paper of the tea bag is caught in the seal of the packet. I manage to rip the tea bag itself, and scatter tea leaves all over the floor. What's the matter with me?
   I stop and breathe. I have a problem with negative self-talk.
   Joy does not exist without gratitude.
   The wind blows outside, but the plastic sheeting on the living room window stays tight. The ice has formed feathery patterns on the window. I am grateful for the pretty ice, but I haven't been able to see outside since December. It's been a cold winter. My fingers are cracking, and I have red, sore, chapped lips from the dehydration.
   I pick another packet from the box. When I open this one, the string is long and knotted, with three tags stapled to it. The bag itself is empty. I pause to text Juliette.
Me: 
Going to meet Nana Boondahl and Sophia now!
Juliette:
Ooh good have fun
Me:
Thank you SO MUCH!!
   What will I say when I meet Nana Boondahl in person? I open a third packet of tea. This one looks normal, so I put it in my white-and-silver Live What You Love mug. I douse the bag with cold water first, to protect the flavonoids of the green tea leaves, and then pour over the hot water.
Juliette: 
You're welcome
Me:
Things have a way of coming exactly when we need them!
   Out of curiosity, I carefully open another packet from the box. This one contains a completely unsealed tea bag, with no string or staple. Half the loose tea is out of the bag, and this spills onto the counter when I open the packet. Why is this happening? What does it mean? There's a new moon tonight. Maybe it's in a weird planet? I look it up on my Astrofy app. Capricorn? That makes no sense at all. I check www.ismercuryinretrograde.com and the answer is yes. It doesn't go direct until January 25. Oh, great.
   I place the latest staple-free, string-free tea bag on the counter on top of the spilled leaves. I arrange the knotted stringy one next to it, looping the strings and tags into an S-shape. I raise my phone over the arrangement and take a pic.
@LilianQuick> What the?! Help me, @EssenceTea!
#teafail #mercuryinretrograde
   I pull on leggings and a long grey sweater that covers my butt and thighs. It's comfy and warm. I hope it doesn't look sloppy. I stop myself. Live the way you love to feel. I want to feel comfortable in my own skin. I feel warm. I feel warm and comfortable as myself today. One of the best things about turning forty? I don't care what other people think. Finally, I can just be myself.
Juliette:
xo
Me:
I need new clothes!
Me:
can you go shopping with me next week?!
   Nana Boondahl is Canada's second most famous writer, after Margaret Atwood. Her poems are on every high school and college curriculum in the country. She's also the creator of Luze. This is why I love her so much: she's a successful artist, and she's a successful businesswoman. She's actually one of the only women billionaires in the world who earned her fortune without a husband or an inheritance.
   Luze is a skin-correcting balm that blends with every skin tone, reduces pore size, and smooths uneven colouration. It's still an iconic beauty item after twenty years on the market. Every woman keeps a tube of Luze in her cosmetic case, guaranteed.
   But truly, Nana Boondahl is a poet. I keep her most recent collection, Trees, Where the Rain Left Off, on my bedside table. Her work is so poignant and lyrical. "Your Nature" is the poem I'm always quoting, though. It's an old one, a classic. Everyone reads it in high school English class. I've almost memorized it.
   Taste the V-shape of your life, it starts.
   I love it. I mean, I don't know what she means by the V-shape, but I also know it, deep down inside myself. There's something in my gut that justresponds when I read that. I know it intensely, in a way that can't be put into language. She uses such simple words to make that feeling happen – I mean, V-shape? What is that? Nana Boondahl has a rare and brilliant mind. She's a national treasure. She must be in her seventies by now, but you can't really tell how old she is by looking at her. Her skin is flawless and unwrinkled.
   Nana Boondahl has commissioned me to paint a portrait of her greyhound.
   Juliette made the connection for me. Juliette knows everyone. Her site, purejuliette.com, is one of the top lifestyle design blogs in the world. She just designed an exclusive line of dishware for the Hudson's Bay Company. Juliette showed Nana Boondahl my website and some of my pet aura portraits, and apparently, she was impressed by what she saw. I'll never forget the day my phone rang and the voice on the other line said, "Hello, this is Nana Boondahl." That's all she said, at first. Like she wanted to wait a beat to give her name time to land and settle in my ears. Who makes phone calls anymore without texting first?
Me:
Thank you *again* so much for connecting us! I am full of great fight!
Me:
great fight
Me:
I mean great fight
Me:
omg autocorrect
Me:
GRATITUDE
Me:
ok wish me luck I'm almost out the door!
   Live the way you love to feel. I switch my phone camera to selfie mode and snap a picture. My forehead looks extra big. I delete the pic right away. I just wanted to see.
Me:
Hi Yumi. Just confirming that I'll be at the studio at 9. Thanks!
Yumi:
<3
   I forgot to charge my phone last night, and now it only has 30 percent juice left. I plug it in to get some last-minute charge before I go. I pack a sixteen-by-twenty sketchbook and my tin of drawing pencils. I open the tin to see if my pencil sharpener is in there. It is not.
   I usually work from home, but my sublet is far too small to have Nana Boondahl meet me here – it would look unprofessional. Yumi lets me use their studio when I have appointments, for a small rental fee. I can't afford to rent a studio of my own, obviously. I can hardly afford my sublet. So I have gratitude for this arrangement. Yumi's a night owl and usually sews past midnight, but the studio is empty in the morning.
   I find my pencil sharpener in my desk drawer, along with a soft eraser I know I'll need. My phone blurts.
@EssenceTea> Oh no @LilianQuick! Our apologies.
We're sending you a complimentary tea sampler. DM us for details.
   This is why I love Twitter!
   I pull on my Sorels, my heavy parka, and my red plaid earflap hat. I wrap an oversized buffalo plaid scarf around my neck three times. I am hoping for a Twin Peaks look: retro and lumberjane at the same time. I'm overheating. I feel dizzy, choked by my scarf. My stomach turns. I need fresh air. But as soon as I go outside, the cold air is going to hurt my face. I slather cocoa butter on my lips and hands to protect them, slip on fleece mittens, and brace myself. I hate winter. No! Replace that thought with something positive: I'm going to meet Nana Boondahl and her dog. On my way out, I take off a mitten and try a selfie again. My clothes look cute and hygge, but my face looks lopsided and I have bags under my eyes. I delete the pic.
   The street outside is frozen and still, the light lemony white. It's so cold, it feels as though the air has had the wind knocked out of it. It's hard to breathe. My phone buzzes in my mitten.
Fleurje:
Agh! Crap. Crazy day Lilian. So sorry I 4got our phone date yesterday. Can u try me tonight or tomorrow early aft?
Fleurje:
It's been crazy busy. Weekdays are still flex - or there's next Monday. Would love 2 see u
Fleurje:
ps sorry my messages r so long! I'm on my iPad and the screen is bigger
Me:
It's ok! Yes try me tonight!
Me:
no wait I forgot it's Eleven tonight! Can you come?
Fleurje:
Maybe! What's at 11?
Me:
Eleven Novak
Fleurje:
is she self-help?
Me:
no! feminine leadership
Me:
www.elevennovak.com
Fleurje:
(…)
Me:
lmk if you can come
Fleurje:
(…)
   Yumi stands at the door to the studio, their face red and cold. A delicate light-brown stubble sparkles over their cheeks in the morning light. How do they have such perfect, poreless skin, when they stay up so late every night, drinking nothing but alcohol and caffeine? It must be good genes. Or maybe Luze. Though I doubt it, because they are such a natural beauty they don't have to wear any makeup. Today they wear a black motorcycle jacket zipped all the way to the neck, with a grey cashmere scarf stuffed in. They clutch a paper cup of coffee from Rupert's Roastery. I don't drink coffee – it raises the body's pH, and I try to keep mine neutral. The steam swirls up and out of the cup in a gorgeous twist. There's nothing like the look of a hot cup of coffee on a cold day.
   "Nana Boondahl is coming today with her greyhound," I say. "Wish me luck. I'm a nervous wreck."
   "You don't need luck," they say. "You're a genius."
   I let out an awkward laugh. Yumi says these things to me, and I never know how to respond. "Where are you coming from?"
   "Long night," they say. "There was a thing in the Distillery, and then I worked here all night. I'm going home to sleep now."
   "What's the dog's name?" Yumi asks.
   "Sophia," I say.
   "I love greyhounds," they say. "So calm."
   Yumi isn't wearing any gloves, and their fingers look white. It's so cold, it hurts my eyes to see the exposed skin. Yumi is a study in contrasts: that soft cashmere scarf wrapped around their neck, those tough bare hands gripping the paper cup.
   "Your poor hands!" I say. I take the key. "Why don't you make yourself a pair of mittens?"
"It was a sake tasting event last night," Yumi says. Their breath is a white puff. They have such a nice mouth shape, with a defined cupid's bow on their top lip. Even with lip liner, I couldn't make that happen to my mouth. "I think I love sake. Does that make me a cliché?"
   "Sake is objectively delicious," I say. "I think you're safe."
   They hand me a brown paper shopping bag. "This is for you."
   I open the handles with my mittened hands and peer in. Pale-blue cashmere.
   "I found it in the pile, and it's perfect as is. It would be a shame to cut it. I thought the blue would look nice with your eyes." 
   I met Yumi at one of Fleurje's real estate client-appreciation events. It took me some time to get used to the pronoun – the stubborn habit of language. But Yumi was patient with me whenever I messed up. I am grateful to them for showing me that reality is not what I think. Everything is not black and white. Yumi simply being Yumi is a gift, and it doesn't have to be gender-specific. I'm always inspired when I see them. They're truly living Eleven Novak's Sacred Ascendency Prayer: Let yourself want what you want. I wish I was more like them.
   We're so different from each other. For instance, they work best at night, I work best in the morning. They drink coffee and alcohol, and I avoid all acidifying food and drink. I hate the cold, and they complain about the heat in summer. There I go, trying to make my reality binary again! I always want things to be one way or the other. I have to keep working on this.
   What would Yumi think about the Ascendency Prayer? Should I invite them to come with me to see Eleven tonight? Probably not, because it's about feminine empowerment. This makes me sad: Yumi is excluded from men's groups and women's groups. I almost ask them how they feel about this, but when I look into their eyes, my words waver, and I have to look away. Why do I feel so flustered around them? I thank them for the gift, push the key into the lock, and open the door.
   "You'll need the space heater today," they say before they leave. "Last night was freezing, and it isn't much better this morning. Stay warm." Yumi is so nice to me!
   It's cold inside the studio. Piles of merino and cashmere slouch around the floor, organized roughly by colour. Yumi is a talented picker – they go to warehouses every week to buy used sweaters by the pound, and Yumi has a knack for finding gems. Then they come back to their studio and sort these used sweaters into piles according to usability. They cut and discard any stained, pilled, or moth-eaten parts. Then they re-sort according to colour. Yumi designs new sweaters with these old materials, and measures, cuts, and serges together the old knits into new pieces. Since they were featured on the Arts and Makers Network, Yumi and their designs are famous now. Every sweater is one of a kind, and runs from three hundred to nine hundred dollars, depending on the design and the quality of the used wool. I could never afford to buy one of Yumi's pieces. One sweater basically equals a month of my rent.
   I pull my mittens off, check my phone battery (22 percent), and hang my parka on the coat rack by the door. I move Yumi's serger, a block of plastic and chrome threaded with four tall spools of black thread, to make space on the wooden table for my sketchbook. The piles of wool will just have to stay where they are for now. Maybe they'll insulate the place against the draft.
   My upholstered dog-model cushion is right where I left it on the floor, with three throw pillows. I plump up the pillows and arrange them in an inviting triangle on top of the cushion, and set a heart-shaped peanut butter cookie in the centre, freshly baked by the Caninery.
   There's a note tucked in the bag, written in sepia ink in Yumi's beautiful block lettering: FOR LILIAN, FROM YUMI. They drew a handful of six-pointed asterisks all around the letters.
   The sweater Yumi gave me is a V-neck, and it's a pretty blue shade. It's a generous medium, so it looks like it will fit me. I arrange it nicely on top of the brown paper shopping bag to show off the V-neck and I place one sleeve carefully askew. I snap a pic. The folds create curvy shadows. I use the Clarendon filter to amp up the blue.
@LilianQuick> @ReKnits thank you Yumi! Love my
new cashmere!
   A small black cube – the space heater – squats under the table. I move it next to the chaise lounge and plug it into a bare, scary-looking outlet that's missing a cover, and I turn it on. It whirrs with a fierce sound. I rest my hand on the radiator just to see. It's warm. The radiator looks old and is probably original to the building. It's covered in thick coats of white paint, chipped and uneven in places. I snap a pic, and try to focus and go macro to get the texture. There are years in those layers. If paint could talk!
   I check my Instagram feed quickly. Seven people liked the pic of my tea bag fiasco from earlier this morning (I double-posted it on both Twitter and Instagram), and one person just liked the sweater pic. I don't recognize the handles of the likers. I take a studio selfie, angling the camera so the warehouse windows show behind me. My cheeks are red from the cold. I look bohemian and cute. I take a minute to update my profile pic. I don't want to seem narcissistic, but it's important to stay current.
   I slide my phone into the drawer of the table, to keep myself away from distraction once Nana Boondahl and Sophia arrive.
   It costs fifty dollars to go to Eleven's EYEToronto event. But when Nana Boondahl gives me her deposit today, I'll have enough to pay for a ticket. I hope they haven't sold out already!
***
Eleven Novak is my cousin. Her given name is Florence, and I haven't seen her in twenty years. When I was a kid, I spent every July and August visiting her – and her parents, Aunt Rosie and Uncle Jimmy – in Evansville, Indiana. Our mothers are sisters. When I was a baby, my family lived in Indiana too. My memories of Fort Wayne are filmy, but I can remember a few things: yellow-green light coming through tree branches, a brown rug with long tufts that I liked to comb with my fingers. When I was three years old, my father became a PhD candidate in philosophy at the University of Toronto, and my parents moved us to Ontario.
   We spent our summers in Evansville. Aunt Rosie and Uncle Jimmy lived in a three-storey blue-and-white house with balconies on every floor. A large pot of red geraniums stood next to the mailbox at the end of the driveway, and two flags hung from angled poles on either side of the front porch. I loved the way the bright white stars popped against the navy blue. I grew up thinking that because I was half American, I had an advantage over everyone at home.
   Sometimes Aunt Rosie would drive Florence and me to the store for candy, barrettes, and Vanilla Coke. We practised our made-up dance routines on the shiny floors, leaping up and down the aisles to Cyndi Lauper. The store would be full of fourth of July paraphernalia, and I wanted to buy it all: the window banners and swags, starred toothpicks, and red-white-and-blue flip-flops. I liked to think that America was mine too, even though I was only there a couple of months out of the year. I bought stars-and-stripes stickers and brought them home. I stuck them on my school notebooks to keep the summer alive as long as I could. The flags said, You are fun, exciting, and powerful!
   This was back in the eighties, obviously. Canada has Drake and Bieber now, but back then, we only had Céline Dion and Corey Hart.
Dear FIRST NAME,
Happy New Year! I know, it's been a long time since I've written.
I'm sorry! Life has been VERY busy here at Quick+Friday.
I've been working on several special commissions for the holidays, including this portrait of Maya, an Aussie shepherd from Colorado. And look at these two calico cats (they're twin sisters)! I also had a great time making this note card package – a set of four different designs, each featuring this very cute dachshund named Millie!
Please click here to see my full gallery, finally updated with my recent work! Whew!
The holiday rush has calmed down, so I have two or three sittings available this month for your fur baby.
Make your appointment now! Don't miss out!
Best wishes,
Lilian
---
Radiant Shimmering Light is available now in all good bookshops, on the Text website (free postage) and as an ebook.
FRIENDS OF THE CHILLER
SUBSCRIBE TO TEXT'S NEWSLETTER