February Giveaway and New Releases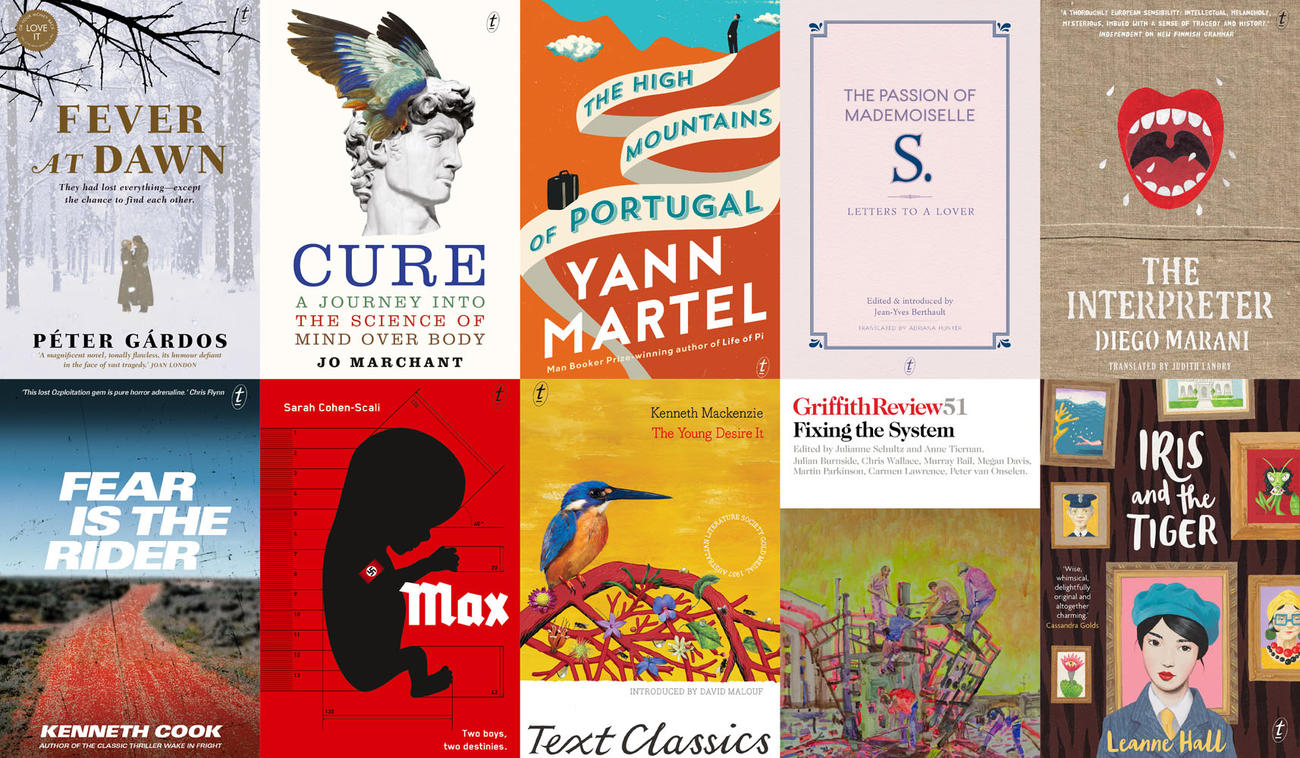 New books in translation, mind over matter, Australian classics old and new, and brilliant new kids fiction.
We're giving away a copy of each of our new books in February!
Just tell us why you'd like any of these books in the comments section on Text's Facebook page (one book per person only).
Competition is open to AU/NZ residents only and entries close 10am AEST Monday 1 February. Winners will be notified on Facebook by 5pm AEST Monday 1 February.
A new book by Yann Martel—author of the international bestselling Life of Pi—is certainly a cause for celebration. In The High Mountains of Portugal, Martel turns his amazing storytelling ability to another fresh and fascinating story. You can read an excerpt here in which he describes, with wonderful wit and imagination, a young man's first experience of driving a motorcar in Portugal more than one hundred years ago. Tomás's story is interwoven with two other stories that span a century from Ottawa to Oklahoma, through great love to great loss.
We have no fewer than four new books in translation out this month: Fever at Dawn (Hungarian), The Interpreter (Italian), The Passion of Mademoiselle S. (French) and Max (French). Fever at Dawn is a sublime novel based on the post-war experiences of the authors' parents. After surviving the Belsen concentration camp Miklós is determined to create a life filled with love. Despite being diagnosed with terminal tuberculosis, he embarks on a journey to find a wife. Watch Péter Gárdos talk about his journey from discovering his parents' letters to writing this beautiful story. We have a love-it-or-your-money-back guarantee on this book—don't miss it!
The Interpreter is Diego Marani's third book in the trilogy that explores language and identity, following New Finnish Grammar and The Last of the Vostyachs. With his usual comic and subversive style, he asks what it means to communicate and what happens when you can no longer be understood. If you love language and the absurd, you will love Marani.
Our third book in translation is a deeply erotic tale of love and obsession set in Paris in the 1920s. The Passion of Mademoiselle S. is the letters of Simone to her secret lover—a married and respected man. Jean-Yves Berthault discovered the letters in a dusty cellar and prepared and researched for two years before bringing them to publication. Simone's voracious appetite for the erotic is poured into these illicit letters and reveals an exceptional woman whose voice still resonates today.
And our final book in translation is the extraordinary Max. Max is a child of Hitler's Lebensborn program, born to be the perfect Aryan. And he starts his story—from within the womb—with every intention of being just that. But when Max meets Lukas, a young Polish boy who rebels against the Nazi system, cracks starts to appear in Max's convictions. This is a brilliant exploration of the devastating desire to manipulate human behaviour and the inability to control the individual spirit. Winner of several awards, including the prestigious Prix Sorcières, this is a powerful novel for young adults and adults alike.
Our extraordinary non-fiction title this month is Cure: A Journey into the Science of Mind over Body. Jo Marchant, award-winning science writer, travels the world to meet the physicians, patients and researchers on the cutting edge of a new world of medicine. Scientists from a range of fields have been uncovering evidence that our thoughts, emotions, and beliefs can ease pain, heal wounds, fend off infection and heart disease, even slow the progression of AIDS and some cancers. This is absolutely fascinating reading that will make you rethink your ability to improve your own health. Read a feature in the Boston Globe.
And talking of healing, the new Griffith Review 51: Fixing the System examines the health of Australia's political and social systems, which many commentators consider hopelessly broken. Contributors including Carmen Lawrence, Clare Wright, Peter Van Onselen, Paul Ham, Gabrielle Carey, Murray Bail and many more consider what needs to be done to revive the lucky country. If you're in Sydney, check out this event with editor Julianne Schultz, which will explore the issues at stake.
One of the great things about publishing the Text Classics has been the opportunity to discover previously unpublished books by wonderful Australian authors—Elizabeth Harrower's In Certain Circles for one. This month we're publishing a previously unpublished novel by Kenneth Cook, author of the brilliant and harrowing Wake in Fright. Fear Is the Rider is another tale of the outback, filled with horror and menace. A young man traverses the desert on his way to Adelaide from Sydney. Suddenly he is flagged down by a distraught young woman who claims she has just been attacked by a terrifying creature. Part Wolf Creek, part Duel, Fear Is the Rider is a nail-biting chase into the outback that will have you on the edge of your seat.
Speaking of classics, a new format of Kenneth Mackenzie's The Young Desire It is also out this month at the fantastic Text Classics price of $12.95. Now there is no reason not to add this to your collection. The Young Desire It is a striking and assured coming-of-age novel set in Western  Australia in the early twentieth century. It won the Australian Literature Society Gold Medal, and comes with an introduction by David Malouf. Read the introduction, printed in the Australian.
And finally, the smart and hugely talented Leanne Hall has written her third novel, this time for younger readers. Iris and the Tiger is a charming adventure story that takes young Australian Iris on a journey to visit her great-aunt Ursula in Spain. While Iris's mission is to win Aunt Ursula's estate for her scheming parents, she starts to feel that everything is not quite as it seems. Filled with surrealist magic, friendship and adventure, this is a delightful story for readers aged 9+. Read an interview with Leanne on the Text blog or download teaching notes here.

Get on over to Facebook now and put your bid in for one of these great reads.
And, because we have two books based on love letters this month—Fever at Dawn and The Passion of Mademoiselle S.— we've started a love-letter competition. Don't miss your chance to win a romantic dinner. Find all the details here.
FRIENDS OF THE CHILLER
SUBSCRIBE TO TEXT'S NEWSLETTER