Alannah Hunt on the Boundless Indigenous Writing Mentorship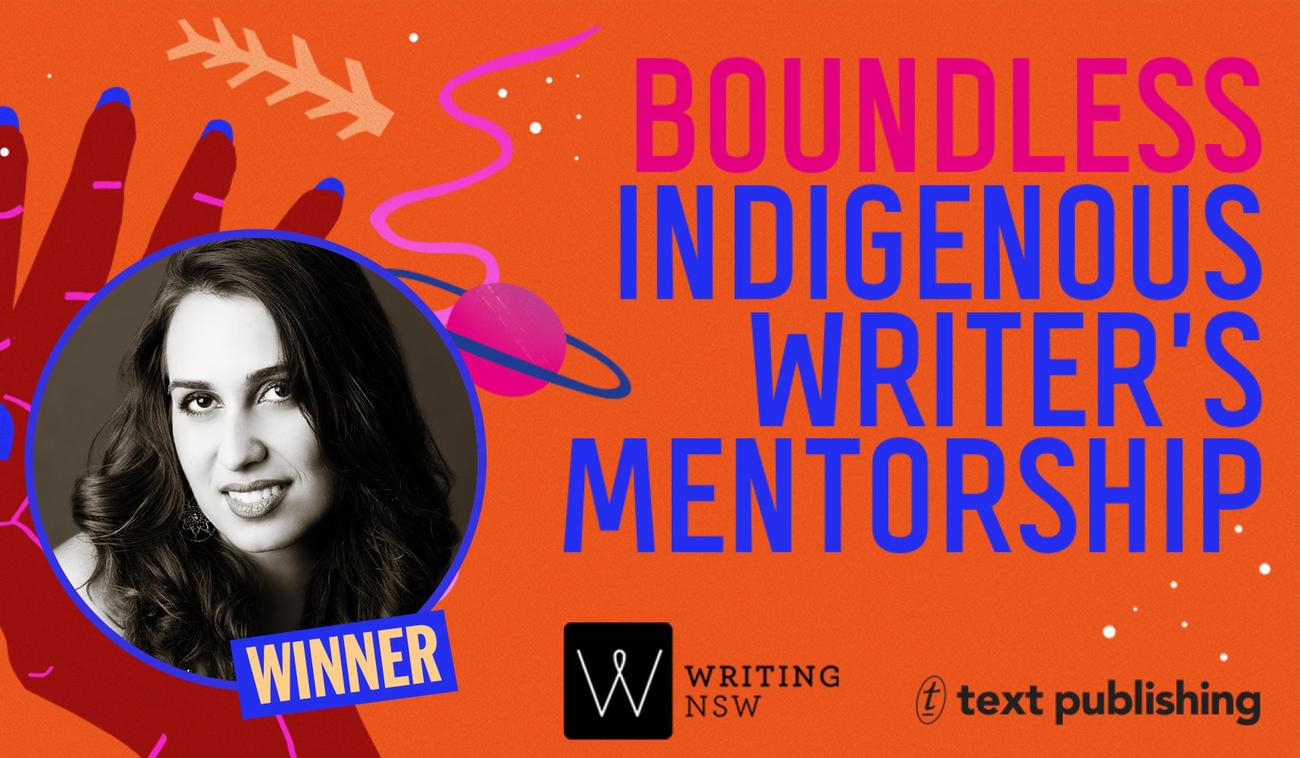 With applications for the 2020 Boundless Indigenous Writer's Mentorship soon to close, we asked inaugural winner Allanah Hunt about her experience as the 2019 recipient...
When I was lucky enough to receive the Boundless Mentorship (generously sponsored by Text and Writing NSW), I was beyond ecstatic. The chance to have Tara June Winch mentor me and help me improve my manuscript, Forever and Ever? It was definitely a dream come true. What I didn't realise at the time, though, was how the mentorship wasn't only going to improve my immediate manuscript, but my writing skills overall.
From the beginning, Tara was generous with her time and her ideas. I'd send her the latest version of my manuscript, she'd read it, we would have a Skype discussion on it sometimes once a month – or week or more, depending on what the manuscript (and I!) needed at the time – before we would repeat the process over again with the next draft. We would talk about what was working in the manuscript and what was missing, throw around ideas, discuss why I'd written characters certain ways, question whether the style I used in parts worked or not – the list went on and on and on.
It got me thinking about my work more deeply than I ever had before, sometimes discovering the underlying reasons why I made certain choices to make my point or realising sometimes my point had long missed the mark! That would be when Tara and I would go over a scene or chapter, working out ways to rewrite it. I cannot count the amount of times I re-wrote the second chapter in a new point-of-view, trying a letter format, writing from in the past, writing from in the future – again, the list goes on and on! However, Tara showed me how I had to persevere until I got it just right, and those chapters felt like they added to the ultimate purpose of the story. It was a wonderful feeling when I succeeded in getting a chapter to click into place and make the overall jigsaw puzzle of my novel that bit clearer.
I also removed the pieces that were jagged at the edges and blurring the picture. If something wasn't serving the ultimate purpose of the story, what was the point of that scene? Tara got me thinking about that a lot. Was this chapter serving my story, making the novel better, getting readers to discover a different, essential side of an essential character? Or was it just filler? These were questions that, after sessions with Tara, I found myself beginning to understand and then answer.
I also started to understand more about myself as a writer – what tended to be my weaknesses, what tended to be my strengths. After this mentorship, I feel like I couldn't have improved if I didn't know what I was doing wrong as much as what I was doing right.
You need confidence to tell your story. That was the other big takeaway from this mentorship for me: confidence to tell a story that was important to me, to get to share a part of what I am and be passionate for people to hear it. The Boundless mentorship helped develop that confidence in me.
In the end, there are a lot of parts of me. I'm Aboriginal, I'm a daughter, I'm a sister, I'm a friend, I'm an adoring fan of the MCU, I'm a writer and I have a story I want to share through my manuscript. I hope to connect to readers about contemporary issues like racism, teenage pregnancy, depression and anxiety and hopefully make people not feel so alone while getting others to think. Some may enjoy listening, some may not, but this mentorship has helped me tell that story to the best of my ability and, hopefully, tell many more stories to come.


Entries to the 2020 Boundless Indigenous Mentorship Program close midnight (AEST) Monday 25 November 2019.
For more details and submission guidelines, see the Writing NSW website.



FRIENDS OF THE CHILLER
SUBSCRIBE TO TEXT'S NEWSLETTER