What Text wants (and will give) for Christmas 2013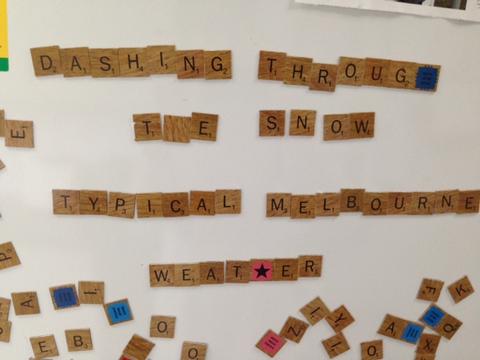 You can keep your socks, you can keep your hampers*, you can keep your generic re-gifted toiletry packs: all we want for Christmas is books, the bigger the better. Here are some of the books Text staff are hoping to unwrap on 25 December, and the books they'll be giving to friends and loved ones.
*Actually, we'll take the hampers.
David Winter, Editor
This Christmas I'll be giving Jess Walters' Beautiful Ruins and Donna Tartt's giant The Goldfinch. Cricket tragics receive Gideon Haigh's latest, Uncertain Corridors. If I raid the Text stock room, my loot bag will overflow with Ben Schott's wunderkabinet of a book, Schottenfreude. As a fan of sprechen die schweindeustch googletranslaten, I love it.
Over summer I plan to check out works I've not yet read by Gerald Murnane; stories by Lydia Davis and James Salter; and Tony Fletcher's All Hopped Up and Ready to Go: Music from the Streets of New York 1927–77, which is as long as its title. I'll also read more by my favourite short-story writer, Alice Munro.
Speaking of Nobel Prize winners: The Childhood of Jesus, by J. M. Coetzee. I heard him read from it at the Wheeler Centre—amazing. But, as with so many Text books, I've not yet got round to it. Others in this basket include Eimear McBride's A Girl Is a Half-formed Thing, David Vann's Goat Mountain and the excellent Cory Taylor's My Beautiful Enemy.
Jane Novak, Publicity Manager
Having just finished reading Richard Flanagan's new novel, The Narrow Road to the Deep North, I can think of a number of people who will enjoy it as much as I did. I'm also planning on giving copies of Elizabeth Harrower's The Watch Tower as gifts this year. There are so many people who have yet to discover this extraordinary Australian writer.
For myself, I'm thrilled about the return of the fat book! I hope to receive copies of Donna Tartt's The Goldfinch, Eleanor Catton's The Luminaries and Wally Lamb's We Are Water. That should see me through at least two weeks of floating around the pool on my summer holidays.
Emily Booth, Editorial Manager
I've been dropping hints to Santa about how much I want to read Donna Tartt's The Goldfinch. I'd love to unwrap Fiona McFarlane's The Night Guest. Anna Krien's Night Games has been on my wishlist for ages. And of course there's Paul Auster's Report from the Interior. I'd happily read Auster's shopping lists (although these are not slated for publication until next year).
As for what I'll be giving others: Hannah Kent's atmospheric Burial Rites and Graeme Simsion's delightful The Rosie Project. Clare Wright's brilliant The Forgotten Rebels of Eureka will be testing the seams of Christmas stockings, along with David Hunt's whimsical Girt. I'll probably end up giving others the books I want to receive—my family are great book sharers. It takes dedication to prise new books away from the kids, but after the eldest's tight grip loosens in sleep I'll be looking to reclaim that facsimile edition of Cole's Funny Little Picture Book. St Francis was right onto this when he tweeted: 'For it is in giving that we receive.'
Stephanie Speight, Publicist
As the newest kid on the Text block I still feel like I have a lot of catching up to do! So much wonderful backlist, so little time. I've only read one or two non-Text titles since I started here, though, so I'm looking forward to unwrapping my Christmas present from my bookseller parents with girly squeals of delight. I'm FINALLY going to read the book everyone's talking about, Divergent by Veronica Roth (and its sequels!), as well as new books by Beth Revis and Marie Lu. Squeals are appropriate when all the books you want are written for teenagers…Maybe I'll throw in a 'Totes amaze!', if they throw in Home by Beci Orpin.
And other people, right. Well I've got a mean-spirited Kris Kringle called a Stealing Santa for which I expect a couple of lovely yellow Text Classics (Elizabeth Harrower, Madeleine St John) will do the trick, or maybe the well-wrapped pleasure of Ben Schott's Schottenfreude. I have a cousin who might just be old enough to experience the joy that is Tim Hehir's Julius and the Watchmaker and Nanna, well, Nanna is definitely going to want the new Di Morrissey.
Michelle Calligaro, Digital Manager
At the top of my Christmas wish list is The Swan Book by Alexis Wright, her earlier novel Carpentaria being one of my all-time favourite Australian books. With a trip to Scotland to look forward to next year, I would also like this year's Commonwealth Book Prize-winning The Death of Bees by Lisa O'Donnell, and for the same reason, I'll get the new Iain Banks—Stonemouth—for my best friend and travelling partner. Mum is an easy pick—she loved Elena Ferrante's My Brilliant Friend—so I'll be putting book two in the Neapolitan series in the post for her, along with Tom Keneally's Shame and the Captives for dad. My busy sisters will possibly enjoy something a little lighter to read—Text favourites The Rosie Project and The Full Ridiculous should fit the bill. My bookshop-owning brother is a little harder to buy for, but I'm thinking of getting him something from the NYRB Classics list.
Alice Cottrell, Admin Coordinator
For Christmas this year I'd like all the big books I should have read and had an opinion on already. I'd like The Luminaries by Eleanor Catton, Barracuda by Christos Tsiolkas and The Narrow Road to the Deep North by Richard Flanagan. Then I can spend the Christmas holidays catching up, or at least arranging my new copies prominently on my bookshelf as a statement of intent. I also love a coffee table hardback, so I'd like artist David Shrigley's Brain Activity. I already own What The Hell Are You Doing? and it makes me laugh to the point of hyperventilation.
I'll be giving Text Classics to all my British friends back home so they can share my joy at discovering Australia's literary canon. My top picks will be the beautiful The Young Desire It, the scorchingly funny A Lifetime on Clouds and the remarkable The Watch Tower. My sports-mad brother will be receiving Paul McNamee's tennis memoir Game Changer, and my crime-fiction loving dad will receive Bitter Wash Road by Garry Disher. My wonderful great-aunt will be receiving Patricia Edgar's In Praise of Ageing, because I can't imagine anyone better suited to its message than an 88-year-old who attends kick-boxing classes.
Rachel Shepheard, Publicist
Christmas is in the air! Here at Text, we've decorated the Christmas tree with bubble wrap and bookmarks and we're all looking forward to wrapping up some wonderful books to give to our friends and family this year.
I'll be giving The Forgotten Rebels of Eureka by Clare Wright to every woman I know, including, but not limited to, my mum, my nanna, my sister, my aunty and all my closest friends. My brothers, the wannabe adventurers, will get On the Trail of Genghis Khan by Tim Cope, and my dad will receive Garry Disher's Bitter Wash Road. If there's any author that can get my dad reading it's Garry.
As for myself, I'll be leaving hints in the form of circled and annotated bookshop catalogues all over my house in the hope that SOMEONE buys me a copy of Dear Life by Alice Munro…and The People Smuggler by Robin de Crespigny…and maybe also All That Is by James Salter…plus The Tenth of December by George Saunders…and then (last one I promise) The Goldfinch by Donna Tartt. I don't think that's too much to ask.
Imogen Stubbs, Production Coordinator
Luckily everyone I know is as booky as me so they won't bat an eyelid at an array of rectangle-shaped presents under the tree. I'm thinking Eimear McBride's A Girl Is a Half-formed Thing for my friends, Margaret Drabble's The Pure Gold Baby for my nan, the first two books in the Neapolitan series by Elena Ferrante for mum, and I know my sister is keen to read John Safran's Murder in Mississippi. For all the amazing babies (and kids) in my life I'm going to gift them Amazing Babes, a picture book about inspiring women from around the world, and after lunch I think I'll bring out Schottenfreude for everyone to enjoy instead of terrible bon-bon jokes.
I'm hoping I've dropped enough hints that I'll be able to spend the holidays reading Jhumpa Lahiri's The Lowland, Dave Eggers' The Circle, Beci Orpin's Home and Martyn Thompson's Working Space.
Mandy Brett, Senior Editor
This year I'm giving everybody a copy of The Forgotten Rebels of Eureka. Read it, rant about it, hit somebody on the head with it…it's a bit like the family Christmas itself, except with a very handsome jacket. More importantly, it's a big mutha so people will feel like they're really getting something worthwhile—which they are. Dad's getting Garry Disher's Bitter Wash Road, too, because it's just not Christmas in our family without an unsolved sex crime. In return, I am hoping to receive booky surprises. It's been a busy 2013 and the recreational reading has taken a bit of a flogging. I'm relying on my loved ones to tempt my jaded palate with morsels of exotic literature, possibly including something by James Salter.
Jane Pearson, Senior Editor
This year my kids are in for some great treats. Meg Rosoff's Picture Me Gone for my daughter because we are both such fans of MR—and I know Picture Me Gone is wonderful because I read it before wrapping it up. Marie Lu's trilogy Legend, Prodigy, Champion for my youngest son because he can't get enough action and I can't give him Tim Hehir's fabulous time travel adventure Julius and the Watchmaker because I have already. And Lloyd Jones's Mister Pip for the grown-up one because it's one of my favourite novels.
Then there's Clare Wright's The Forgotten Rebels of Eureka for mum and Ben Schott's Schottenfreude for dad, and Richard Flanagan's The Narrow Road to the Deep North for my husband (this one might have to be secretly read first, too).
And for me? I'd like anything written by Janet Frame, whether I've read it before or not. After publishing In the Memorial Room this year and working on the Text Classics edition of Owls Do Cry, I just want more—January will be a Janet fest (I hope).
Rebecca Starford, Editor
Ah Christmas! The time of festive cheer and boozy Christmas parties. I'm hard to buy books for because, a) I work in publishing and people get paranoid about their choice of present, and b) my tastes are eclectic and sometimes downright strange. In my Santa-sack this year, I've got my fingers crossed for Jennifer Saunders' Bonkers (do yourself a favour and chuckle over this at lunchtime), Iain McCalman's Reef, and Val McDermid's latest Tony Hill crime novel, Cross and Burn. And afterwards, when I'm feeling afraid to go outside, I'll curl up on the couch with Fiona McFarlane's The Night Guest (and then get scared about tigers…)
For friends and family? Well, for the tennis fans it's Paul McNamee's revealing memoir, Game Changer, and Ben Schott's wonderful Schottenfreude for the word nerds (or just for me, actually). And for everyone else it will be the gorgeous b-format of The Dinner by Herman Koch, an absolute knockout thriller from the Dutch literary sensation. (Cate Blanchett has also recently announced she is directing the film adaption, swoon!)
Alaina Gougoulis, Editorial and Digital Publishing
I hope you like books, friends and family, because that's what you're getting: after seeing the crowds in the Bourke St Mall I am going no further for my Christmas shopping than the stock room ten feet from my desk. It's Paul McNamee's Game Changer for dad, Magnus Flyte's City of Lost Dreams for mum, and David Vann's Goat Mountain for friends, because nothing says Christmas like the Cormac McCarthyesque story of a brutally violent hunting trip littered with carcasses (deer and human) and biblical references. (And you thought I was a downer for giving copies of The Watch Tower last year.) I'll throw in copies of James Salter's All That Is, too, because that was my top (non-Text) read this year.
It seems like the hot books this year have all been supersized, but I'm limiting myself to one behemoth and it's going to be The Goldfinch by Donna Tartt. I'd also like Andrew Birkin's Jane & Serge, The Most of Nora Ephron, Sergio De La Pava's A Naked Singularity, Thomas Pynchon's Bleeding Edge, Renata Adler's Speedboat, J. M. Ledgard's Submergence, Adam Johnson's The Orphan Master's Son and Christopher Clark's The Sleepwalkers: How Europe Went to War in 1914. Ask and ye shall receive, right, Santa?
Shalini Kunahlan, Marketing Coordinator
This Christmas, I will be giving the nature nerd in my life a copy of Ernst Haeckl's glorious Art Forms in Nature. Special lady friends get a combination of sublime, gripping and rousing reads: My Brilliant Friend by Elena Ferrante, The Night Guest by Fiona McFarlane and The Forgotten Rebels of Eureka by Clare Wright. The couture lover gets the latest edition of Italian fashion bible mag, Collezioni, and the tennis nut a copy of Paul McNamee's Game Changer.
For my wish list: I would love Junot Diaz's The Brief Wondrous Life of Oscar Wao, Anna Krien's Night Games and anything by James Salter or Michael Chabon. I also have a two-foot high book stack on my bedside table calling my name that includes Elias Canetti's The Voices of Marrakesh, Hilary Mantel's A Place of Greater Safety, Peter Temple's Truth and The Broken Shore, and the second instalment in the Neapolitan series, Elena Ferrante's The Story of a New Name!
FRIENDS OF THE CHILLER
SUBSCRIBE TO TEXT'S NEWSLETTER