What's New in December?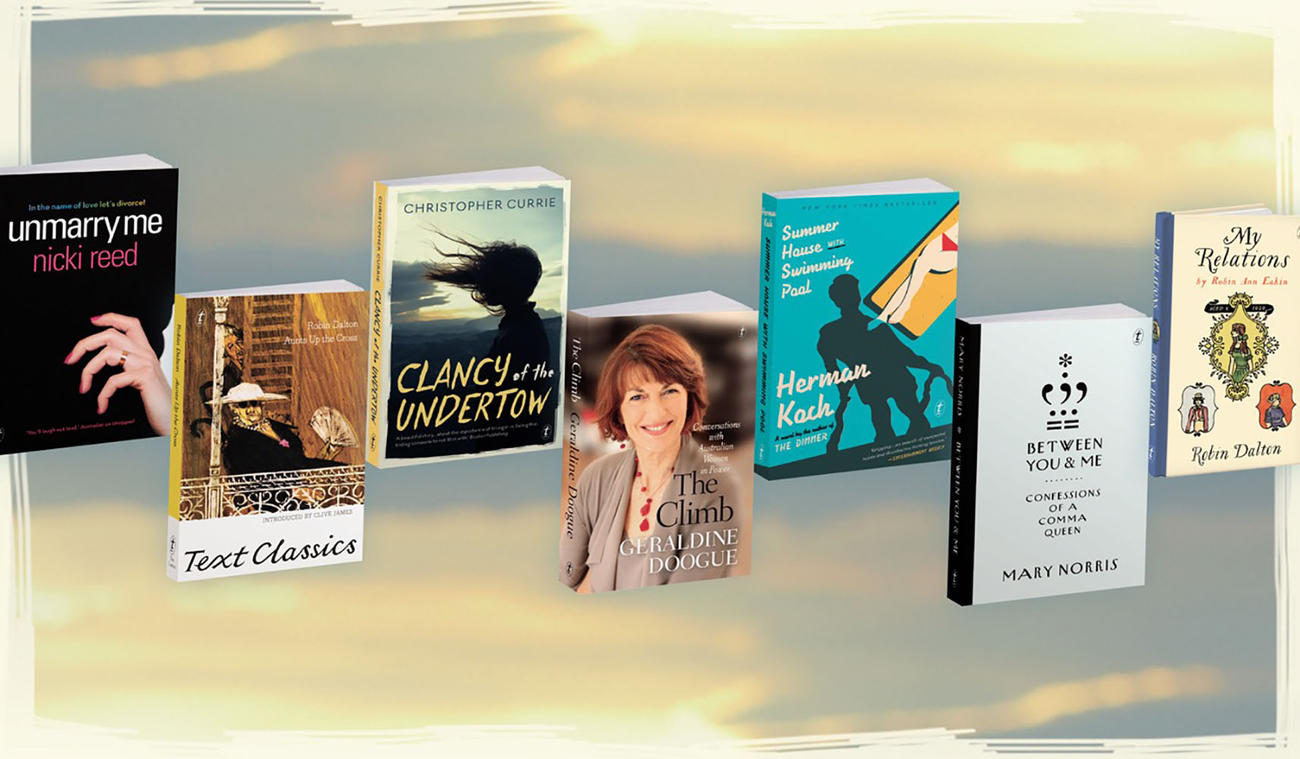 We're giving away a copy of each of our December releases!
Just tell us why you'd like any of these books in the comments section on Text's Facebook page (one book per person only).
Competition is open to AU/NZ residents only, entries close 10am AEST Monday 23 November. Winners will be notified on Facebook by 5pm AEST Monday 23 November.
* 
The weather is warming up, the festive season is upon us—it's impossible to ignore the wreaths and storefront displays popping up around the city—and today we publish our final collection of books for the year.

First up is Unmarry Me, the madcap romantic comedy from Nicki Reed, author of the equally exuberant Unzipped, which Toni Jordan described as 'hilarious, intelligent, snappy and sassy'. In Unmarry Me, Ruby takes up the cause of gay marriage on behalf of her sister Peta by telling her husband she wants a divorce. Thus begins the Unmarry Me campaign, including T-shirts, badges, TV appearances, a flash mob, a dead rat and public humiliation. A perfect summer-holiday read.
We have two new books by the irrepressible Robin Dalton: the fiftieth-anniversary edition of Aunts Up the Cross and the first edition of My Relations. Aunts Up the Cross is the story of Dalton's childhood in 1920s and '30s bohemian Kings Cross. With an introduction by Clive James and illustrations by Dinah Dryhurst, it's a perfect, warm and funny addition to the Text Classics series. Dalton wrote the delightful My Relations as a young child and it is now published for the first time in a beautiful hardback edition, with Robin's original drawings.
We are also publishing new editions of three recent stand-out titles—Summer House with Swimming Pool by Herman Koch; The Climb: Conversations with Australian Women in Power by Geraldine Doogue; and Between You & Me: Confessions of a Comma Queen by Mary Norris.
Featuring the razor-sharp humour and acute psychological insight that made The Dinner an international phenomenon, Summer House with Swimming Pool is another controversial, thought-provoking novel from Koch that weaves sex, celebrity and medical ethics in an addictive mix.
In The Climb, iconic journalist and television presenter Geraldine Doogue conducts a series of interviews with high-profile women, including Gai Waterhouse, Julie Bishop and Nancy Milne, to uncover what it means to be a woman in power in Australia today. A fascinating and insightful read for anyone interested in power and what it takes to get to the top.
For all the grammar lovers out there, Between You and Me: Confessions of a Comma Queen is released in a new edition just in time for author Mary Norris's Australian tour. Mary Norris is an institution at the New Yorker and if her remarkable videos are anything to go by, you shouldn't miss the chance to hear this delightfully droll grammarian in person.
And young-adult readers, like all of us in here, will surely fall in love with Clancy, the feisty teenage misfit in Chris Currie's new coming-of-age story, Clancy of the Undertow, set in small-town Queensland.
Happy December!
FRIENDS OF THE CHILLER
SUBSCRIBE TO TEXT'S NEWSLETTER