'Love Your Bookshop!' Ahead of National Bookshop Day, Text staff explain which bookshops they love most, and why.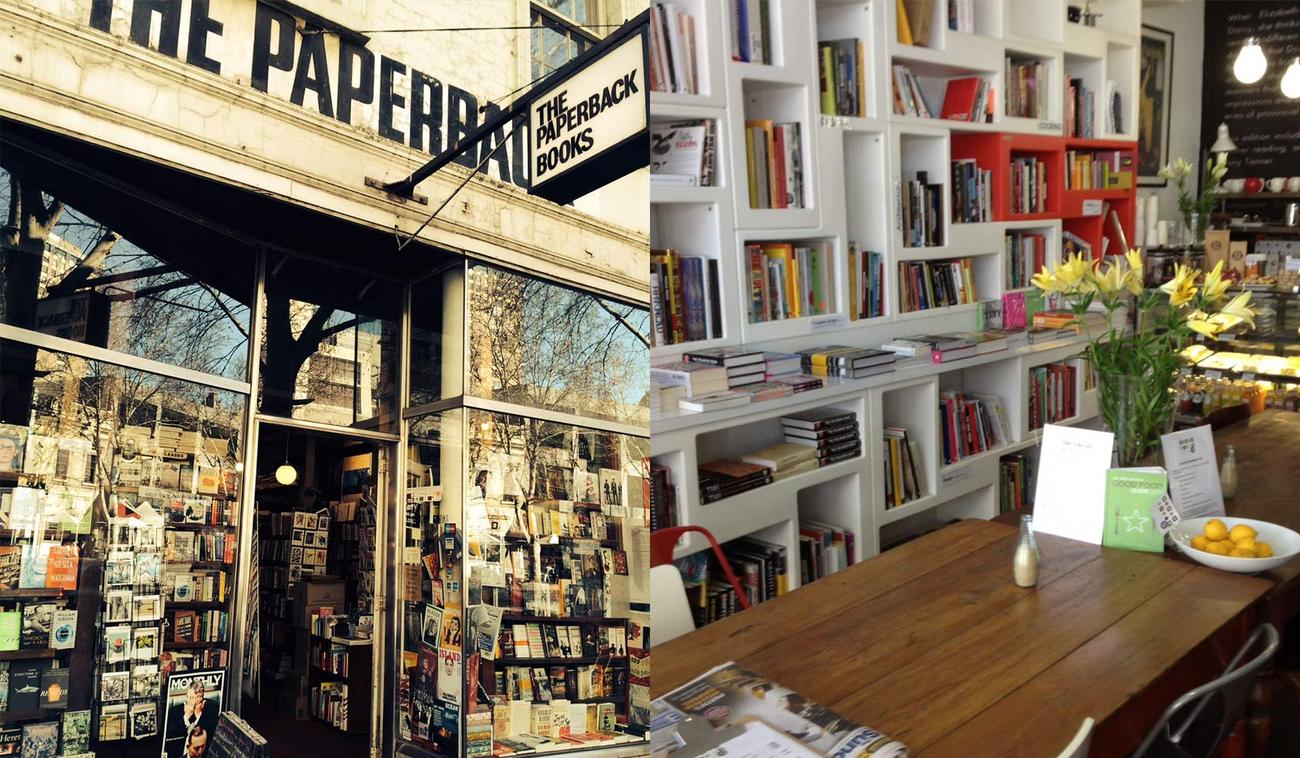 What's your favourite kind of bookshop? 
Do you like them to be expansive and exhaustive, or do you prefer the cramped and cosy? Even if you love your e-reader, there's nothing quite like a bricks-and-mortar bookshop to explore. 
This Saturday is National Bookshop Day, so what better way to celebrate than to go out and buy a book? 
That's what the Text team will be doing this weekend. Here are some of the bookshops they love to spend time in.
David Winter, Senior Editor
My favourite bookshop is actually two bookshops: in no particular order, Fullers Hobart and the Hobart Bookshop. These two stalwarts of the Tasmanian book scene are renowned for their decades of excellence and knowledgeable staff. The Hobart Bookshop, down at Salamanca, is cosy and eclectic; its kids, philosophy and secondhand sections always catch my eye.
Fullers, in the city, is massive: it fits in a cafe and lots of stationery alongside expansive shelves of fiction and locally published Tasmaniana (which, given the number of books in the field, could be called Tas-mania). Some Hobartians feel you have to pick a favourite from these two bookshops. But this town is big enough for the both of them, and any bookish visitors to the deep south should pay them a visit.
Stephanie Speight, Publicist
One of the many joys of a good bookshop, to me, is the feeling that everything doesn't quite fit into the space. I'm not sure I trust a bookshop buyer who can't resist the urge to have slightly more stock on hand than will actually fit on the shelves, because that's how you know they love what they do. My favourite bookshop definitely has this delightful problem—it's Fairfield Books here in Melbourne. Yes, my parents own it. Yes, I used to work there. Yes, it is the one that got driven into recently. I was told to write this even though I'm biased, and I do think it's truly the kind of bookshop where you know that if something is being recommended—in staff favourites, face-out display or even the window—it's been read and loved by someone who works there. If you follow Fairfield Books, or 'FB' to those in the know, on social media (posts usually by my mother, I know you were wondering), you can't help but be impressed by the commitment to the rigorous and varied product testing the cookbook section is subjected to, for example.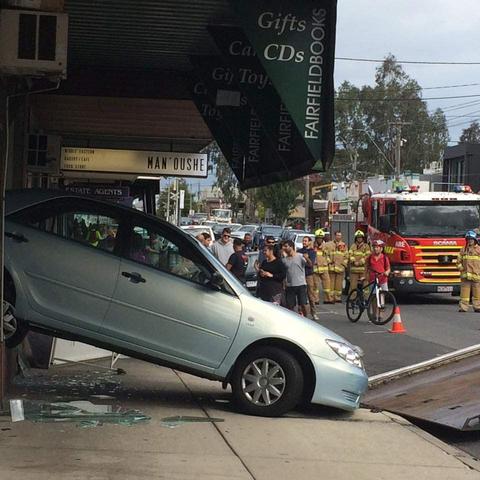 From greeting cards to Schleich animals to that book with the girl and the writing on the cover, I think it was blue or maybe orange...yeah, and I heard about it on the radio but don't know what station...Fairfield Books is just the place to find it. 
Kirsty Wilson, Sales and Marketing Director
Nearly twenty years ago I worked for Reader's Feast Bookstore—then an underground bookshop on the corner of Bourke and Swanston, and part of the Dymocks chain. It was a great, collegial place to work and I vividly remember all the customers and staff stopping to watch the TVs above the escalators as Kieran Perkins swam the 1500m at the 1996 Atlanta Games. 
Iconic Melbourne bookseller Mary Dalmau led the team then, as she does now, and visiting Reader's Feast today is like dropping in on the friends I knew when I was nineteen: Bernie, Rosie, Nicole and Donna are still serving customers and making excellent reading recommendations, though now in the more glamorous, historic environs of George's on Collins Street. It takes a certain kind of magic for a team to serve readers together that long, and I really admire the Reader's Feast work ethic and love of books.
There are so many excellent bookshops and booksellers I love visiting in Melbourne and other Australian towns and cities, but Reader's Feast remains a particular favourite of mine.
Shalini Kunahlan, Marketing Coordinator
My favourite is the charming indie Paperback Bookshop in Melbourne's CBD. It has been around since the early sixties, having witnessed fifty years of change from its elegant nook on the north end of Bourke Street. Helmed by the lovely Rosy Morton, Paperback is quite possibly one of the smallest bookshops in Melbourne. But it somehow manages to heave with all the books that you could possibly desire, including an excellent art-book section.
I work with booksellers on a regular basis, so I know what a feat it is to have a discerningly curated and balanced number of new and backlist releases within reach, especially when you're faced with limited space. Plus, it's open until late everyday: 10 p.m. on weeknights and 11.30 p.m. on weekends. So when that bookish hankering hits, after a warm bowl of pasta washed down with the best apple strudel in town at Pellegrini's next door, you certainly will not be disappointed.
Michelle Calligaro, Digital Manager
My favourite bookshops—yes, I must mention two—are all about family. When I first moved to Melbourne, Readings took me in off the streets, gave me some books to shelve and soon became my Melbourne family—a big, rambunctious, crazy mob of brilliant people who will always hold a special place in my heart.
And on a much smaller scale, Northside Books, my brother's shop in the heart of Northbridge, Western Australia, is a tiny oasis from the hustle and bustle of the world outside. James keeps an outstanding and thoughtfully curated collection of books in the arts, philosophy, history, architecture and fiction. And, while we may argue over many things, it is hard to beat him when it comes to his knowledge of great literature, though, of course, I do try! Northside is always one of my first stops on visits back west, where I can browse and banter and completely indulge in my favourite things.
Alice Cottrell, Rights and Admin
I'm extremely lucky to have Readings flagship store in Carlton as my local bookshop. They've got it all: a fantastic array of books, music and film; a great magazine selection; literary events and book launches; and dreamy, knowledgeable staff. Plus, you can nip across the road and browse your new purchases over a coffee and pastry at Brunetti.
I've also got to give a massive shout-out to Perimeter Books in Thornbury, which stocks a beautifully curated selection of art, design, photography and architecture titles.
Alice Lewinsky, Publishing Assistant
A short drive along the coast, down the end of Sorrento's main street is the beautiful bookshop and gallery, Antipodes Bookshop & Gallery. Sunlit and tranquil, Antipodes is a browser's heaven, with an ambience that can calm even the most harried of last-minute gift buyers (can you tell I'm speaking from experience?). The store's creative mix of art and books is a testament to the impeccable taste of owner Jane McAuliffe, and her team of knowledgeable and passionate staff. The carefully curated selection is well suited to locals and holidaymakers alike, with shelves that are brimming with everything from architecture and design folios to literary and commercial titles. Forget the beach, this is my coastal oasis.
Angus Tonkin, Digital Intern
You'll always find something interesting in a bookshop if you look long enough, and the good ones will always have a surprise in store, like in Clunes, where one insightful bookshop categorised Sherlock Holmes on the same shelf as erotica. For my favourite bookshop, however—with an honourable mention to Dymocks in Collins Street, Melbourne, for its spectacular entrance, sheer scale and cafe to boot—I have to go for Collins Booksellers in Bridge Mall, Ballarat.
It's a small selection, but always a fruitful one. And there's just something about a cramped bookshop that brings out the best in people. Murmurs of 'Excuse me' and 'Sorry' and 'Thanks' abound as everyone shuffles around and contorts to make way for others coming through. Unfortunately, the ABC Shop at the back will be no more, but I'm sure this gem will keep soldiering on, as its curation has always been thoughtful and varied. 
Jane Novak, Publicity Manager
I travel a lot interstate so have a lot of 'favourite' bookshops - one in every city as it happens. And because I've been on the road for the best part of 20 years, I've seen a lot of bookshops and bookshop owners come and go. So my shout out goes to Helen and the team at the Blues Point Bookshop. 
There are lots of other bookshops in Sydney, flagship stores and flashier looking stores, but for me the Blues Point Bookshop has everything I want. Tucked away in Lavendar Bay, it blends in perfectly with this beautiful part of North Sydney. I can never walk in without buying something and usually leave with an armload of books. Helen curates her stock thoughtfully and knows her customers well, and her recommendations always hit the mark. It's old fashioned in many ways, the stock isn't computerised and the shelves are heaving. But despite everything being in Helen's head, she knows exactly what she has and where to find it. 
It's a great place to browse, you can always find what you're looking for and plenty you weren't. Experience counts for a lot and the service is always excellent and never rushed or pushy. You feel welcome and comfortable, it's the perfect place to spend a lazy hour or two. Her customers love and trust her as this bookshop is a true gem.
FRIENDS OF THE CHILLER
SUBSCRIBE TO TEXT'S NEWSLETTER