Read Easter Differently this Year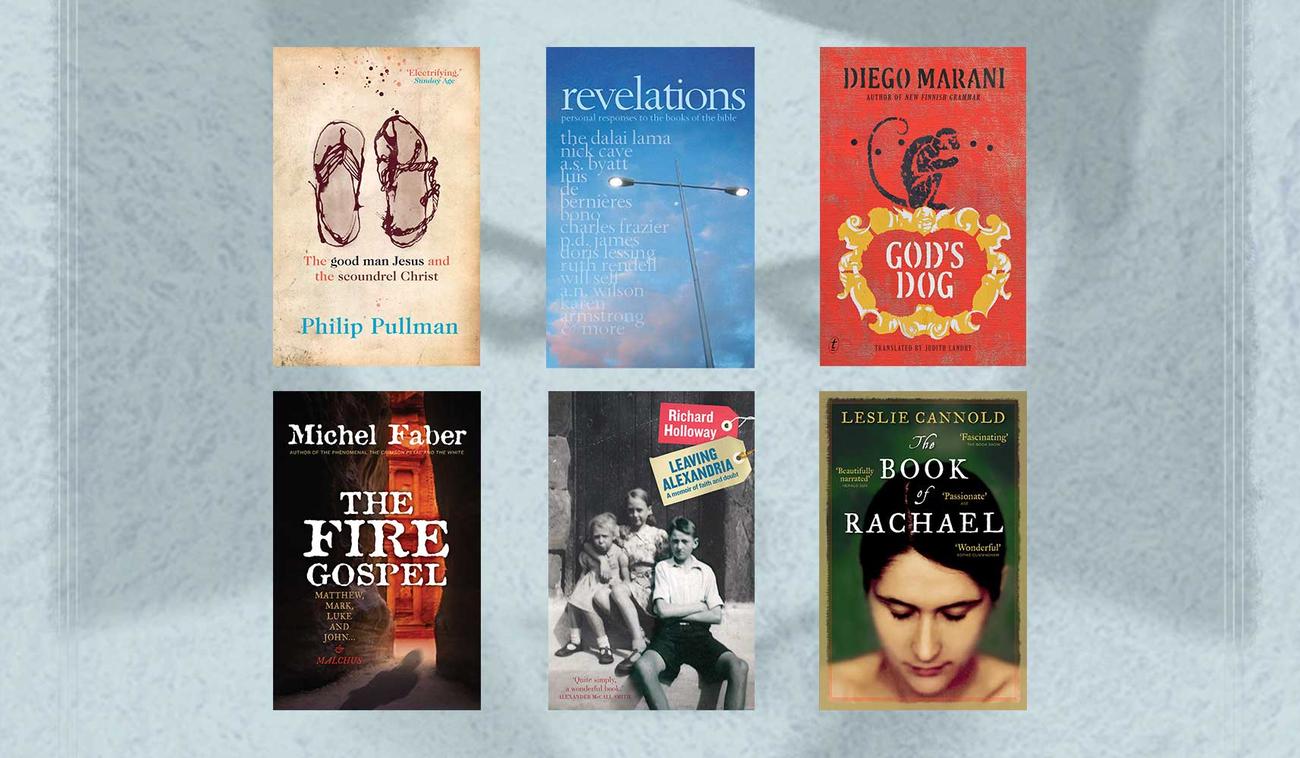 Think about faith in a different way this Easter, with these remarkable books from Text.
Easter is a time to reflect on faith and what it means in the twenty-first century. These books pick it up, turn it over and give it a good long shake. From the sincere to the absurd, these intriguing books, by some of the best storytellers in the business, reinvent, reimagine and reinterpret these age-old tales.
In The Good Man Jesus & The Scoundrel Christ, Philip Pullman reimagines the most influential story ever told. Charged with mystery, compassion and great power, it says something new about who Jesus was and why the charismatic person of a spontaneous, articulate man has captured the hearts and minds of so many. Right to the end the betrayal of Jesus retains the intensity and suspense of high drama. As does the identity of Jesus Christ.
'There is nothing disrespectful in this intriguing take on the Gospels. Pullman deftly reflects the essential dualism of the Christian philosophy by dividing the historical figure we know as Jesus Christ, into fictional twins.' Telegraph
Leslie Cannold puts the women of Nazareth centre stage in The Book of Rachael: the rebellious Rachael, consigned by her sex to a life of drudgery; Bindy, the crone who teaches her the skills of the healer; Shona, her sister, the victim of a harsh social code; and their mother, Miriame, a woman seemingly unable to love. When Rachael falls in love with her brother's dearest friend, the rebel Judah of Iscariot, it seems that at least one of the women of Nazareth may find happiness. Then a message comes from her brother in Jerusalem. And the events begin to unfold that will change not just Rachael's life, but the world—forever.
'This retelling of the Jesus story will resonate with women of faith who wish to forge their own path and stay true to their values...This is a good pick for readers who enjoyed Anita Diamant's The Red Tent or Alice Hoffman's The Dovekeepers.' Library Journal
An ambitious scholar, Theo Griepenkerl, discovers a fifth gospel in Michel Faber's The Fire Gospel—with an all-too-frank eyewitness account of the Crucifixion. It could have incendiary implications for the faith of millions. But in the meantime Theo has a publishing sensation to promote in this masterful combination of theological satire and book-world farce by the bestselling author of The Crimson Petal and the White. The Fire Gospel is a celebration of human fallibility that will delight Faber fans old and new.
'This highly entertaining recasting of a Christian myth is witty and intelligent...Highly recommended.' Canberra Times
Diego Marani takes a swipe at institutionalised religion in his futuristic thriller God's Dog. On the eve of the Pope's canonisation, Domingo Salazar, Vatican secret agent, is hellbent on defeating the Angels of Death, pro-abortion and pro-euthanasia dissidents who are undermining the Pope's authority. But as Salazar closes in, the tables are dramatically turned and suddenly it is Salazar who is under suspicion of sabotaging the administration. His concept for a globalised religion called Bible-Koranism has upset the Church and he is in grave danger, as is the infamous Swahili-speaking chimpanzee Django.
'God's Dog is a rare kind of literary detective novel: thrilling, hard-boiled and action-packed, with beautiful imagery and compelling insights into religion, science and philosophy.' Readings
On a more sincere note, Revelations, introduced by Richard Holloway, is an extraordinary collection of essays by thirty-four of the most celebrated writers and thinkers of our time, in which they respond in personal and heartfelt ways to specific books of the bible. The contributors include Peter Ackroyd, Karen Armstrong, Louis de Bernieres, Bono, A. S. Byatt, Thomas Cahill, Nick Cave, the Dalai Lama, E. L. Doctorow, Charles Frazier, David Grossman, P. D. James, Ruth Rendell, Will Self, Joanna Trollope, Fay Weldon and A. N. Wilson.
'Revelations offers a series of thought-provoking essays, rigorously argued in a multitude of voices...Invigorating.' Daily Mail
And in his fascinating memoir, Leaving Alexandria, Richard Holloway charts his journey as a young priest working in the slums of Glasgow, to his controversial resignation as Bishop of Edinburgh in 2000—having lost heart with the Church over its condemnation of homosexuality. In his years as a priest Richard touched many lives, but behind his confident public face lay a mind troubled by questions. Why is the Church, which claims to be the instrument of God's love, so prone to cruelty and condemnation? And how can a person live with the tension between public faith and private doubt? Richard gives us a wise, poetic and fiercely honest book that recounts a fascinating life—and attempts to answer those questions.
'At a time when the world has urgently needed wise and compassionate leadership, this poignant memoir, written with the integrity, intelligence and wit that we expect from Richard Holloway, lays bare the ludicrous and entirely unnecessary mess we have made of religion.' Karen Armstrong
These stories could change the way you think about religion, about God and about one of the most enduring stories of all time. Explore old stories told in new ways in this unique collection. All under $20, with free postage for one week only.
FRIENDS OF THE CHILLER
SUBSCRIBE TO TEXT'S NEWSLETTER