March Giveaway and New Releases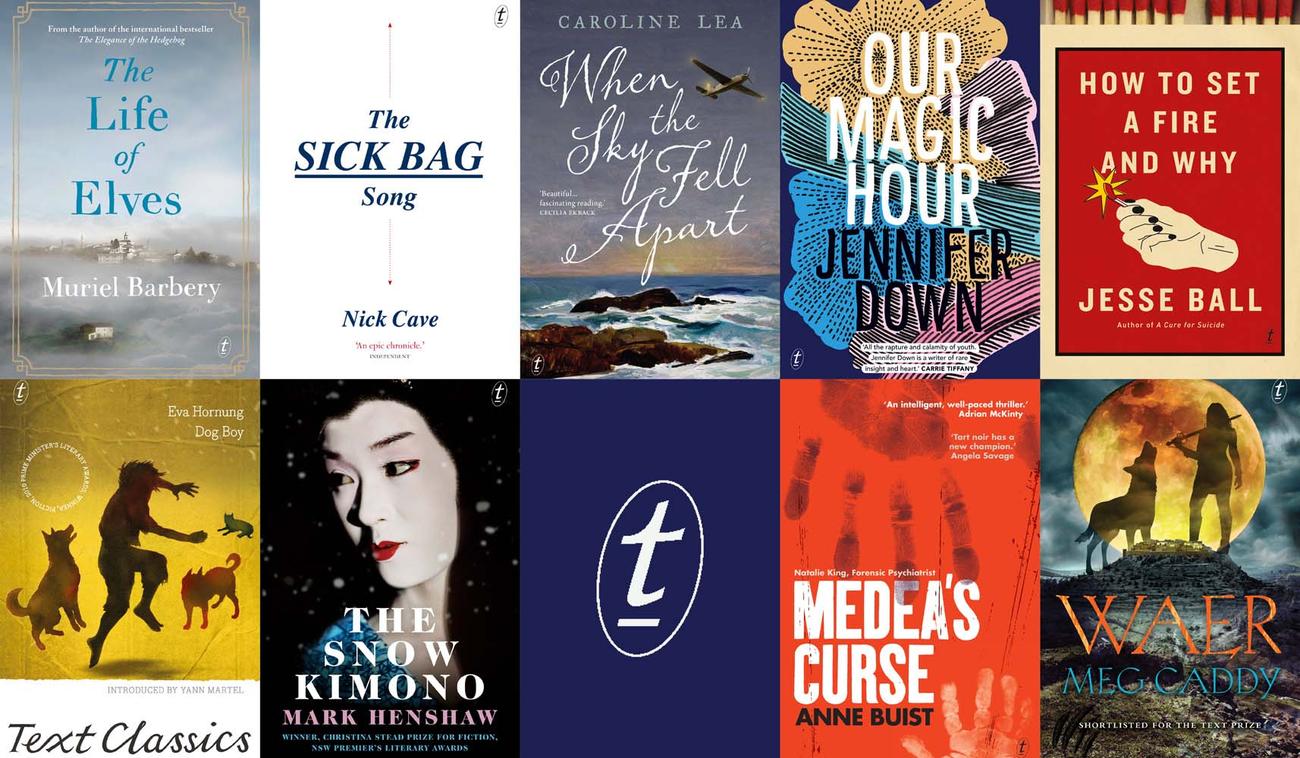 Yes, it's almost March, and we're giving away a whole new bunch of books—new books by Muriel Barbery, Nick Cave and Jesse Ball, as well as fantastic debuts by Meg Caddy, Jennifer Down and Caroline Lea.
It's been seven years since The Elegance of the Hedgehog took the book world by storm. Now Muriel Barbery not only returns with another warm and inspiring story, but will come to Australia and New Zealand to tell us all about it. Don't miss your chance to meet Muriel at a gig near you. The Life of Elves charts the experiences of two young girls whose amazing talents bring them into contact with magical worlds and dark forces. Read an extract and an interview with Muriel on the Text blog.
Another international author in Australia this month is the always-intriguing Jesse Ball. Jesse is the author of six novels, including Silence Once Begun and A Cure for Suicide. He won the 2008 Paris Review Plimpton Prize and he gives classes on lucid dreaming and lying at the School of the Art Institute of Chicago. This month sees the release of his new book, How to Set a Fire and Why, which charts the experiences of fourteen-year-old Lucia. Lucia is smart, funny and angry at the world. And when she discovers the Arson Club, she is inspired to set things alight. Check here for Jesse's events in Adelaide, Melbourne and Brisbane. 
Dark forces appear in Meg Caddy's debut young-adult fantasy Waer. Waer are shape-shifters: humans able to take the form of wolves. The Sencha clan has mostly survived through staying isolated, keeping itself away from the cities. But the blood purists want to destroy them and they must learn to fight back or be destroyed. Waer was shortlisted for the 2013 Text Prize; Meg contributed to this blog post about what that meant for her. Waer has a special publication date of 1 March.
Also out on 1 March is the much-anticipated new book by musician and writer Nick Cave, The Sick Bag Song. In 2014 Nick embarked on a twenty-two-city tour of North America. Spurred by his experiences, and racked by romantic longing and exhaustion, Cave started scribbling things down on his airplane sick bag. The result is an exploration of love, inspiration and memory. It is a lyrical epic not to be missed.
Our Magic Hour is a mesmerising literary debut by Jennifer Down. It is a story of love and loss that captures the moment when being young and invincible gives way to being open and vulnerable. Set in Melbourne and Sydney it charts the experiences of Audrey, who is trying to come to terms with the death of her oldest friend and make sense of life without her. Jennifer is a young writer and editor whose work has appeared in publications including the Age, Saturday Paper, Australian Book Review and Overland. Our Magic Hour was shortlisted for the 2014 Victorian Premier's Literary Award for an unpublished manuscript. Read a Q&A with Jennifer here.
Another very accomplished debut is Caroline Lea's When the Sky Fell Apart, set during the German occupation of Jersey in the Second World War. Ten-year-old Claudine struggles to understand the new order. Not having experienced much kindness in her life, she is open to the kindness of strangers, even the enemy. And the adults, who should be protecting her, have their own fears to confront. Caroline Lea is a native of Jersey and When the Sky Fell Apart is a heartbreaking reminder of the terrible consequences of war.
Our new Text Classic in March is the outstanding Dog Boy by Eva Hornung. Winner of the 2010 Prime Minister's Literary Award for Fiction, Dog Boy is a masterful work of imagination. When a hungry four-year-old boy is abandoned at the onset of winter, he finds nourishment and survival in a dog's lair. And while he is safe for the winter, the spring thaw brings new threats. This edition comes with a remarkable new introduction by Yann Martel, who says: 'After reading Dog Boy, you may never look at dogs the same way. Perhaps you won't feel as lonely, either.' Read Yann Martel's full introduction to Dog Boy here.
And to wrap up March we have new editions of two outstanding 2015 titles: The Snow Kimono by Mark Henshaw and Medea's Curse by Anne Buist. The Snow Kimono is an intricate psychological thriller set in Paris and Japan. It won the 2015 NSW Premier's Literary Awards' Christina Stead Prize for Fiction and the ACT Book of the Year Award. Crime thriller Medea's Curse introduces the smart and sexy heroine, forensic psychiatrist Natalie King. She works with victims and perpetrators of violent crime and finds herself in all sorts of trouble, often of her own making. And if you loved the first one, a new Natalie King thriller, Dangerous to Know, will be published next month.
Get on over to Facebook now and tell us why you'd like any of these books in the comments section (one book per person only).
Competition is open to AU/NZ residents only and entries close 10am AEST Monday 29 February. Winners will be notified on Facebook by 5pm AEST Monday 29 February.
FRIENDS OF THE CHILLER
SUBSCRIBE TO TEXT'S NEWSLETTER