Just a Moment with A Book: Catching Up with ABA/Text Bookseller of the Year, Alison Huber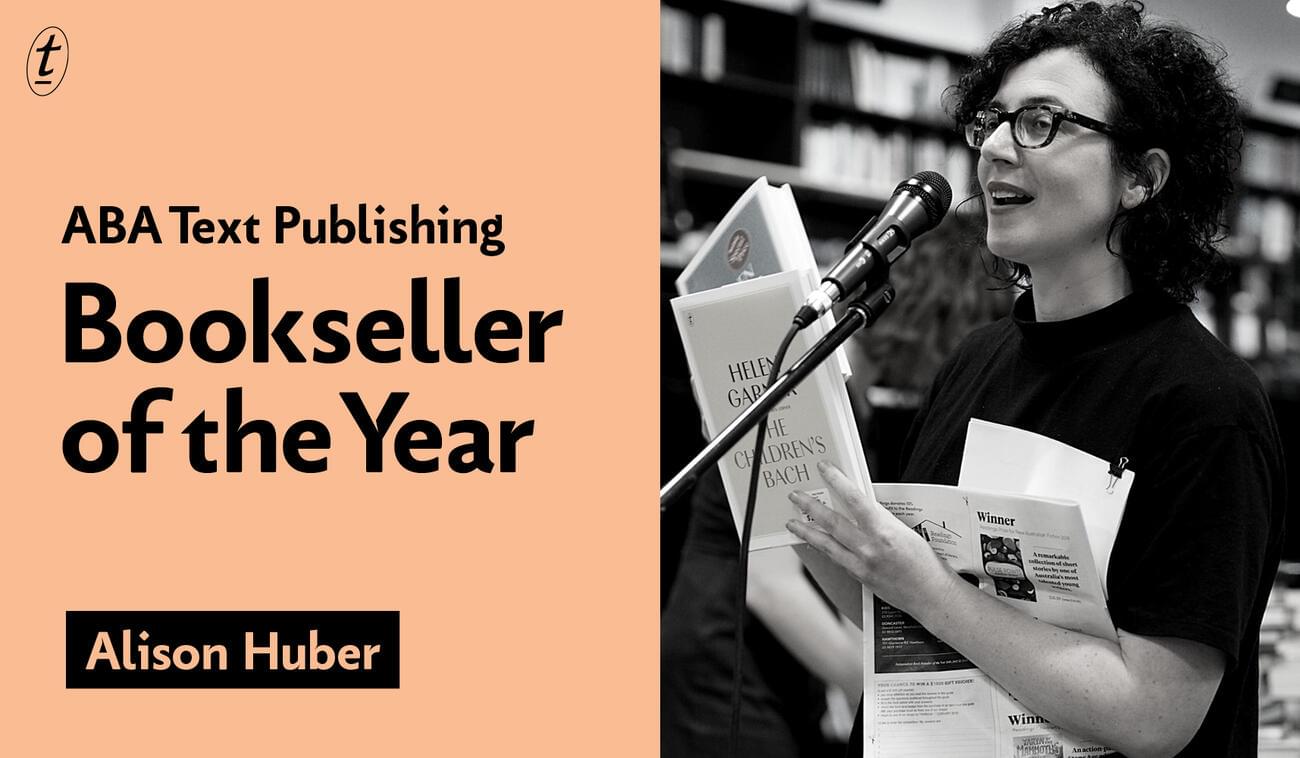 The ABA/Text Bookseller of the Year award honours individual booksellers for outstanding achievements in bookselling, both at the store level and within the wider community. When presenting this year's award, Text's Sales Manager, Stef Italia, noted the resilience of Australian booksellers during one of the industry's most challenging periods, and congratulated booksellers for continuing to keep readers 'comforted by books'.
Readings' head buyer Alison Huber has made providing comfort through books her life's work, and Text is delighted to honour her as this year's ABA/Text Bookseller of the Year.
A 25-year industry veteran, Alison is renowned for her passion and expertise. As Stef noted in her presentation: 'Alison knows what her customers want, and when she champions a book, there are ripple effects throughout the industry.'
As the effects of COVID-19 continue to create daily challenges for booksellers, Alison remains steadfast in her role. Bookselling, she says, 'feels like an essential vocation to me, now and always'.
Text chatted to Alison about her life in books.


---
How did you become a reader, and which books made you the reader you are today?
I can't remember not being a reader. I'm told I was reading before I turned four, and vaguely recall being called 'Miss Dictionary' at primary school, which was no doubt meant to be unkind, but is a badge I wear with honour. I am the daughter of a very talented high school English teacher, so a love of reading is in my genes. I'm sure I read the classics way too early – I always go back to Charlotte Brontë's Jane Eyre as a milestone of some kind – but also credit the hits of my 1980s childhood as formative: the brilliant Sue Townsend's character Adrian Mole, and his Secret Diary and Growing Pains; Robin Klein's books, especially Hating Alison Ashley; the entire works of Judy Blume and S. E. Hinton. Reading these books felt like being invited into a secret world, and thankfully I'm still living there.
How did you become a bookseller?
I started working at Readings in 2003, but I've worked at bookshops for almost my entire working life, including stints at a second-hand shop, the Bookroom at the University of Melbourne, and six years at a wonderful (now long-closed) Dymocks store owned by the Hazel family, where I learned a lot about the trade. For a lot of the time, bookselling has been a part-time job that complemented study, but even after I finished being a student, I always made time to keep working at Readings no matter what other work was going on. The bookshop has always just felt like home, and has also kept my feet on the ground, particularly in the years I was pursuing research work in the sometimes-abstracted contexts of academia. During a period of career readjustment, when I decided at last to put universities behind me, the planets aligned, and the job of Head Book Buyer at Readings appeared as a real option. If I'm honest, I think it was always my dream job, and I just happened to be ready to apply for this one-of-a-kind position when Martin Shaw's chair became vacant in 2015. I owe a lot to Martin, who I sat next to for many years while I was Readings Carlton's academic book buyer, quietly observing his skill.
What makes a good bookseller?
It's a given that a good bookseller loves to read and enjoys talking to people about books, but she also savours the day-to-day feeling and activities of being in a shop, which often involves physical labour: putting things in alphabetical order, unpacking boxes, moving things from here to there, turning up the book that has been mis-shelved, as well as researching obscure titles and hunting down mysteries for customers with scant information. My current job often takes me away from those aspects, and I do miss them when I am computer-bound. I think an effective and engaged bookseller also needs to be across the bigger picture of current affairs, and the debates and matters that are shaping the world we live in. Customers sometimes expect a lot of staff who work in a bookshop – as they should, since it's where the answers to almost all of life's questions can be found – so being on top of what is going on politically and culturally helps enormously. Round all those things out with one particular book specialty, and you'll make yourself invaluable to a bookselling team.
What sets Readings apart from other bookstores?
I think almost every bookshop I've ever visited is its own kind of paradise. Like a lot of bookshops, Readings is fortunate to have a lot of long-time staff members, with extensive histories in bookselling, and many esoteric passions making them extremely knowledgeable. This cohort is complemented by some amazingly talented staff that have joined us in recent years. I think Readings exists in people's imagination well beyond being a place to buy a book – a cultural institution and tastemaker that is engaged with the communities it serves, and holds a special place in people's autobiographies – and that's an esteem that has been built by the energies of many, many people and over fifty years of hard work.

Can you remember the bookseller who changed your reading life?
I've been privileged to work with so many great booksellers over the years, and I can think of a whole, happy bunch of them now and the books they encouraged me to read. This is not meant to sound sycophantic (though it probably will), but working with [Readings owner] Mark Rubbo for so many years has taught me about the importance of making Australian stories a focus of an Australian bookseller's energies, and for that reason, I have read more Australian literature over the last decade than I ever have in life. We need a diversity of local stories and voices more than ever, and I see it as a huge and hugely important part of my job that Readings helps Australian writers find their readers.
Have you noticed any changes to your reading and book-buying during the time of the pandemic?
The last four months have felt like an eternity in many respects. I started out by ceasing reading altogether. When we were in the early weeks of responding to the challenges of COVID-19 bookselling, I found it too hard to concentrate on anything much beyond the stress of the situation (a reading pause sometimes happens for me during retail Christmases too, but April and May felt like ten of those). Then I gave myself a stern talking-to and made my way back to the reading pile at my bedside and resumed my usual attention on forthcoming titles. When I did that, it felt like some equilibrium had returned. It seems even more urgent to get through as many forthcoming releases as possible at this time, given that the second half of the year looks absolutely packed with big books, many of them delayed from mid-year release. I have been reading like a maniac.
Do you have a recent bookselling moment that you feel especially proud of or connected to?
Front of mind has to be Readings' collective approach to the early days and weeks of the pandemic. We all pulled together to get the business through an incredibly difficult situation, and it was outstanding. Selling books in the most stable of times takes a mighty collective effort, and I don't think I'll ever forget what we were able to do during that time with incredible staff loyalty and hard work. I'll also reflect fondly on the many lovely phone conversations I had with customers who were in lockdown at home, distressed that we had had to close, but who I could help for just a moment with a book.
What are your predictions for the future of bookselling?
It feels pretty hard to make predictions of any kind at the moment, but it is often said that booksellers are creative and resilient, always adapting to each new perceived threat that's predicted to put bricks and mortar stores out of business. I think more than ever, people are craving experience and connection and conversation. Books can be a source for all these things, but it's booksellers who animate their potential at the places they work. It feels like an essential vocation to me, now and always.



FRIENDS OF THE CHILLER
SUBSCRIBE TO TEXT'S NEWSLETTER