Helen Hodgman's Favourite Authors
Helen Hodgman is the author of Blue Skies and Jack and Jill, both recently republished by Text. Blue Skies was Helen's debut novel, originally published in 1976; her follow-up, Jack and Jill, won the Somerset Maugham Award.
Here, Helen outlines her favourite authors:
Ruth Rendell Baroness Rendell of Barbergh, CBE, has travelled thousands of kilometres in my pocket. From her first book, From Doon with Death (1964), Ruth Rendell has been a perfect travelling companion – speaking only when spoken to, filling in the boring bits, changing the scenery. I saw her once at the theatre. A Judgement in Stone had been turned into a play and there she was, three seats away. After the show I wanted to speak to her, but she was surrounded by people and anyway I couldn't think what to say.
Graham Greene I have been puzzling over this wonderful and contradictory writer for much of my adult life. I've thought so much about him in my writing life that I feel one day I'll be sprung copying a bit of the genius – caught with a mouthful of feathers and no excuses. It hasn't happened yet but I came close when, in Broken Words, I sent Hazel across the Common in a rainstorm to find Walter and do God only knows what. Happily Walter was out. But I think I caught the tone. The book is The End of the Affair.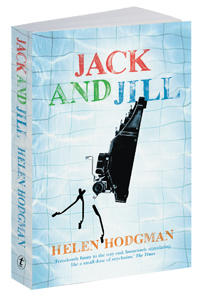 Muriel Spark Not long ago I re-read The Girls of Slender Means and, after a slight tremor of apprehension that it had fallen to pieces behind my back, I found it was still intact. The time is 1945; the girls of slender means live in the May of Teck Club, which exists 'for the Pecuniary Convenience and Social Protection of Ladies of Slender Means below the age of Thirty Years, who are obliged to reside apart from their Families in order to follow an Occupation in London'. Love and money are the major concerns. And then there is the poetry. When Nicholas Farringdon, a poet anarchist, follows his ears and starts visiting the club, poetry wars break out. Certain passages in the authorised version of the Bible, Shakespeare, Gerard Manley Hopkins were on the run. Eliot and Auden were winning the day. Then a bloody great leftover bomb exploded in the garden and that is more or less that. Except for the poet anarchist's famous last words – which were actually Auden's: Lay your sleeping head, my love, Human on my faithless arm.
Henry Handel Richardson I came here in 1958 when I was thirteen and somehow missed out on Australian history. No bushrangers, no heroes fighting for the mother country and definitely no Aborigines. HRH filled lots of gaps in a marvellous sprawling novel, The Fortunes of Richard Mahony, set in Victoria during the gold rush and beyond.
Patricia Highsmith I admire Patricia Highsmith's work – the five Ripleys in particular. The first, The Talented Mr Ripley, was published in 1955. Highsmith often said Ripley was writing them and she was merely typing. Graham Greene described her as the 'poet of apprehension'. Gore Vidal thought her one of our greatest modernist writers.
An edited version of this piece appeared in the Week, 7 October 2011.
FRIENDS OF THE CHILLER
SUBSCRIBE TO TEXT'S NEWSLETTER