Garry Disher Receives Ned Kelly Award for Lifetime Achievement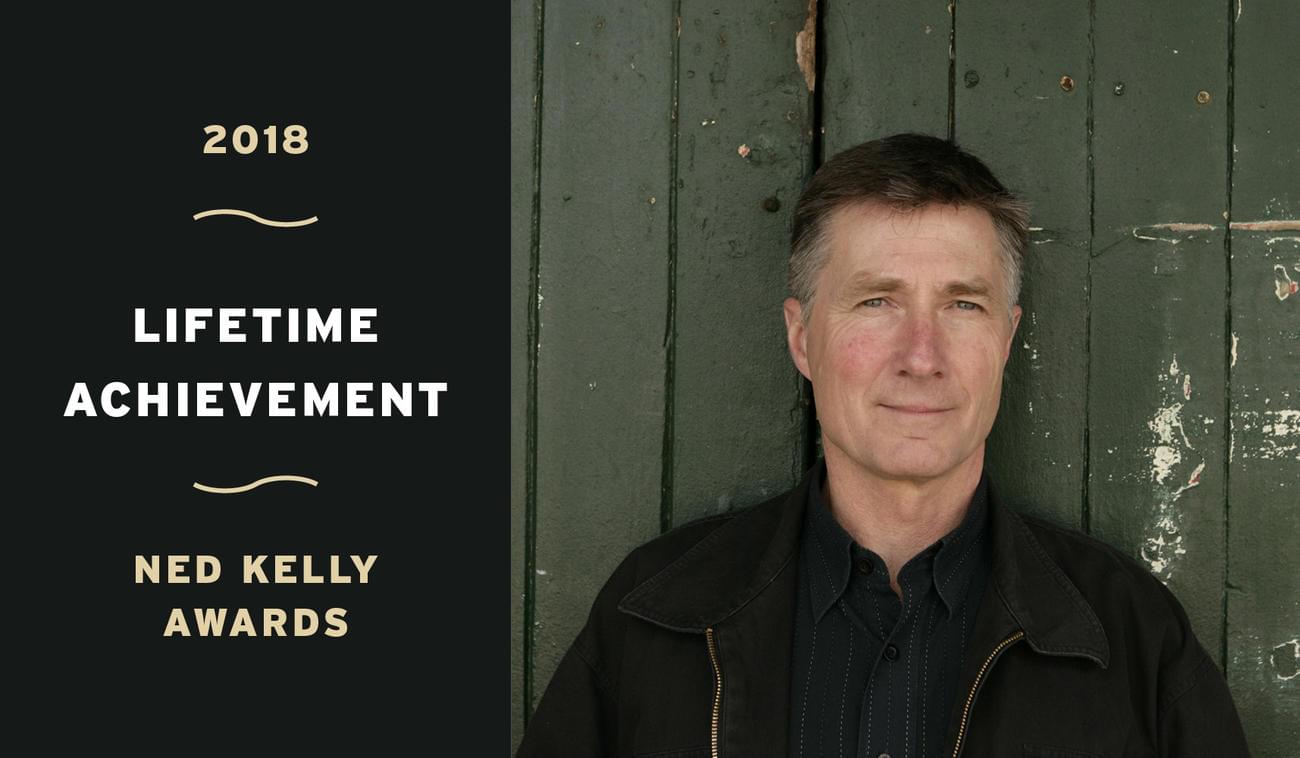 The Ned Kelly Awards are Australia's oldest and most prestigious literary prizes for crime fiction and true crime writing. Administered by the Australian Crime Writers Association, the current categories are Best Fiction, Best First Fiction, True Crime, and a Lifetime Achievement Award.
The 2018 awards were given out at the Melbourne Writers Festival, and all of us at Text were delighted when Garry Disher was announced as this year's winner of the Lifetime Achievement Award. A two-time winner in the Best Fiction category – for Chain of Evidence (2007) and Wyatt (2010) – Garry has been published by Text since 2006, and we're thrilled to be congratulating him on this well-deserved win. We also thought we'd ask him a few questions ...


What does receiving the Ned Kelly Lifetime Achievement award mean to you?
It's easy for Australian writers to feel they're writing in a vacuum. I've been publishing for four decades and it's only in recent years that I've had a sense of a readership. Winning this award is an endorsement of the best kind.
Whom do you most admire in Australian crime writing?
Peter Temple. In one line of idiomatic dialogue or edgily lyrical description, you feel you're listening in on a bar conversation or standing in a landscape.
You've written widely in a few different genres and seem to have settled firmly into crime. Why has this happened?
Various reasons. I've always loved reading crime fiction, my 'literary' fiction (unlike my crime and children's) seems to sink without trace, the writing brings pleasure and there's a genuine camaraderie amongst crime writers, reviewers and readers.
What's the most fun part of writing crime?
I like the sneaky feeling of staying a step ahead of the reader, getting them to exercise their minds about the wrong character, motive or issue, and introducing sudden reversals, turning points, delaying tactics and partial or doubtful outcomes. And I get a kick out of getting into the minds of the bad guys, which I do in the Wyatt and Peninsula novels.
Who is your favourite character from your novels?
Hirsch (Paul Hirschhausen), a city boy from a disgraced suburban detective unit, busted down to uniform duties in a distant, one-officer police station in the bush. He appeared first in Bitter Wash Road and will reappear in Mischance Creek, which should appear late 2019, if he doesn't lead me into pointless byways. The setting is the mid-north of South Australia, where I grew up. I left when I was 17 but it still exerts a pull on my imagination, I still call it 'home' ('I'm going home for Christmas').
Kill Shot: A Wyatt Thriller is due out in December. What do we need to know about Wyatt in this one?
Wyatt is a professional holdup man. The question driving the Wyatt novels is "Will he get away with it?" In Kill Shot he hears that a corrupt real estate developer, about to appear in court on dishonesty offences, has a running-away stash of a million dollars... Of course, others know about that money, too.
Thanks, Garry. And speaking of Kill Shot ...  
The latest gripping story in the popular Wyatt thriller series kicks off in Sydney and then unfolds on the beaches of Newcastle
Some people just work better alone. Wyatt's one of them. He's been getting by on nice quiet little burglaries—one-man jobs—when he gets wind of something bigger.
A corporate crook, notorious Ponzi schemer, set to face court and certain jail time. He's about to skip bail the old-fashioned way: on a luxury yacht with a million dollars in cash.
Wyatt thinks it sounds like something he should get into.
He's not alone.
To celebrate Garry's award, we've decided that everyone who buys a copy of any of Garry Disher's books through our website will also receive a copy of his Ned Kelly Award-winner, Wyatt.  That sounds a good deal to us – you might even say it's a steal ...
FRIENDS OF THE CHILLER
SUBSCRIBE TO TEXT'S NEWSLETTER