April New Releases and Giveaway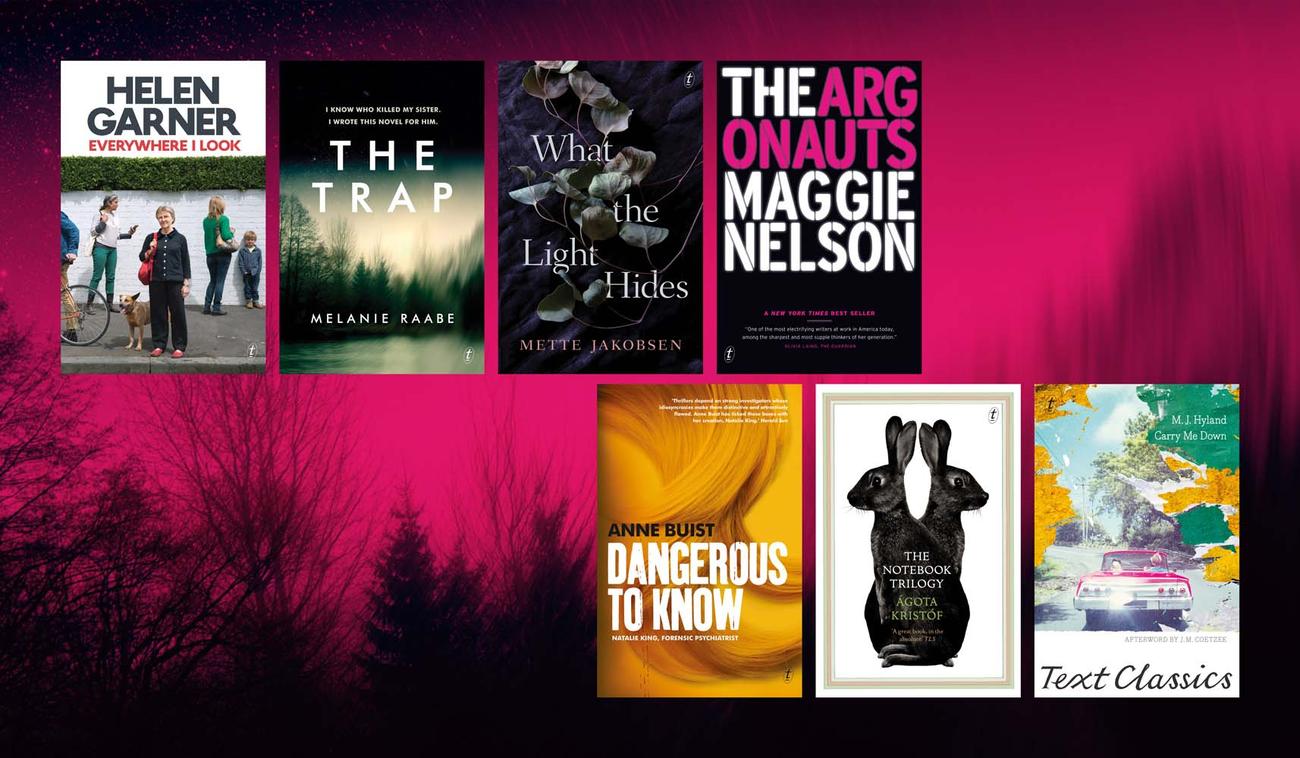 It's time for our giveaway of all the shiny new April books. So, if you missed out earlier in the month, here's another chance to win a copy of Helen Garner's delightful new collection. There is also a page-turning debut thriller by Melanie Raabe and another gripping Natalie King by Anne Buist. Ágota Kristóf's The Notebook Trilogy is a powerful story of the Second World War and its aftermath, and the twin boys who lived through it. Mette Jakobsen, author of the charming The Vanishing Act, has finally written a new book and our April Text Classic is M. J. Hyland's award-winning Carry Me Down, with an afterword by J. M. Coetzee. And later in the month, we are delighted to be publishing the winner of the 2015 National Book Critics Circle Award for Criticism, The Argonauts by Maggie Nelson.
Pick your favourite and head on over to Text's Facebook page to tell us why you would like a copy.
Everywhere I Look
by Helen Garner 
A new collection of essays, diary entries, and musings on everything from attending the dawn service to re-reading Pride and Prejudice. Full of Garner's trademark humour, intelligence and intuition, this is both a must-have for fans and a perfect introduction to her work.           
The Trap
by Melanie Raabe
Linda Conrads is a bestselling author who has lived as a recluse since witnessing her sister's murder. When she sees the murderer on television, Linda takes matters into her own hands in the only way she knows how: through literature. The Trap is a captivating, fast-paced debut crime novel that became an international rights sensation in 2015. Read an interview with Melanie Raabe or an extract from The Trap—you will be hooked!        
Dangerous to Know: Natalie King, Forensic Psychiatrist
by Anne Buist 
Natalie King is back: back from a stay on the psych ward, and now it's time for a retreat to the country. But Natalie and trouble have a strange mutual fascination. The follow-up to Anne Buist's gripping debut, Medea's Curse, is a dark and sexy page turner.   
The Notebook Trilogy
by Ágota Kristóf
Spanning the Second World War and the years of destructive postwar communism, The Notebook Trilogy is an unforgettable reading experience. Ágota Kristóf figures alongside the greats of literature like J. M. Coetzee, Thomas Bernhard, Herta Muller, Milan Kundera and Javier Marías.       
The Argonauts—special release date 13 April
by Maggie Nelson 
An unabashed, genre-bending memoir, The Argonauts is an intrepid voyage to the frontiers of the latest thinking about love, language, family and motherhood.
'A gorgeous book, inventive, fearless, and full of heart.' Kim Gordon           
What the Light Hides
by Mette Jakobsen
Mette Jakobsen's gifts of delicate and empathetic observation are on display in this tender and moving portrait of a couple coming to terms with the death of their son. A much-anticipated follow-up to Jakobsen's debut novel, The Vanishing Act.  Read an extract from What the Light Hides.       
Carry Me Down
by M. J. Hyland
With an afterword by J. M. Coetzee 
Shortlisted for the Man Booker Prize in 2006, Carry Me Down is a singular tale of disturbed love, featuring one of literature's most memorable child narrators.
---
Visit our Facebook page now and tell us which book you would like (one book per person only).
Competition is open to AU/NZ residents  and entries close 10am AEST Monday 4 April. Winners will be notified on Facebook by 5pm AEST Monday 4 April.
FRIENDS OF THE CHILLER
SUBSCRIBE TO TEXT'S NEWSLETTER