Alice Cottrell's Year of Reading Text Classics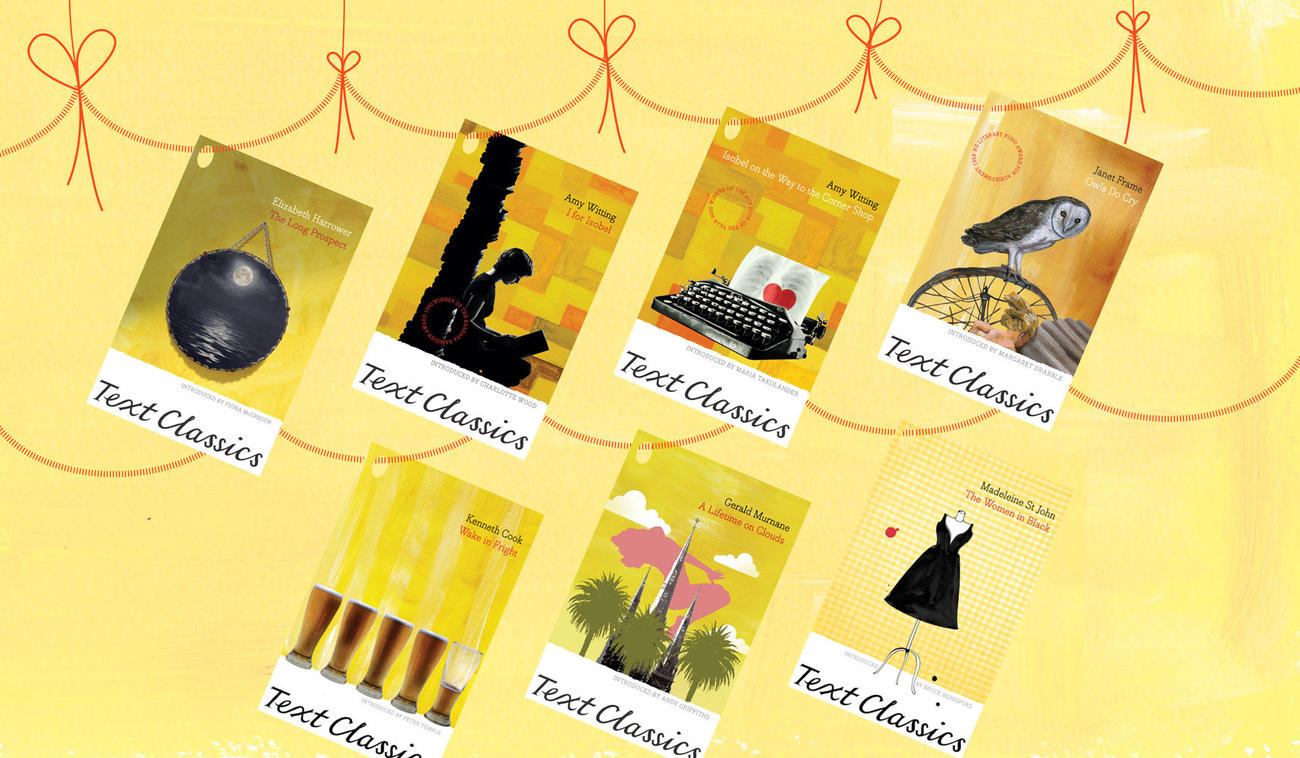 At the beginning of 2015 I made a New Year's resolution to read two Text Classics a month for the entire year. I grew up in England and during my school years I was led to believe that the term 'literary classic' was synonymous only with names like Charles Dickens or Sir Arthur Conan Doyle. Now that I've escaped to this much larger and warmer island, I'm liberating my reading habits, too. 
The books in the Text Classics list are milestones in the Australian literary landscape. They have much to say about Australian events, culture and sensibilities, as well as experiences that are universal to us all. I've almost completed my challenge and it's been enlightening and enriching. I've laughed, I've cried, and I've amassed an enormous stack of yellow books. 
Here are some of my favourites… 
WAKE IN FRIGHT by Kenneth Cook 
Wake in Fright is the ultimate outback horror story—a dark journey into the corrupt heart of white Australia. 
Young teacher John Grant is stuck working in an isolated town in the outback. During a stopover on his way back to Sydney for the summer holidays, John loses his money (and his plane ticket) in a drunken gamble. The events that follow see him slide into a nightmare of alcoholism, desperation and degradation. 
Wake in Fright is a stinging critique of macho culture and the 'Aussie bloke' stereotype. The content is brutal, harrowing, violent and at times almost unbearably bleak. But there's a strange, hypnotic beauty to Cook's spare prose and I couldn't help but follow John Grant down into his personal hell. 
Next year Text is publishing the never-before-published Kenneth Cook novel Fear Is the Rider, which is as likely to terrify readers and exasperate the Australian Tourism Board as Wake in Fright.   
 A LIFETIME ON CLOUDS by Gerald Murnane 
A Lifetime on Clouds is the best book about masturbation you'll ever read. 
Adrian Sherd is a Catholic schoolboy tormented by his hormones. One day, en route to school, he falls silently and hopelessly in love with a girl on the tram. In a valiant attempt to avoid besmirching her virtue, Adrian concocts an exceptionally detailed imaginative life with the unknown girl. Only after envisaging their entire courtship, engagement and subsequent marriage will he permit himself to do The Bad Thing. 
A Lifetime on Clouds charts the highs and lows of married life, child rearing and adultery in the mind of a 12-year old boy. It is imaginative, outrageous and very, very funny. Adrian Mole gone wild.    
I for Isobel is a book for any bibliophile. I've read no other novel that so accurately describes the feeling of falling in love with reading or the escapism and solace to be found in books. 
Isobel has a spiteful and unloving mother. Her childhood is marred by pernicious cruelty. As she grows up, Isobel begins to make a physical and intellectual escape from the confines of her home and family. 
Charlotte Wood's illuminating introduction sums up what it is that I love about the character of Isobel: 'Whatever other punishments she tolerates for being a girl with a brain, she will not give up books. They are talismans and religion; they are solidity, survival, and, at last, liberty.' 
Amy Witting wrote more about Isobel in the wonderful sequel Isobel on the Way to the Corner Shop. The playful titles of both books belie their content—Witting is sharp, pithy and unflinching.    
THE WOMEN IN BLACK by Madeleine St. John 
Set in the Cocktail Frocks section of a department store in 1950s Sydney, The Women in Black is a tender and light-hearted comedy of manners. It's wry, brilliantly observed and features some incredible dialogue. The cast of characters are best summed up in Madeleine St. John's own words: 
Patty: 'It was wonderful how assertive Patty could be when she had no fear of serious opposition.' 
Fay: 'Fay Baines talked about nothing but men. It was chronic; this one and that one, going out here, and there, and all over the place with Tom, Dick and Harry.' 
Magda: 'Magda had every intention of presiding in time over her own extremely exclusive and exorbitantly expensive frock shop.' 
Lisa: 'Lisa ascended into a state of wondering blissfulness which was induced to a large degree by the sheer novelty of being and acting quite alone: the exquisite experience of happy solitude.' 
If you want a little slice of happiness, then read this book.
Owls Do Cry is a bold and audacious novel. The story follows the Withers family through hardships and challenges in a fictional small town in New Zealand during the first half of the twentieth century. 
The variation of the characters' experiences is matched by Janet Frame's variation of style.  Notably, one character, Daphne, spends much of the novel in an asylum. The modernism of these passages is a compelling expression of the limitations of conventional language in communicating mental illness. 
In Owls Do Cry Janet Frame tackles some very dark subject matter, but her keen understanding, compassionate insight and vital and vivid language, makes reading the novel an exhilarating experience.   
THE LONG PROSPECT by Elizabeth Harrower
I've saved my very best until last—Elizabeth Harrower is one of the greatest discoveries of my reading life. All of Harrower's five novels (and her collection of short stories) are brilliant. She writes about power, gender dynamics in an era of sanctioned sexism and domestic cruelty­—the nightmare behind the suburban façade. Her writing is intense and unsentimental. 
James Wood thinks The Watch Tower is Harrower's 'masterpiece', but for me it's The Long Prospect. In a small industrial town, twelve-year-old Emily Lawrence is being raised by an unloving aunt. The arrival of new lodger Max heralds an intellectual awakening for Emily. The Long Prospect is about entrapment, resilience and the devastating consequences of petty villainy. 
The Long Prospect is written with Harrower's trademark psychological acuity but also shows off her acerbic wit. (The humiliation of a failed seduction is succinctly described as being painful due to the mix of 'hypothetical success and actual failure'.) 
Elizabeth Harrower wields words like a scalpel. Read. Her.
Alice Cottrell is Text's rights coordinator.
TEXTCLASSICS.COM.AU  •  Iconic books by our most loved authors  •  $12.95
FRIENDS OF THE CHILLER
SUBSCRIBE TO TEXT'S NEWSLETTER