A Beginner's Guide To: Natalie King, Forensic Psychiatrist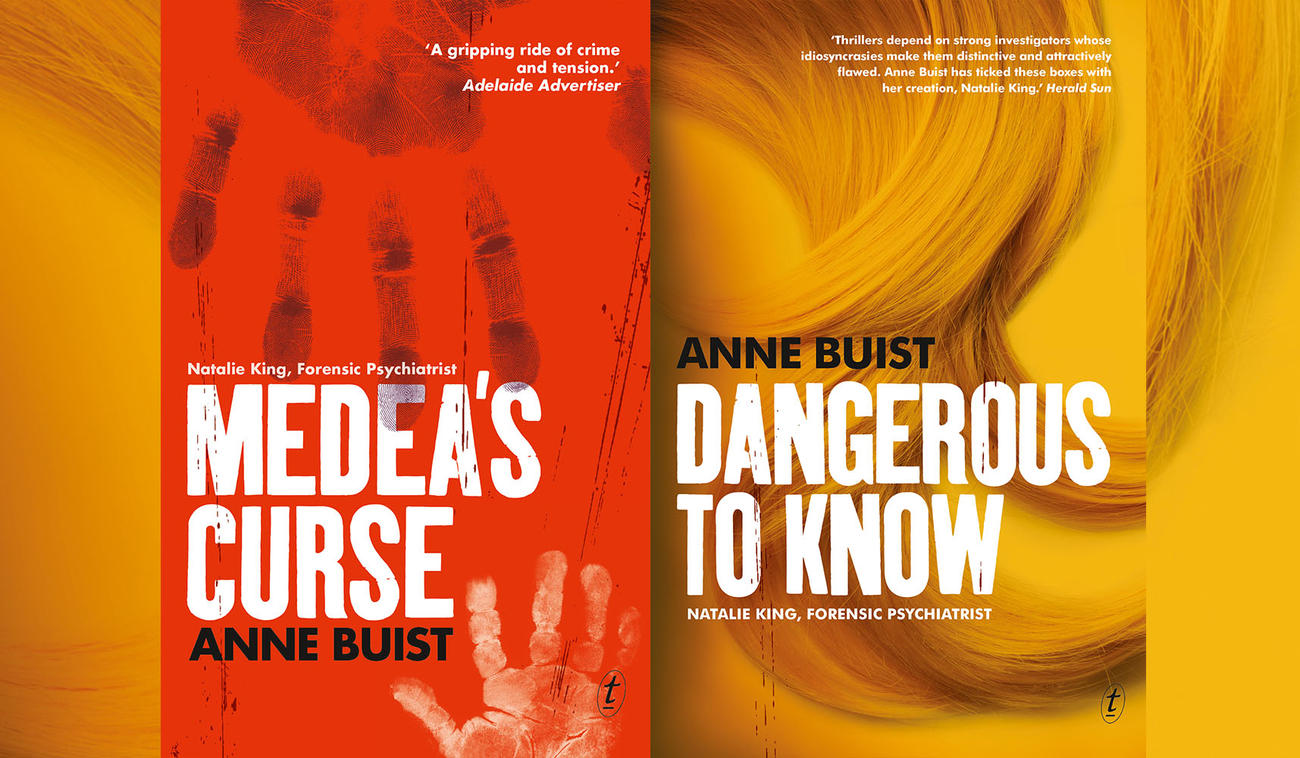 The brand new novel in Anne Buist's gripping Natalie King series, Dangerous to Know, has just been released. If you missed Medea's Curse and are wondering what all the fuss is about, we've got you covered with the first post in our new Beginner's Guide series.
'Medea's Curse is a gripping ride of crime and tension, with a Lisbeth Salander-like lead roaring through danger and intrigue at a million miles an hour.' Adelaide Advertiser 
Forensic psychiatrist Natalie King works with victims and perpetrators of violent crime. Women with a history of abuse, mainly. She rides a Ducati a size too big and wears a tank top a size too small. Likes men but doesn't want to keep one. And really needs to stay on her medication.
In Medea's Curse, Crown Prosecutor Liam O'Shea needs Natalie's help. He has a hunch about Travis Hardy, the deadbeat father of a murdered child, with a second daughter now missing. Travis's first wife, Amber, has been sentenced to prison for the murder of their child, and that's where things get complicated for Natalie. See, Natalie treated Amber throughout her trial. And she got too close.
Natalie has been forbidden by her supervisor to see Amber or Travis again. Her job depends on it. But if Liam's suspicions about Travis are right, Natalie might have a chance of getting Amber out of prison—a chance to rectify an injustice that she feels responsible for. The other problem is Liam O'Shea himself—drop-dead sexy, married and trouble in all kinds of ways.
Soon after agreeing to help Liam, Natalie finds she is being stalked. A series of red envelopes holding threatening notes start to appear. First in Natalie's office, then her home. Will she be able to unravel this case in time and keep her career intact?
It's Anne Buist's real world experience that has resonated with readers and reviewers alike.
Medea's Curse is a dark, sexy and gripping psychological thriller—but it's also about the devastating crimes perpetrated by parents against their own children. This story deals with personality disorders and perinatal mental health in a way readers will find absorbing and eye-opening. We are regularly shocked, heartbroken and confused by news stories of the deaths of infants at the hands of their mothers. It is a tragedy many struggle to comprehend. And it is the struggles of these families that inspired this story.
Professor Anne Buist has drawn heavily on more than twenty-five years' experience working in forensic psychiatry on cases of kidnapping, infanticide and murder. In Natalie King, she has created a hot new heroine for fans of Australian thrillers.
Catch up here: Medea's Curse
And meet up with Natalie again here: Dangerous to Know sees Natalie recovering from hospitalisation after a major depressive episode—and getting drawn into a mystery that may threaten her life. Her charismatic new boss needs her help. But it turns out his pregnant wife is an old enemy of Natalie's. And by the time Frank's devastating history is revealed, Natalie is already in too deep.
'Forensic psychologist Natalie King is not your average heroine nor is Medea's Curse a predictable by-the-numbers thriller...An intelligent, thought-provoking tale.' Courier Mail
'Buist has used her twenty-five years' experience in perinatal psychiatry to good effect in her first psychological thriller…King is a lively new character with a good mix of appealing characteristics and interesting flaws.' Sydney Morning Herald
'An effective and engaging crime novel, that handles its issues compassionately, builds tension well and has a fascinating, flawed protagonist. It will be interesting to see what Anne Buist (and Natalie King) do next.' Aust Crime Fiction
'A psychological thriller with all the ingredients.' Jennifer Byrne, Australian Women's Weekly
FRIENDS OF THE CHILLER
SUBSCRIBE TO TEXT'S NEWSLETTER