5 Reasons I Love The Mirror Visitor Series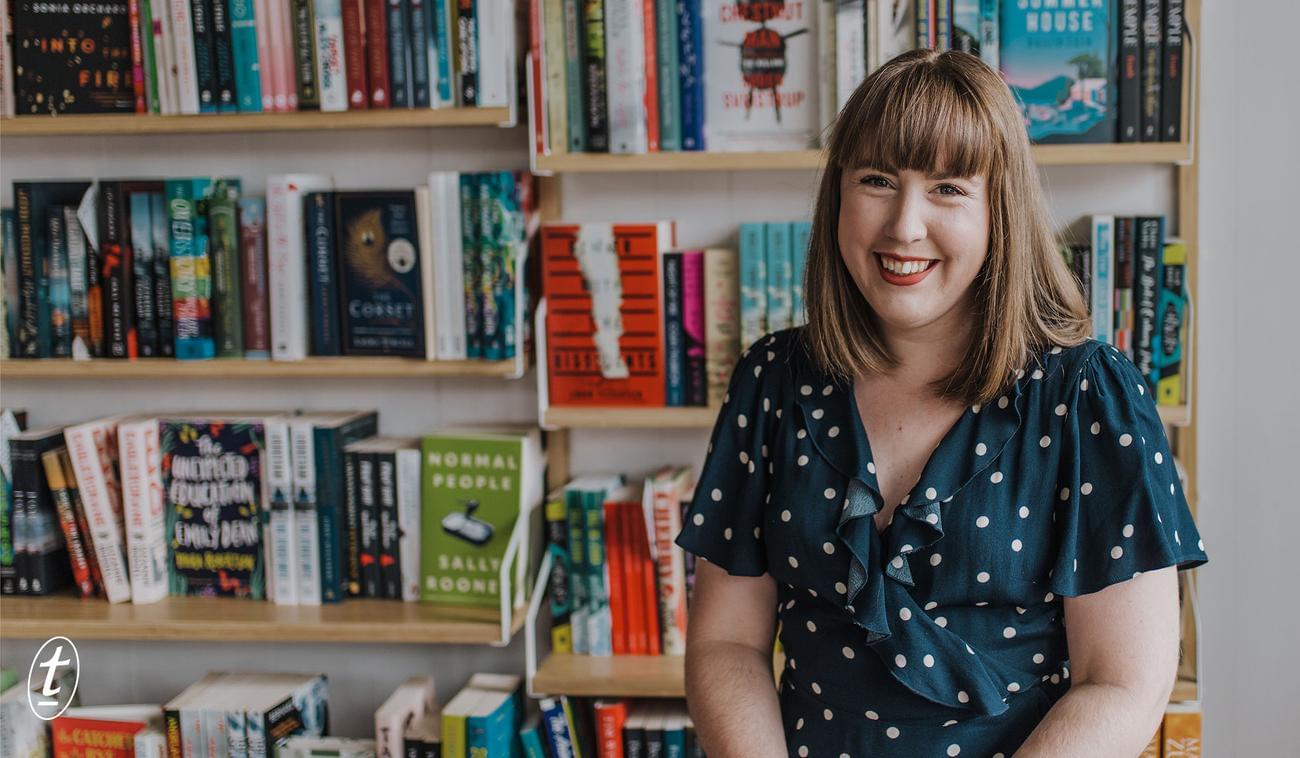 Tamsien West is a creative influencer, book reviewer, photographer and all-round lover of words. She's best known for her beautiful #bookstagram account, Babbling Books, but we also know her as one of the biggest fans of Christelle Dabos's Mirror Visitor fantasy series. 
In 2018 Book One, A Winter's Promise, captivated fans across Europe and was described by Bookseller UK as 'highly original and intricately imagined'. It also went on to win the Grand Prix de l'Imaginaire. Since then, the series has gone from strength to strength: Book Two, The Missing of Clairdelune, appeared in 2019, and Book Three, The Memory of Babel has just been released by Text in Australia. We can't wait for the last volume in the series!
What's so great about these books we hear you ask? Don't listen to us, take it from a sci-fi, fantasy super-fan – here are Tamsien's top five favourite things about the Mirror Visitor series.
Bonus points: read all the way to the end to find out how you could win your own set of Mirror Visitor books!  
---
Rich world-building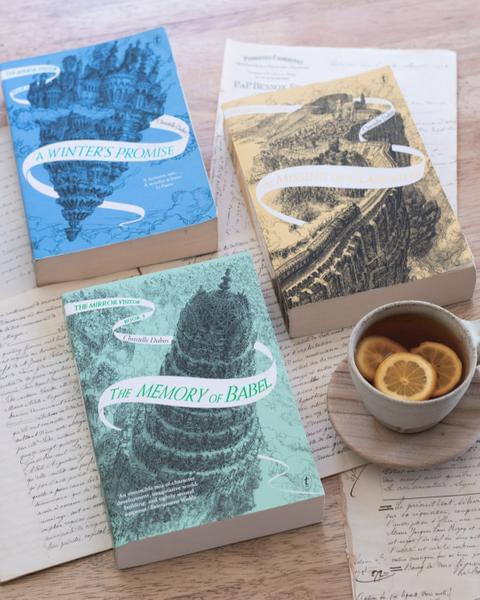 The world we are introduced to in the Mirror Visitor series is unlike any other I've come across in my years of avidly reading fantasy, and I absolutely love it. A planet was torn apart by a long-ago cataclysm and all that remains are island cities, known as Arks, floating in space. If imagining a floating island city is bending your brain, the beautifully illustrated cover of A Winter's Promise shows how it might look like! 
Each Ark is home to families with unusual inherited magical abilities. The protagonist Ophelia is from the Ark known as Anima, where objects have souls – the scarf she wears most of the time is particularly emotional and is a side character in its own right. Ophelia can read the history of objects with her hands and has the very rare power to travel through mirrors. There is so much depth and complexity to Christelle Dabos's world-building: every time I open one of the books in the Mirror Visitor series, I sink into it and never want to leave. 

Memorable characters

These characters have kept me deeply engaged and desperate for each new book in the series. Ophelia is feisty, curious, strong-willed and fallible. Thank goodness she will never become the YA trope of the all-powerful and perfect 'chosen one' that can render so many characters predictable. Like many real-life teens, she is prone to moodiness and is terrible at expressing her feelings. While these personality traits often cause problems for her, they also feel so authentic in Christelle Dabos's expression of them on the page. Each of the numerous secondary characters who come and go throughout Ophelia's adventures has a unique personality and backstory – they are never there simply to provide the next piece of the plot puzzle.

Plot with tonnes of intrigue

Of course, the plot is an essential part of any great fantasy series, but in the case of the Mirror Visitor series, the plot is extra-special. In Book One, A Winter's Promise, Ophelia is promised in marriage to Thorn, a man she has never met, from a powerful family on a distant Ark. It might seem like a familiar starting point for many fantasy fans – a young girl has to marry a powerful man for her family's political benefit – but it is deeply satisfying to watch how her betrothal thrusts her into new worlds, new experiences and a complex web of intrigue. Things (and people) are never what they seem, and Ophelia finds herself part of a dangerous scheme centuries in the making.

The reality of love

Woven in between all the intrigue, drama and action of the main plot is a gentle, quiet love story. Romantic plots in YA fantasy books can easily fall into cliché, but Ophelia's relationship builds gradually, deftly avoiding 'love at first sight'. She and Thorn begin as mistrustful strangers, thrust together by the political designs of others. The trust between them is slow to build and filled with miscommunications and mistakes on both sides. What I most appreciated was how the narrative prioritises consent, which can so often feel murky in fantasy stories that feature political marriages.

Stellar writing

It would be remiss of me to end my love letter to the Mirror Visitor series without mentioning the brilliant writing of Christelle Dabos and the skillful translation by Hildegarde Serle. The story sings on the page, as it evokes fantastical worlds and magic of the most imaginative kind, without becoming too verbose. Each of the three books has a strong narrative that builds to a final, exciting cliffhanger – I'm always left desperate for the next book. I already can't wait for Book Four! But most of all I always appreciate writing that doesn't condescend to the intended teen readers. The series is great fun, filled with magic, danger, intrigue, and even love. It's always going to hold a very special place in my heart, and I hope it does in yours too!
---
Keen to win a stack of the first three books in the Mirror Visitor quartet? Head to this Babbling Books post and leave a comment telling us why you'd like to dive into this epic fantasy series.
FRIENDS OF THE CHILLER
SUBSCRIBE TO TEXT'S NEWSLETTER