Joey Bui wins a Queensland Literary Award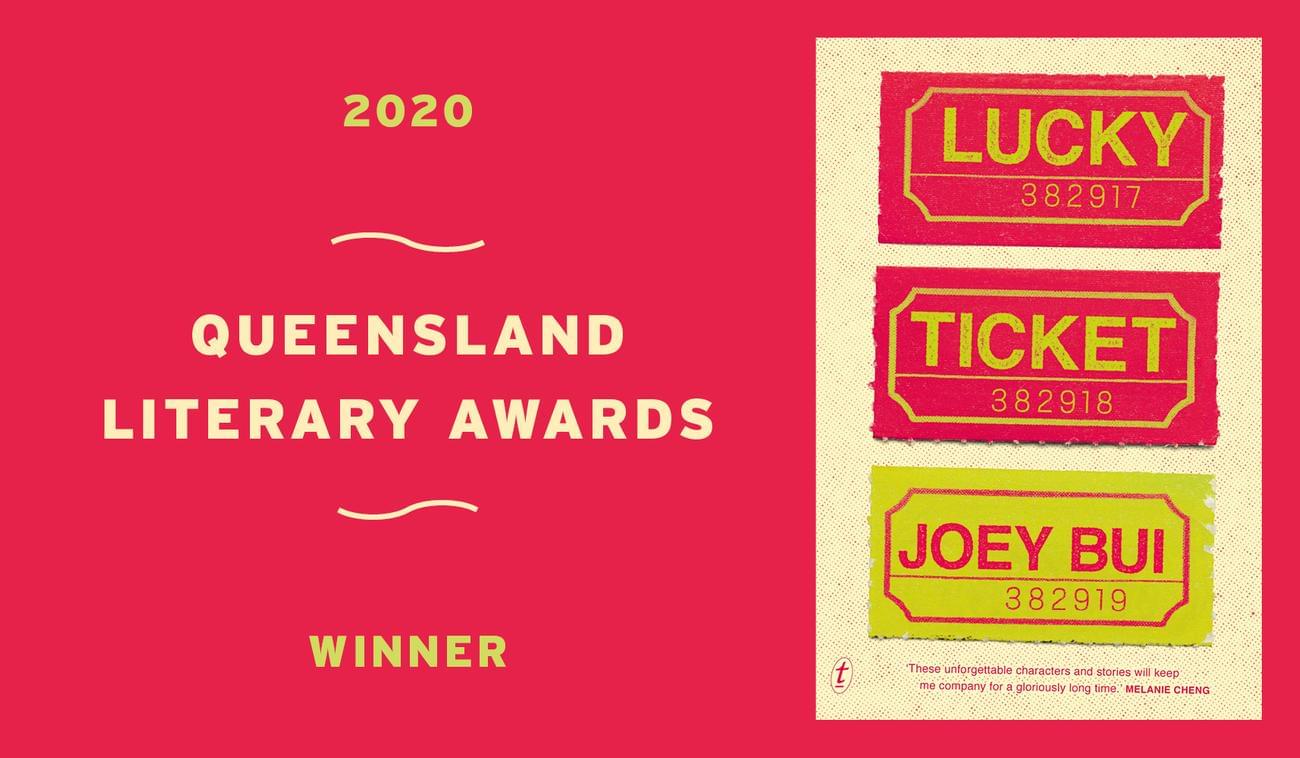 Text Publishing is delighted to announce that Joey Bui has won the $15,000 University of Southern Queensland Steele Rudd Award for a Short Story Collection for her debut, Lucky Ticket.
Lucky Ticket explores the lives of displaced people around the world – from the bustling streets of Saigon to the pink-washed skies of Abu Dhabi. Joey Bui's diverse and vibrant stories make us think differently about identity, family, war and dislocation. 
This year's judges describe Lucky Ticket as 'a truly impressive debut: the characters are nuanced and distinct; the writing is at times warm and lively, at others sharp and insistent. Bui writes with an emotional resonance and critical thrust that make Lucky Ticket wonderfully contemporary, and achieves breakthrough moments that extend well beyond the pages of the book.'
Missed the Queensland Literary Awards announcement? Re-watch the ceremony here. 
Read an extract from Lucky Ticket in Meanjin.
 
Praise for Lucky Ticket 
'Stories from some of the most interesting narrators you'll read this year.' Elle 
'Filled with distinctive characters and full of surprises, these stories are enlightening and unforgettable.' Alice Pung 
'Lucky Ticket is a tender, sophisticated collection of worlds, from the bucolic to the metropolitan, from life-shaking events to everyday minutiae.' Saturday Paper
'An exciting, profound and often funny dive into the minor cataclysms of everyday life. Joey Bui is a marvel.' Bram Presser
'Joey Bui is a masterful storyteller. The stories in Lucky Ticket are so diverse in setting and voice, it's hard to believe they were all written by the same person.' Melanie Cheng 
'A brave and haunting debut collection.' Australian Book Review 
'I want to recommend it to not just my Vietnamese or Asian-Australian friends, but anyone who reads.' Benjamin Law 
'Lucky Ticket is meticulously observed and distinctly contemporary.' Jennifer Down
FRIENDS OF THE CHILLER
SUBSCRIBE TO TEXT'S NEWSLETTER