Discover More About the 2016 Children's Book Council of Australia Shortlistees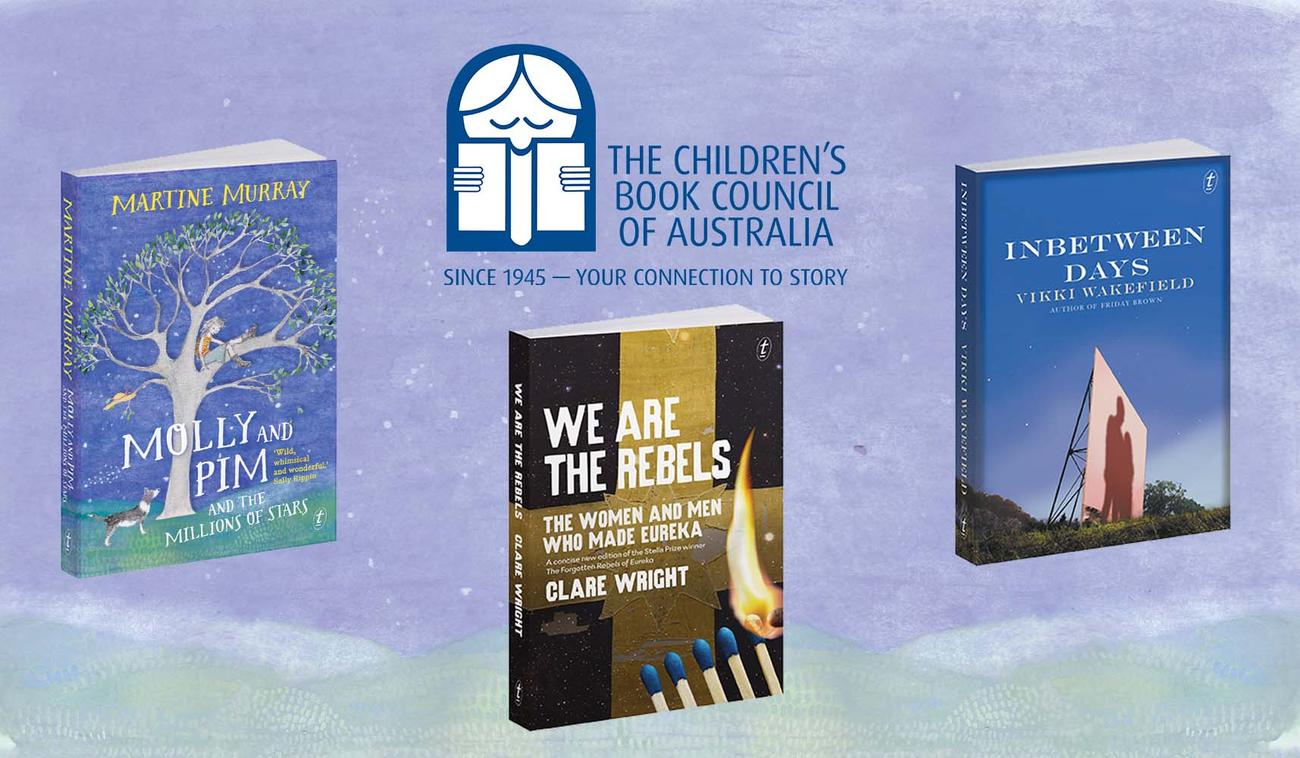 Text titles on 2016 CBCA shortlists are:
Book of the Year for Older Readers: Inbetween Days by Vikki Wakefield
Book of the Year for Younger Readers: Molly and Pim and the Millions of Stars by Martine Murray
Eve Pownall Award for Information Books:  We Are the Rebels: The Men and Women Who Made Eureka by Clare Wright
Inbetween Days is Vikki Wakefield's third YA novel—All I Ever Wanted was a CBCA Notable Book in 2012 and Friday Brown a CBCA shortlisted book in 2014. Her protagonists are strong, independent young women, trying to make sense of the world and where they belong.
In Inbetween Days, Jacklin Bates has dropped out of school and is living with her runaway sister, Trudy. She's stuck in Mobius—a dying town with the macabre suicide forest its only attraction—stuck working in the roadhouse and babysitting her boss's demented father. A stranger sets up camp in the forest and the boy next door returns; Jack's father moves into the shed and her mother steps up her campaign to punish Jack for leaving. As Jack struggles to hold onto the life she thought she wanted, she learns that growing up is complicated—and love might be the biggest mystery of all.
'An utterly gripping read with authentic, complicated and relatable characters.' Age/Sydney Morning Herald, Best Children's Books of 2015
'Wakefield has captured small-town life perfectly. There is the stifling sense of everyone knowing everyone, but also the boredom that comes from being a teenager with nowhere to go. In these claustrophobic conditions, she explores love, death and identity.' Books+Publishing
Download Australian curriculum teaching notes and read more about this captivating story here.  

Martine Murray writes and illustrates picture books, middle-grade fiction and young-adult fiction, including The Slightly True Story of Cedar B Hartley and How to Make a Bird. Her books have been published internationally and translated into seventeen languages. 
Molly and Pim and the Millions of Stars is a delightful story about friendship and acceptance and learning to see the wonder in the world. Molly has a strange life. Her mama collects herbs at dawn and makes potions, her father and brothers have gone away, and her house feels like a gypsy caravan. Molly doesn't want to know anything about herbs and potions. She wishes she could be more like her best friend, Ellen, who has a normal family and a normal house. But she is also secretly interested in Pim, who is inquisitive and odd and a little bit frightening. When Molly's mama makes a potion that has a wild and shocking effect, Molly and Pim look for a way to make things right, and Molly discovers the magic and value of her own unusual life.
'Molly and Pim is wild, whimsical and wonderful. It makes you fall in love with the world and everyone in it.' Sally Rippin
'Open-hearted and magical—an utter delight.' Rebecca Stead
Watch Martine talk about Molly and Pim in this video, download teaching notes and read more.  
Historian Clare Wright's The Forgotten Rebels of Eureka received extraordinary praise and won the 2014 Stella Prize.  We Are the Rebels: The Men and Women Who Made Eureka is an abridged edition for teenage readers. Front and centre are the vibrant, adventurous personalities who were players in the rebellion: Sarah Hanmer, Ellen Young, Clara Seekamp, Anastasia Hayes and Catherine Bentley, among others. This is their story, and the story of the thousands of men, women and children who risked everything to travel to the goldfields. They were the rebels. And, as Wright shows in electrifying detail, their story is our story too.
'This is a valuable addition to the topic of Australian history. It should find its place in schools and in the hands of not just young women who want to understand our past, but should be enjoyed by all readers.' Magpies
'It's hard not to be inspired by this feminist revisiting of gold rush history.' CBCA Reading Time
Download teaching notes and read more here.
Discover more Text titles for children and young adults.
Learn more about the Children's Book Council of Australia and their important work in promoting young adult and children's literature.
FRIENDS OF THE CHILLER
SUBSCRIBE TO TEXT'S NEWSLETTER