Collins Street, 5 p.m., Christmas Time!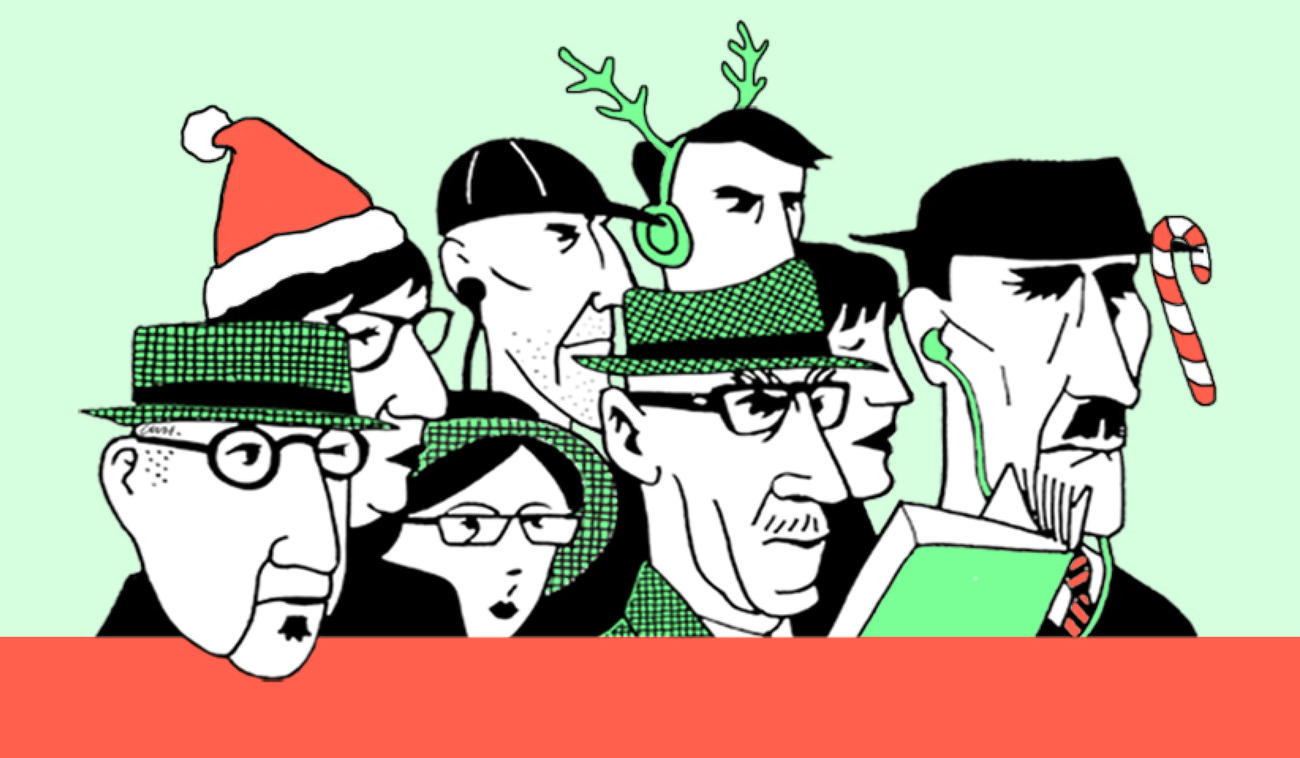 What are your loved ones getting for Christmas? Here are some bookish ideas from the team at Collins...oh...I mean William, Street.
David Winter
For Christmas I am hoping to receive a few days in the country and something for the pain. By sheer coincidence, I will be giving people A Few Days in the Country: And Other Stories, by Elizabeth Harrower, and Something for the Pain: A Memoir of the Turf, by Gerald Murnane. These are very different yet equally enthralling books by two of the country's greatest writers. Also, because I can't just give people Text books, I'll be stocking up on and stuffing stockings with Carrie Brownstein's Hunger Makes Me a Modern Girl. No cracks about my being a well-fed old-fashioned old man, thank you very much: Brownstein knocked me out with her beautifully crafted story of intense fandom, the awkwardness of youth, and family dysfunction (merry Christmas!). She is the cat's pyjamas, as everyone knows. I'm excited to read the new Charlotte Wood novel, The Natural Way of Things, and will be giving it to others—if your copy is slightly dog-eared, I apologise in advance. And I will not be speaking to anyone who gives a colouring-in book as a gift, unless it's to someone who can't read, in which case: good idea.
Alaina Gougoulis
This year I am gifting myself Marie Kondo's The Life-Changing Magic of Tidying Up and gifting others all of the things that are currently in my house that do not spark joy™. Merry Christmas, Mum—here's a novelty salt-shaker in the shape of a rabbit that now I come to think of it you might have given me a couple of years ago hope you enjoy it!!  
I expect my decluttering frenzy to last for as long as it takes me to reach my bookshelves, which are a lost cause. I'm hoping to add Renata Adler's After the Tall Timber, Mary Karr's The Art of Memoir, Melville House's The Last Interview series (all of them, please, Santa), Sophie McManus's The Unfortunates and Annie Ernaux's I Remain in Darkness to their depths.  
Everyone is getting from me either Ta-Nehisi Coates's Between the World and Me, Elizabeth Harrower's A Few Days in the Country or Gerald Murnane's Something for the Pain, and all three if I really love them. That's how they'll know. 
Imogen Stubbs
Surely the most beautiful set of books you can give (or get) this Christmas are the five recently released Text Classics by Randolph Stow, so I think a few of my friends will be unwrapping those (plus they're excellent reading). I really like giving short-story collections, especially for the summer holidays because they make great beach reading, so The Travellers by Carys Davies will be perfect for that. For some of the younger people in my life I'm thinking Molly and Pim and the Millions of Stars by Martine Murray and My Relations by Robin Dalton will delight and intrigue in equal measure.
On my wish list is the long-awaited cookbook from Hana Assafiri, owner of the Moroccan Soup Bar; a guide to lettering by the queen herself Jessica Hische (In Progress); and two memoirs by singers I love and admire, M Train by Patti Smith and Hunger Makes Me a Modern Girl by Carrie Brownstein. I'm also hoping to catch up on some Australian releases from earlier in the year: Hot Little Hands by Abigail Ulman and The Natural Way of Things by Charlotte Wood. 
Ally Scale
This Christmas my friends and family will receive books from me, just like last Christmas, and the one before that, and the one before—well, you get the gist. I am nothing if not consistent. 
To my mum I will give One Life by Kate Grenville, the perfect mother/daughter gift. Crime always wins with Dad so The Truth and Other Lies and The Heat are heading his way. And my partner, who recently gave me a subtle hint—'that brain book looks really good'—will see his wish granted: The Brain Electric by Malcolm Gay will be in his stocking.
As for myself, I recently hit peak Ferrante fever after finishing The Story of the Lost Child, the final novel in the Neapolitan series. It hurts my heart to see the quartet come to an end and the only way I can soothe my sorrow is by delving into the Ferrante backlist. I look forward to seeing The Lost Daughter, Troubling Love and The Days of Abandonment under the Christmas tree this year (thank you in advance, Text-Santa).
And finally, to kick-off my holiday reading, I plan to re-read Between the World and Me, because if any book this year deserves a re-read it's this one. 
Alice Cottrell
For Christmas I'll be giving Elena Ferrante's three novellas (Troubling Love, The Days of Abandonment and The Lost Daughter) to friends suffering from Ferrante-withdrawal after finishing the Neapolitan series. I'm sure there's no better way to foster feelings of love and familial connection on their respective Christmas days than by giving them reading matter about romantic betrayal, parental cruelty, and domestic and marital enslavement. Merry Christmas, friends.  
My mum will be receiving our gorgeous edition of A Few Days in the Country. These sad, funny and sharp short stories are a fantastic introduction to Elizabeth Harrower's work. For my dad, the charming and thought-provoking Every Time I Find the Meaning of Life, They Change It by Daniel Klein.  
I've recently discovered the wonderful Dorothy Whipple, published by Persephone Books. Persephone republish lost or out-of-print books in a beautifully designed series and, after reading They Were Sisters, there are eight other Dorothy Whipple titles I'm lusting after. They are top of my Christmas list, with the Moroccan Soup Bar cookbook a close second.  
Léa Antigny
It wouldn't be Christmas without a cookbook I'll never open or cook from but will make me look impressive whenever guests come to visit, and this year I'd love to give that envious position to Ottolenghi and Scully's Nopi. I'm also dying to read A Little Life by Hanya Yanagihara. Can I sneak a 2014 release onto my list? If yes, please also buy me H is for Hawk by Helen Macdonald. I said please. 
I'll be giving friends Elizabeth Harrower's stunning short-story collection A Few Days in the Country. It's a gorgeously designed hardback and re-discovering this hero of Australian literature is a true gift. For friends and family still suffering Ferrante withdrawals after The Story of the Lost Child, I'll be giving the earlier, shorter standalone novels: Troubling Love, The Days of Abandonment and The Lost Daughter. As one reviewer said of Ferrante, 'this is fiction at its truest: saying what we cannot say even to ourselves.' I can't think of a much better gift to share with my loved ones than that. 
Jane Novak
It's such a good Christmas for books this year. I'm so hoping that someone will give me Nopi, the new Ottolenghi cookbook—I've had a quick flick though and it's pure food porn. The Power of the Dog by Don Winslow is one of the greatest crime novels ever written so I was ecstatic to hear that he had written a sequel, Cartel. My idea of the perfect beach read. I'm also dying to read Charlotte Wood's The Natural Way of Things—everyone I know is raving about it.  
I'm planning on giving multiple copies of Magda Szubanski's extraordinary memoir Reckoning. Regardless of your age or gender, I defy anyone to read the first page of this stunningly beautiful book and not want to keep reading. Beauty Is a Wound by Indonesian writer Eka Kurniawan knocked my socks off when I read it earlier this year and it has gone immediately onto my 'must-read' list for serious literature fans. Elizabeth Harrower has just won the Voss Prize for her novel In Certain Circles and is up for the PM's Prize. Her recent collection of short stories, A Few Days in the Country, is available in a beautiful gift-sized hardcover so I think I'll make a few people happy with that one too. 
Michelle Calligaro
I've already ordered my Christmas present, and it isn't a book, so I'll be hunkering down with two novels I've stashed for the holidays—Gail Jones's A Guide to Berlin and Jonathan Franzen's Purity. I also want to finish reading fellow Geraldtonian Randolph Stow's five Text Classics. They will fit perfectly in my Text Classics bag, slung over my shoulder, on my brand new yellow bike as I tool around the countryside this summer! 
The Stows are also perfect for family gifts. And, continuing the spirit of giving what I'd like to receive, I'll be sharing Jesse Ball's A Cure for Suicide, Patrick Modiano's Little Jewel, Eka Kurniawan's Beauty Is a Wound and Mary Norris's Between You & Me: Confessions of a Comma Queen. 
Alice Lewinsky
This year all my nearest and dearest will be receiving a copy of Carys Davies' magical short-story collection The Travellers and Other Stories. The book will also be accompanied by a firmly worded note implying the uncertainty of our friendship should they not love it as much as I did.
I know my mother enjoys her literature dripping with nostalgia so she'll be receiving Robin Dalton's charming Aunts Up the Cross. Dad has already worked his way through Text's 2015 non-fiction titles, having read everything from Brenda Niall's Mannix to Margaret MacMillan's History's People, so I'll be gifting him a copy of Patti Smith's M Train.
I'll also be wrapping copies of irrefutable crowd pleasers Between You & Me by Mary Norris and Daniel Klein's Every Time I Find the Meaning of Life, They Change It in an effort to preemptively tackle any last minute gift-giving crises. 
And there's nothing like a workplace blog post to unceremoniously announce your Christmas wishlist to the world. So Santa, I hope you're taking notes: I'd like a copy of the beautiful Thames & Hudson release The Terrace House, along with Paul Murray's newbie, The Mark and the Void.
Kirsty Wilson
I can't wait till Christmas so I can stop putting my fingers in my ears whenever the final instalment of the Neapolitan series is discussed and finally read Elena Ferrante's The Story of the Lost Child. The other big fat novel I'm busting to get into is Hanya Yanagihara's A Little Life, which is getting rave reviews from lots of women I admire.
It's a non-fiction fest for the family: I'm not proud of it, but I'll be buying the Campbell Newman biography, Can Do, for my father-in-law. (As long as we don't have to discuss it at Christmas dinner.) My mother-in-law will be enjoying Magda Szubanski's beautifully written Reckoning, while my own parents will be rejoicing in Gerald Murnane's racing memoir, Something for the Pain, and Brenda Niall's epic biography of the Archbishop, Mannix. The sisters are scoring David Burton's hilarious How to Be Happy, Bob Brown's Green Nomads and Rosie Batty's A Mother's Story. The boyfriend will be grateful to get anything other than books, after having them recommended to him every other week for the year.
Shalini Kunahlan
My book-present list is small but targeted this year. Infidel I ain't. Just a broke-as traveller. A dear friend and rugby tragic will be receiving Lloyd Jones's beautifully written account of the All Blacks' legendary 1905 win against England, The Book of Fame. My surrogate Polish–Australian family will be receiving a copy of Magda Szubanski's tear-jerking, soul-searching memoir, Reckoning. I can't wait to discuss it with them! And as part of my yearly ritual, I will be infecting one of my best friends with #FerranteFever with the first book in the acclaimed Neapolitan series, My Brilliant Friend. She will thank me later.

FRIENDS OF THE CHILLER
SUBSCRIBE TO TEXT'S NEWSLETTER