And The Winner of the 2017 Tenth Annual Text Prize for Young Adult and Children's Writing Is…
Adelaide writer Adam Cece has beaten nearly 300 entries to win the $10,000 Tenth Annual Text Prize for his hilariously crazy story, The Extremely Weird Thing That Happened in Huggabie Falls.
An extremely weird and hilariously crazy story about three friends and the extremely weird thing that happened in the weirdest town in the world. A laugh-out-loud madcap adventure for middle-grade readers that turns weirdness upside down.
In 2015, Adelaide-based Adam Cece published his first children's book, Wesley Booth Super Sleuth. He is a member of a number of writing organisations and is a manuscript assessor for the SA Writers Centre.
On winning the Text Prize, Adam said, 'I am so honoured to have won the Text Prize in its tenth amazing year, and humbled to be in such a good company. The whole team at Text is so passionate and so good at what they do. I am over the moon.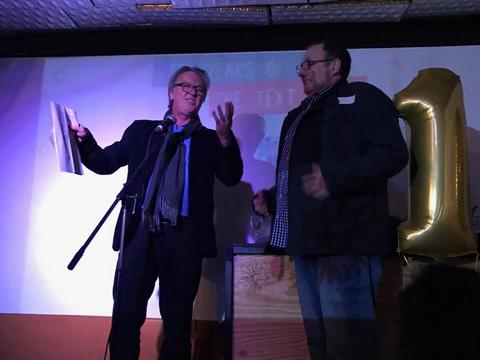 Publisher Michael Heyward said, 'The Text Prize for Young Adult and Children's Writing is about launching careers. It's about finding new voices. This year, the tenth year of the Text Prize, is testament to the abundant literary talent we have in this country. We read around 300 manuscripts and decided to offer publishing deals to all four writers on the shortlist, something we have never done before. It was difficult to pick a winner, but in the end we couldn't resist Adam Cece's sublimely ridiculous tale for middle-graders The Extremely Weird Thing that Happened in Huggabie Falls. It's hard to imagine how this delightful book won't charm the socks off its readers. This book is a crash course in Dutch werewolves, vegetarian piranhas and crazy street names. It's a particular pleasure to publish a book that will make its readers—children and grown-ups alike—happy. We can't wait to tell the whole publishing world, both in Australia and internationally, about Huggabie Falls and its inhabitants, who are so crazy even they find each other weird.
Awarded annually, the Text Prize aims to unearth incredible new books for young adults and children by Australian and New Zealand writers.
Text has been overwhelmed at the calibre of entries this year. There have been excited discussions, passionate arguments and endless debating, but most importantly, around 800 hours of intense reading of all the submitted manuscripts have been completed by your faithful Texters over the last couple of months since entries closed.
So we can confidently say that we are utterly delighted with this year's shortlisted books.
So delighted that, in an industry first, Text has offered book deals to ALL FOUR shortlisted authors.
For more details about these other amazing authors, visit our shortlisted authors announcement here.
Submissions for the 2018 Text Prize will open early in 2018.
Watch out for the 2016 Text Prize winner, Beautiful Mess by Claire Christian, in September 2017.
FRIENDS OF THE CHILLER
SUBSCRIBE TO TEXT'S NEWSLETTER