Three Text Authors on the 2015 Miles Franklin Literary Award Longlist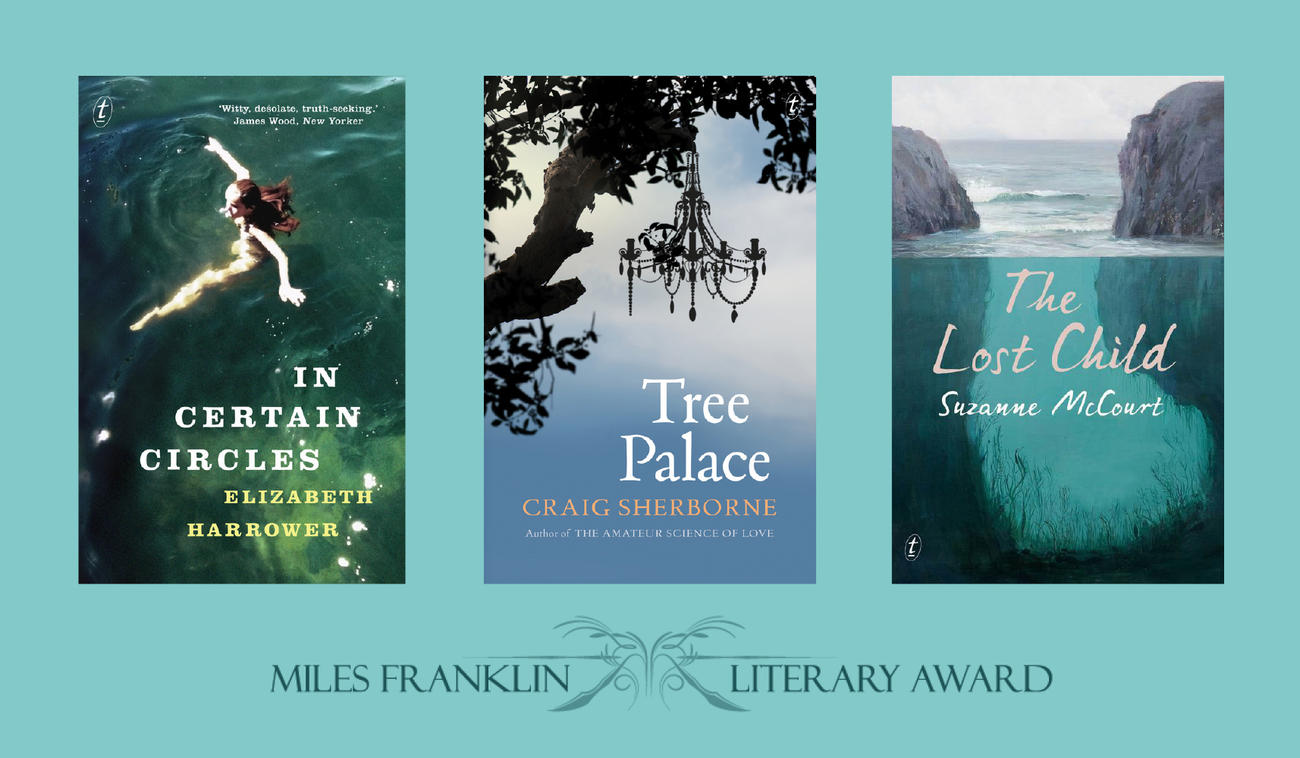 Congratulations to the three Text authors whose books have been longlisted for the 2015 Miles Franklin Literary Award—Elizabeth Harrower, Suzanne McCourt and Craig Sherborne. 
Elizabeth Harrower's In Certain Circles has had a remarkable journey. Originally due to be released in the early 1970s, it was withdrawn from publication at the last moment. The manuscript remained in the archives of the National Library of Australia until 2013 when Harrower granted Text's publisher Michael Heyward permission to read it. We are thrilled to see this lost book achieve such recognition.
In Certain Circles centres around four young people, who, despite coming from different social worlds, spend their lives moving in and out of each other's shadow. Set amid the lush gardens and grand stone houses that line the north side of Sydney Harbour, it is an intense psychological drama about family and love, tyranny and freedom.
Harrower is one of Australia's most important postwar writers and was admired by many of her contemporaries including Patrick White and Christina Stead, who both became lifelong friends. Her novels are now being acclaimed by a new generation of readers. Her four earlier novels are published in the Text Classics series: Down in the City, The Long Prospect, The Catherine Wheel and The Watch Tower.
'A novel of astonishing psychological insight exploring the darker aspects of human attraction.' Saturday Paper 
'Her insights into the nature of love, the role of women and the torsions of power in even the most ordinary relationship are bitter and sometimes cruel, wielded in the way that acute honesty may be, like a whip. Yet they are always delivered via the honeyed dipper of her prose.' Geordie Williamson, Monthly
'A brilliant exploration of relationships, marriage, thwarted passion and the beauty and the price of love.' Herald Sun
Read more great reviews, an extract or download book club notes here.
In the tradition of Tim Winton and Robert Drewe, Suzanne McCourt has written an enviable debut novel about family, identity and growing up. Set in the 1950s The Lost Child  is about five-year-old Sylvie, who lives in Burley Point, a fishing village south of the Coorong on Australia's wild southern coast. She worships her older brother, Dunc, but when he goes missing Sylvie is terrified that she is the cause. Now her father is angry all the time and her mother won't leave the house. Sylvie is a charming narrator with a big heart and a sharp eye for the comic moment, who finds her salvation in the bush and the birds and the endless beach.
'The Lost Child is an assured and bittersweet coming-of-age tale with a vivid sense of time and place…The novel is a strong addition to the shelves of Australian literary fiction.' Books+Publishing 
'Debut novelist McCourt steers clear of feyness to produce an account that is notable for its freshness, vividly drawn characters and atmospheric setting...McCourt's is a name to note.' Daily Mail
'There's a watchful intensity to McCourt's writing, a remarkable ability to discover within the most concrete details a rich and raw emotion...a novel that is at once very familiar and entirely fresh.' Weekend Australian 
Read more great reviews, an extract or download book club notes here.
Craig Sherborne's memoirs Hoi Polloi and Muck received wide and critical acclaim. His first novel, The Amateur Science of Love (2011), won the Melbourne Prize for Literature's Best Writing Award, and was shortlisted for a Victorian Premier's Literary Award and a NSW Premier's Literary Award. His writing has appeared in most of Australia's literary journals and anthologies. 
In Tree Palace he turns his beautiful prose to a family of itinerants, living in the Victorian countryside. Shane, Moira and Midge, along with young Zara and Rory, roam the plains northwest of Melbourne in search of disused houses to sleep in, or to strip of heritage fittings when funds are low. When they find their Tree Palace outside Barleyville, things are looking up. But Zara, fifteen, is pregnant and doesn't want a child. She'd rather a normal life with town boys, not trant life with a baby. Moira decides to step in: she'll look after her grandchild. Then Shane finds himself in trouble with the local cops...Witty and warm, Craig Sherborne's second novel is a revelation—an affecting story of family and rural life.
'With the crystallisation and compression of poetry, Sherborne explores ideas of property, freedom and loyalty, and produces a novel as beautiful in its conjunctions as the chandelier swinging over its landscapes.' Australian
'[Tree Palace is] moving, terrifying and wonderfully well observed and, as with all the strange books Sherborne writes, a triumph...The main character [is] one of the great portraits of up-against-it Australian womanhood in our literature, a figure to put with Lawson's Drover's Wife and Barbara Baynton's women.' Peter Craven, Sydney Morning Herald
'[Tree Palace has] insight, empathy and supple, observant prose.' Advertiser
 Read more great reviews, an extract or download book club notes here.
See the full longlist at the Miles Franklin Literary Award website, or read articles in the Guardian and Australian on the longlist announcement.

FRIENDS OF THE CHILLER
SUBSCRIBE TO TEXT'S NEWSLETTER