Competition Winners and a New Jack Mason Adventure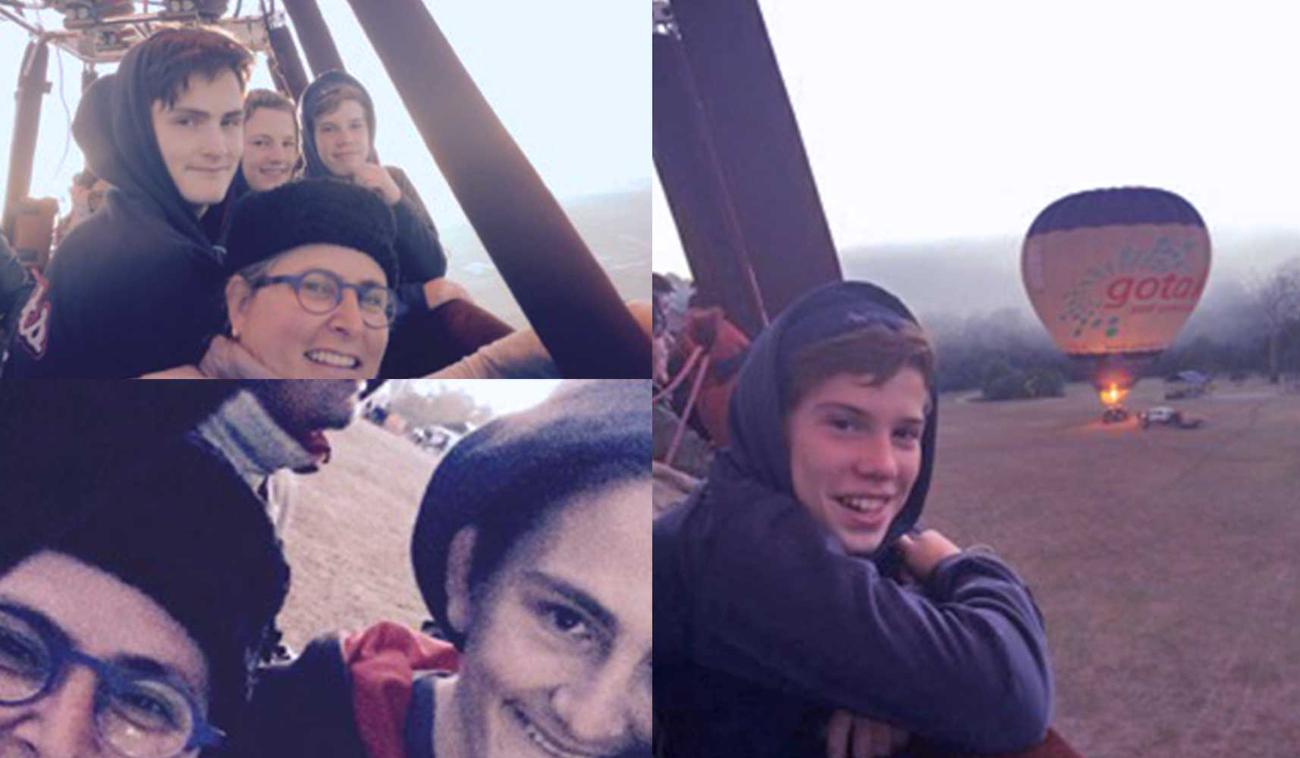 Congratulations to Melissa Rymer, winner of a magical Yarra Valley hot-air-balloon adventure of a lifetime, who shared the experience with Renzo, Sebastian and Nicholas on an exhilarating morning in March.
Melissa entered the prize draw by purchasing a copy of Darrell Pitt's The Firebird Mystery: A Jack Mason Adventure from Readings. The Firebird Mystery is a Children's Book Council of Australia, Notable Book for Younger Readers, 2015.
The Jack Mason Adventures are books for kids of all ages who enjoy action and adventure. Jack Mason grew up as an acrobat in a circus. But, after the tragic death of his parents, he lived inside the gloomy walls of Sunnyside Orphanage in London, a city of fog and snow, filled with airships, steam cars and metrotowers that stretched far into space. Luckily for Jack he was taken under the wing of the brilliant and eccentric detective Ignatius Doyle. And, with the help of a new friend, Scarlet Bell, they embark on a series of thrilling and terrifying adventures that lead them from the sewers of London to the skyscrapers of New York and beyond.
Hot off the presses is book four of the Jack Mason Adventures, The Monster Within. After a series of fatal bombings across London, Jack, Scarlet and Mr Doyle are drawn into another baffling case: the reported sighting of a monster loose in the city's underground sewers. Before they can investigate, the team must travel to Spain to hunt down a group of terrorists. But just as they close in, Jack and Scarlet are kidnapped. With their lives in perilous danger, will Mr Doyle find his young assistants in time? Back in London, will the monster's true origins be uncovered before it too wreaks deadly destruction across the city?
Don't miss all the excitement and adventure of this great series: The Firebird Mystery, The Secret Abyss, The Broken Sun and now The Monster Within. And stay tuned for book five, The Lost Sword, to be released later this year.
Praise for the Jack Mason Adventures
'Non-stop action, non-stop-adventure, non-stop fun!' Richard Harland
'This fast-paced adventure and homage to the world of Victorian literature and Conan Doyle offers an enjoyable roller-coaster read for fans of Artemis Fowl and the Lemony Snicket series.' Magpies on The Firebird Mystery
'Lots of mechanical mayhem and derring-do—breathless stuff.' Michael Pryor
'A fun story, easy to read and full of action. The action, by the way, is excellently written...Bonus points for being the first kids' book of its kind I've come across that gives mention to the suffragettes!' Books+Publishing on The Firebird Mystery
'Darrell Pitt's second novel is another exciting, fast-paced adventure filled with heroes and villains, steam-driven transport, inventors and inventions, near drownings, rescues and cataclysmic events.' ReadPlus
'This third instalment of the Jack Mason Adventures is jam-packed with everything I've come to love about the series. There's a fantastic mix of mystery, eccentricity and lint-covered pocket cheese...my favourite book of the series so far.' Fictional Thoughts on The Broken Sun
FRIENDS OF THE CHILLER
SUBSCRIBE TO TEXT'S NEWSLETTER