CBCA Award Honours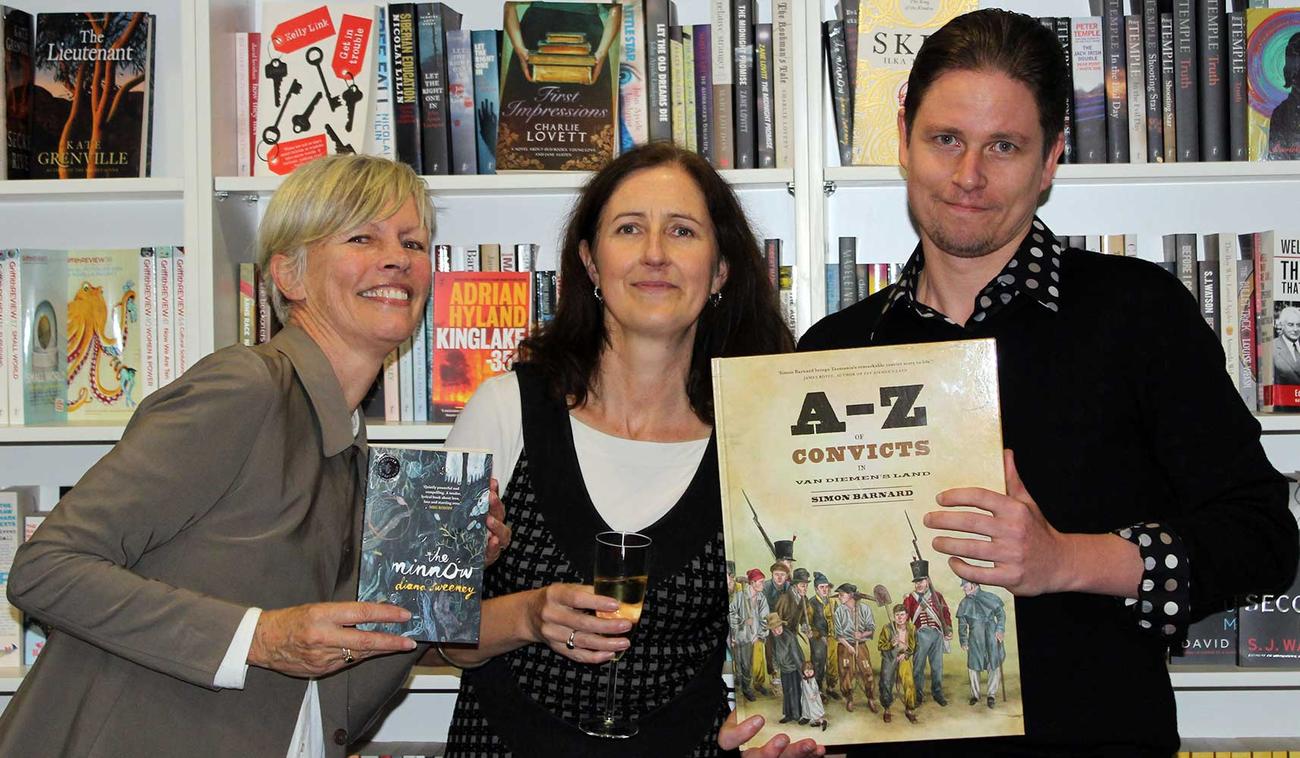 We're thrilled that two Text titles are in the winners' circle for the 2015 Children's Book Council of the Year Awards. Big congratulations to Simon Barnard, author of the A–Z of Convicts in Van Diemen's Land, and Diana Sweeney, author of The Minnow. Both books have had remarkable paths to publication under the keen eye of senior editor Jane Pearson.
A–Z of Convicts in Van Diemen's Land is the winner of the Eve Pownall Award for Information Books. Barnard's childhood fascination with Tasmania's convict past spurred him to produce this meticulously researched and illustrated guide. It has had a memorable journey from the Text slush pile, where it was discovered by Jane Pearson in 2011, and finally published to much praise in 2014.
Nick Cave described it as 'a big, beautiful, funny, fascinating thrill-ride,' and Australian Book Review declared 'every school library should own  A–Z of Convicts in Van Diemen's Land'.
Seventy-three thousand convicts were transported to the British penal colony of Van Diemen's Land in the first half of the nineteenth century. They played a vital role in the building of the settlements, as well as the running of the newly established colony. A–Z of Convicts in Van Diemen's Land is a rich and compelling account of their stories—the sentences, punishments, achievements and suffering make for fascinating reading. And the spectacular illustrations, each one carefully drawn in meticulous detail from contemporary records, bring this extraordinary history to life.
Have a look at the stunning illustrations in this sample and download Australian Curriculum teaching notes.
The Minnow, commended as a CBCA Honour Book in the Older Readers Category, has also had an extraordinary path to publication, winning the 2013 Text Prize for Young Adult and Children's Writing. At the time, editor Jane Pearson said: 'The writing is beautiful. There's a light touch and a deep complexity. Diana Sweeney knows just what to leave out as she builds a complex and moving picture through seemingly little details. The voice of the narrator, Tom, is real and engaging...it's delightful.'
Tom survived a devastating flood that claimed the lives of her sister and parents. Now she lives with Bill in his old shed by the lake. But it's time to move out—Tom is pregnant with Bill's baby. The Minnow is a beautiful, sad and unusual tale—of grief and loss and learning to find a new place in the world. Tom's story will break your heart.
The critics agree, Meg Rosoff found it 'quietly powerful and compelling. A tender, lyrical book about love, loss and starting over.' And Magpies described it as 'an extraordinary, original, rich and surprising novel...Tom is an unforgettable character.'
View the trailer or download Australian Curriculum teaching notes.
Read more from senior editor Jane Pearson about discovering great stories.
FRIENDS OF THE CHILLER
SUBSCRIBE TO TEXT'S NEWSLETTER