Announcing the winner of the 2022 Michael Gifkins Prize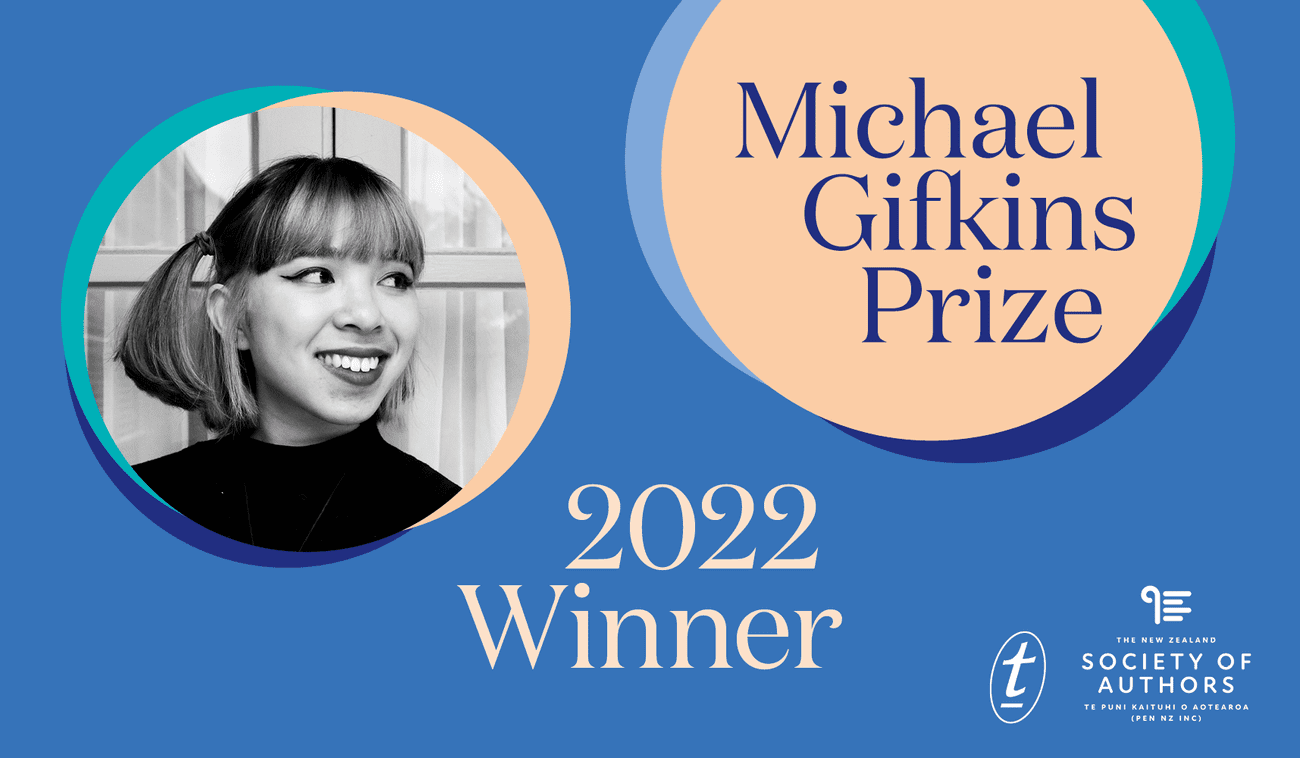 Emma Sidnam has been awarded the 2022 Michael Gifkins Prize for her manuscript Backwaters. Sidnam wins a publishing contract with Text and a NZ$10,000 advance against royalties.
The prize is awarded to an unpublished manuscript by a New Zealand writer, celebrating the life and work of the writer and agent Michael Gifkins.
Emma Sidnam is a Wellington-based poet and student. She loves translating life to art and combining wordplay with meaningful messages that connect with people. As a fourth-generation Asian New Zealander, she is passionate about representation and ensuring that all voices are heard.
On winning the prize, Emma said, 'I've always written with the goal of publication. This novel has helped me grow into myself over the last two years, and I'm incredibly excited to see it out in the world. This prize means the world to me and I hope it's only the beginning.' Backwaters will be published by Text in September 2023.
Sidnam was shortlisted by Text Publishing alongside Tiffany Brown, Maria B. Joseph and Anna Woods from an impressive longlist of thirteen manuscripts, selected by judges Dr Paula Morris and Dr Vanda Symon.
Publisher Michael Heyward said, 'We are proud of the achievements of the Michael Gifkins Prize over the last half-dozen years, and honoured by our continued association with his family in supporting the award. The award has already uncovered some remarkable books and shone a light on some very gifted writers. We are delighted that this year's winner is Emma Sidnam, and we can't wait to publish her novel.'
Tom Baragwanath's thriller Paper Cage, the winner of last year's prize, will be published in September 2022. Paper Cage is both a nail-biting thriller and a beautifully written, acutely observed portrait of a community. Masterton isn't a big town. The community's tight, if not always harmonious. So when a child goes missing it's a big deal for everyone. And when a second kid disappears, the whole town's holding their own children that little bit tighter.
The previous winners of the Gifkins Prize are Ruby Porter (2018) for Attraction, Tom Remiger (2019) for Soldiers and Gigi Fenster (2020) for A Good Winter.
Submissions to the 2023 prize will open on 25 July and close at midnight NZST on 14 October 2022. The prize will be administered by the New Zealand Society of Authors Te Puni Kaituhi o Aotearoa (PEN NZ) Inc. Entry forms and terms and conditions can be found here.

About Backwaters, the prize-winning manuscript
Laura is tired of being asked where she's really from. Her family has lived in Aotearoa New Zealand for four generations, and she's ambivalent at best about her Chinese heritage. But when she's asked to write about the Chinese New Zealander experience for a work project, Laura finds herself drawn to the diary of her great-great-grandfather Ken, a market gardener in the early years of the British colony.
With the help of her beloved grandpa, Laura begins to write a version of Ken's story, imagining his youth in Guangzhou and his journey to a new land. But then a family secret comes to light, leading Laura to go on her own journey – one of self-discovery and reckoning with the past.
A tender, nuanced novel about the bittersweet search for belonging, Backwaters marks the arrival of a brilliant new talent.
---
The Michael Gifkins Prize is made possible by a generous financial commitment from the Gifkins family and from Text Publishing. It is administered by the NZ Society of Authors Te Puni Kaituhi o Aotearoa (PEN NZ) Inc.
For enquiries, please contact:
Lydia McClelland
Text Publishing
lydia.mcclelland@textpublishing.com.au   
www.textpublishing.com.au   
Jenny Nagle
New Zealand Society of Authors Te Puni Kaituhi o Aotearoa (PEN NZ) Inc.
director@nzauthors.org.nz | +64 27 627 2728
www.authors.org.nz



FRIENDS OF THE CHILLER
SUBSCRIBE TO TEXT'S NEWSLETTER