Announcing the shortlist for the 2020 Text Prize for young adult and children's writing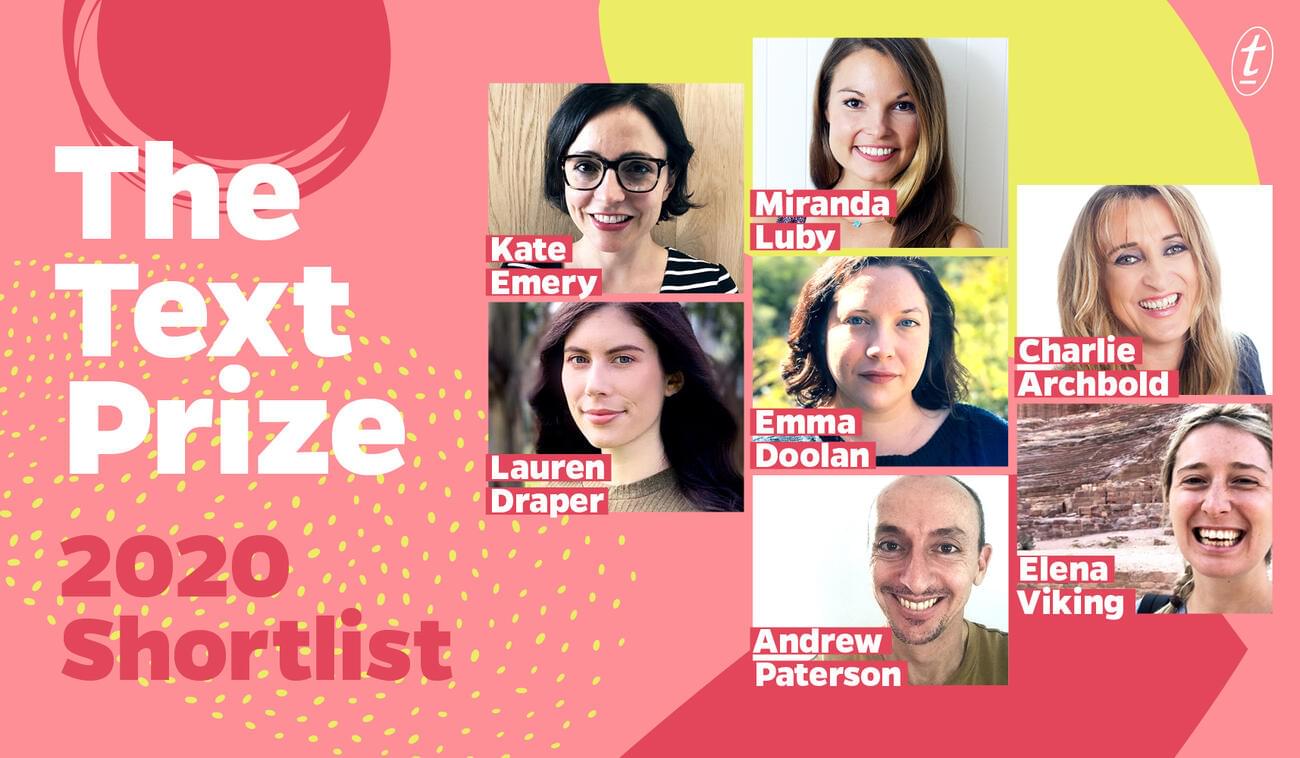 Text is delighted to announce that seven manuscripts have been shortlisted for the 2020 $10,000 Text Prize for young adult and children's writing.


THEREFORE I AM by Miranda Luby
Sarah is determined to leave her old life behind when she is rejected by the guy she likes and moves to London with her family. But in her new friendships she becomes embroiled in a complex web of bullying and the mystery of an unlikely stalker. 
Miranda Luby is a freelance lifestyle journalist living on Victoria's Surf Coast. She has been awarded a Varuna Fellowship, an Australian Society of Authors Mentorship, and a HARDCOPY fellowship. Her short stories have been published by Bloomsbury UK and Margaret River Press, and shortlisted for The Commonwealth Prize. Therefore I Am is her first novel. 
AT DEVIL'S ELBOW by Emma Doolan 
When sixteen-year-old Callie's mother goes to visit friends and doesn't come home, Callie's sure she'll turn up soon – she always has before. But as time goes by, it becomes clear that this time is different. She's not coming home at all. And now Callie is driven by the need to find out not just what happened to her mum—but whether the police are right to think her dad's involved. 
Emma Doolan is a Brisbane writer currently based in the Northern Rivers, NSW. Her writing has appeared in Overland, Geek Mook and Rex, and been shortlisted for the Richell Prize. Emma has a PhD in creative writing and literary studies from QUT. She researches Gothic literature and teaches creative writing at Southern Cross University. 
RAINFISH by Andrew Paterson 
A warm and engaging story of a boy who is drawn to commit a theft to impress an older, alluringly rebellious kid. Aaron's guilt, regret and attempts to put the situation right take him on a journey that's unexpected, at times humorous and ultimately tragic. 
Andrew Paterson is a medical doctor who was brought up and currently lives and works in Far North Queensland, where Rainfish is set. He has completed a graduate diploma in Creative Writing at the University of Melbourne. 
RED BOTTOMED BOAT by Charlie Archbold 
A rollicking middle-grade adventure about two friends who try to prove the innocence of a wrongly convicted cousin. Their attempts to uncover the truth of a mysterious theft take them on a secret boat trip through crocodile-infested mangroves and pit them against a gang of burly smugglers. 
Charlie Archbold is a writer and primary-school educator living in Adelaide. She has spent time teaching in the UK, Australia and Indonesia. Charlie's debut young adult novel won the 2016 Adelaide Festival unpublished manuscript award and was a CBCA Honour book in 2018. She has a new YA novel coming out later this year. 
THE MUSEUM OF BROKEN THINGS by Lauren Draper 
Reece still isn't used to living in the small beachside town of Hamilton: she misses her old school, her old friends and her old life. She can't go back and she can't move: nothing feels right anymore. But when she inherits a strange artefact that belonged to her grandmother, she begins to unravel a mystery that might change the way she feels about everything around her, including her maddeningly attractive classmate, Gideon... 
Lauren Draper is a writer based in Melbourne. Her work has appeared in Dumbo Feather and Kill Your Darlings, and her commercial fiction manuscript was long-listed in the 2019 Richell Prize. She has worked in the publishing industry for the past five years and is currently the Marketing Manager at Hardie Grant Egmont. 
PSYCHOPATH by Elena Viking 
Sam and Lulu are students at two exclusive, brother-and-sister private schools. Sam wears the bubble like it's a second skin, but struggles to conceal symptoms of a mysterious mood affective disorder. Lulu, a scholarship girl from Melbourne's North, has made an art of blending into her new surroundings, but feels disconnected from her friends, her mother and herself. There are rumours that Sam is a psychopath. Lulu thinks she may be one.
Elena Viking was born in Amsterdam, but raised in Melbourne's north. She studied creative and professional writing at the University of Melbourne, where Novels was by far her worst subject. Psychopath is her first. 
THE NOT SO CHOSEN ONE by Kate Emery 
Lucy is just a regular teenager, with regular worries: homework, friends, getting home for dinner on time. Oh, and there's the small matter of how she's going to tell her mother about her unplanned pregnancy. So when she first hears about Drake's College, a school for students 'with magical talent', she's sure someone's messing with her. But despite her scepticism, she's soon swept up into a magical world beyond her wildest imaginings, and now she's got yet another secret to hide. 
Kate Emery lives in Perth, Western Australia. She is a senior journalist and brunch columnist with the West Australian newspaper, a mother to two toddlers and writes fiction for fun in her spare time, usually at cafes while also eating brunch. 
---
The winner of the 2020 Text Prize will be announced in an online event on Wednesday 20 May. 
Author photos available on request. For all publicity enquiries and further information, please contact jamila.khodja@textpublishing.com.au. 
Please see our website for more information about the Text Prize.


FRIENDS OF THE CHILLER
SUBSCRIBE TO TEXT'S NEWSLETTER