Text is Pleased to Announce Two 2017 Man Booker International Longlistees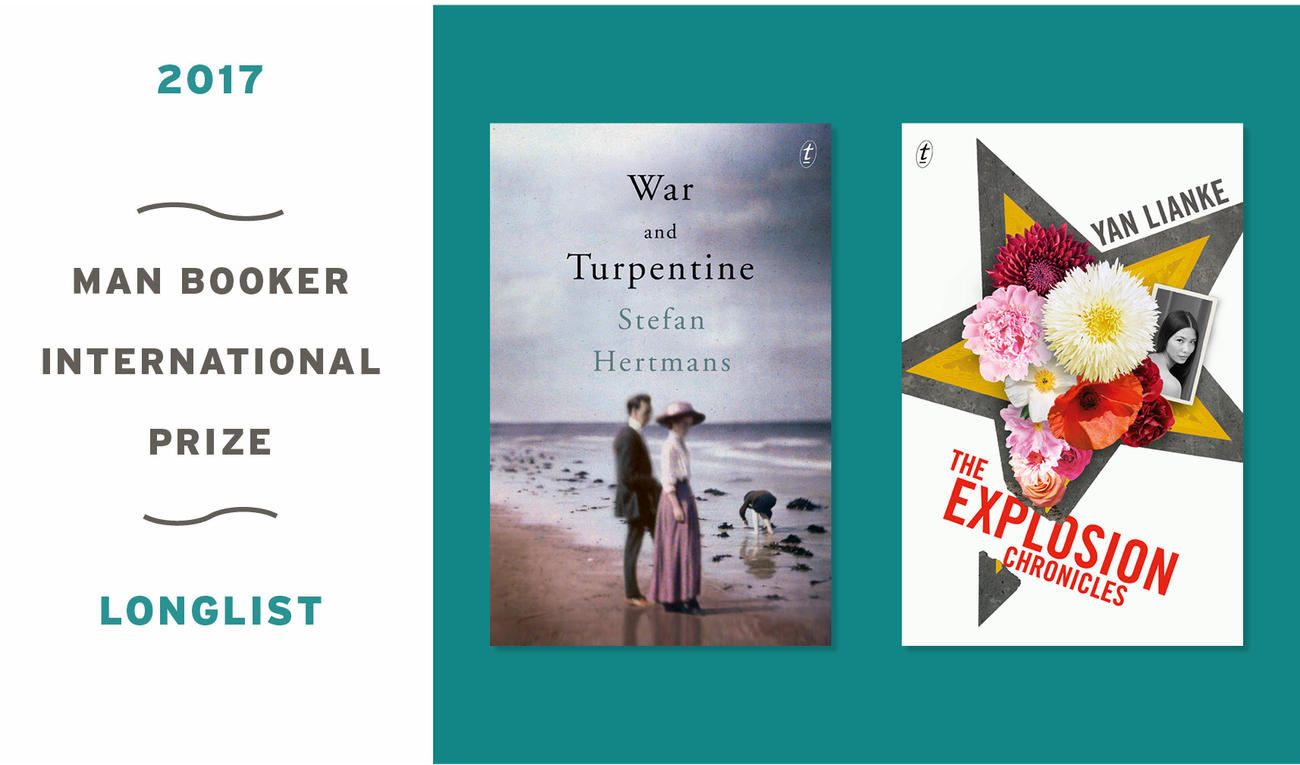 Text is pleased to announce two titles longlisted for the 2017 Man Booker International Prize.
The Man Booker International Prize is a complement to the Man Booker Prize. 
The newly evolved prize is awarded annually for a single work of fiction translated into English and published in the UK. Both novels and collections of short stories are eligible.
The £50,000 prize is divided equally between the author and the translator. Each shortlisted author and translator receives £1,000. 
The Explosion Chronicles by Yan Lianke (China), translated by Carlos Rojas
In this internationally bestselling novel, Yan turns his satirical eye to the explosive growth of modern China and the consequences of greed and corruption. 
The village of Explosion was founded more than a millennium ago by refugees fleeing a volcanic eruption. But in the post-Mao era the name takes on a new significance as the community grows explosively. Three major families—linked by a complex web of loyalty, betrayal, desire and ambition—are the driving force behind their hometown's transformation into an urban superpower.
Brimming with intelligence and wit, The Explosion Chronicles considers the high stakes of passion and power, the consequences of corruption and greed, the polarising dynamics of love and hate between families, and the seemingly unstoppable excesses of capitalism. It is a smart, flamboyant and poetic tale of ambition, lies and vice from China's master satirist.
'A rip-roaring Swiftian satire from a contemporary Chinese master. . . .Yan Lianke, one of China's most forthright and versatile novelists, enlists extravagant comedy and far-fetched fable to propel his critique of a society where 'power and money have colluded to steal people's souls.'. . .The reader slips into a literary China of poetry and mystery that flourished long before the boom.' Economist
Yan Lianke was born in 1958 in Henan Province, China. Text has published his novels Serve the People!, Lenin's Kisses, Dream of Ding Village and The Four Books. Yan Lianke won the Hua Zhong World Chinese Literature Prize in 2013. He has also won two of China's most prestigious literary awards: the Lu Xan Prize and the Lao She Award. He lives in Bejing.
War and Turpentine by Stefan Hertmans (Belgium), translated by David McKay
In 1914 an artistic young corporal began to fight for the allies in the First World War. Years later he wrote an account of his harrowing wartime experiences, filling exercise books with stories. Shortly before his death in 1981, he gave these notebooks to his grandson, author Stefan Hertmans. Afraid of what he might uncover, Hertmans took thirty years to muster the courage to read his grandfather's story.
Those pages are the inspiration for War and Turpentine, Hertmans' extraordinary novelisation of his grandfather's life—from his childhood of poverty and an early passion for painting to his brutal experiences in the trenches and the loss of the young love of his life.
Drawing on these diary entries, his own childhood memories and the stories told within his grandfather's paintings, Hertmans has produced a poetic novelisation, brought to life with great imaginative power and vivid detail.
War and Turpentine is an enthralling search for a life that coincided with the tragedy of a century—and a posthumous, almost mythical, attempt to give that life a voice at last.
Born in 1951, Stefan Hertmans has published novels, short-story collections, essays and poetry. In 1995 he was awarded the three-yearly Flemish poetry prize. He has also received two nominations for the VSB Poetry Prize. His most recent novel, The Hidden Tissue, was widely praised.
FRIENDS OF THE CHILLER
SUBSCRIBE TO TEXT'S NEWSLETTER