Wonderful press for Rabih Alameddine's An Unnecessary Woman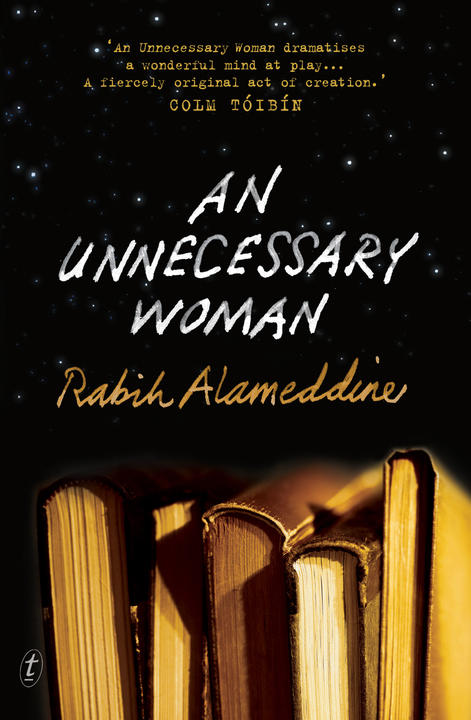 'An Unnecessary Woman is an utterly unique love poem to the book and to the tenacity of the feminine spirit,' says the Los Angeles Times. 'It's a triumph for Alameddine, who has created a book worthy of sitting on a shelf next to the great works whose beauty and power his novel celebrates.'
The Independent urges you to 'read it once, read it twice, read other books for a decade or so, and then pick it up and read it anew. This one's a keeper.'
SFGate enjoys spending time with Aaliya, the protagonist and 'unnecessary woman' of the title: 'In her cranky, wise company, the spellbound reader gradually comes to understand the glories of literary exploration.'
'Reader beware, but also be enchanted,' warns the Boston Globe: 'What follows is the opaque self-portrait of an utterly beguiling misanthrope who suffers from arthritis, insomnia, constipation, incontinence, and, though she will not admit it, solitude.'
'If your own life is suffused with books, if books stand in stacks on furniture non-readers used for living people, if books are a big part of how you live in the world and understand it, then you are living in Aaliyah's world, and she's living in yours,' says Steve Donoghue in Open Letters Monthly.
The Daily Beast confirms it: 'Aaliya's book club would be the best.'
'What makes An Unnecessary Woman such a convincing tale is [Alameddine's] ability to ground the novel's heroine in a set of real-world concerns and resentments,' says the Star Tribune.
'The meaning of human dignity is perhaps the great theme of literature,' posits the Washington Independent Review of Books, 'and Alameddine takes it on in every page of this extraordinary book.'
'Full of humanity and compassion, An Unnecessary Woman is a paean to books, the need to create and the surprise of life,' says Shelf Awareness.
Readings says 'An Unnecessary Woman charms with expressive cynicism and inadvertent optimism, shining a unique light on the art of storytelling.'
Lamda Literary recommends this 'intriguing' novel especially to 'voracious readers of literary fiction and fiction in translation.'
Reading An Unnecessary Woman has encouraged Jenny Bhatt of Storyacious to '[move] all of Alameddine's books to the top of my To-read List'; 'It's the drama of daily life, only highly informed,' says KOSU Radio.
Rabih Alameddine creates a playlist to go with An Unnecessary Woman for Largehearted Boy.
'I just make this shit up. It's called fiction,' the novelist said during his appearance at the Hay Festival Xalapa last month. Read the rest of this interview with Rabih at Publishing Perspectives and watch a wonderful video interview here.
An Unnecessary Woman is available now in bookshops and online. Rabih Alameddine will be appearing at events for Adelaide Writers' Week.
FRIENDS OF THE CHILLER
SUBSCRIBE TO TEXT'S NEWSLETTER